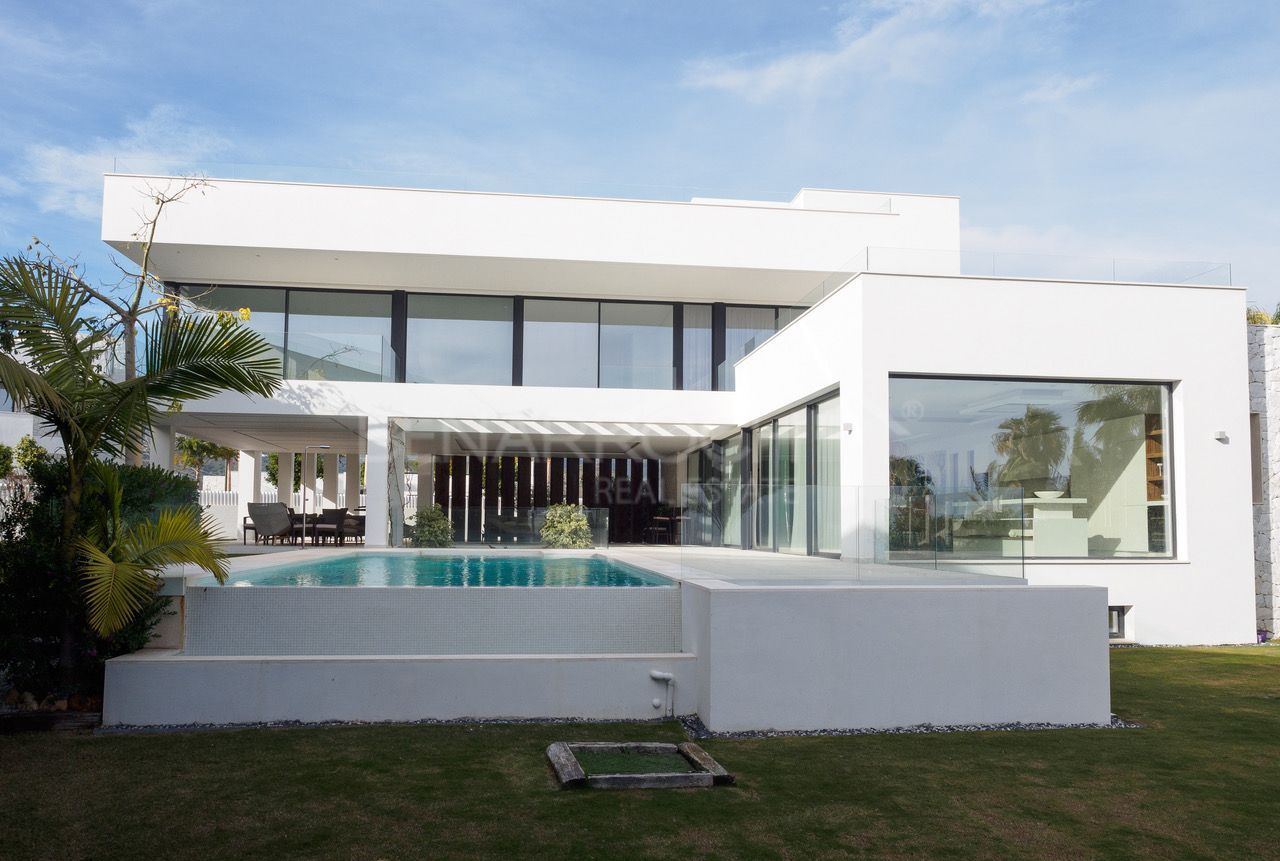 //media.inmobalia.com/imgV1/B8vEv5Xh_VThvnEqMx4G0ZxU_YC_pCgmETwWNQKyeMqLb9Afo_WSoi~kcK5mwaepLz96AHEmAzWJQblCNhundhnOIYTFLWoaYCPhk2LOil36VBM2lWgGiWnE1ycqf8f_Qm2M73UgaYJ4mkSUz9nEa1~Fup51PuIX8VJqH2OMDBm1ozIPFg8lwJqWxEEyajDwCBj~hRRPT~xyiML17csjY10i_By9aXTu9KAVpVI4hkiWYQKIFHMwm4WNr65dCtUaFE6HfvFce8kRr3zsF9u_oTt_UUyb3ZLq5jULXQuROhyZE3GdDHGyvp9~XwlDdcwb_sSN_R8-.jpeg
//media.inmobalia.com/imgV1/B8vEv5Xh_VThvnEqMx4G0ZxU_YC_pCgmETwWNQKyeMqLb9Afo_WSoi~kcK5mwaepLz96AHEmAzWJQblCNhundhnOIYTFLWoaYCPhk2LO2B0joIvn0sCUSkx84cj1OfBh~Li13XvkjsupkSwbVXcfWKelHaAzeyhlyYq934dD5QCo80gSZ4WvaTAmgDvgfF1of2ylVBZCe_W0mglL61S9VXyoAzvAR8qjf0Ij_ZYkkC1Q4rp9y9abNKEmcakVjqDYiefQ69MrMyZ_Ik_LqQS0VCek4~gW2bKNHSgphBMMOs2HizoyHRye8ua7~VqC5YbgU3FDaO0-.jpeg
//media.inmobalia.com/imgV1/B8vEv5Xh_VThvnEqMx4G0ZxU_YC_pCgmETwWNQKyeMqLb9Afo_WSoi~kcK5mwaepLz96AHEmAzWJQblCNhundhnOIYTFLWoaYCPhk2LO0VtqkzSTKVoFsiPo1asiI83tBLDXdM6vLXRkZleKeDT4W7HjQt5OtxbwGlvaJIMirQzg_Vms9y8k0VCmU4~wHwMFR5DbomYxMXsRHGsD0pdsIR7eSxohH_evqDguF0X98zMqpBq7YwQZGiBzNepXA4m9K2zBcTQOd~fQAcZwuCikOmkAb~gcUITCsweEOAs89PKboFpIIJM0ki4xF32O2JKwHyjeu7U-.jpeg
//media.inmobalia.com/imgV1/B8vEv5Xh_VThvnEqMx4G0ZxU_YC_pCgmETwWNQKyeMqLb9Afo_WSoi~kcK5mwaepLz96AHEmAzWJQblCNhundhnOIYTFLWoaYCPhk2LO2h1r~Ft_smy04Kvdp~mNda0wxhU2q62NtP4ioEehLI9Sz~z_sYr0W24HVm0dyP2lUJwaXXTjbgCVYpmnaCBCp~QmOSdHONnUd5RCsj7GpvYjVh7VmQkIAj2D13DpuqLDiTRKMrBuVCm~iKHId1GSq8mMPCR7jq35bkXqnRreImSlO~YJJagobx5zyRjpnVVf5SHuVF8nCU7OzElz6fWMhf5bOEjm8JA-.jpeg
//media.inmobalia.com/imgV1/B8vEv5Xh_VThvnEqMx4G0ZxU_YC_pCgmETwWNQKyeMqLb9Afo_WSoi~kcK5mwaepLz96AHEmAzWJQblCNhundhnOIYTFLWoaYCPhk2LO0KBSrwp2FJ_R2zWbaxvY390SWDoWSLvoPBo3G3ySV62B9Uh6VsaX_eE~OF7PcIztZ3q6PYMS1UUYZjUpWBU3pQnSMiF1LFUavWYi7QH7oW43BtA7rhRe5MkMoennpNax056zBZkXFAi0aw322DoFvlQjdg5e0OHWwx9zbEok3wKRupqNZ7xaVj6rrBJK8VBZHw4E5b601FB2MZtLoHvmZQ0folFwi0w-.jpeg
//media.inmobalia.com/imgV1/B8vEv5Xh_VThvnEqMx4G0ZxU_YC_pCgmETwWNQKyeMqLb9Afo_WSoi~kcK5mwaepLz96AHEmAzWJQblCNhundhnOIYTFLWoaYCPhk2LO2W7y6_f7cgM4vExwu654nZu1ns33oCl599Vb4s6gMysarXaJcGv3aMuvM3tIl7B7URE5ghHYeI_LXUhHDuLwhUCTW_r4ti9h40mHIx8bJpQL43XYrWMK1l_WS6U~mkPIUd6p6xvXAJLssuk~M~BpoP50FmewZ1tDcjlOEy0BnV88uCj9RXh_7ZQpj~Cjzk5K0b_o3U28KhrEjqPUKWgEuxezOFvL5mI-.jpeg
//media.inmobalia.com/imgV1/B8vEv5Xh_VThvnEqMx4G0ZxU_YC_pCgmETwWNQKyeMqLb9Afo_WSoi~kcK5mwaepLz96AHEmAzWJQblCNhundhnOIYTFLWoaYCPhk2LOi5HHEDDiRPAU1ium7eLLBKL2bnIvJJ6xcy3xvVpaNNWWWKA19Sescz59lmQ1zUN1Y7hzGqtzGazJr9Ob2qbpuav4~voMRoviL3EjDM6ljMRNrvox31cGC57ZUhOgFqyPFDJLDICWTTsl5K9aIJ7wjlOrmMG~iAUm~17Gm0UKSjsD_phZHqLY0rXG6peq8P9rhztZpfxh4ioLlwyv91Nw7CXpz74HVNI-.jpeg
//media.inmobalia.com/imgV1/B8vEv5Xh_VThvnEqMx4G0ZxU_YC_pCgmETwWNQKyeMqLb9Afo_WSoi~kcK5mwaepLz96AHEmAzWJQblCNhundhnOIYTFLWoaYCPhk2LO3crWp2pfNJfF2fN6MYopTHdQLQeRlT2dm8vAhO5O4gtnSeiG2JJ3wXhRSmneTZP0xQOUEOkYTivLJOMbh0WyMQ4ktdJbm7Jn7VbZMslhsePBaEQFSyq7~C7UsxHz_zYV745LUGhZKEzJR7v8fzGdBZ3zF3hxmHw_bbdHvUUo9XGNUShGjFkqiejuNicomu4gUzfMWTEvya6L7EnBKVk9SPp~a79Snok-.jpeg
//media.inmobalia.com/imgV1/B8vEv5Xh_VThvnEqMx4G0ZxU_YC_pCgmETwWNQKyeMqLb9Afo_WSoi~kcK5mwaepLz96AHEmAzWJQblCNhundhnOIYTFLWoaYCPhk2LO3t7ExOJYKhJmDQmA0rr1ufUWd2ku01ue6wEzCyl4cjP28IuMgiRSniO1H9R_MoFPTLU_0mpZE8dAMbsgXqydBb9qDRVOEcB3L_Fa6LFkORxBqnLV77Jv4VCbhPcoi6hLf9MmZw1m6Ld01RqMDdDQj8Qqxy791sXGWieuyhj1yWfctuCF7JkQay9JYHav2CZqugknxErYlyXBy9F1zvPGI2jmuPgeEQ--.jpg
//media.inmobalia.com/imgV1/B8vEv5Xh_VThvnEqMx4G0ZxU_YC_pCgmETwWNQKyeMqLb9Afo_WSoi~kcK5mwaepLz96AHEmAzWJQblCNhundhnOIYTFLWoaYCPhk2LO2hFcgIY6hmYUmpVdGG_8na7vMSEiNs_u0Kw_u9mTREtR1m_AJiqqV9v8g7i~vM6n2zr5VyE2vGNeBy16I7gkhleVXH2iwo7eV~LqtYRJhb6OfP~Lk1ZYsDBISNSIBSc0QYUHhpPqWRmaBsWemazkMSGDr6fJsWT9j0Pa4liautl5af__kU9oQP~hkBKw_dxzXT1SwxvjjqIA7UedK3JEGTDc6z3m5wc-.jpeg
//media.inmobalia.com/imgV1/B8vEv5Xh_VThvnEqMx4G0ZxU_YC_pCgmETwWNQKyeMqLb9Afo_WSoi~kcK5mwaepLz96AHEmAzWJQblCNhundhnOIYTFLWoaYCPhk2LOiXZMxFJybC89bBFYWflNDFABpwWVD0tfLJ9jJ4GeJtooc9ODDwTwudDq62uWVvgeiu2efUmTGjyPuVZ6ejaWTjlU9jl9fRMdntdDUH3sMLBryfqCmuWLQtq4WaNqRwpYsfoPlouoIy41luZo5PU4R_pefOWtT6wqlzejXPTNLoAvcP_YvGoPV1elgext8NFONvYfJbtgb5UkTpTqnavPsVS62W8dTl4-.jpeg
Mirabella Hills, Benahavis
Villa
2.300.000 €
Benahavis, Mirabella Hills, La Alquería, Luxury villas of new construction
Mirabella Hills is a modern complex of newly built villas within the urbanization of La Alquería. It consists of fourteen luxury villas in a fully secured enclosure with surveillance and entrance barrier. The houses are spacious and elegant with a modern design with straight lines and very bright.
The houses have been designed so that all the rooms and the terraces take full advantage of the breathtaking views that surround the property. All the villas are situated on a hill with panoramic views across the coast, sea, Gibraltar and Morocco.
Mirabella Hills offers peace, privacy and security. Benahavis and its famous restaurants, the beaches of Estepona or the services offered by San Pedro de Alcántara are just a few minutes away by car. Only ten minutes from Puerto Banus and fifteen minutes from Marbella.
From € 2,200,000.
REFERENCE

208-00714P

bedrooms

5

bathrooms

3
built

916m²

plot

1.246m²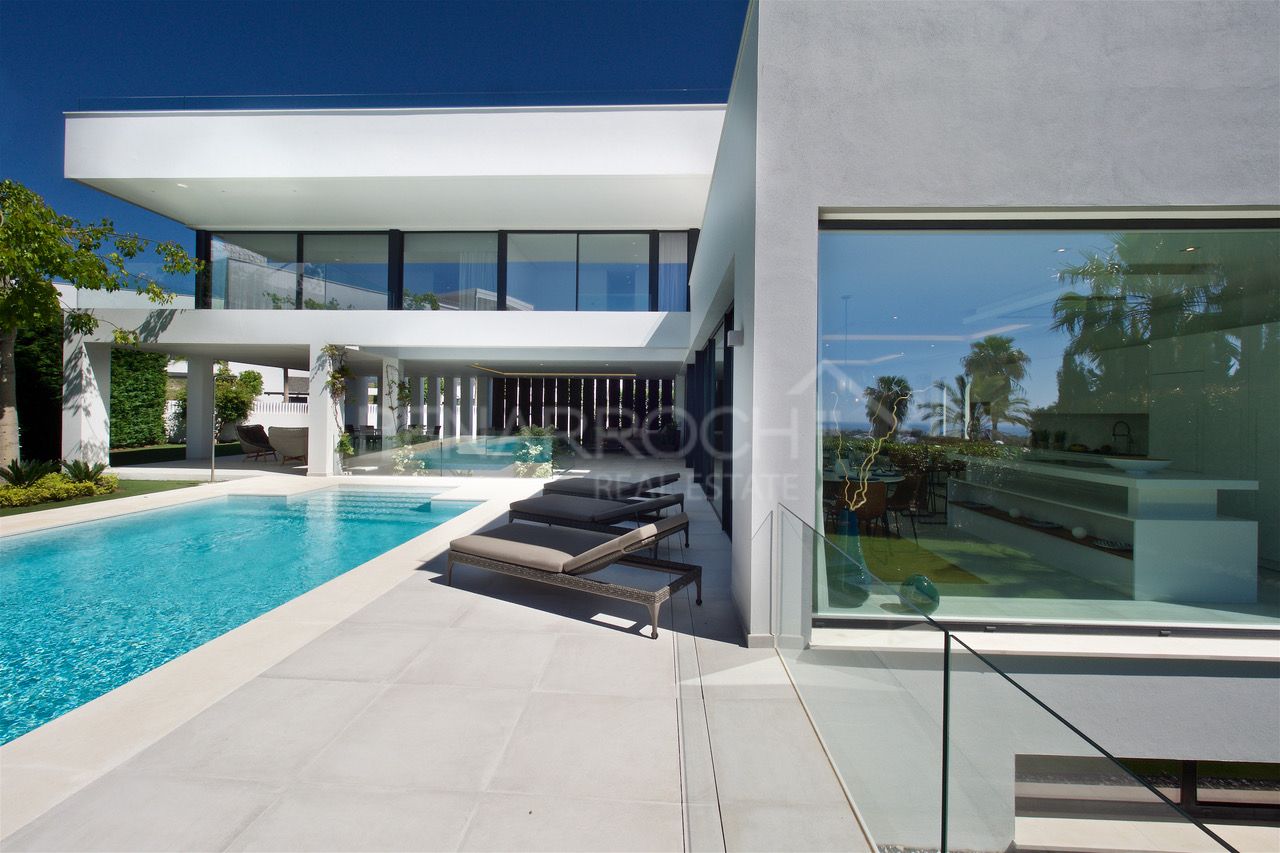 Video of Benahavis Area
similar properties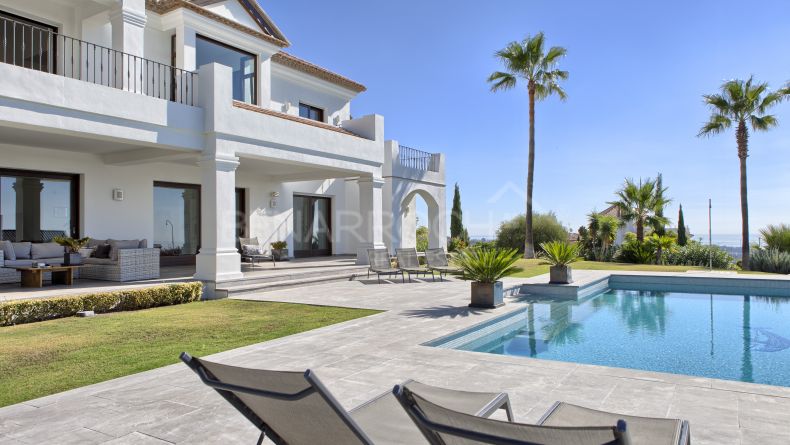 3.395.000 €

reduced from 3.695.000 €
Villa in one of the best plots of Los Flamingos, next to the golf club.Located in the residential area of Los Flamingos ...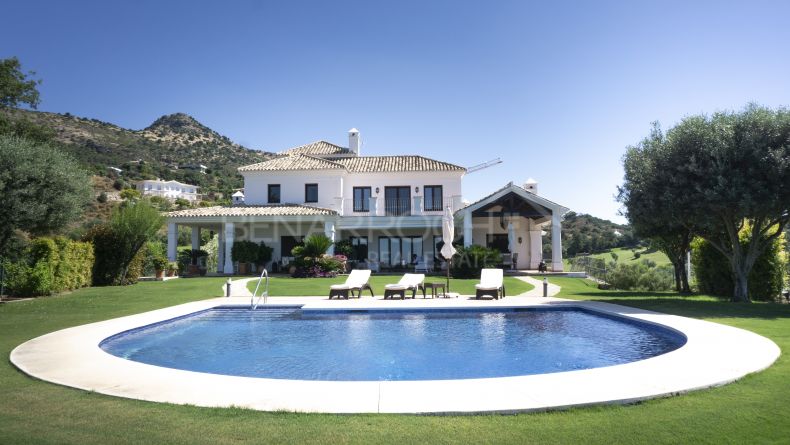 3.395.000 €
Frontline golf villa in Benahavis, in Marbella Club Golf Resort, with magnificent panoramic views towards the coast, the ...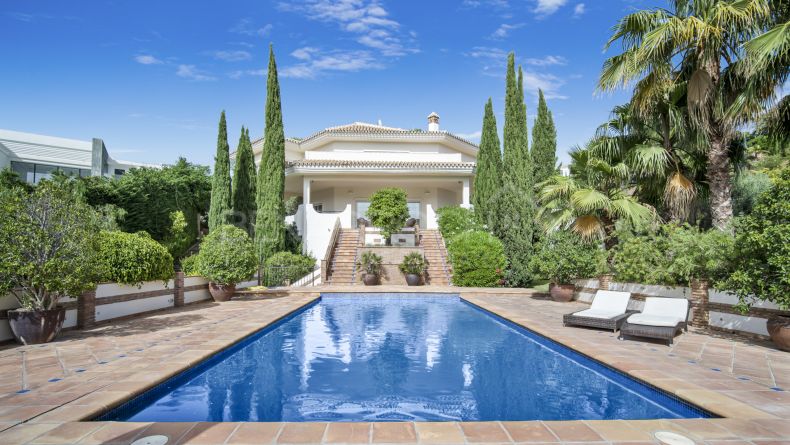 3.400.000 €
Mediterranean style villa situated in the urbanization Vega del Colorado in Benahavis.The villa is built on a plot of 2750 square ...