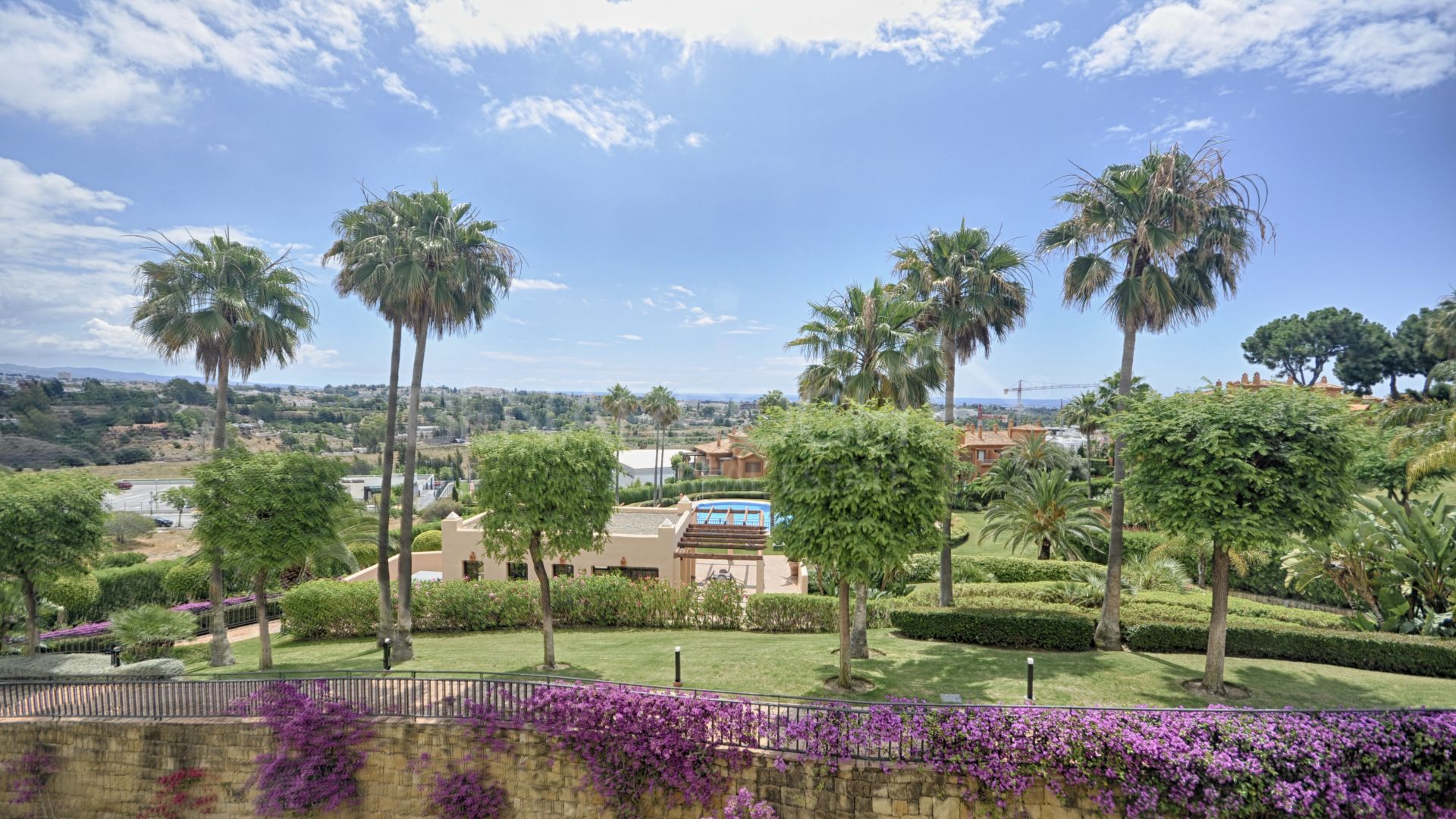 //media.inmobalia.com/imgV1/B8vEv5Xh_VThvnEqMx4G0ZxU_YC_pCgmETwWNQKyeMqLb9Afo_WSoi~kcK5mwaepLz96AHEmAzWJQblCNhundhnOIYTFLWoaYCeuZxlG8vsLJXQQVJCvOM9UBrl6qQFlLAWmrmgThKStPPrtBsj12yfzgcxOKjzMu_55utG6h8VmzHnJrNXq52LiwbzS_6~Ka8wcxUdikxMfYVYHszF9pzyru3BLcxsFsP8xFCo~8UpnABYmrVCjrY~WlCKUSzT4tzfOY0sAwDtqyVs6uGdChBf4PL8fNqKI~UnfkX6KLI~gudPByomDDwzlOcZPG9NVDEcI_g--.jpg
//media.inmobalia.com/imgV1/B8vEv5Xh_VThvnEqMx4G0ZxU_YC_pCgmETwWNQKyeMqLb9Afo_WSoi~kcK5mwaepLz96AHEmAzWJQblCNhundhnOIYTFLWoaYCeuZxlG~Mhuik92CBJ7Twk0rZ5wpUSsqG7x8GcRiNjyHob8qSC9HsELG5UCXUBUfbLldnh1gfl2jJfk_0~KrLCz3RYKogv9qnoO_RWYPqkr_Q7YwxcTybqJY7flqP7s50KrrC7c5faZJbd387mhrZ55ZhTYAi0przPdPMgnBCcM7iHg_vrOsOW~VohQoTgip08ojinVaszX9_W4jrJYRHkRvW945ibFl1jH7Q--.jpg
//media.inmobalia.com/imgV1/B8vEv5Xh_VThvnEqMx4G0ZxU_YC_pCgmETwWNQKyeMqLb9Afo_WSoi~kcK5mwaepLz96AHEmAzWJQblCNhundhnOIYTFLWoaYCeuZxlG8P7alDxQcyZblsizniI~ERNZX8gCKgfwY6Ca4YWqmoHgEgUTVDOUsYZs~4DRWzg8xZvrf1iNhFcfPwXzm1eiUWTJd6Zsa0r76FztM7zD8Yn7rZVFSbJJwnWuHrpOdAtvTzzThtI3HDJGZaptAnRo~d_EemZGcop8xaCvAKT2RcQP5bk34qCqZ5EaTi8pSChK57~knyTeb8rDBFi5z4U7pQ_Ts7qDMQ--.jpg
//media.inmobalia.com/imgV1/B8vEv5Xh_VThvnEqMx4G0ZxU_YC_pCgmETwWNQKyeMqLb9Afo_WSoi~kcK5mwaepLz96AHEmAzWJQblCNhundhnOIYTFLWoaYCeuZxlG~Rf7PKhMP1UD_MqQty1O~saoq5ttQ47tNqFHR3S3kAzsTPQ94uRk1mhFVBzZeaLFWpoI5MSqJ8mLNfuKwxpCY4vRv0FVckp4sTDQ1RqEN5Oki1MKpxIk12V_bpbq4CoWOYjGj7HcOWa~LYLQIJo9g~1~SNXcK8LyjGPn7edvIVuPgWIilTMselbZ80aMtMIoHmb2yYc1iUUfbPPL4hoIdD~mr0iPcw--.jpg
//media.inmobalia.com/imgV1/B8vEv5Xh_VThvnEqMx4G0ZxU_YC_pCgmETwWNQKyeMqLb9Afo_WSoi~kcK5mwaepLz96AHEmAzWJQblCNhundhnOIYTFLWoaYCeuZxlG8P1uZsiXe0w~aXfeF~yaBVl78UBUiX_mX47zBq8eEoh0eKWYBrdtZ2K4HP5a0L3QG2rb7nC4jVMiEa_kTsM~cGedUgK~XzQYbCReIdY5V5BGeIcPFwYRsMXCSCCrnu~8S8WTd_OfwjiMFtceCu2b74adh7CTEz~QzKsAcxDLPNwHv4S8RfVZWRLh~iPKmCzFtaY3qWPrADbcCPRCFXIy1wOFBiNP0g--.jpg
//media.inmobalia.com/imgV1/B8vEv5Xh_VThvnEqMx4G0ZxU_YC_pCgmETwWNQKyeMqLb9Afo_WSoi~kcK5mwaepLz96AHEmAzWJQblCNhundhnOIYTFLWoaYCeuZxlG9iX_YpK6mkPCjJMokjsSA4inKLEeVEtUyY0ulg~pKJ8gOhLCQH411oFxLeyywRB~QaMh79mTRf7Lys0XF9j7b_UYpFiSgiP7WP6uQmSlclWtdHIQ2txDsaGq5RKe0wGblpqqiOIi6q6BElKmjGi_oMe4urqLJgDK6ZHvaoMlIoMvdOAcb2OzzHsm3L6Ftuqn8iPXnKoD1sy8TvC_HUQitCJW_ua~kQ--.jpg
//media.inmobalia.com/imgV1/B8vEv5Xh_VThvnEqMx4G0ZxU_YC_pCgmETwWNQKyeMqLb9Afo_WSoi~kcK5mwaepLz96AHEmAzWJQblCNhundhnOIYTFLWoaYCeuZxlGoSmxhI8gEnZYODXN80RlgXyMR44HqDnFL8mjJnJlo6t2ntA5kjXvDv62WesBMQIDMlVNW0~MKzFyooTyrwd5ePyzQlx5sxx_fG~1sIDb5VEwVGp3FCmJJ7SZmmlIGkI0LJg3oDBXQlDkOI3DZl_qXNiCpCAhxDnfu6VdLIMHZ~G2NctvMGrkyhwKd9JARmgB6EUkP9z1EvUnZei51pzK_d19ZzXO9Q--.jpg
//media.inmobalia.com/imgV1/B8vEv5Xh_VThvnEqMx4G0ZxU_YC_pCgmETwWNQKyeMqLb9Afo_WSoi~kcK5mwaepLz96AHEmAzWJQblCNhundhnOIYTFLWoaYCeuZxlGoPVBxXxoxV2uxAWsO095DSycGERgis5VBCG6FzjBEOS9ipFGfYF_Uiq0e7QGZ6HHWaLDBhSQBnMva8RFwE3JgV4Ay1uI6fQO9sHGH9j8Lu_HQ4PE2sAKhKGn~igxHv8m0jTJxqrzADynrIiJP7IKKN5CiKFMg6Mut8So3wqqc5Fj6TCn4uE~LLsxtP2hO7F03kb8TPl_kvdBa0XPOFUBtcoPyhRRZg--.jpg
//media.inmobalia.com/imgV1/B8vEv5Xh_VThvnEqMx4G0ZxU_YC_pCgmETwWNQKyeMqLb9Afo_WSoi~kcK5mwaepLz96AHEmAzWJQblCNhundhnOIYTFLWoaYCeuZxlG9nZfJF03SD_FRgEE9AQBaJnsDzYIAIyFKC5w6JqX2IjD6nmgv09CH_aujEsXCyRG3siGhRGM7r7iDs2hCSPvwssE9ovsCk634hT_r_5ODVb49DeoPZUBH82PdhaYOHx~zrJLpWsCUNSiT5Jal7hHDWB9jmulht9SAzp9Xr7XzOkQdbRcXM5Dj6i8XOpixIalu1pqPTbCBRLiYUZRnRr7JlmXb8V1CA--.jpg
//media.inmobalia.com/imgV1/B8vEv5Xh_VThvnEqMx4G0ZxU_YC_pCgmETwWNQKyeMqLb9Afo_WSoi~kcK5mwaepLz96AHEmAzWJQblCNhundhnOIYTFLWoaYCeuZxlG9YlnFtkxoh4isJ88iJ6emJiDLS4eJSQyrkH8ejwa_pLpL~zg_ux11qnZit3UDvdkgIRJpV1J6pE3bjlnp929kriwx9z0LNnPH~a7MQaqmFDLfcVTuHWAiMETA5xYer3SGC7hOJG_RsGCx1dmg2ubpZguLyXVL8G0vQUePqsC73zJHIagw8zbyxWvtSNYlwSRzHcVc5KWaFKeKoWqVWkkul9GyFUm5Q--.jpg
//media.inmobalia.com/imgV1/B8vEv5Xh_VThvnEqMx4G0ZxU_YC_pCgmETwWNQKyeMqLb9Afo_WSoi~kcK5mwaepLz96AHEmAzWJQblCNhundhnOIYTFLWoaYCeuZxlG9YhM2T3Jg_8wrvsCCb9prX8By1aaFoIb~Ba3VADBlsx_ccoNng0CHfSgHfyw7STIlq4AH_RpKYgYOFlPvrOypa5zlJsQ6o_pJU8~W~VwRO~SiTjkt2vNuoxrTad5mU6p7PO11xHZR547W4yrWuZ8Mp5QI3KcxThRLkF7oDItxac6m2qHHEIwDhnKtYqRLiYM6xpaQp1QAvvZ7omx9yC1Udv0Z2sxwQ--.jpg
//media.inmobalia.com/imgV1/B8vEv5Xh_VThvnEqMx4G0ZxU_YC_pCgmETwWNQKyeMqLb9Afo_WSoi~kcK5mwaepLz96AHEmAzWJQblCNhundhnOIYTFLWoaYCeuZxlG8Txs7D5doePrhSvT11U7E8RNVXgjPfK8iwuEvBBt9795NmiKpIIrv24V36ji6bmM3O_3dd5STgvsW4TpRwQBd31oxlEZsC8CPywm7UxaR1yykMLE0BcoJnJhrGci1eZZ7I4m_AcEvl5l~Lc_iEVssjcv6x1xRYW0Tztiv3KBdI_iq4BVkfEmLKKCROegvACWIKY0tCWornPEjBMzlU8yUC_ltpi5tQ--.jpg
//media.inmobalia.com/imgV1/B8vEv5Xh_VThvnEqMx4G0ZxU_YC_pCgmETwWNQKyeMqLb9Afo_WSoi~kcK5mwaepLz96AHEmAzWJQblCNhundhnOIYTFLWoaYCeuZxlGpkNmTMNSq4DYwWHS9E1Nz7Fi7wXGg76wxxjwwgmvycbaZYPAia25vcU_0PaYCJx0MSOQiBpqea7JWxi1fkUi8r97q6ohQ88GZ1EfKJ8tvY79XO9vN_T2~CyXmzkJHG~CrbxVEqc6x5tOIfz~XT4U8byWtPPg0yv3aQVi_7_DrHIRoyO8AW9mmxDCi3~ypxhWeUJvj05PNftsMXFtufpaK84Pf3TCMg--.jpg
//media.inmobalia.com/imgV1/B8vEv5Xh_VThvnEqMx4G0ZxU_YC_pCgmETwWNQKyeMqLb9Afo_WSoi~kcK5mwaepLz96AHEmAzWJQblCNhundhnOIYTFLWoaYCeuZxlG~UX59mL2JSrhU3zQVmQFqkipvUiT_d7_9d1uJPh8nTtTFQFWSEoBr7hnu74P3qDWXMDtFPLca_aPzSHiGPZTzr3XHGaoo2PsbDYqpYPL67DaMRtILNE0dYW0FUXGrc7~VZZaot8VpYcGu1xpjO3u4EWbYNzTF6kf~WMGjEym3k_OOKK2HRh1tCR1NJpKhu0FqugHRSeOl86DqbuSIrMMpel0LIZ_Uw--.jpg
//media.inmobalia.com/imgV1/B8vEv5Xh_VThvnEqMx4G0ZxU_YC_pCgmETwWNQKyeMqLb9Afo_WSoi~kcK5mwaepLz96AHEmAzWJQblCNhundhnOIYTFLWoaYCeuZxlG8K4YGDOyHhntGaNjKR4IWByk0bCeIAakGnFK6caZ502vRpQyMVCyA6KjxhfNm510aGOWG2pFxlppio2KkvPifG1StXSQUOhk_xJ4IYmM06h1cdGH42trt9ItSd8Wnxkmx18g6yUVHwQFuo0eany9lNri7iK~3MFs20eAqpfEx2VobHjToaTouC2k6xOjiopdBCbHAaCSlR~HrojBLh~hF66i403ICw--.jpg
Las lomas del Conde Luque, Benahavis
Apartment
SOLD
Sea views apartment in Lomas del Conde Luque, Benahavis
Apartment with sea views in Las Lomas del Conde Luque, Benahavis.
Through a nice entrance hall we access the apartment where we find a fully equipped kitchen with utility room, living – dining room, two bedrooms and two bathrooms, the master en-suite with shower, separate bathtub and with a large wardrobe area. Both from the living room and from the bedrooms there is direct access to a large covered terrace with beautiful panoramic views to the sea and to the gardens and swimming pool of the complex.
It includes two parking spaces and a storage room.
It is located within a very quiet and familiar gated complex, Las Lomas del Conde Luque, with security service, swimming pool, SPA area with sauna and Turkish bath, and well-kept gardens.
A supermarket and the private school Atalaya are within walking distance. For golf lovers, Atalaya Golf, El Paraiso Golf and Guadalmina Golf are just a five minute drive away.
REFERENCE

208-00318P

bedrooms

2

bathrooms

2
built

117m²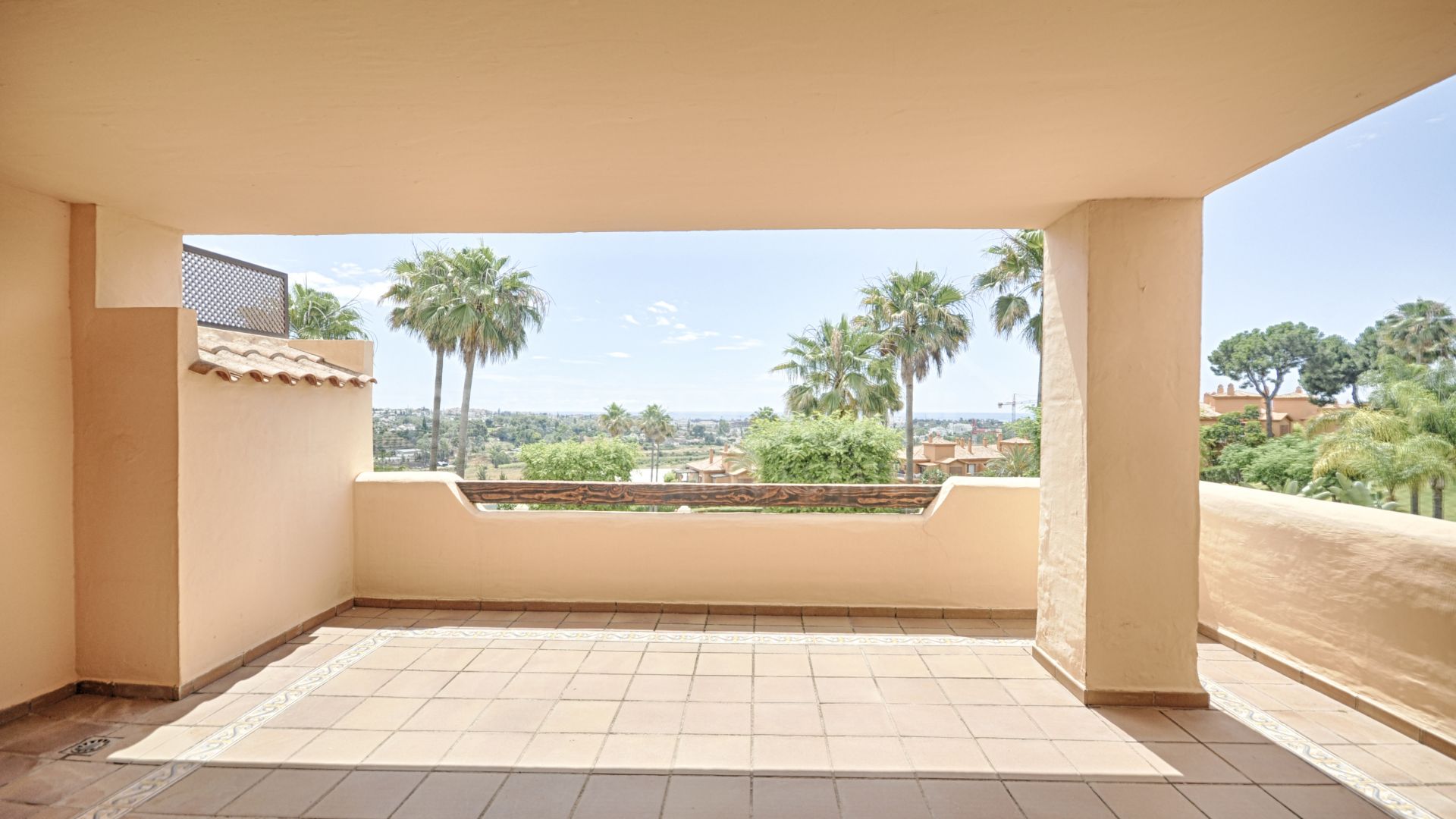 Video
Video of Benahavis Area
similar properties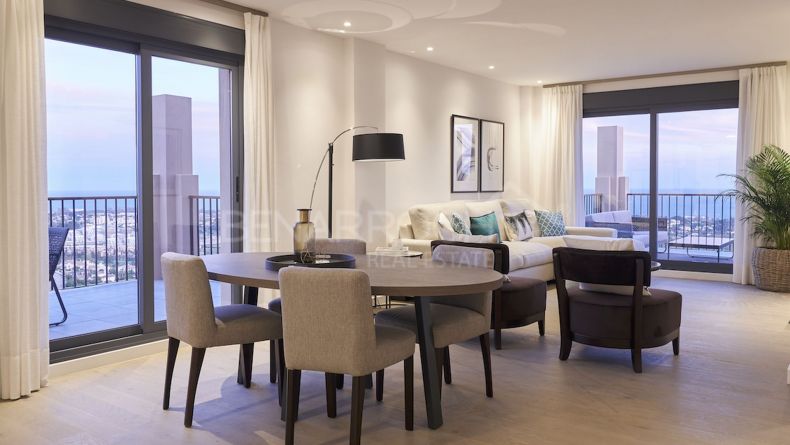 395.000 €
Firts floor apartment in Señorio de Cifuentes urbanization, in Benahavis, with a contemporary andalusian style design, in a ...