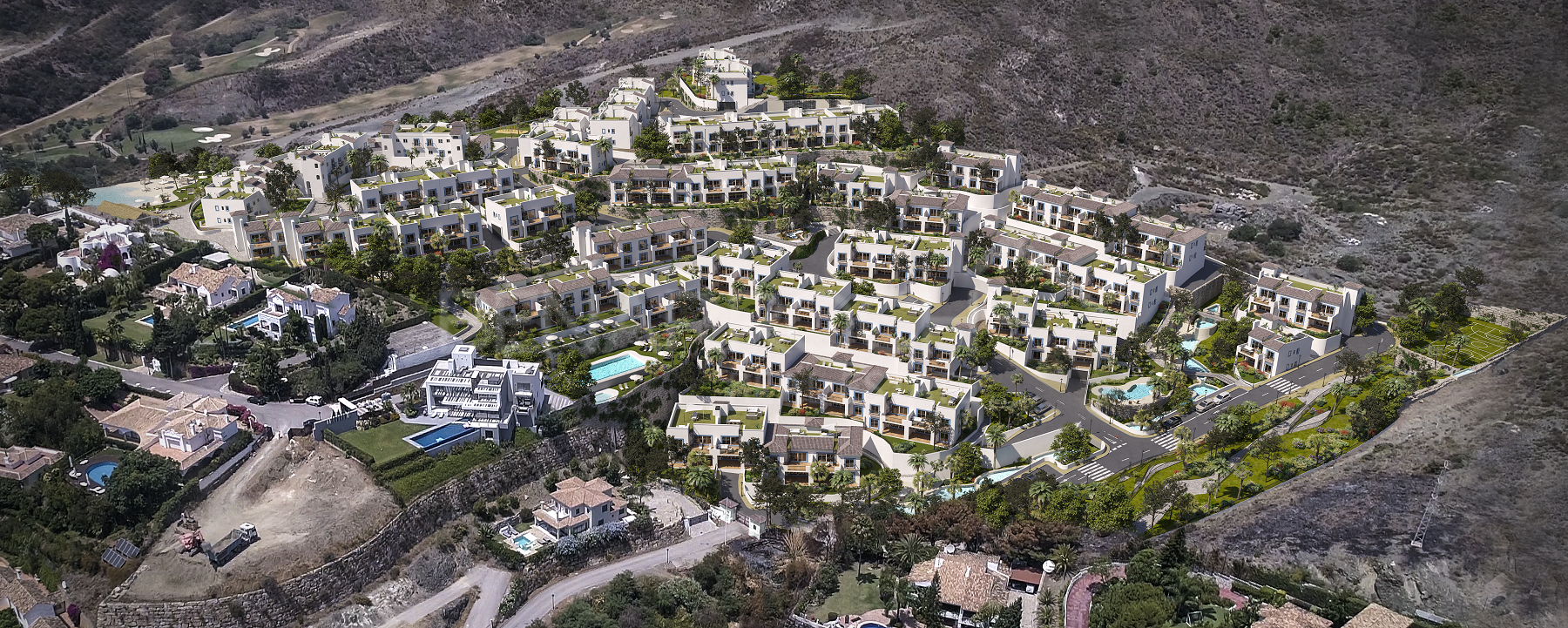 //media.inmobalia.com/imgV1/B8vEv5Xh_VThvnEqMx4G0ZxU_YC_pCgmETwWNQKyeMqLb9Afo_WSoi~kcK5mwaepLz96AHEmAzWJQblCNhundhnOIYTFLWoaYCUgzP72Mwq92aBRnaMKfO5G6viaXOtRRIjtxCDhZeLiX9YCyEXvYvuStXNJ0tBP_GfZkbnH9WXmHCIkXie4iFzIFZC5cjgX8ABcKu_GZ6~eKeNA0zQTMQ9dTKYQOmfn4ImeLpY8brKC~uncGdHWJp~h1C4s_k9oexcV_YaQKggtaF~uakuEOMDgsdvKmlbJ_~KUK1SKLpMc1~Qv1FkKsgHi3igeQaSULSKvuQ--.png
//media.inmobalia.com/imgV1/B8vEv5Xh_VThvnEqMx4G0ZxU_YC_pCgmETwWNQKyeMqLb9Afo_WSoi~kcK5mwaepLz96AHEmAzWJQblCNhundhnOIYTFLWoaYCUgzP72Zcoorl1x4NcMeeSZUaoYCAvlv2vq4iiYkQ79m2ThM3U8F6G~VYSVI2mjGvIXXjhv7B2xnpatYNTz6bYuALgmfKBYG9w0N~3K1CsVZujeI_PcJXaE3cgtZajbjQdxwrG4B86LKahzz4PO1rkvIQ1QvqixuHYzVfb2l5HrIvYPKheTppnd4~qnivpno_OuRP4bsSi1FaJelUwZtnJtd5B6iOL3n206fA--.png
//media.inmobalia.com/imgV1/B8vEv5Xh_VThvnEqMx4G0ZxU_YC_pCgmETwWNQKyeMqLb9Afo_WSoi~kcK5mwaepLz96AHEmAzWJQblCNhundhnOIYTFLWoaYCUgzP72ZGr2UGBI1HTZym~p_KpoXasWqM40A_RD5UgCsJF7dLSHDDChMdEJcUetb3ixYp6QU99TJEfAKnC33XmfCAGs_zsuHSAixSt8gPa5xeDOw66iOViF~ENlvj6GCsbatXR~DmCRp3kIYaZ1V3vi0KYcGg~XnNgemVkmDmpMx27Vo35h_lGFPJ1O7_AFu3Joymuv7NFr_AGN7wiEXVhZ3PuUcSaTEvZzig--.jpg
//media.inmobalia.com/imgV1/B8vEv5Xh_VThvnEqMx4G0ZxU_YC_pCgmETwWNQKyeMqLb9Afo_WSoi~kcK5mwaepLz96AHEmAzWJQblCNhundhnOIYTFLWoaYCUgzP72YeKIi6tSUhrPSM_BBNJJbPcBoILHgGqIDWezA7UrC~IQcrdZfcl5InFcn6FppFwOS9FP8vdz8rhofL3VbxGregjgmpJKW6DAyIZvy0l20zE4Mpx8vpb4wNjzk1PUEOFFbE~xbCqzrRKFn3pcnzINkJmXVOIkf3mXUvhwPoJGkWjc1P1kr~G4mKaXc2G1XmJXGM0F_H7Qgjt7Bt8jlmj88GQZDkJDIg--.png
//media.inmobalia.com/imgV1/B8vEv5Xh_VThvnEqMx4G0ZxU_YC_pCgmETwWNQKyeMqLb9Afo_WSoi~kcK5mwaepLz96AHEmAzWJQblCNhundhnOIYTFLWoaYCUgzP72Y8zi_GJDeG9Ar4OSc7g33cCh7cYe6TWrOBv79nPLKXFF~AQSzae2JJg57mcHjO3EEzTkeWeit1QTCsS2hy981VHHi~58LESIvm20NEGwh~E5dOgjD5IPQI9n6I6Hs4j2ZfUKnFbgqlcxvNHd79Y2iYl6zCcyqmHeA33NFtr1qVHrq2H3BVGO5tJCay0zf0N~FmFLCDxjjJl5BAQMtgFX5CJPGvO4cg--.png
//media.inmobalia.com/imgV1/B8vEv5Xh_VThvnEqMx4G0ZxU_YC_pCgmETwWNQKyeMqLb9Afo_WSoi~kcK5mwaepLz96AHEmAzWJQblCNhundhnOIYTFLWoaYCUgzP72N7SERwzMfJp~mvannNj~CyVR2qDefIJl8AkSgs03NomNsLyIRkBdRscpota6z2gCaxtvcHjAqjsa8ExrvyyPiN2Hh95m_FjDXV42vrePO6VIsLduScU4XOlNh4EcPxb1dWVuFqlMhor0ykedqxSSbiUZc_z4vr6RpXLnI7loI1GBOgkUmBkCQ82M9kmUP2EjtLUaeJQKQAnIEk3t7ZlZsPVibU6tyA--.png
//media.inmobalia.com/imgV1/B8vEv5Xh_VThvnEqMx4G0ZxU_YC_pCgmETwWNQKyeMqLb9Afo_WSoi~kcK5mwaepLz96AHEmAzWJQblCNhundhnOIYTFLWoaYCUgzP72Mwq~GouUv2nxL4zviPuM~RonJSPybxkqxR1lrw2Jc7nC0p9j5UBtH~tFCVlHYVNj25Nyuu5mQ74z~DHChwozJQsHQuNGqiPtepMpPfiGRBjXo_XF_VbN1QblZKLCwl3HzT2ofEuyPGrRfA1EPsOMO6Y7gmf_Jaa_0gtqBI3p5HUlXtfboid647uCKabFYaeNBNw44SBBNTKyFzLh7RlmYsgTQ5Ugbg--.png
//media.inmobalia.com/imgV1/B8vEv5Xh_VThvnEqMx4G0ZxU_YC_pCgmETwWNQKyeMqLb9Afo_WSoi~kcK5mwaepLz96AHEmAzWJQblCNhundhnOIYTFLWoaYCUgzP72NI~sc48CNH~brH3am3Pr0EgBQw6Vvtpdw2UAKkuNjJaGCWVESVDnHdjWhWLyxlIp~z~vhmPXWhaA83Rqs4qHX4yBtInSTZBMuLhFC1dSUjAT1a5oV8lLDFRb7mLGHS~u6AXhEvn8W1~ys3NurkpwRVGmfBdsOwOfQaeDj20Lr5o4t0BJesgoRjOTFM~ePDhunE6QGq5_IOKfVtsVgvrtDLgsaMhk_A--.png
//media.inmobalia.com/imgV1/B8vEv5Xh_VThvnEqMx4G0ZxU_YC_pCgmETwWNQKyeMqLb9Afo_WSoi~kcK5mwaepLz96AHEmAzWJQblCNhundhnOIYTFLWoaYCUgzP72ZD8fGf9~XTYTQKj~i0MBQdfZzzREcDnlH4zYQ2HtYlRR~P~sFEn9Wy_~4qmDKx1b7mRdoqVlmYJ6C0xvbBUdEpCndWJUAexKujM2pnwyrNAq2TS2J1BuIRhHp9xetVQyjBM0_0_71xgueLilEt~zr333gbIQXCMiao9IkZ1JXAohqp08RZ6P6t_PwShoJXS0UQGtr1yCKuFIMHUEg2TE~jmNERh6sg--.png
//media.inmobalia.com/imgV1/B8vEv5Xh_VThvnEqMx4G0ZxU_YC_pCgmETwWNQKyeMqLb9Afo_WSoi~kcK5mwaepLz96AHEmAzWJQblCNhundhnOIYTFLWoaYCUgzP72a4yMQGbR_v3746kJnmV_Z6UqJd7Df3xUcdEpOFx~tPvtApMOfosgNv~0clhuMjVxoDD~z1fLN9_W5Nu0bncUrkEUjeLGLacMim_EblwOO5Bwdnh_RQ8DjxQNt1Y9OX~JB4BPSzUmCkfBfGn3CQAnvFqs2Djk2HCYFsOg6WE~Tw_ujyZXQtQWG_VAEuVy~l1gFKgJsdkmNQ6IrB8QwjfdJxV9_kG8vg--.png
//media.inmobalia.com/imgV1/B8vEv5Xh_VThvnEqMx4G0ZxU_YC_pCgmETwWNQKyeMqLb9Afo_WSoi~kcK5mwaepLz96AHEmAzWJQblCNhundhnOIYTFLWoaYCUgzP72N7Ct8hD8etd8ZxPIQLeFEB3G8N47ZaEqO0J3xlzg_OBhoKsAbANWC0HMWxtjjFZJhriQhJjg5R_Wx~ORl1onUfLKZm7QsAfTgoXzcgu1hy28Ksyn3mVbYBR0pv6ElaE3o~NhvaiiteibpEhGysE8~alQz7LXSgsBCDDf7rVyIYu0q1dZBcyFE11tbMZgeFFQRmhVaRJ_KPbM1n8cXjJkRFW1~DvtsQ--.png
Paraiso Pueblo, Benahavis

From 284.000€
Paraiso Pueblo, apartments and penthouses in Paraiso Alto, Benahavis
Paraiso Pueblo, a closed complex of Andalusian style apartments and penthouses situated in Paraiso Alto, Benahavis just ten minutes from Puerto Banus.
The urbanization consists of 206 properties distributed in two phases, with delivery dates of the first at the end of 2020 and the last at the end of summer 2021.
Paraiso Pueblo has 2 and 3 bedroom homes, ground floor apartments with gardens and penthouses with solariums.
The interior design of Paraiso Pueblo's homes is open plan and modern, with views of the golf course and the sea. The common areas of the complex have a club house, gym, spa, indoor pool, four outdoor pools, garden areas, sports area, kid club and squares creating a magnificent and pleasant atmosphere.
properties in Paraiso Pueblo, Benahavis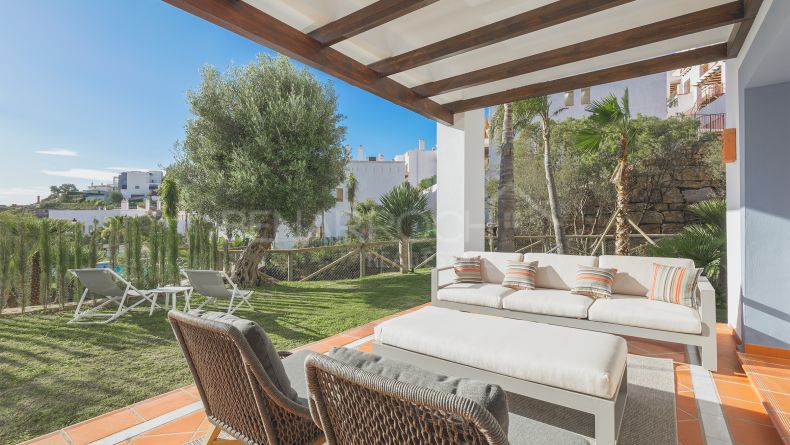 284.000 €
Ref. 208-01488P · 2 beds · 2 baths
Ground floor apartment in the Paraiso Pueblo complex located in Paraiso Alto, Benahavis, a few ...
similar properties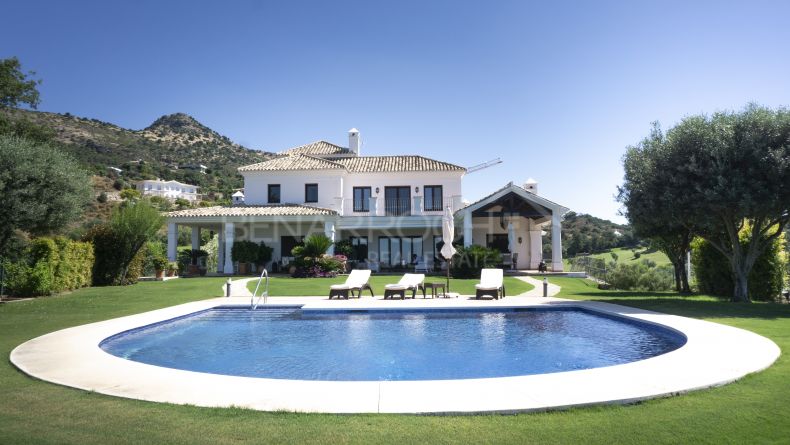 Price on application
Frontline golf villa in Benahavis, in Marbella Club Golf Resort, with magnificent panoramic views towards the coast, the ...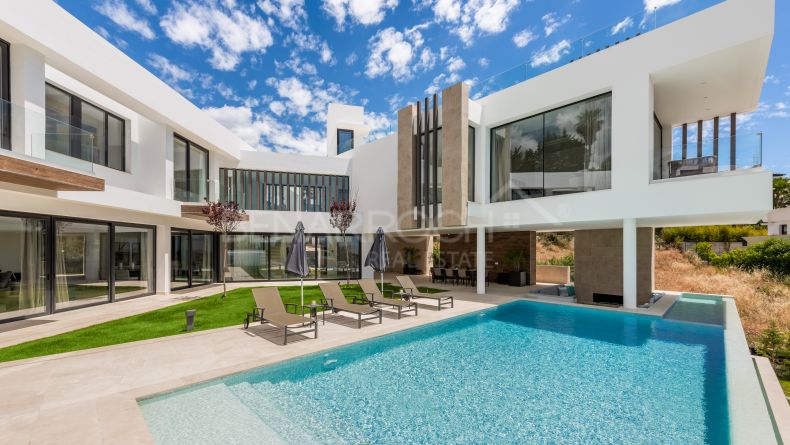 Price on application
Recently completed villa situated in Capanes Sur, La Alqueria, Benahavis, with an innovative design in a modern contemporary ...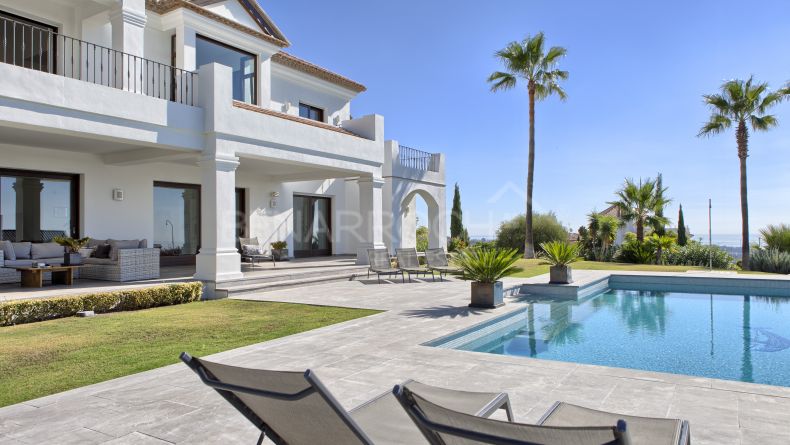 Price on application
Villa in one of the best plots of Los Flamingos, next to the golf club.Located in the residential area of Los Flamingos ...