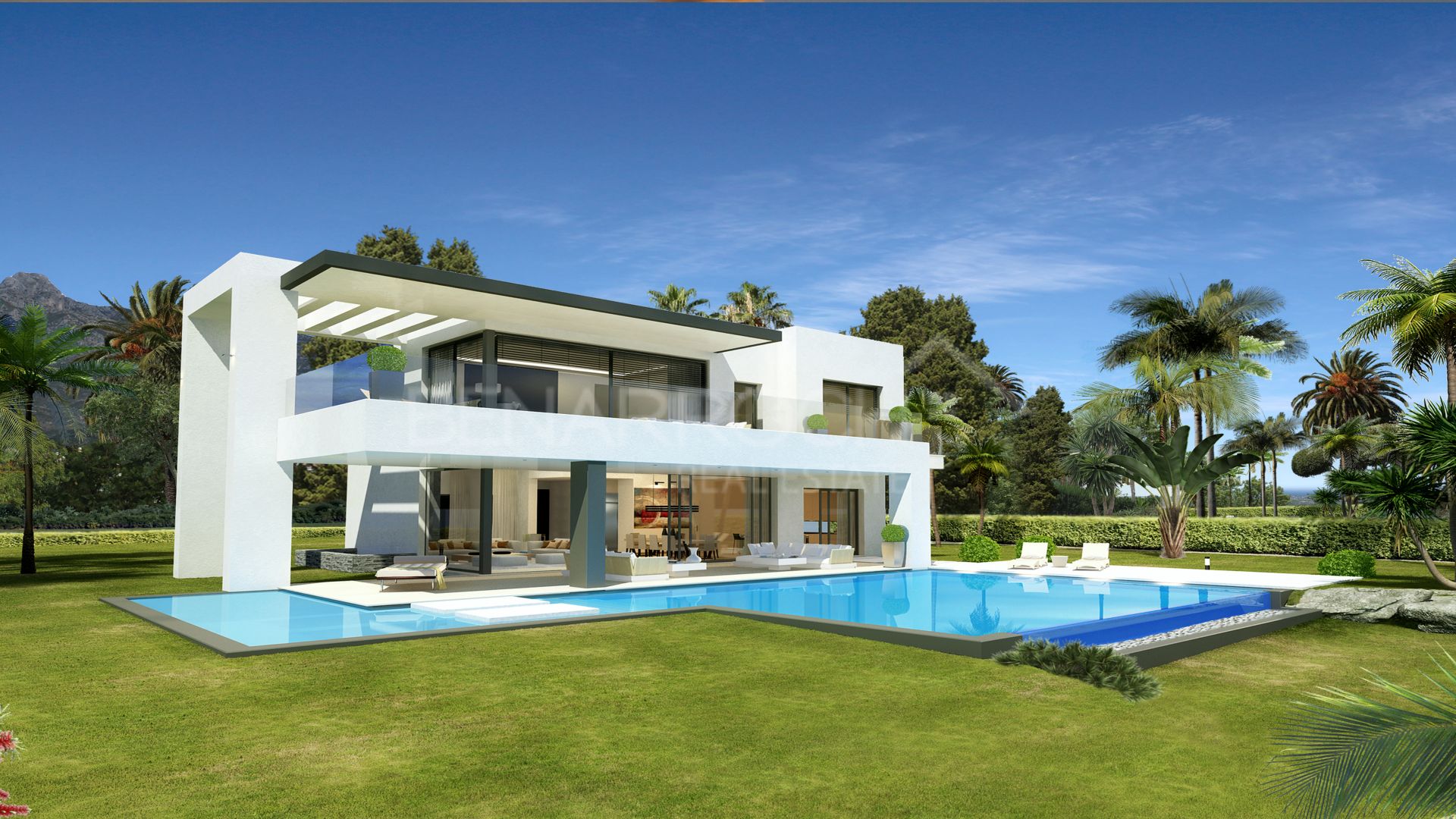 //media.inmobalia.com/imgV1/B8vEv5Xh_VThvnEqMx4G0ZxU_YC_pCgmETwWNQKyeMqLb9Afo_WSoi~kcK5mwaepLz96AHEmAzWJQblCNhundhnOIYTFLWoaYCSO7LXF7vhg379K5MzKJOeZQ6GDfOyAFcH5ROu~del9gdQfDaeGZbLjwGv2xFsAabYh_6yQNQ~yW82B3pdkrApH68GjdRC3Vv4_1_QCRLFh9arAnWr8feF7MDeWYVcXkdT2ugcPQ6lVxR4XHv3~Ewhij1sOgZTWGm3fkZrY8nXNcFQWeD6RtpuSnp2RcOnfh2H4LV6o5J8Q~Ui4XeWkMoCOFUBlG_ctEsxHSg--.jpg
//media.inmobalia.com/imgV1/B8vEv5Xh_VThvnEqMx4G0ZxU_YC_pCgmETwWNQKyeMqLb9Afo_WSoi~kcK5mwaepLz96AHEmAzWJQblCNhundhnOIYTFLWoaYCSO7LXF6nraBhw1QB9RkqybJgoiC6t4rSSmDDPO88_d7dgPZxTn9fvZ4cl6DC64Fsfmo_Dqzox9lKoLvq30NLKlySVe0y~uY6YCuZUeasXb244jfrMfHQa25hx~2zaX_6QsKumiuB5luvrGs~1QU4gzeFMnBit5DOKqMBn4A8dQFr3HK_olszWuSxKB2qPFOjgjrkdLML5Zu0TgRD21EgPJxbct83sKp1C~Qg--.jpg
//media.inmobalia.com/imgV1/B8vEv5Xh_VThvnEqMx4G0ZxU_YC_pCgmETwWNQKyeMqLb9Afo_WSoi~kcK5mwaepLz96AHEmAzWJQblCNhundhnOIYTFLWoaYCSO7LXF7vze4H6h8RTR1npE6aRDQAlRJmwC9BFv5sKFnFiCCeKEWB8gnf2HyBP~RYpmaPAG2ehjFBZZrvYTYwjwpUmhoBqdroSXuZ837F7JY8~ufSOyyuRv3WV3W~7u~UohjS3kpFeDrstVQQxqg~lVkXijFwwQwKohbvSMklT9l5DEg11rom5BAD~HDDzdv~KBTBocEiLCvhzExb2waLMFiz~FMaChr27HIw--.jpg
//media.inmobalia.com/imgV1/B8vEv5Xh_VThvnEqMx4G0ZxU_YC_pCgmETwWNQKyeMqLb9Afo_WSoi~kcK5mwaepLz96AHEmAzWJQblCNhundhnOIYTFLWoaYCSO7LXF79l73CQyyYOaXNw_bz~jfkO9A6qSTO5BujhI_RLJWoCeTR~~BLJETibHLdlAko4k0zRTUz9lQ4DeqT_ZxG9mDODIGWEtywNoUIZMdnOoKC6B2DpfJpI~npfedT8maBiK52cxjJs3RUfdnB61WhqOp~JnHXQf4F50VGN3CHej_ngCCpMFlcJ8sfPeO921fNwF25t31FpmfXgSTT6QE9u9n8Z6BhqKSw--.jpg
//media.inmobalia.com/imgV1/B8vEv5Xh_VThvnEqMx4G0ZxU_YC_pCgmETwWNQKyeMqLb9Afo_WSoi~kcK5mwaepLz96AHEmAzWJQblCNhundhnOIYTFLWoaYCSO7LXF7dKRt4mlauRwewDaGgFXxoeVEkkAU2OUjh3Y5JvuSQvbDyM9aWAu4zgfJ3CFDHgkhfYx_qXuzGShLh_iBoaqN1yODv7I_RrVTSAbGTNSotnuEBAqDt6Acrnd0BowAQfpY~g8nbbA1U1En3L~wQ5iM1kUHPpRAnH4G0WkEEu4U0fnZYgwIpkPhLYiX5DGPkhwZKVpawl_ge3RgeWVfraKVpPq72hSGw--.jpg
//media.inmobalia.com/imgV1/B8vEv5Xh_VThvnEqMx4G0ZxU_YC_pCgmETwWNQKyeMqLb9Afo_WSoi~kcK5mwaepLz96AHEmAzWJQblCNhundhnOIYTFLWoaYCSO7LXF79MvKM5N69kfFW5EzWNjLL7dDsq4TH9v0lCXFwXhJ8G4CiCqRymTauTr5MdwFKOHE4DaiJfG15UUgMfYhRG5pkuwJZocKvuNgWBP6uy~BM7Rk6YFiusmIQ2sWkKeYyKdJIFyH9TSCiO_Z2_r5RhWQe53593wVl4ajhx7_fPquzgIKH9Ble6JVB6dz6Es0wl2041Icg51D4vRhL3e6HyPyesbFvuaOg--.jpg
//media.inmobalia.com/imgV1/B8vEv5Xh_VThvnEqMx4G0ZxU_YC_pCgmETwWNQKyeMqLb9Afo_WSoi~kcK5mwaepLz96AHEmAzWJQblCNhundhnOIYTFLWoaYCSO7LXFuw4aBLIxSdBWEu~2Xx03BtIrs~kZscXwF_ueIlFSCKtj15dcGP57RpEKrUwAa1zTu8xT6iBOqHsy01nlj2IE6b0o8DmlqwND83uNEBufgkpYdIb1HJDsVjaBwjQU5qi4B6Ck~Pba4tUdFTL0LwUho3qJkA~3uQc14DE0dJo65rrRi7j2vlmyJ2igkVDHkG6GeGaxXtAzrTTe9HZaj57mhXjauDiR9Q--.jpg
Concept, Marbella Golden Mile

SOLD
New development of villas, Concept, in Marbella, Golden Mile
Development of modern style villas, Concept, located in Las Lomas del Marbella Club, between Puerto Banus and the city of Marbella, with all kinds of basic services, leisure and luxury offered by the Marbella Golden Mile.
The residential Concept consists of 8 luxury villas, independent, in a closed and private, with 24 hour security, in one of the most exclusive and prestigious locations in Marbella.
Each one of the 8 villas is different, keeping the same characteristics with each other in terms of style, finishes and number of bedrooms, 4.
Concept has three typologies of villas, differentiated in size and distribution, all of them being developed on two floors, customizable basement and solarium.
The villas are equipped with the latest technologies and qualities, such as domotic control system for lighting control, blinds, security and air conditioning.
All homes have private garden area and heated pool.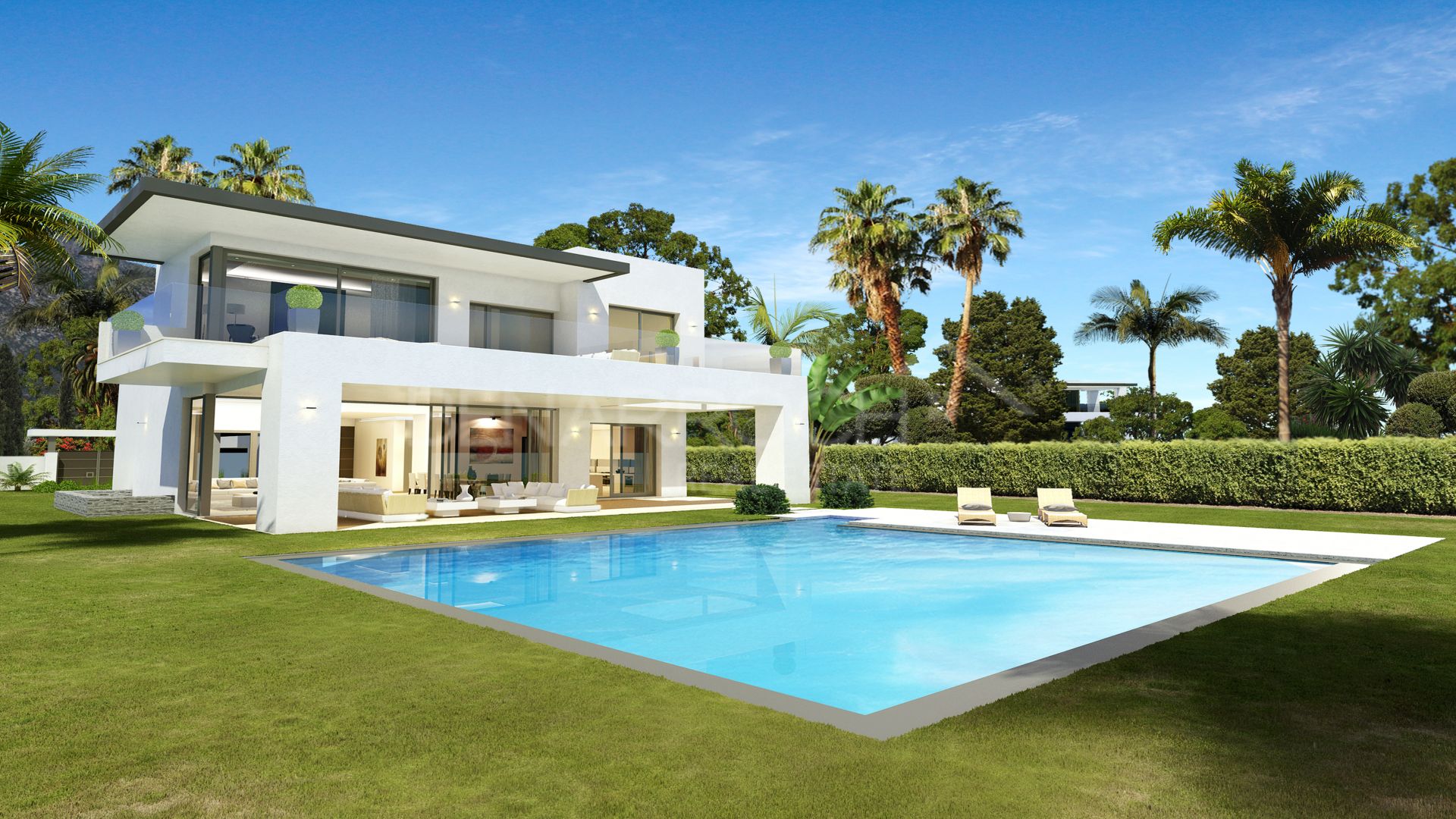 properties in Concept, Marbella Golden Mile
similar properties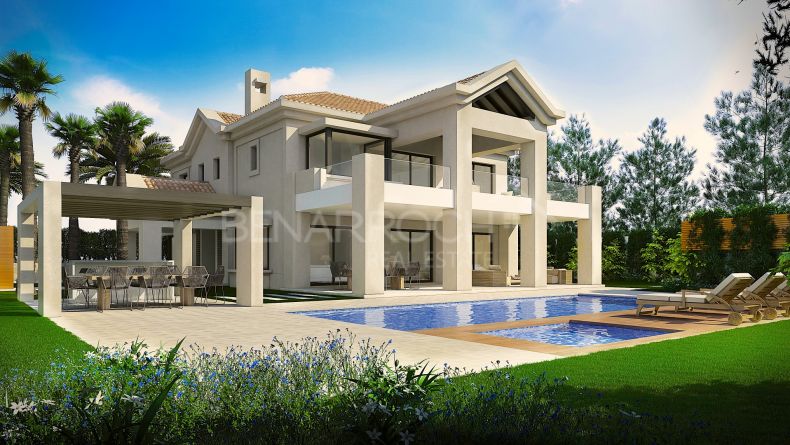 Price on application
Villa in the heart of the exclusive Golden Mile of Marbella, in Las Torres urbanization, Marbella Club.Located in a natural ...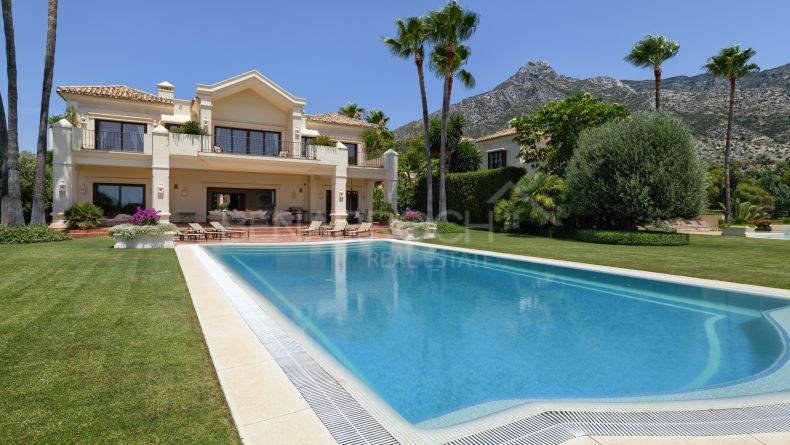 Price on application
Traditional design villa located in the Marbella Hill Club urbanization on Marbella's Golden Mile, with magnificent views over ...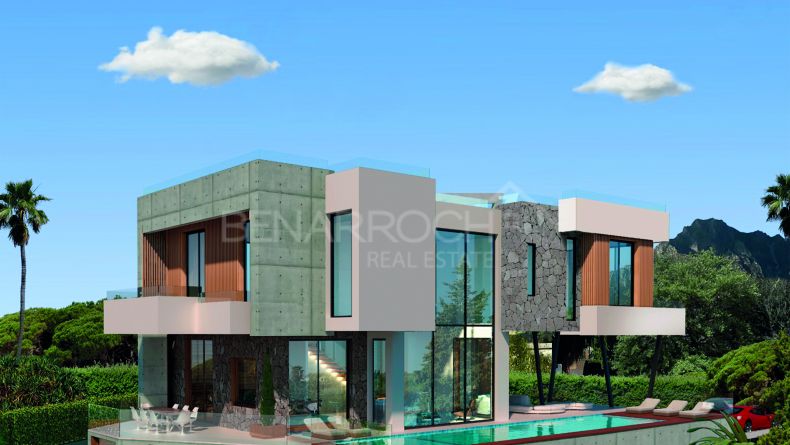 Price on application
Newly built villa in the Casablanca urbanization, on the Golden Mile of Marbella, close to the beach and a few minutes from ...