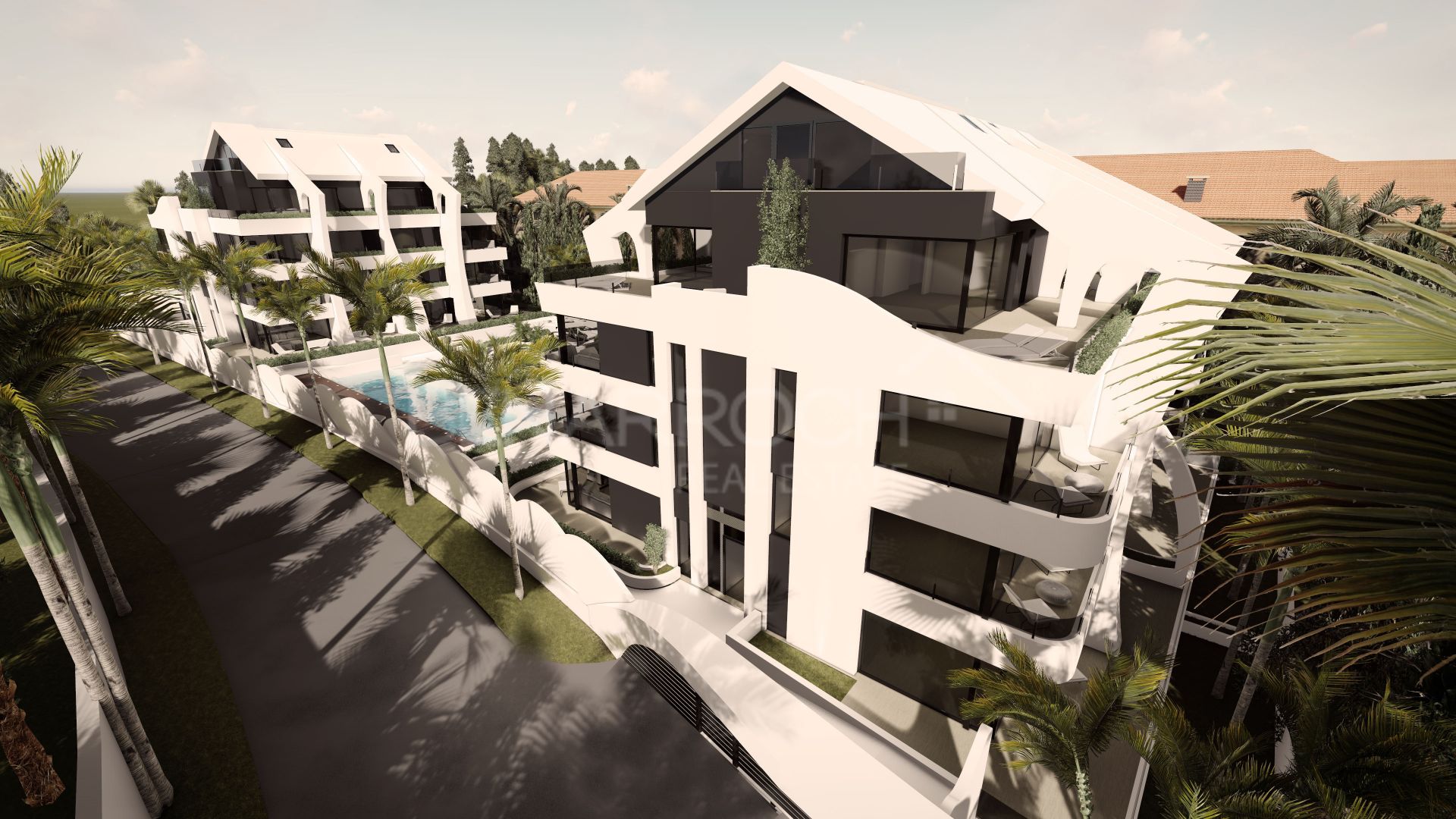 //media.inmobalia.com/imgV1/B8vEv5Xh_VThvnEqMx4G0ZxU_YC_pCgmETwWNQKyeMqLb9Afo_WSoi~kcK5mwaepLz96AHEmAzWJQblCNhundhnOIYTFLWoaYCSPJFHF2tt5wCwRfNA9JTkM~2J9mUzOqv3az21qf6cN0eK9y0LdEcr74Z4IYYOuptEO9NiH6XZRSxzLQTnkWYCJiZjN18qnV6GsybHg8EauWHDiQQsIpBGutbsm5MYBaXnCYY_Bv3i2xnWXwH9vx3YiOJOAiVOTTmpt9mvKrS3hlatDdzs~3nFxyL2F6Gv99rIl76cGUGlaZeUgeJ3CJrtSSL51tg2miJEbng--.jpg
//media.inmobalia.com/imgV1/B8vEv5Xh_VThvnEqMx4G0ZxU_YC_pCgmETwWNQKyeMqLb9Afo_WSoi~kcK5mwaepLz96AHEmAzWJQblCNhundhnOIYTFLWoaYCSPJFHF0OANTPNdO2QPipw1ZW_ssTGNblMZrI33Zw9kxicJx75B9uGY01wvS~D5xjY7M7W0cyXZsMD5ZN~P4TdjEb6LILEAkTUkedaafegxDFkrT~8z90J_YE1UXvLsro6OCrbWG0~kwWs4s~Sn_CZF1hsVy6BAo0im0XvjXcDrZYe~MRTbAXGRpnS0HKiZ6Hrw2~XO~LYj1Iaf_g6yDqAuU7pPdOc75_gjlg--.jpg
//media.inmobalia.com/imgV1/B8vEv5Xh_VThvnEqMx4G0ZxU_YC_pCgmETwWNQKyeMqLb9Afo_WSoi~kcK5mwaepLz96AHEmAzWJQblCNhundhnOIYTFLWoaYCSPJFHFihXb6Ryk0~mJFvxUUxb_1xLvsAWY4Aro6ZJxFTd7e9Kc3smOOA6yTgI8od12ON6iSNIGPhdm8m332h2s7QGIdmAS2Gr5x5fWmRHVKhlOGeLHPD_GvoUDNaz4CruuKmmtnZbIvWS34856mcqEPLSVtj~0n7xsJwhMi7Ndtphyupqap1iCRUvNDLEOTBpGva2njfo_I06~gZxL6PVGRDwQ3jw32Ovh4A--.jpg
//media.inmobalia.com/imgV1/B8vEv5Xh_VThvnEqMx4G0ZxU_YC_pCgmETwWNQKyeMqLb9Afo_WSoi~kcK5mwaepLz96AHEmAzWJQblCNhundhnOIYTFLWoaYCSPJFHFiy1~0UpiW2tq1OZgV47oVSWw5jCYvG9fbGPOkCrSNo4xj~97VazlWWzzs5804_OyFNz_tVB59ZyzODTYVJlyP1f9RhIpGJzCwu~2OrcO31uBYChiCfEvOgxaD0FBLtdv6v~5UXsvqi1lksPOPxKjoNXMon03vON78dY7xO0F3s4ZEuY50DBo6iE0ACYd8Eyc2wq5GKLQiXLyQNmCDikv4cTDdTatVg--.jpg
//media.inmobalia.com/imgV1/B8vEv5Xh_VThvnEqMx4G0ZxU_YC_pCgmETwWNQKyeMqLb9Afo_WSoi~kcK5mwaepLz96AHEmAzWJQblCNhundhnOIYTFLWoaYCSPJFHF0YG~I30DD7CltaL0NkVl6XsEZzJ5klV_Nw3UIrvU~8cH4zTtzEBdwTY6STZnsQPgGKVrgk3js70TAjEt72aMzQQ2tHu9UrX5g6x9O43~fbbLPFW5F492Ge8AHwvaOqjT6TMwC~j7oRujAjOHSzK1wuf6frwoNE44tlrje_ov~HRFDJ7lwx~ZALuLMj5Z9T2ypH~oUXE20VAd7XPb_HJr~31bDXIeRQ--.jpg
//media.inmobalia.com/imgV1/B8vEv5Xh_VThvnEqMx4G0ZxU_YC_pCgmETwWNQKyeMqLb9Afo_WSoi~kcK5mwaepLz96AHEmAzWJQblCNhundhnOIYTFLWoaYCSPJFHF2t9DqRKwAl44iMTQmdw1kqO2uz_VySIg6MQ9KOmsX4fndQl_UWaUiKmb66M8Sjij3kzFW_pc2fK5xNS6SrK0o_foSZGxHToDfZMipr07gSIfKKHUoxA4w4YIc8M32JxbJkd~bgICRpZY0CDHrHOOBqXInwS2wYtDi0qK7BwkzL9ZPSK9KIhFxEs4xy0_ioNFIOcDVzVS6~H6EEvR5WJ212Bpi8aJAQ--.jpg
//media.inmobalia.com/imgV1/B8vEv5Xh_VThvnEqMx4G0ZxU_YC_pCgmETwWNQKyeMqLb9Afo_WSoi~kcK5mwaepLz96AHEmAzWJQblCNhundhnOIYTFLWoaYCSPJFHF3Heu6SaP1NPb3jpZezE7EeWJ60tHINlQiQ8iYw9lOeUEI~mtYJMPyM5mFZr8gmYXj~ZEt5N14mxubdzfmBv9xGOphaGn7Yl0EMgvjNjpHuksNGd3ss7rAnFJ9lLLQpmZMzPSlTSYiyKZqTKwhweRYMgQSOPw3hlZeeGdQNHVO4NHeiZWO_hWFlZ75yWFaCPyWK7NlV7jXMBKHT9yEzxoz7I4N6qEzA--.jpg
//media.inmobalia.com/imgV1/B8vEv5Xh_VThvnEqMx4G0ZxU_YC_pCgmETwWNQKyeMqLb9Afo_WSoi~kcK5mwaepLz96AHEmAzWJQblCNhundhnOIYTFLWoaYCSPJFHFjFduaYyFUUUVQ1qack~Mmc4QoyMYtrAjs0flWA23jfSzY_WhgNarxCpqpCD3XFu7FacQmJWghb2z1LPwgzVxPH~sgHdV9gWobzhjOrlPyZAHY8qvZLcH7TxmMvTBv6NqV4hK6vf9wFqE5jLbUK2WsP8sJC9nOVGLn75erkelxGdp2w01MUTTKc92svLmhc8xwk0b3YDhQubV7BVj5lE69~_dZjo90A--.jpg
Dunes Beach, Marbella East

SOLD
New project of apartments Dunes Beach, Marbella East
With a contemporary avant-garde design, Dunes Beach is located in the Carib Playa urbanization, in Marbella East, very close to the marina of Cabopino and the beach of Artola, with its protected dunes and a unique environment.
Dunes Beach consists of 30 apartments, duplex penthouses and penthouses developed in two buildings separated by a recreational area equipped with pool with glass and perimeter beach, gardens with wooden pergolas, solarium and social club.
All apartments and penthouses have 2 bedrooms except the duplex penthouse that It has 3 bedrooms and an extensive terrace and solarium. The apartments on the ground floor also have a large terrace and two of them also have private garden.
The houses have home automation system for control of air conditioning, alarm and lighting, fully fitted kitchen, video intercom, community WiFi, glazing double with air chamber and solar control and all with first quality materials.
Dunes Beach is a spectacular project in a natural environment and equipped with all services.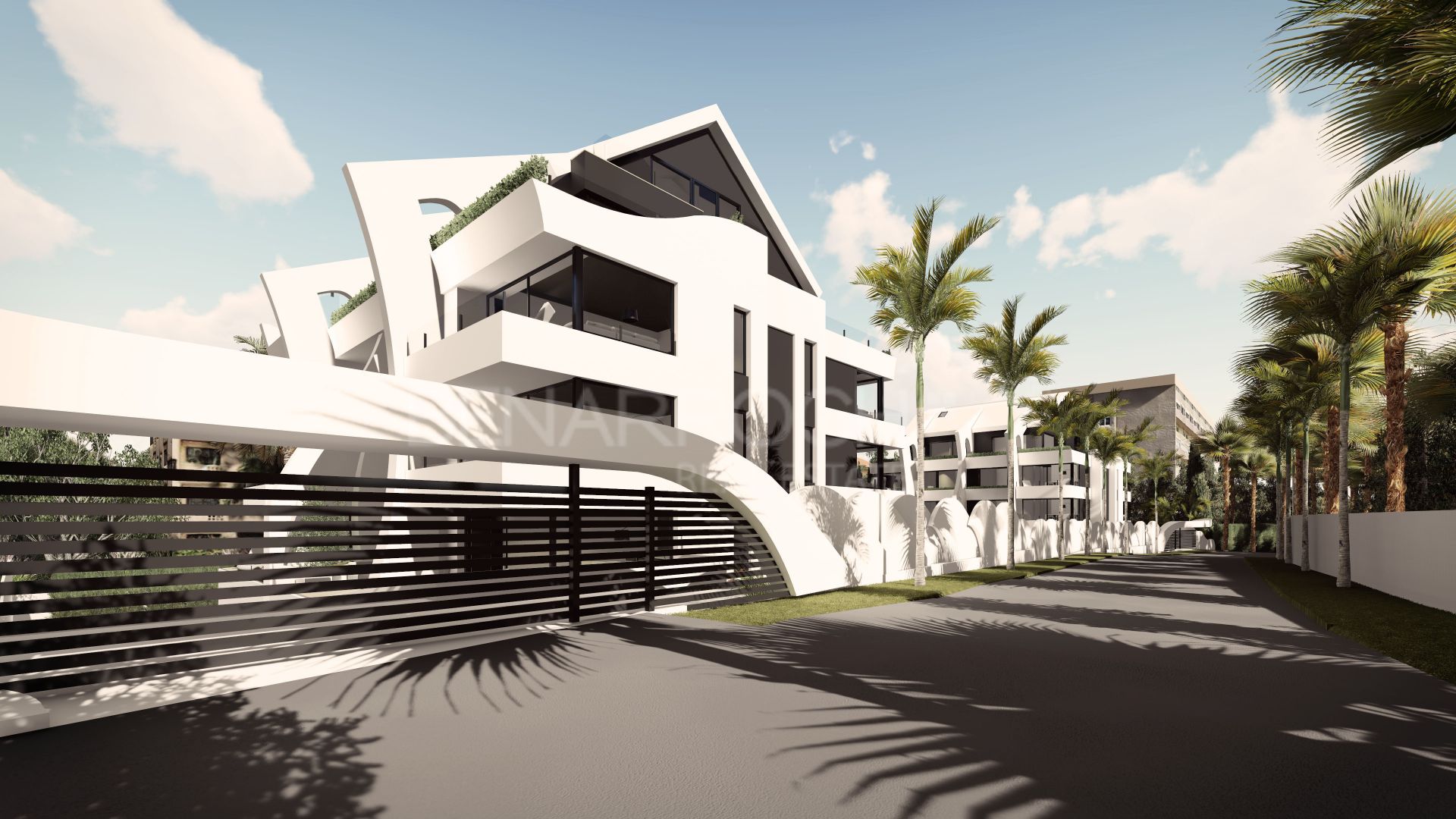 properties in Dunes Beach, Marbella East
similar properties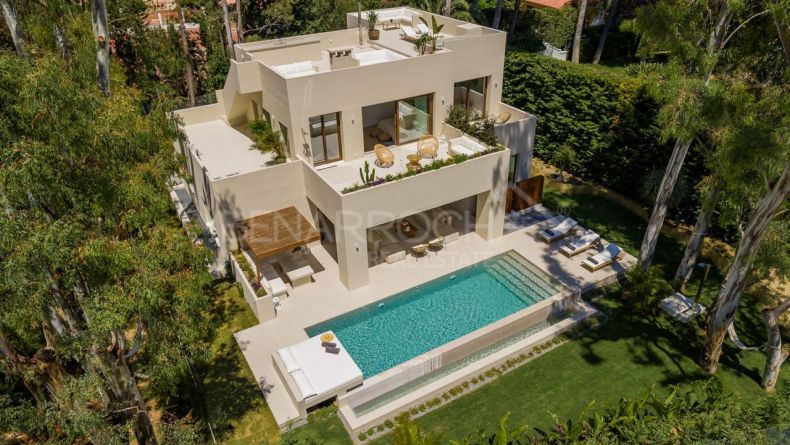 Price on application
Recently completed villa located in Los Monteros Playa, Marbella East, just minutes from the centre of Marbella and a five minute ...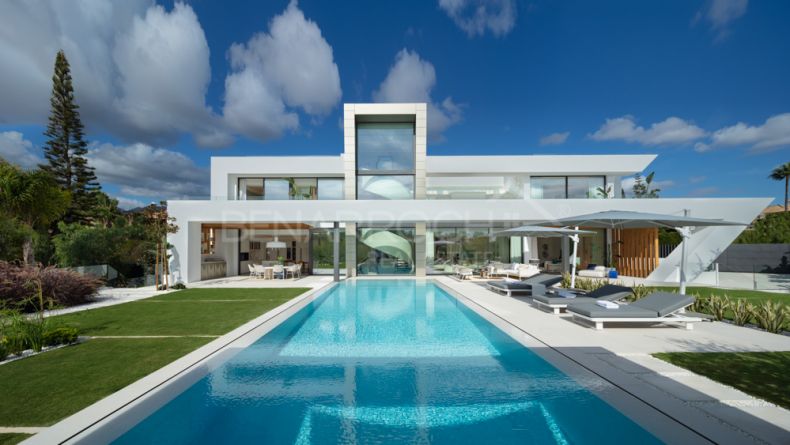 Price on application
Avant-garde design villa located in Bahia de Marbella in Marbella East, a beachside urbanization and only 5 minutes from the ...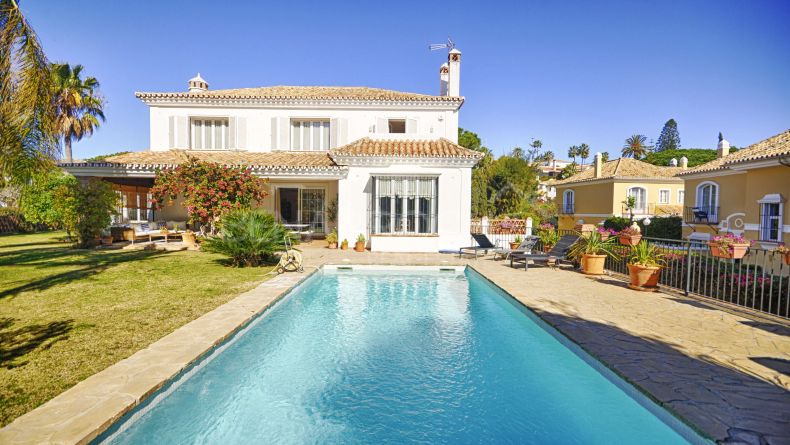 Price on application
Cosy family villa just a few steps from the clubhouse of Santa Maria Golf, in Elviria, Marbella East. Through a pedestrian paved ...