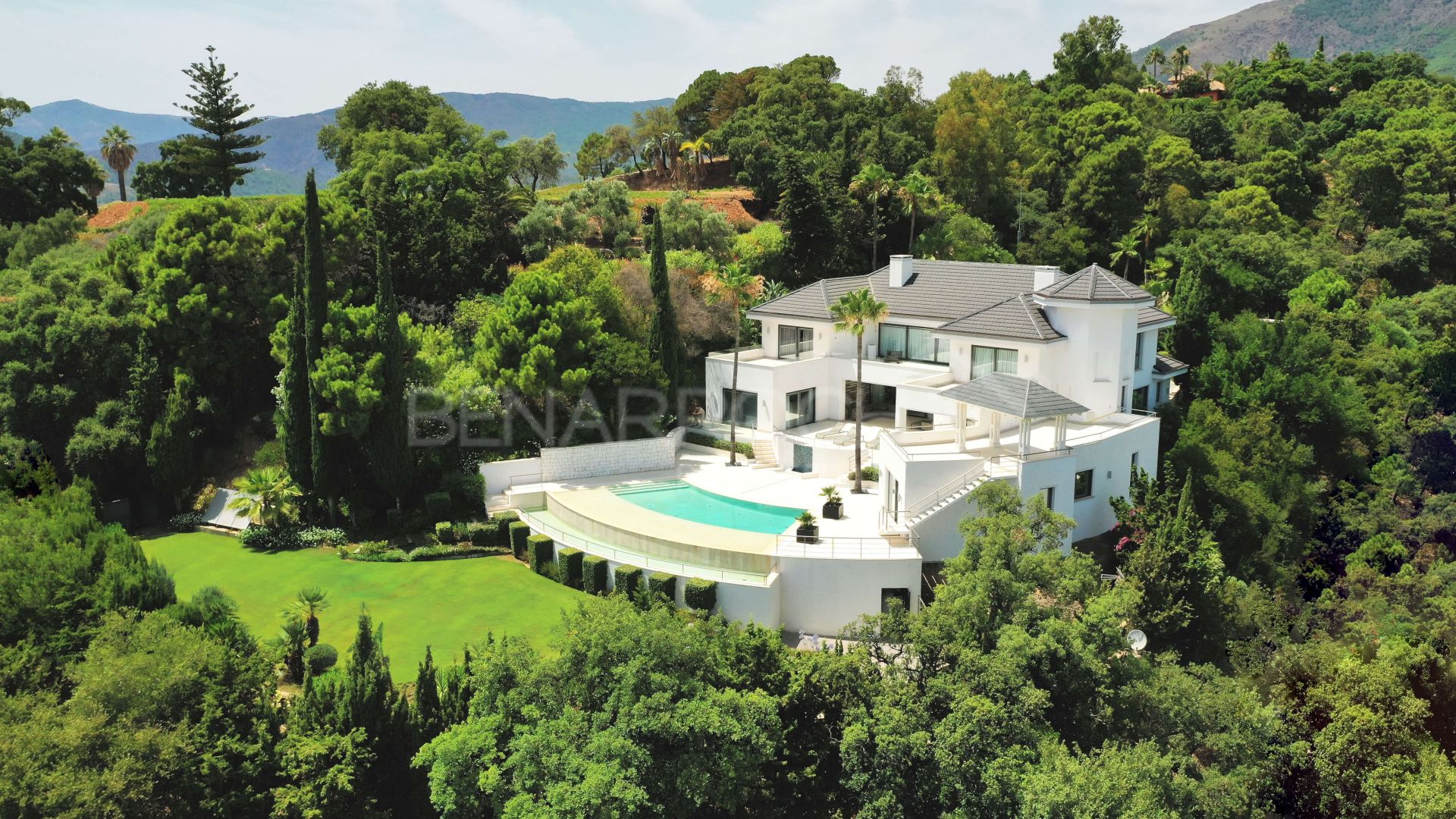 //media.inmobalia.com/imgV1/B8vEv5Xh_VThvnEqMx4G0ZxU_YC_pCgmETwWNQKyeMqLb9Afo_WSoi~kcK5mwaepLz96AHEmAzWJQblCNhundhnOIYTFLWoaYUC5eJuXJ6EuJN84t9VnpbRXsk0tvuNU6JXOCBr4ce~DoQlaftNoRRtKbYx~C25Z0bgTdOrmlf7S~Dq0jNlHbOxpi7Zcad7QjBrUvXMJE1_jArMeMsafGenu2v9oZ8_Wav5bkuqNSRBgtcO_6UDtEijW2WUX7_7VCshwQbe0Bor17QAO3cWhLFdkBmD0mbz1TD_DnGIsNynQ44_po~PdA8MPwkE_j~xiCC701Q--.jpg
//media.inmobalia.com/imgV1/B8vEv5Xh_VThvnEqMx4G0ZxU_YC_pCgmETwWNQKyeMqLb9Afo_WSoi~kcK5mwaepLz96AHEmAzWJQblCNhundhnOIYTFLWoaYUC5eJuXIRikPpaqkRBnS_I4K6acH1IpVq_yfGuy0hqIuYZnZGonyDFfuKZPWUrnGekh017cbVhXc3GcJnoGvT2XDa3sniZDDkdOkcV_1yvm4QtfAwQTF99sf1tj4EyLtYiD2sBy1d~mjtFcFh6FAV1ykxzi6XcpAqp0hZHfCLOUyarA1r1yiFEJ3F8kcQQQZl7RGHeQBbSiGqVIzTZnjTzSBWo1FAbYWV~VxA--.jpg
//media.inmobalia.com/imgV1/B8vEv5Xh_VThvnEqMx4G0ZxU_YC_pCgmETwWNQKyeMqLb9Afo_WSoi~kcK5mwaepLz96AHEmAzWJQblCNhundhnOIYTFLWoaYUC5eJuXdPLQJituUq7zZp2r2D0K2UQyE5PWXal2TPJZSOTsNzn9rP6Roa4K0kFa38Ce2Lynbry73LxfPhob0lghiOJ_gKW6f1v927KYDCx89JqQ9FTlooWQ2tw5iRjeudB4mrQBMorqoS6rf5ZiqrVK9iBuaOZU6p9arEaYinBcPaoRclpbNIb~O6iQXt~jaTEzIp45~6KM5ryX6_9115Ja~Z5yUgRS6NQTVg--.jpg
//media.inmobalia.com/imgV1/B8vEv5Xh_VThvnEqMx4G0ZxU_YC_pCgmETwWNQKyeMqLb9Afo_WSoi~kcK5mwaepLz96AHEmAzWJQblCNhundhnOIYTFLWoaYUC5eJuXIU8Umu6MWJupZX_BtdsJEJ8XD2oGSWartUmCbqUb12CN1BekYwv8FyFcL3RDA7Rh84sRMNBkY8GzPjbS5jMOOjyH_G~SDtUkJFVDyx4UCnKyCOm5HApPBzOHxBJMnBe~lsIV7Z7tGE1wgKOkxejoOJZ5r8DjWD8d95irktgl~h4VQMsWij4dYFgOFEeUSPF0gmlx1tp4wNJ5rt8H0j~_v8XJwjdfNQ--.jpg
//media.inmobalia.com/imgV1/B8vEv5Xh_VThvnEqMx4G0ZxU_YC_pCgmETwWNQKyeMqLb9Afo_WSoi~kcK5mwaepLz96AHEmAzWJQblCNhundhnOIYTFLWoaYUC5eJuXewmjEbYNXbbrCdEn5Quy8CrDhCHcoyFYnTQ1euZgK5fF5A~bRxqcIln6h8CBoHyx6vkLrBMKM6q4e2~CPK5pH7fa0ToQOJrhRSTLZ0XzoijsBw1aPV_ljah_Q3C3G9OkMa8DSmMSys1Z1yz5mvgxWF205zuz2ZAjUOg91L0y0D8jpWZ_8RzvNKJaMfNgYtfxycMEdYul1xZ4dT6Veont3mT9Y5Y8Zg--.jpg
//media.inmobalia.com/imgV1/B8vEv5Xh_VThvnEqMx4G0ZxU_YC_pCgmETwWNQKyeMqLb9Afo_WSoi~kcK5mwaepLz96AHEmAzWJQblCNhundhnOIYTFLWoaYUC5eJuXdZCJYRzIqdJqtehIuGWoYsKa1cAXa7XU2Yxm9UrZlrriUI63Mpn3BUNthZbaql_mTZJfu~v5kr_KSH4M7bdZDh~r4DSAdr2nt1VNQmQxA7FJnVEeWWyN8CaNFn0xKQZpcywQOnP3BbnlVFrkgWPs~92qOWqvMsCirYuSuz3pm9KqaLk9p1I~Ou6~Uyr2vyw2Y5gaUgfA4uwR07yZVyDAjI5PH5TJVw--.jpg
//media.inmobalia.com/imgV1/B8vEv5Xh_VThvnEqMx4G0ZxU_YC_pCgmETwWNQKyeMqLb9Afo_WSoi~kcK5mwaepLz96AHEmAzWJQblCNhundhnOIYTFLWoaYUC5eJuXe1ufxYCOzc_5EBT9O9bL7HeSLAFa6rjWqFlK1~kkMtbfQp9i5xXtqTijLj1ojTxCcHbyZ39CnL2d91cj8MtQzEXaDEZzhq8KotBy1bDlcjuXzQD9dZsYfUv69m2rdXdzUxbb2~mlZoi0UARm3EOwIrCy8Sq~jTLkKAmW8p9eMF6~yU7WGTgEXaajVGaBPGJFbV3zG0hge87UawShNSuDhPQ2NZhV0Q--.jpg
//media.inmobalia.com/imgV1/B8vEv5Xh_VThvnEqMx4G0ZxU_YC_pCgmETwWNQKyeMqLb9Afo_WSoi~kcK5mwaepLz96AHEmAzWJQblCNhundhnOIYTFLWoaYUC5eJuXcVyxpg3lPXrFcepwq28eptBZkZVnrn8lxHOBy3jnGQEbtjloM6X8fSoDVa2k08UVMGCwooSOKyOeCYBQXV_C3HxsgvA29lpSCZVR3G3DKQaKhvdZNIqqm9gTUwx4l49pCXP~wBzRTXlR2ZpzXR3rT2uhhOl93IS3VFWvQ9wlQFBkLEab0C_tyEr_hv6vQlYMDlxUx~eoivuWv9s2rF069mhsKLdsUw--.jpg
//media.inmobalia.com/imgV1/B8vEv5Xh_VThvnEqMx4G0ZxU_YC_pCgmETwWNQKyeMqLb9Afo_WSoi~kcK5mwaepLz96AHEmAzWJQblCNhundhnOIYTFLWoaYUC5eJuXcQ0I_DKSStiakfrNzIGrSbBBzOUfnKUx3qrmrahLjNDtZzQmLFF04RimYMPcPCtNaCzNZVRq4s6P7G_PB8pJb4MCTXRtbuh~jO~uun1XxRexKZj0n9zur8q727LE_u08jG9trpwH9djFF1kNQz~7lDpge5~pfUxB~KSleBhycqa3RljPv8vho1itIVgWgyvgSWKvDhCEN7LKdSjbp29CuqsTxT4u2A--.jpg
//media.inmobalia.com/imgV1/B8vEv5Xh_VThvnEqMx4G0ZxU_YC_pCgmETwWNQKyeMqLb9Afo_WSoi~kcK5mwaepLz96AHEmAzWJQblCNhundhnOIYTFLWoaYUC5eJuXJSOJgOTsZ4o_lhRVjCYcPOwNvsjemMpubP3UArhOgUcYRY0n2G~1XS7TkZJK3Umm1f77Ebg7aAGqTlHrKs_Lvbq~DurHnn9v7F1KBvmvenxQ_~9ewmSvQlIPZzFtu_Eu42OShSsTdY_utNOhWUFgRDgOt~3n_o4IvWZV7jBsEVT5lG3RI9b1~wplhhn1aA65psRl1yH4Ib9fcry4k2kYqoKKEJWT3A--.jpg
//media.inmobalia.com/imgV1/B8vEv5Xh_VThvnEqMx4G0ZxU_YC_pCgmETwWNQKyeMqLb9Afo_WSoi~kcK5mwaepLz96AHEmAzWJQblCNhundhnOIYTFLWoaYUC5eJuXJjhztslqASO6fz56xRn8VwuYVLLLXvjpcAz4dWATvD_awxlK8oE6gMXCwg9_U3Qn3g7rkmJsiB3p_TMslmcV~Oxn8yIuxhdY116oNyVkGWdqKAOruc04rO8h3DfiT4~O0QFvy7OT1gQnvCahTjoKLo37GWUZ16z926O~ITaty8xJFiTrShHZHw0SnY_TNhlAMeckUNUP_CHkXW4vFSW0lT1NLqrL9Q--.jpg
//media.inmobalia.com/imgV1/B8vEv5Xh_VThvnEqMx4G0ZxU_YC_pCgmETwWNQKyeMqLb9Afo_WSoi~kcK5mwaepLz96AHEmAzWJQblCNhundhnOIYTFLWoaYUC5eJuXcV0PO4b8tlzWgtDLsbb~Ox6mHTObTMGjdPG6nFeSehu6uQJTaLd~IEEIpCql8CF84K0Zfa6CZOGksGZ1vApBZmiVwRL61wUcgyCC7w7F2wYqNptyqcawsOEJXArUe_~8IC2m95Z1vUEVaQhrG5IZDmO263SnK4R5nE83p3~DZDl4WxyDfys1SS3naGYWgy27l1K~V5AMIsPtrDRPeegFFjE5pkqTrA--.jpg
//media.inmobalia.com/imgV1/B8vEv5Xh_VThvnEqMx4G0ZxU_YC_pCgmETwWNQKyeMqLb9Afo_WSoi~kcK5mwaepLz96AHEmAzWJQblCNhundhnOIYTFLWoaYUC5eJuXd8_sayFwvWep_WCVYwpyHhaJqXHhYQNSJeuM_vKvsPMB_VFGj6SVVRQoWxIoR0ufGjNWuhK0MZ~x6OWN~2zKefOt1xGGEimAdvrTncKKpH4efq905eoqJHkgCS0USK0Y81I2_ZlTqIXSnlEWNybs6LBC_z~tB3SUWNTdVIoO93tIkKxImONLJhup4lJXOlCp~RC5laozluXaVFhXddVXVlonNbFMSA--.jpg
//media.inmobalia.com/imgV1/B8vEv5Xh_VThvnEqMx4G0ZxU_YC_pCgmETwWNQKyeMqLb9Afo_WSoi~kcK5mwaepLz96AHEmAzWJQblCNhundhnOIYTFLWoaYUC5eJuXcr7hU8DKOldZMoaio1VT5mMD~vgzfpg74ExsI7pAui5DGOFezQmNq8npMqoPkrGr2JeSv8SQKWZCsQBXA0aclFkkpQJQxznc~2KaiF5WDPNeXBQGqKqbMTao5KstRkG3gEkIvrf7YSzzvpK27atGbTMthtAxdg7DCQsYDr7jh6zY5lUQ_Z73DR3RNi3OTUmQNN~yFHoXWm1ObYApqPI1CV6RT8twbQ--.jpg
//media.inmobalia.com/imgV1/B8vEv5Xh_VThvnEqMx4G0ZxU_YC_pCgmETwWNQKyeMqLb9Afo_WSoi~kcK5mwaepLz96AHEmAzWJQblCNhundhnOIYTFLWoaYUC5eJuXJ~CAkGL1lNRW~OaGGRVUJTa5z~EKUptxUHTe4cFK5ugtkxoz~g2wh4hIpWffijFzeSKlPkNQebcwD7doSeOuC4bV1y5vx7ejHWkfxkTBUKQPfPkEm4oHYpIQjkJl_YY1EKxOoVY56pdnIawvf582NAWt8ZR1nVsh9d7BJL5WmlwJt081RcEcGSoB7LiX0rf_2xXgHNiOHjGTHjt5kZiJXOalzvf0pg--.jpg
//media.inmobalia.com/imgV1/B8vEv5Xh_VThvnEqMx4G0ZxU_YC_pCgmETwWNQKyeMqLb9Afo_WSoi~kcK5mwaepLz96AHEmAzWJQblCNhundhnOIYTFLWoaYUC5eJuXInwZeAEpcQ1DiWD_AdNgrbPr_QlfKE4SGxkg9gYji45sUo6gw8iD7iB~Cd5A_UvaP1Wx4XwiiyBGPXD6ZAO6rgTf4mPgtfFQcYXvBpVm~ve~CPKNaPjMpunYF2VXRJTnppmFVSR3S1~QG5szGUeAH3TeE8XOwuJKtCK~eOnY~WyEc0k7MkVgeuS6kGnLdYylDPI1DPUEHSfUdaQzfOpd5_bNiZDfmA--.jpg
//media.inmobalia.com/imgV1/B8vEv5Xh_VThvnEqMx4G0ZxU_YC_pCgmETwWNQKyeMqLb9Afo_WSoi~kcK5mwaepLz96AHEmAzWJQblCNhundhnOIYTFLWoaYUC5eJuXcQgU0IKQdS1_9JcxCgmVSwQ3Flg8YzJyQBqpHCZy8YPA5ZDeahADsvrbkHY47puzR51F60KDpsP_FxWD57ZMSkxajKpzOUJm9XQkcO5qL4g7GBEitTgGxiddKvoLsxLGCrwADGYZ_NmyLczzVJwE6pMOoXZz5sgsKfw6nwjxYipAMBrPPBtOtycpI6Z1ab8Yj8CVy9iP8~d9UgY1hmCfCm1ccv7i3w--.jpg
//media.inmobalia.com/imgV1/B8vEv5Xh_VThvnEqMx4G0ZxU_YC_pCgmETwWNQKyeMqLb9Afo_WSoi~kcK5mwaepLz96AHEmAzWJQblCNhundhnOIYTFLWoaYUC5eJuXJXWgxqi57c2JsT96duottBJwrdOXpdN8ijVrj7FxSHK5xmzs8aA3V3w4nQD11voNCyobBXn~4d7G6Rk2fCw9XQ_4~v3ys4QgiwfLmS~v_Ilcr5hj8cztoBVbMltMyMNm2G8xvsEVikB4xXVHSC_O77TnAzOZl~e18HlvzDUHH6so_nWvOZKp0zp19Fwpk7csVFYe~Mjh7VHbB8bttI_n_DsHJ55W4g--.jpg
//media.inmobalia.com/imgV1/B8vEv5Xh_VThvnEqMx4G0ZxU_YC_pCgmETwWNQKyeMqLb9Afo_WSoi~kcK5mwaepLz96AHEmAzWJQblCNhundhnOIYTFLWoaYUC5eJuXJmbJhN8u40rbtQGuyLrZQy81NCPVz1XQJOG7gmSKA2yK~GjOrYWYWu7z85tkfbz6h~Uisxh3uLHRVg7NRm_L1A~O~WRcWTPGvGK7GxiwDDVtu0SK56SFVGXFzH7xhjhMji0O0C5cSYMSzEV3w0zmibLJr4IOuBe7XLxqHL5RVT7t5rtlcVKviApaGrUAemVtABrYAZobOLf3V6QAVwavdXWxa2rcyQ--.jpg
//media.inmobalia.com/imgV1/B8vEv5Xh_VThvnEqMx4G0ZxU_YC_pCgmETwWNQKyeMqLb9Afo_WSoi~kcK5mwaepLz96AHEmAzWJQblCNhundhnOIYTFLWoaYUC5eJuXcJbN6fiF_dGUT2DBD637wdLJeUqvGz_hUxBpHl4OY9kyE0xMKWTckwrqJbbZoYkv9_WsiNq5k6qh8TpIfr8DvswNE7C6MBpggkfQio_6QBVU1lOjj4fOMSl1L8fH_kW8fJkHOL24aRals5CRGtsTcvb_j0H2nEqvaf0Bl1g11_A2XIAZZpOSAqyZAnm_SHsHXRNbV0d~XzZAQNNRDiRbc97hiy0hSA--.jpg
//media.inmobalia.com/imgV1/B8vEv5Xh_VThvnEqMx4G0ZxU_YC_pCgmETwWNQKyeMqLb9Afo_WSoi~kcK5mwaepLz96AHEmAzWJQblCNhundhnOIYTFLWoaYUC5eJuXeklo6HuqRrzHT4b4Y0HhrfZh9JVZz_D4HQ2nhBKh2mBWRSfinE1RcbP1uwwFweNSGdB8eDpb2jPDs2uVT~lKl5ZDl0GAk1iNYj7~AiQpLcnMbZSfvPUyipYiYvywhYukw_oby3sCn4djhUyxmD0Wsd23fZqbylTklityU1qerD5j0qyejyeTcmpBTVIKO78aNsBuvSCYJ2EwjBY4QjWbieU7k8rEGQ--.jpg
//media.inmobalia.com/imgV1/B8vEv5Xh_VThvnEqMx4G0ZxU_YC_pCgmETwWNQKyeMqLb9Afo_WSoi~kcK5mwaepLz96AHEmAzWJQblCNhundhnOIYTFLWoaYUC5eJuXcuVhOknt~4shAuqvIfTqZmsbpIpXKzea51H3IwguJgEC~LpVKAyV6Wx2Emkn7b_wmyPdKvI~e91h9M7pGk0dx6t1Ww1bjUrKxbfxKgGlJVyS0NRc14QYelSj~JAbed3iSG2wNQcnyw~PLIUwHGxXY5GAU_J2Cz8MlmVid4TP2EGXBe8rD9Uf2wtv_oozLmZIo9Ydb7gQnIMhU0riytmddrDBM5atlw--.jpg
//media.inmobalia.com/imgV1/B8vEv5Xh_VThvnEqMx4G0ZxU_YC_pCgmETwWNQKyeMqLb9Afo_WSoi~kcK5mwaepLz96AHEmAzWJQblCNhundhnOIYTFLWoaYUC5eJuXc9AmPlxthYd1nlmfxWFQu2W3an3Ry9sVZIK5oQqZp7~DDFeiy79lC8UfLz7o~yJuHnpla8~tGSPIOrdfgHm4q0r0yYrWDUIc3TUUVBdmjC2NSK5jr~bx76go8lU2aOzGo~x2N6wTAU8kmmNpotXx2GKFNwJ_abHSNkFE9899AH4~BFetEcKNb8DLToIYswbnt80ycWg7tCNRQr_KvYkixhNc8i9xig--.jpg
La Zagaleta, Benahavis
Villa
9.400.000 €
Villa in La Zagaleta, Benahavis
Contemporary style villa situated in the urbanization La Zagaleta, in Benahavis.
The villa has been totally renovated to a high standard and is south facing. It is built on a plot of 4826 square metres and has a constructed area of 1080 square metres distributed over two floors and a basement.
On the main floor there is a living room, dining room, fully equipped kitchen with top quality appliances, office, two guest bedrooms en suite, guest toilet and direct access to terraces facing the pool and gardens.
On the upper floor there is the master bedroom en suite and two guest bedrooms also en suite.
In the basement there is a gymnasium, sauna, indoor pool, cinema room, games room, garage and staff quarters.
REFERENCE

208-01837P

bedrooms

5

bathrooms

6
built

1.080m²

plot

4.826m²
Video of Benahavis Area
similar properties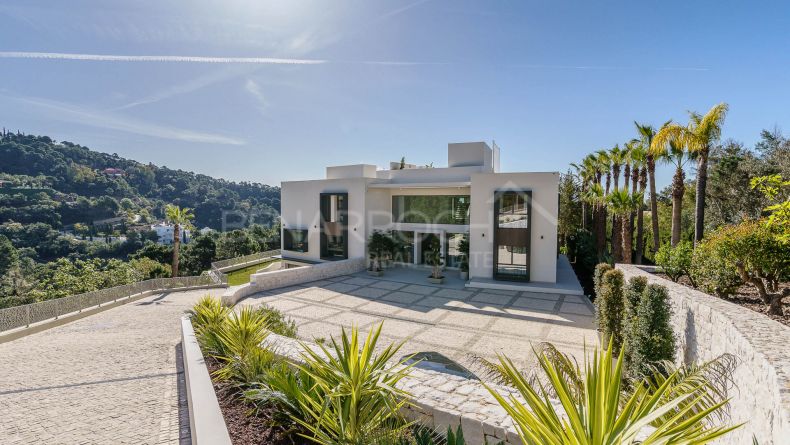 12.800.000 €
Newly built modern style villa situated in La Zagaleta, Benahavis, the most exclusive community in Europe.The villa is located ...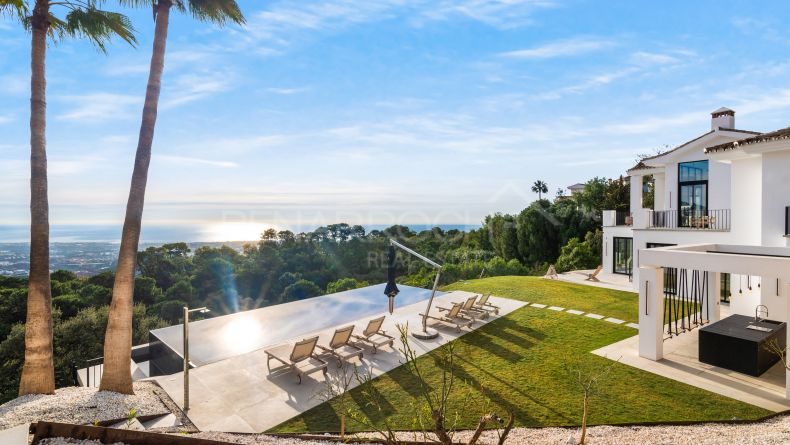 6.250.000 €
Contemporary design villa situated in La Zagaleta, an internationally renowned complex.The villa has been recently refurbished to ...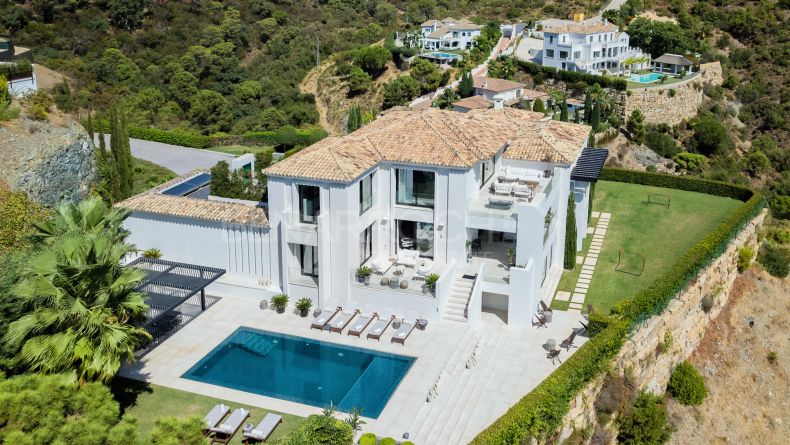 6.750.000 €
Luxury villa located on the cozy hillside of El Madroñal, in Benahavis, with spectacular panoramic views towards the coast, ...