//media.inmobalia.com/imgV1/B8vEv5Xh_VThvnEqMx4G0ZxU_YC_pCgmETwWNQKyeMqLb9Afo_WSoi~kcK5mwaepLz96AHEmAzWJQblCNhundhnOIYTFLWoaYUC5en2mAixiPTR5UigHS4FHiLIafdnUUSPdTnqAdBs4bAiuFJokwVIAZmhXpQW~yOf2XMyr907XsaYOJvXVT64UaUd6hgGF2Mbcp4w4VbTVQqxb1hnAqmEz563JkFfGvoQmKHBtHF1meCTA55n33sKIlvrbQE0uo6aAu~bjKZWv2hhrGh3qzqMSzyXu8S9x5QTjcEKROchxdmnkwkKyp1nD2KS3OsK~bFIwHA--.jpg
//media.inmobalia.com/imgV1/B8vEv5Xh_VThvnEqMx4G0ZxU_YC_pCgmETwWNQKyeMqLb9Afo_WSoi~kcK5mwaepLz96AHEmAzWJQblCNhundhnOIYTFLWoaYUC5en2mCxmmOm_MlsnU223m4mfh_SStTJX16sl6shbvlitJIH1EnO6o1gGPUwGE6A5osu_REOFNXKedVzBBIOw7In18Jty571TjAHMmS5KfvyAE6q8GHYAK6OFVmSUGNGjrZvDoS2wd~GdX2B_D~MSbpm8y74r06zQi0aDTR6zSmnL8D2YNjaXSoF8Pk2jePkG1cJQigbYDEqZfaDipN0RsBonja9UrXYtv7Q--.jpg
//media.inmobalia.com/imgV1/B8vEv5Xh_VThvnEqMx4G0ZxU_YC_pCgmETwWNQKyeMqLb9Afo_WSoi~kcK5mwaepLz96AHEmAzWJQblCNhundhnOIYTFLWoaYUC5en2mDfwS66KiXBtu2j98YNzR6A_B~0de9eeLBaPqSgdua8v_jYF7hiupMy~CsQW5Q09mzQmrRfh7o5yZ0C_gf0WFK2LckL500C_JMgZSzFYuW8WAzujEaDtVZxgR~nt887TS44sVmfjlAG8yhvN_Ts3GvKTscCSJslJtxb2c~WE2vhOhHc7GBZhrJRoVNm2EKrkUtsEydIixiI2hIZ9gcHpUucjYWferwg--.jpg
//media.inmobalia.com/imgV1/B8vEv5Xh_VThvnEqMx4G0ZxU_YC_pCgmETwWNQKyeMqLb9Afo_WSoi~kcK5mwaepLz96AHEmAzWJQblCNhundhnOIYTFLWoaYUC5en2mDLUIherRbgDOTBA_K0PAvXbBPCrjPUKh5_gdDgMPzGHNpOGV4LDzZogVUDJzTRUm_5gIFnrhI~BsSEUj0fK4OIRzSV3VnmeC2gX3rF6EWu46juxwjop6lBA_ELamJzg3H9BihAZh6hM2KdXxnIUUhZ_d4QDzUy9~1SgCLN8yzjxLrDKEp1d2fdw5V6QEYRAPO1U3myJyo0TX9lysUi0POi8jMT2vhA--.jpg
//media.inmobalia.com/imgV1/B8vEv5Xh_VThvnEqMx4G0ZxU_YC_pCgmETwWNQKyeMqLb9Afo_WSoi~kcK5mwaepLz96AHEmAzWJQblCNhundhnOIYTFLWoaYUC5en2mDt01sXtO67sxwgEpvNk5qcU9BInarNKnEAWq7KEPkPDc5ytSgPB1BJfsVRXjcD0Zx8Av1lr6vbeEsgN~h_I0kBSGVu546_mGPaYRjTsxNHtGh0goqexknbBHmhoJyQv8Jnlunf3Ts1bcloPbEITgqbMfB8ygVBuvvWpV9A~nh1Kngvd~otstb1UMdV9srJh~OxDCrKjBxriR6bJL_OmKLrt7UHnXxw--.jpg
//media.inmobalia.com/imgV1/B8vEv5Xh_VThvnEqMx4G0ZxU_YC_pCgmETwWNQKyeMqLb9Afo_WSoi~kcK5mwaepLz96AHEmAzWJQblCNhundhnOIYTFLWoaYUC5en2mAiudFuKnFVtdW6C20n_By3eCmnXGpfuipd0M~~QqMJa7QLoi2N3DvFaxKPpDEO2KCcqN8x4X1Oblacvlxm5KoD0NU0bqjxTHu0ESQDa3UiGz54~lHz~JZhKNqJzSjky_lg4oCRcRjiDTRlms_s~i3M79rU7Nn8dxrGFDqDATkkCblcFfPJUXXeBwU7Q6SIc0NFPS9VD5lUcSYPNU4TX5i~cGcwDyAQ--.jpg
//media.inmobalia.com/imgV1/B8vEv5Xh_VThvnEqMx4G0ZxU_YC_pCgmETwWNQKyeMqLb9Afo_WSoi~kcK5mwaepLz96AHEmAzWJQblCNhundhnOIYTFLWoaYUC5en2mDOYx_3D6Sls3GwCtwM5GCflpgWYA7~6RfunRLPFc_cBbOBeER1QiucJrGG3qT8jFAhk~AW155_R4MPZvqlZf6aaWrj4bIBv15rsSR5T4PwE9aygc8xHkykyRmXzoPmDvxW3NQDP5~7nklQv5133_Eo3LshFLyOv1eCy8oBUjzuhLlZVCkoW0K_0tnnHbHW7LugjIP3XbjvMU90xKlyFhIUvI1Z1acw--.jpg
//media.inmobalia.com/imgV1/B8vEv5Xh_VThvnEqMx4G0ZxU_YC_pCgmETwWNQKyeMqLb9Afo_WSoi~kcK5mwaepLz96AHEmAzWJQblCNhundhnOIYTFLWoaYUC5en2mDtj~F4UCgDH2wCAPaxJuHxldc8Fl1ZqXVtFdoZGIcCmQrp5vM4~B2s8iysZURHgIRY1qlBHHM~99EEDWz1HsvAdYQIzY49yDPITDbua9EF~4~K0OIodS0yGOdqKOwLm_i2J7swGYtPYQfxU9TfrCcFswLAaKTD5pAT0_t5kT~BtrPf44yHKPiKDUNZBkEc8MdDOv2hp__LWK8hYcsXRQ2p6xfRcY7Q--.jpg
//media.inmobalia.com/imgV1/B8vEv5Xh_VThvnEqMx4G0ZxU_YC_pCgmETwWNQKyeMqLb9Afo_WSoi~kcK5mwaepLz96AHEmAzWJQblCNhundhnOIYTFLWoaYUC5en2mDt~sJwGQc0vCrMb8FkDeOcIIE2J~H6EpoycoDi8IckIVbfTqMcj_3DsMuBPtHxPdlNORWmYXbdLTPFaWP0ZUyR__oZqGrShOajX4JFZHfPn_r9F6W5DFUJ~F9NIddZUg2M64R9vjnAM2ynsvR9~AaNVmKqyXMzdf4V_FBp54xookRC3EUsCvqNQw4N24sBZ8gbktC8phoyzmhbjKkwAaVZnD16MpVw--.jpg
//media.inmobalia.com/imgV1/B8vEv5Xh_VThvnEqMx4G0ZxU_YC_pCgmETwWNQKyeMqLb9Afo_WSoi~kcK5mwaepLz96AHEmAzWJQblCNhundhnOIYTFLWoaYUC5en2mC0yTjAk4PglHn1cDQQneoF60Qye8Y42ArabcMv2N9UdQONNnCiWszVEhZyn0prhq8wb57hj3vXopCprATWH~ENq4EeS89b6WkZ7o7NzXQwgd7EMnzpdVSFg6XLoOrc7ldLmqmYXGzudWzkfbVTMskSUKkGnMM68b6fJd9qo4SrbMkR6lrzRVn4VzzBdL32efe0rBnJPwiZaD27LKQ~A8pzyFC~RwJQ--.jpg
//media.inmobalia.com/imgV1/B8vEv5Xh_VThvnEqMx4G0ZxU_YC_pCgmETwWNQKyeMqLb9Afo_WSoi~kcK5mwaepLz96AHEmAzWJQblCNhundhnOIYTFLWoaYUC5en2mAyNtL4PhmE5RRuKYPiSNGtMFp0uZIKC8C~aPMY7PEb08P_8k8u3eiunFLwASuFOH7qFnK1SBDDXkFSyW~mdmBfEXV0jZwU8FQ_GKT3wMQ1zp63cHi5MforCs3~EnIee2PiSUNOg561jE6LUO2dyFbJI24OizIM~U1rQeTwWu_JeRMcVIWKP9KWUWK3DO06h3SRMTTSBMbWzUp_FrTetJgel_~vYYVg--.jpg
//media.inmobalia.com/imgV1/B8vEv5Xh_VThvnEqMx4G0ZxU_YC_pCgmETwWNQKyeMqLb9Afo_WSoi~kcK5mwaepLz96AHEmAzWJQblCNhundhnOIYTFLWoaYUC5en2mDo_V4nNDD8RLC3P1ktF0UQ3UE_cgnAo40fj2FbTyz7FyHPxKkCat3_xlVVQ4knobRTmkWNNHsFFHOc6zrCho4yNqJ4umzQEnoHMDKCFkaIWhz6A4JupR4sIsEEshsz77ePhGbJjpnl3XH58USalaAtIVKqFS7n6b3SwGXf6gONkrZimR9q~~fcvhx_Xr037wvTMwjd3rO4VMgfQviHfyN8a4tPeTFQ--.jpg
//media.inmobalia.com/imgV1/B8vEv5Xh_VThvnEqMx4G0ZxU_YC_pCgmETwWNQKyeMqLb9Afo_WSoi~kcK5mwaepLz96AHEmAzWJQblCNhundhnOIYTFLWoaYUC5en2mXlqWgJbuB_N7T3wnfs3SODjKhFAPIOelrqpVnG_xXYmW~xe02CsGPeTg7KmyPDE32~hisc9pJhZwK0p6yXA9eN3E8W0K8UfZKVTi_EgVgwB5HdYWA8O7SwW91vp28ad8Z82YhOevwAfVZaRIlgbjo9h3UmpaVls4A59rLhETmyqMW3ZO07wJTGnP6BUdBsdUoewfI6VdrZAQnaEjMYCgULwWRgFudA--.jpg
//media.inmobalia.com/imgV1/B8vEv5Xh_VThvnEqMx4G0ZxU_YC_pCgmETwWNQKyeMqLb9Afo_WSoi~kcK5mwaepLz96AHEmAzWJQblCNhundhnOIYTFLWoaYUC5en2mWx~TIPWlDBinMPBDDBZlh0C2DpNQiQnKX~6h5yDb4ZL3bjorK26Ttc_KiqiGVklpnbi8ku0uHvwkcL8K7taCBqOoar5TKytB2vt5UCqxLnOzGHyxhchVMsULR65OdHvQyLlpyYxNvKhsPdTdcB~_PTBYGg7rORJCRNbYAGBCp5eDFq_NJ2Lb~uVn1Aenz5Y29~l1PN317Xz4c1i_bXUVrxtGDNM28A--.jpg
//media.inmobalia.com/imgV1/B8vEv5Xh_VThvnEqMx4G0ZxU_YC_pCgmETwWNQKyeMqLb9Afo_WSoi~kcK5mwaepLz96AHEmAzWJQblCNhundhnOIYTFLWoaYUC5en2mAyofXGcRV5QBpGGLztZjo8RuHp4AoxxRAKZba8MzgFrRnBWA22uw1QBVSQ98VNsH1pDOBK0LWUafV3WC40yDwB03aRg739Zunt_1BeWlTDtFv7TJjy1l2_dPs5iy~3dU14UFl1_apzy7CjiTpAo_SjqDgXUCQ6EVFOEZu~QlKinxT5JZhxrrMfFytE_JB8zO_g~35EfevENM3Yh2TcNdqBE9g3WjeA--.jpg
//media.inmobalia.com/imgV1/B8vEv5Xh_VThvnEqMx4G0ZxU_YC_pCgmETwWNQKyeMqLb9Afo_WSoi~kcK5mwaepLz96AHEmAzWJQblCNhundhnOIYTFLWoaYUC5en2mXlkoa~_G3MklZARdoTqyYSvCizYe7OFkEAjMPOKM4U6rlnqWPFR1fH2oJY2bQIaARFmUpOxATjQVbtrBi0~676W5nokQRt_pY3_2sPaDCoHgP3VSh97PKZlJ2mYwwfW7cl5cttsc8licN~cTu3hkmFkSM0ZkRQWkOSK1h1MfahEvK3P2kDH2iCoR0yIy6e2PyqH1V_4PeTYmdh4nL~MKMEK02CT6Xg--.jpg
//media.inmobalia.com/imgV1/B8vEv5Xh_VThvnEqMx4G0ZxU_YC_pCgmETwWNQKyeMqLb9Afo_WSoi~kcK5mwaepLz96AHEmAzWJQblCNhundhnOIYTFLWoaYUC5en2mCWSPAXc6oU9npWtuevS9inwO3WnbGISbUqwS2~ZQ16uXZFJgx4SuodyvSMcbeATgG8VGhlqCs9VoIB01VuuUT73u58BiEhbTWDb7J28pnSxTOKiU4GL_J8vKYQs3JtfF4VBBqwEtjXNFIsqB9Oz9o0x7XoaY7jCyQ2M4ykf2BslWYNg1YnwfYuocn2dRv_l_vinL4mx1y0fgYsR4OyMz9dqFuZHF9Q--.jpg
//media.inmobalia.com/imgV1/B8vEv5Xh_VThvnEqMx4G0ZxU_YC_pCgmETwWNQKyeMqLb9Afo_WSoi~kcK5mwaepLz96AHEmAzWJQblCNhundhnOIYTFLWoaYUC5en2mCx69Tbv~tX8cFqkrWfDZcEDfHEKRX6OGmTXDXHu08dElUoxE7MVB499zvi3_nzfAUeccN~1CECBm0evQdwMQSF8q0bcqxzgB3RZGEHZF8rzboEMzqTMTOjIU3JWe~jbjRHef8lR0E_7j61A1qfKbKcGJZSDLWRaXH9ZHTXzsP7iP1FUZJBkq6Xt6bjPdONoA9NqWBVYDr0tF5Q1xXMMLh34rTe~6RA--.jpg
//media.inmobalia.com/imgV1/B8vEv5Xh_VThvnEqMx4G0ZxU_YC_pCgmETwWNQKyeMqLb9Afo_WSoi~kcK5mwaepLz96AHEmAzWJQblCNhundhnOIYTFLWoaYUC5en2mXOfyIDAW~jmIcfIUH0bVrq55xsBLHf_xd4Tzy7UJN0kGOOxhcobmpB7Y0IrRYEV3ToIPCTXBuqVEOf8_3lwg84oawy~8ij~7kyBR5tR9XKZ2xuaKLXooYHrfVn5LTmwLS4g_OOxVVWr1JYRVUpdA4YtyUMpv058z1y2KICQxlcgjwcOZz_jy3fu36A~970jrIDAnA7iuCm69CZQunIrpMc99hrFOBA--.jpg
//media.inmobalia.com/imgV1/B8vEv5Xh_VThvnEqMx4G0ZxU_YC_pCgmETwWNQKyeMqLb9Afo_WSoi~kcK5mwaepLz96AHEmAzWJQblCNhundhnOIYTFLWoaYUC5en2mCW3F4_oTHnfRMIAEGIFNaPUpGHFAdq3EM1ZaWqoQTydMk9vGNHo_Gud0OqSNxwbw3iBPXdH5cFCg1zJT5IIP2Y45eaL_Xur13NtwjczZLW8GfeAn_yFL8~2xu1PmnNMoUa4biM4c5TWjj5whatuoj8KDyYxGOXbokH~BPSE033JqS54wWSx0qT_HILmgwAi8bsdmuexqIyEFxHSpPjQTWgEDiaatjw--.jpg
//media.inmobalia.com/imgV1/B8vEv5Xh_VThvnEqMx4G0ZxU_YC_pCgmETwWNQKyeMqLb9Afo_WSoi~kcK5mwaepLz96AHEmAzWJQblCNhundhnOIYTFLWoaYUC5en2mCIEGikWLK_gEg0gZyp4WS1PPTt88fNYRr8qFf2RJy5Ft0~i13~FC8piB7y~_ipjo1AyVVYqhly3gaFuMXjOY5NvBWK1xeqfmH~EHKn3F1jfgUPnjAZWg9Au1jpCunF8kJbp7sIWnZrVQLHALkPYsQ~BiqMVzz9awtnQjh0WK_Q6jz~QYQ~YUZJbZ6Jbej8lkGgaH9pKYdyv9cV5uik~alBrFbCHezQ--.jpg
//media.inmobalia.com/imgV1/B8vEv5Xh_VThvnEqMx4G0ZxU_YC_pCgmETwWNQKyeMqLb9Afo_WSoi~kcK5mwaepLz96AHEmAzWJQblCNhundhnOIYTFLWoaYUC5en2mAiS0cIUwjjCCkKvp2siszS77~zwqfI0xZTrkS3d35so1AyfngNQmg_c4~OGBI84CMjddhDGUdOAn0wuDdndQgiyW7hVQoJj70wjarH7Mdxa3_Vlotx0lZ1_kNk7IKIasjB9oi84mtS03ThtJRANU7O0S~NtUH0hfTt6RvwMua0~1thYKX1KvPYd4snDjsQPbDFelVhGp3iaCDB9lENIcCFCoMgczRQ--.jpg
//media.inmobalia.com/imgV1/B8vEv5Xh_VThvnEqMx4G0ZxU_YC_pCgmETwWNQKyeMqLb9Afo_WSoi~kcK5mwaepLz96AHEmAzWJQblCNhundhnOIYTFLWoaYUC5en2mD0uZ4zhJlzGTw4EUX94GuSeY~E~YRSCRgrSm3KlYH43oZInjIEWra3SNohg4Z5~XY0NqNU1W9J3tb2P9s1mGb8QhXR5h9Q2Ri29UOVllN0V3aY3L1rb6kOfMeHxsVRpxSJwDwqvxTO6XpD2_wyH1tDj1xh5v9YLIjoxAeRGmngHkWnNP77Q_nEAGknnnYaVFsq4~oRksukhuX6yxjMwTkPefRcuP7g--.jpg
Estepona Centre, Estepona
Penthouse
375.000 €

reduced from 399.000 €
Penthouse with panoramic views in Estepona centre
Large penthouse with huge solarium in Estepona centre.
The penthouse is distributed over two levels. Through an entrance hall we access to the property where we find a lovely kitchen with utility room, two bedrooms sharing a bathroom, large master bedroom en-suite and living – dining room with beautiful views and access to a terrace with panoramic views of the centre and the old town of Estepona.
Through an indoor staircase we access to the large solarium where we enjoy beautiful panoramic views to the town of Estepona and the sea in the background.
The penthouse is south facing and enjoys sun all day long. In addition, electricity consumption is minimal thanks to the solar panels in the property.
It includes a garage space.
Located in the heart of Estepona, walking distance to all the services that the town has to offer. Nearby there are schools, supermarkets, gyms, an indoor swimming pool and a health centre.
Its excellent location and its large terrace make this property a magnificent family home for those families who want to live all year round in Estepona.
REFERENCE

208-01835P

bedrooms

3

bathrooms

2
built

118m²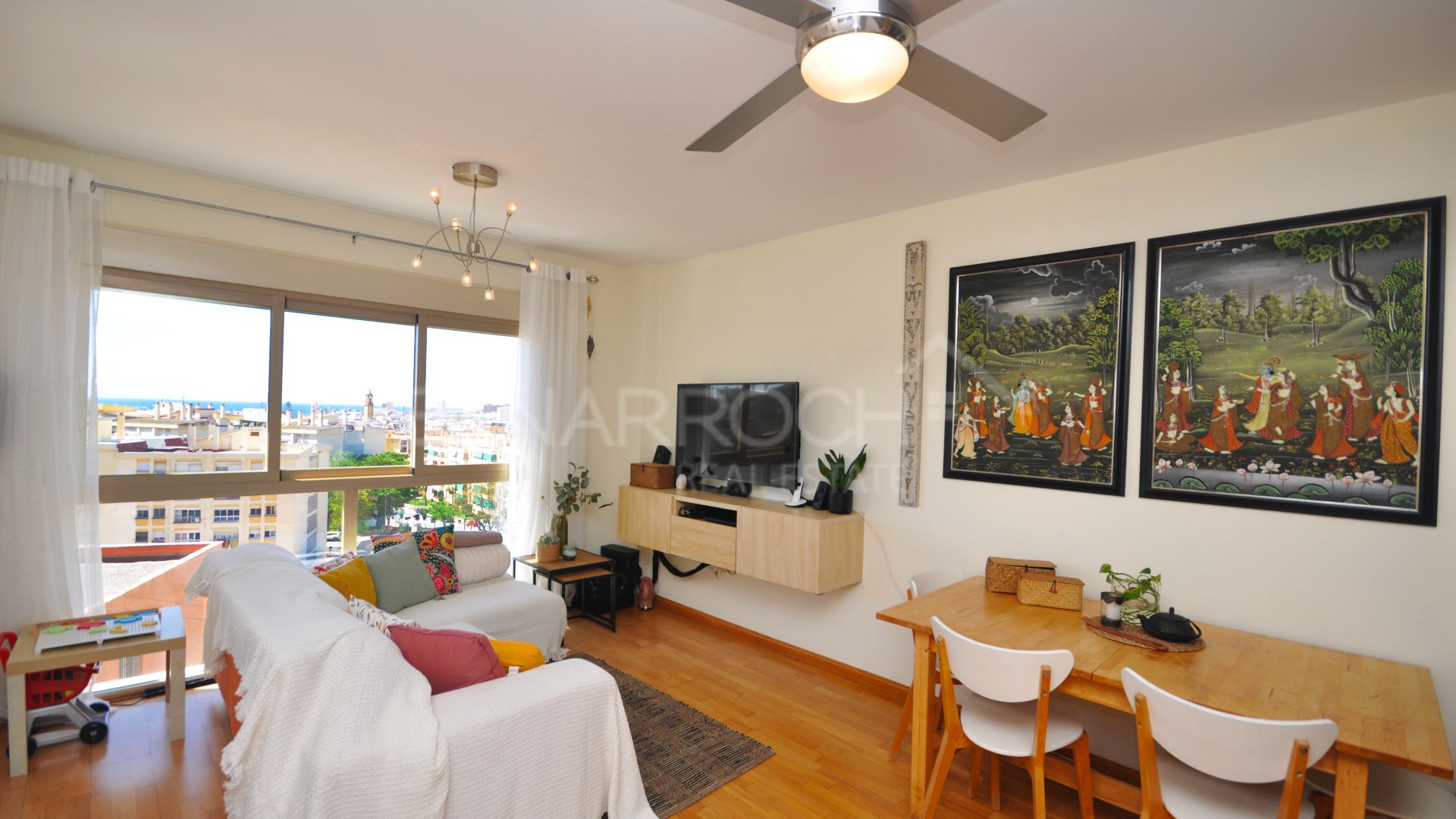 Video of Estepona Area