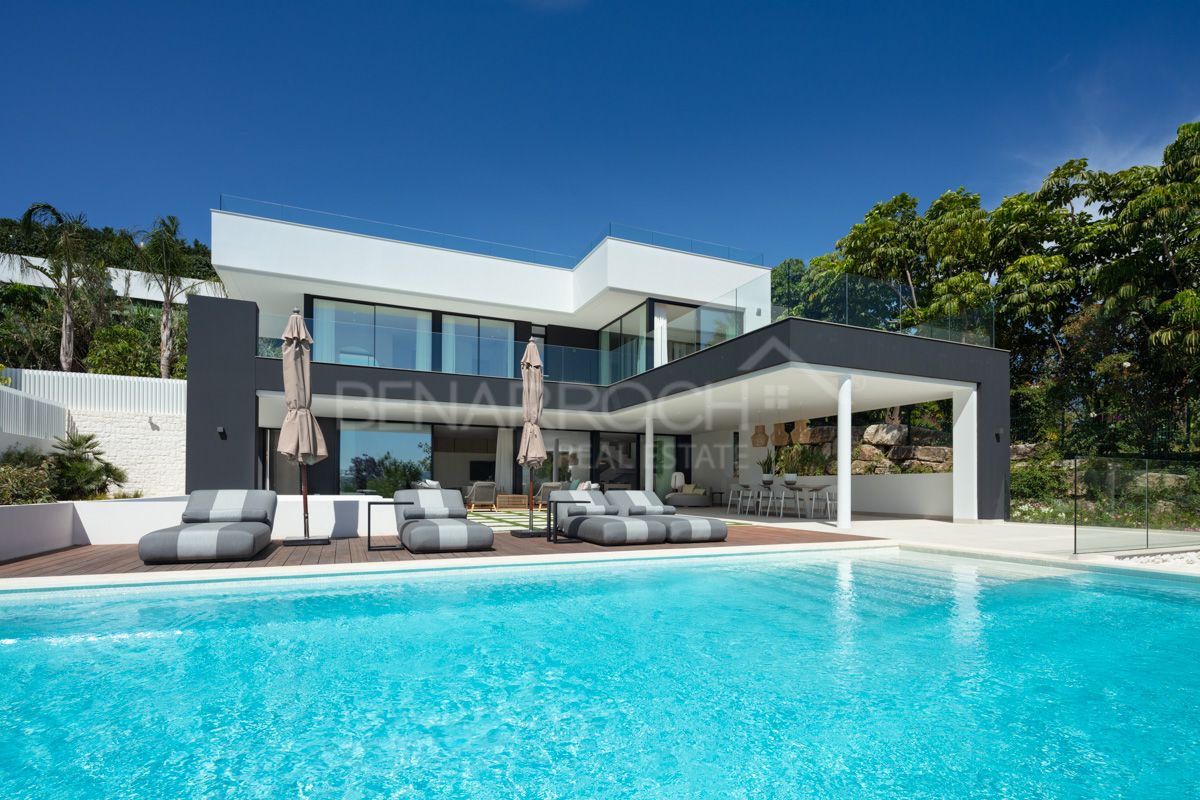 //media.inmobalia.com/imgV1/B8vEv5Xh_VThvnEqMx4G0ZxU_YC_pCgmETwWNQKyeMqLb9Afo_WSoi~kcK5mwaepLz96AHEmAzWJQblCNhundhnOIYTFLWoaYU7wK8PJ2VMtF4IlpaDO_Kzsy9Iw2BvaruwD9Z9~fSof7LxZtpftgPoexKDFCm4WdU_sM_zGrxp1sZMYWykznl3jJRtG6hr88rJJFhR6Hs7wiYmWJVOhjHiurP3AQmVaWws4__5cWOrZ22H~CTM~0gdvzppwmihBsO6h2zJwj8p4YSFlD4ilgBhEGoffONW0Fgghiw06Hv30_U18yWNTy6JlP3a6XvYSSoFpbg--.jpg
//media.inmobalia.com/imgV1/B8vEv5Xh_VThvnEqMx4G0ZxU_YC_pCgmETwWNQKyeMqLb9Afo_WSoi~kcK5mwaepLz96AHEmAzWJQblCNhundhnOIYTFLWoaYU7wK8PJjnBcTriQ5rk8YX2KXk~t_QI3PB4M4K9SqAVjS7mUHEPyST6Na9tlya5hV8WcmfK7DxxbuDyIKja1HDMGF5AnfdnSZG8fWb~IFtudTURUdwbOTQJkaaIKWUczAeRQ7hyQ04QNPCaA3giKB1oChhKooDm~mCgIGqpInFDtCOzTW43MqV2ZgBcm1aDBqkHmNnrAu1zYaSM1vRzTTR~8q8qSfejOdoUQqA--.jpg
//media.inmobalia.com/imgV1/B8vEv5Xh_VThvnEqMx4G0ZxU_YC_pCgmETwWNQKyeMqLb9Afo_WSoi~kcK5mwaepLz96AHEmAzWJQblCNhundhnOIYTFLWoaYU7wK8PJiXvjY_8y_yn2Xt_8Kepkcp3nkeU6fb_td1kpZ5mDOzMFKo8VwgUKI_2Rmg9ZXvOAuF42xYuuDXg_GaTZKStnR9aWak8Lcxg5uz5lnsqys30DFDad_6Bb2hyjp0f0GW3QMO52cps7X4VtV1NOeq_LF15Nw11uaYil2fluU5OtTnx2wv0KvO3GWobvloxJVAb3Zyu9saqrkDsrIyJzAYsiDvCtVFfDSA--.jpg
//media.inmobalia.com/imgV1/B8vEv5Xh_VThvnEqMx4G0ZxU_YC_pCgmETwWNQKyeMqLb9Afo_WSoi~kcK5mwaepLz96AHEmAzWJQblCNhundhnOIYTFLWoaYU7wK8PJ26t_FdqT99Gv0CScKYv6yfyuPTNKaP96aOU2DckQB3RKU0jz68atzelq7AxNUCftUxPpZdbuI5kZ8i3vcpg5M5dhsblab8XMduMWEeD4HoZaozWruuoJq60KYtX~5LL6oAPA_KV_~ikR492sFqOb0QY5297wKGw2JiA197O65MHw~~ChatqnVlahQlrIJQtKc3ro9biXp9yrUMrb~fvPqtaQRsLGIQ--.jpg
//media.inmobalia.com/imgV1/B8vEv5Xh_VThvnEqMx4G0ZxU_YC_pCgmETwWNQKyeMqLb9Afo_WSoi~kcK5mwaepLz96AHEmAzWJQblCNhundhnOIYTFLWoaYU7wK8PJ1TM53S_bjpef8DJT1tWQrOO5IsPAvPn7MKZEHyDTYxb1ykgE38l9Qmz6Txhgw3vj2UH7BKc2wlstYroXbkbsTHdqOadoone1f0JrCQAEF7gu19CVAAp_ODOaaleSL62UXujqNvLnn7z9zteIDk0S9CxLQlOyzTlsMDV95Tnf95eETVR1TwibOrFx6xkwuf43UB5eoU7zPjoGGbLs1e8Cu5xb0aPBdA--.jpg
//media.inmobalia.com/imgV1/B8vEv5Xh_VThvnEqMx4G0ZxU_YC_pCgmETwWNQKyeMqLb9Afo_WSoi~kcK5mwaepLz96AHEmAzWJQblCNhundhnOIYTFLWoaYU7wK8PJ2BoZWw7TpXmHhN7UGzvXAesc0MBWowFAcR5SGpoNIKaUfy51y_AAywoskcxrWmcys3keBmaoCStaSHZBcIH_qhQ55y9yHBbn~Fu571iy7ITYw9vq4eN3clhArEJTnfV6IfgKbvFe8GhsFehvHUfuII~j_VaDUXOt80RNZbySt0wKpqsO9qKCK3fuhMMHvgvKK~5i~ZTW4i2w7goAU5GjLIIBrAtb6w--.jpg
//media.inmobalia.com/imgV1/B8vEv5Xh_VThvnEqMx4G0ZxU_YC_pCgmETwWNQKyeMqLb9Afo_WSoi~kcK5mwaepLz96AHEmAzWJQblCNhundhnOIYTFLWoaYU7wK8PJ2nXGq9Su2Fo_bh1nt5yRfbVyUImERzTL_GughWQipP19zZuBg1mcKZqnG_Qa4ZCw9CwGQqd61gZYF4eV5VtS5_lxHtr3VMn5CbX51taxeXEIOJBH2RwJk3oQB_mRsKlkwSLCxVPHYMkSmQ72jwNGz6~UvlmqulzSIWl59atiX~p9s6KWlIlCTGKZ2zv~Nw3G94QCt011nRfI2Z02pzlhbQyBuU_a5A--.jpg
//media.inmobalia.com/imgV1/B8vEv5Xh_VThvnEqMx4G0ZxU_YC_pCgmETwWNQKyeMqLb9Afo_WSoi~kcK5mwaepLz96AHEmAzWJQblCNhundhnOIYTFLWoaYU7wK8PJ2BsIXddRxB6c2rOUQO4ZUq3DzNP6XmoEomsBWXNVCX4eFAftlMpl1Ua2rasOf0HpocKYcQHm4OFtBsC8qs9rKc6hdKsJDWu1QWmBvuOqVigyStKmKPqcOBnfQ_Np3mvHV61YXSTwGXMSZArABvNl8er2q4tKHV_UqhU8ymA4I99D0rGGbwIQJs9399PEsE2uHK57gcKz_RKxS29t3os8G34dwK7scg--.jpg
//media.inmobalia.com/imgV1/B8vEv5Xh_VThvnEqMx4G0ZxU_YC_pCgmETwWNQKyeMqLb9Afo_WSoi~kcK5mwaepLz96AHEmAzWJQblCNhundhnOIYTFLWoaYU7wK8PJ3BIdwRv9FF0huSbn7~9jDdge9UEB_kwSG8qO7wEeTulv4W6pr1rlMnMgqi_XqWdVEXRCpT0gHYJvn8h3PNAPjZUPDfXsu~s08NQYzP_3yhu9cm4PTeeKdGSjmiQnt5uYvENSaXVu4Fo8gZoK5tRP6kjo~biAYSTFzf4AnG8VIZv2hFYbZ9TU2F7bysWbmqZ1dQZPkX6DUFqDKhjwaGVW9MRBZv7Brg--.jpg
//media.inmobalia.com/imgV1/B8vEv5Xh_VThvnEqMx4G0ZxU_YC_pCgmETwWNQKyeMqLb9Afo_WSoi~kcK5mwaepLz96AHEmAzWJQblCNhundhnOIYTFLWoaYU7wK8PJ3kFMhwaGT5nvIRZY9dRhhsx2Vpvi0UICJ3Qz76a6UEbXWp5ALWrq8ha4LUfmGglz826mdPoqj7qyr8K3U9NEpFkNEzYKxFKneMrtYvzXIgowLr9aks_Mu0uiCYFVkkLbUhF0NBAlfiKd3Fn0NgQHgsmPprauWOLHQnGfqjRAUz7N8f_oRkBEWD7E0SUUx2TFM93VXwY22n4ZYxNZAm~OReBnGkRahw--.jpg
//media.inmobalia.com/imgV1/B8vEv5Xh_VThvnEqMx4G0ZxU_YC_pCgmETwWNQKyeMqLb9Afo_WSoi~kcK5mwaepLz96AHEmAzWJQblCNhundhnOIYTFLWoaYU7wK8PJ36pe3iUT2yjVkGKeQPv0_Y28rThmLcYiDA7lOGk6i1WwaCh8l3bksQnR1CZLDeAtSLUUzAWgkybTwBv08gaAiMkT03slINIiwtR2WfRCKaGQwWXEvdEksGYz8Hm~i6D2qXM0X_ab_R_W~05OYbW2i2jlXUV1WEMlqtHBy1YZrVJD9av9YojLZrPIjTLihBoiO_h6T7rJiyiTD7wwk8chDqRCcvX_hA--.jpg
//media.inmobalia.com/imgV1/B8vEv5Xh_VThvnEqMx4G0ZxU_YC_pCgmETwWNQKyeMqLb9Afo_WSoi~kcK5mwaepLz96AHEmAzWJQblCNhundhnOIYTFLWoaYU7wK8PJiX0DiPZogZbdNBXNams_aPnCOBHyPa1LYjBvmed9nRq8N2Dukfj0PQFetARop3xRblUz9nxrIOCm4Krc8Y8v4kpgivU_uaV4IghUk1WXJvsJMG6ZyctD9K7DQEHYkBKsFi5RWuFHHM273K4YnCbptn1LjqK~pGEFclo~sNviF5utumE2GBsQvHI52zC7nsjJ~0ZwEsH2Nvt0Fnojhay01D_BwBMclw--.jpg
//media.inmobalia.com/imgV1/B8vEv5Xh_VThvnEqMx4G0ZxU_YC_pCgmETwWNQKyeMqLb9Afo_WSoi~kcK5mwaepLz96AHEmAzWJQblCNhundhnOIYTFLWoaYU7wK8PJ2VN8Am8nmdgCmYkn4WaIDVZ5WcMVWvkYOyQBVcLZgJsFs~8W29wnUYJeX2SB3WAJa97jEX~SoJjQ3m0BFDCra6Nhqc7LEMgvOx4BtRI~GrxqRhAWd3ySfgie_DC7auE4h4~KsUBlG1Ylt6PUgRt7i3eKlUcO6FC25XxUuV_fbd~uY4vdXWdqYdQ_IZlMy1Ib91Wvc5dLPF7wxzRe2u41gklTBLq0ew--.jpg
//media.inmobalia.com/imgV1/B8vEv5Xh_VThvnEqMx4G0ZxU_YC_pCgmETwWNQKyeMqLb9Afo_WSoi~kcK5mwaepLz96AHEmAzWJQblCNhundhnOIYTFLWoaYU7wK8PJ1GE79LXV3lzHfsm2UveIzqfuYdpzOG16KokmEKs4tDffmwdPcNKFpRe201qbT3W9g7zZ7SAAiP3nrTT3r6_ymw5~4zlQ3RUcFkqn8XqVmrBQDYTqYdPeTy8mQgL44zUix3pcMuX4zBPqsL1~F0NTbtMBBxLav7ZPk4mK1DA4K2pubURrwhGkiJD~W3bfT0IpgN~Xsapyf6ZjHCsFkwTETlUuvv2yVA--.jpg
//media.inmobalia.com/imgV1/B8vEv5Xh_VThvnEqMx4G0ZxU_YC_pCgmETwWNQKyeMqLb9Afo_WSoi~kcK5mwaepLz96AHEmAzWJQblCNhundhnOIYTFLWoaYU7wK8PJ1THx6OoQajfDIH6bilOGxJhZaMkMj1aen5BeXRqrTfnPSleT8QmmGGVrXvKFTbwFg1ocL42acyH3bJswsZ_0eXAG4LyNSWGQVgcWqfwUWXtGrM28Z7nJ3uOXPIEBm7gNTiCfBr_suhYDgdbzKo3uihtyxad3EeToJCRQJKvr13Zh6J_gu2GIGFa5VqnCjbsB1ghIdCFfE761itemncu4LB930i2y4g--.jpg
//media.inmobalia.com/imgV1/B8vEv5Xh_VThvnEqMx4G0ZxU_YC_pCgmETwWNQKyeMqLb9Afo_WSoi~kcK5mwaepLz96AHEmAzWJQblCNhundhnOIYTFLWoaYU7wK8PJj1SyKMHv4mn5XaSoXe4Cc6pDbZPUWhysp949Fz1580r8F8UC0Vs3XBBJU4cHfsDES4jigGKE4aPPDd5FOGfnehhIIsDjclnGksacHawlRwI3CZtQ7InI4QvLZ5PzLd5q08j5hFrDIX_1tYgXJ6klFkTmFhEbX4NHDW334KSxJPWARDpSWr9EzNdJRNoCZvtWMh5j4XVCxxTe~_yP10R0IvdBIuFFbw--.jpg
//media.inmobalia.com/imgV1/B8vEv5Xh_VThvnEqMx4G0ZxU_YC_pCgmETwWNQKyeMqLb9Afo_WSoi~kcK5mwaepLz96AHEmAzWJQblCNhundhnOIYTFLWoaYU7wK8PJ3kFFQnIRzXXiZt15WrpOqhOAA8Z4mjRR~a_nGZy9ryAz0cxM1GYJWUSTqtT4S_kD7bELpBxX5WpAn5nv85k2upo_suTA135ngDtmnbBO5L0CmOPsMNsy5Y88zmHuGwAcTzupNkyz_KdVmLgmD~RXMxdrZhzIe5VCN1_J63ZQAEqYdczac114sj89~jBbRsSveM7jd~PrlpaTZuCgNwQ1LDWDjE7liw--.jpg
//media.inmobalia.com/imgV1/B8vEv5Xh_VThvnEqMx4G0ZxU_YC_pCgmETwWNQKyeMqLb9Afo_WSoi~kcK5mwaepLz96AHEmAzWJQblCNhundhnOIYTFLWoaYU7wK8PJ3WuugLeBufv1Skb_ULINgD5l0kboxTDPE66nn8mnKnV3rM0BAG~8THGochywCl05GvFTZzIym~5ilw6isVO0Oprivlz8Iz2EnKzNftH1pVK9Km92XGZJWei6XHkR8PQpBNCFwtRNflNl0roXVzFPZPycaUDv8SpT1vgjNEbRxTU2aqLCoUjsK5KVW~NuWhCyjF8M9UIcxE0BLgHBON_0igut2dGhUQ--.jpg
//media.inmobalia.com/imgV1/B8vEv5Xh_VThvnEqMx4G0ZxU_YC_pCgmETwWNQKyeMqLb9Afo_WSoi~kcK5mwaepLz96AHEmAzWJQblCNhundhnOIYTFLWoaYU7wK8PJ2nB9_GLYDnd40UXaP0L6Zulf1bQF4ubDpzeKhFOSUBw3wwyb8Zr8cuXBCM3tO8drijmQZuudFKObkFh_1D5Ld7ortiF3zvviapjZ5qoYMLQ_EdzYWjFNoWJWMyM94aWCBd~f~MFeixY0iJ__OUL5of0ZKJOFdAEPSNxu6TDEea3bCZgYTnzHflWGiXSlPnIfrIsGtRQ~DD~GsQ4I~qMWM9ox5J_CEg--.jpg
Las Brisas, Nueva Andalucia
Villa
SOLD
Contemporary design villa in Las Brisas, Nueva Andalucia
Newly built contemporary style villa situated in Nueva Andalucia, urbanization Las Brisas.
Las Brisas is a development in the centre of the Golf Valley next to the Las Brisas Golf Course. In a few minutes you can reach Puerto Banus and all its shopping and leisure facilities.
The villa is built on a plot of 1142 square meters and has a constructed area of 491 square meters with 353 square meters of terraces.
The property is distributed over two floors, basement and solarium. On the main floor there is an entrance hall, guest toilets, fully equipped kitchen open to the dining room and living room with fireplace and access to the terraces in front of the infinity pool, with outdoor dining and relaxation area.
On the upper floor there is a master bedroom suite and two guest bedrooms also en-suite and with access to the terraces.
The solarium has a relax area, jacuzzi and bar area.
In the basement there are two bedrooms, TV room and garage for four cars.
A villa with excellent finishes in one of the most sought after areas of Marbella.
REFERENCE

208-01633P

bedrooms

5

bathrooms

5
built

491m²

plot

1.142m²
Video Villa
Video of Nueva Andalucia Area
similar properties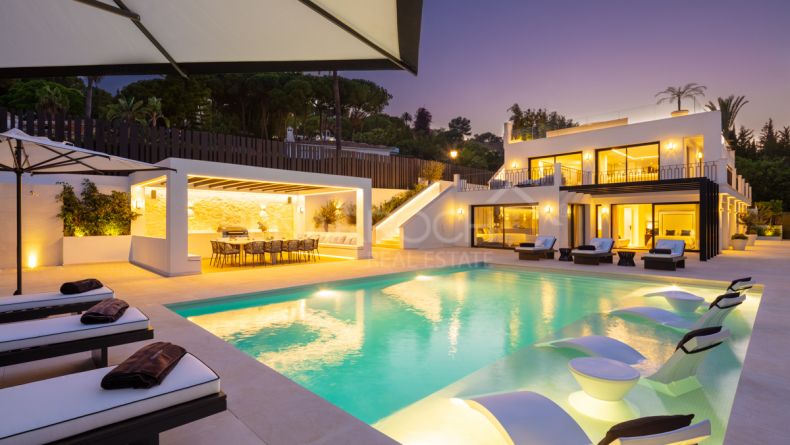 4.995.000 €
Luxury villa situated in the heart of the Golf Valley in Nueva Andalucia, in a very quiet area with golf and mountain views.Only ...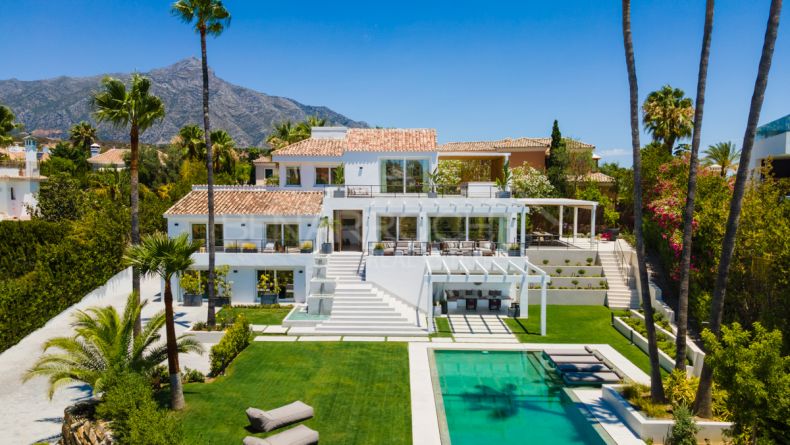 4.495.000 €
Villa situated in the urbanization Las Brisas in Nueva Andalucia, Marbella, with very close access to the golf courses of the ...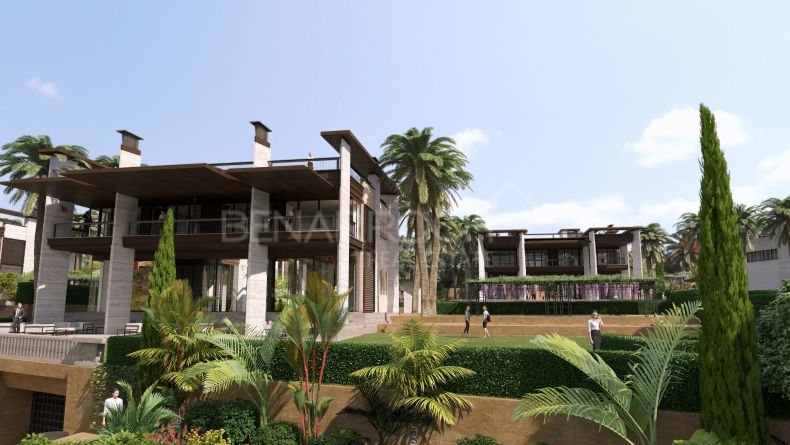 5.530.000 €
Contemporary style villa in Los Palacetes de Banus urbanization in Atalaya de Rio Verde, very close to Puerto Banus.Los Palacetes ...