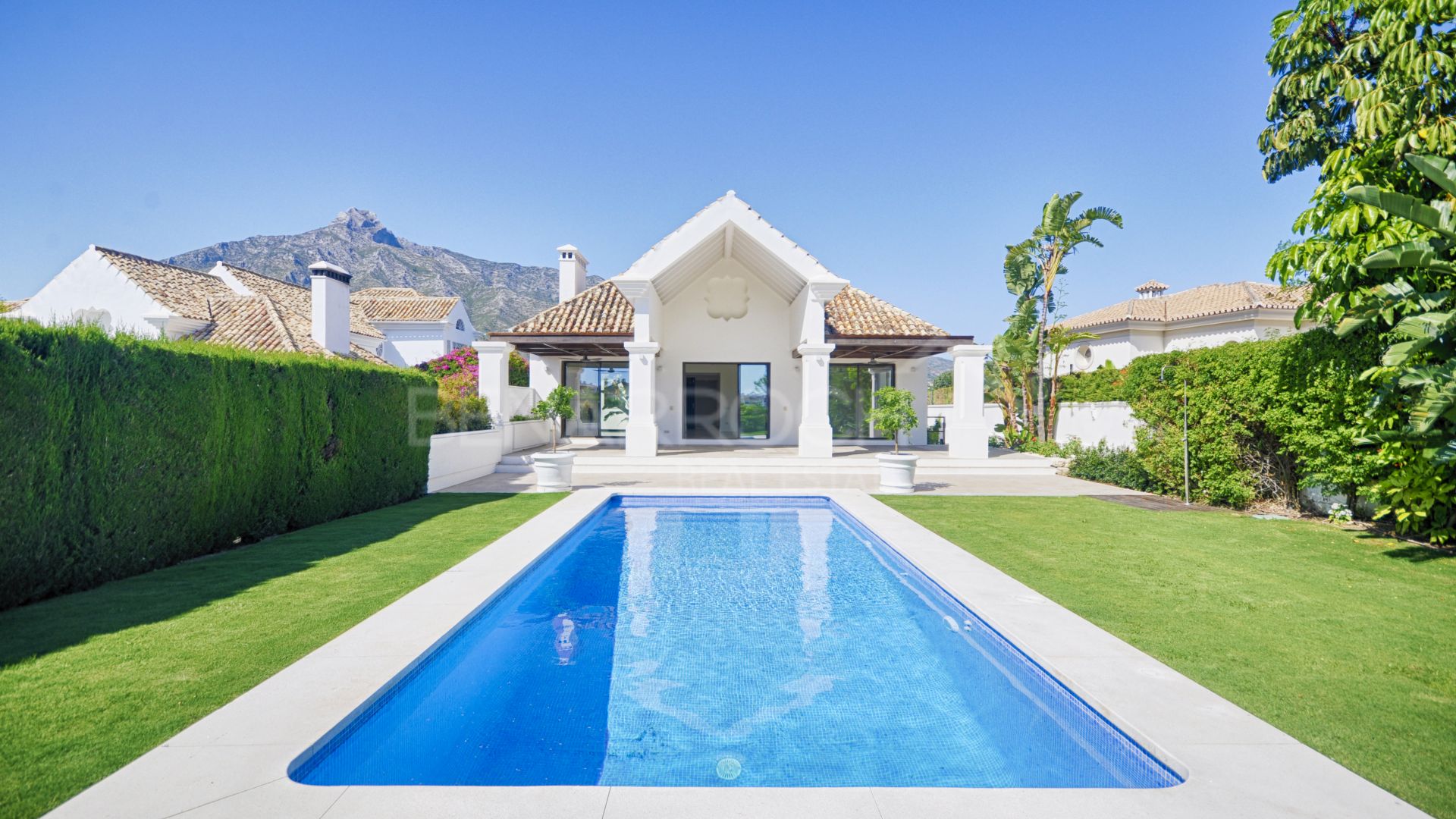 //media.inmobalia.com/imgV1/B8vEv5Xh_VThvnEqMx4G0ZxU_YC_pCgmETwWNQKyeMqLb9Afo_WSoi~kcK5mwaepLz96AHEmAzWJQblCNhundhnOIYTFLWoaYU7x_q7E~ch~59t8AK6pyE1Kp5yurRACAGqgaBespv~xQvYM~OoEeSl_MONllfRNS~Pi4G989MnWh_j7u9q3_BNG75LNxJTz9189fvypf2hWLGr4xfSxMVBIr_CzqGed~yfEAXmVG7Cg1IBzE_zl9desb78qB7g3uhcUOoBM6Ej_8iR8RNca6YexLrFBDOYZ7s57EGakNMB_1mBAcrEhQolAL_muizaKYYAmeA--.jpg
//media.inmobalia.com/imgV1/B8vEv5Xh_VThvnEqMx4G0ZxU_YC_pCgmETwWNQKyeMqLb9Afo_WSoi~kcK5mwaepLz96AHEmAzWJQblCNhundhnOIYTFLWoaYU7x_q7E~Dhj7wsdgrosJhlL3zXJ1Wy~y5cL2jPtfdws3nLe19vPJUaKmnOuIZnJtj_O056QpD~O6y24Tb7V7JzeNC5GVIepF7d20cF7MiwPPHOeq_Z1166UkArbPIrWtnd1VaDTvuPCsUtZN33eySueFlOjh9WZMPXv_i31OxQh7OU~hWlU04vxnm_dImYQkOxul2qNJonwhC3xCqSLa7GeQdvskqK9e7mi9A--.jpg
//media.inmobalia.com/imgV1/B8vEv5Xh_VThvnEqMx4G0ZxU_YC_pCgmETwWNQKyeMqLb9Afo_WSoi~kcK5mwaepLz96AHEmAzWJQblCNhundhnOIYTFLWoaYU7x_q7Er1xyU1HihheTsNvxEhYK1wD9_RsF4ZGMstV74ZFHgQ2kIkKMNTaTxEot~Xu8sETdWUeKpFPSzoTveljPXO2L3Ypxk3r_TUaW94LQVNH5npbQwkU0q6ywiqC431_XDeLBMw9WEYZYu1BIUFm5ZkuLcq4xdHg3rYDREbTN2noHLGT9a6Om3NHrMgoR05zKrpy4FegzKKz6VYfCGDN7ssBfYJ8mnn2oxQ--.jpg
//media.inmobalia.com/imgV1/B8vEv5Xh_VThvnEqMx4G0ZxU_YC_pCgmETwWNQKyeMqLb9Afo_WSoi~kcK5mwaepLz96AHEmAzWJQblCNhundhnOIYTFLWoaYU7x_q7E~G4jDDPJh84MkPQ9GCFz8ACNo0OCz94m6rVmI1l2VIbeECH_fmkTGJIaVHldoqKMT6F_QXpccZx7ty8ff8Zt9WhffIhit2UNPfa3kq7xyIpIid2C4T8WRtLU0emkwOisxpaMg9ogvnmdGseUwl9lqoxklsjn9_m0MllRHCLf3ot~tyNC8DABzEZ4wQQtjxW9Qxcq9veS_Trm2NF5WtEEYNwXvoIaJw--.jpg
//media.inmobalia.com/imgV1/B8vEv5Xh_VThvnEqMx4G0ZxU_YC_pCgmETwWNQKyeMqLb9Afo_WSoi~kcK5mwaepLz96AHEmAzWJQblCNhundhnOIYTFLWoaYU7x_q7ErMxNKLlFfQQf_E2oSyTgs4UnWF9OCb8OC4ltJXmhWNoniYdXEXJMWkAcrH11HreT1KADCoksV1o79bZQvo5cJUAt~DvJSs59KEF1o1TqFzxVJbCKwtw0ebV5IU8h1UkKR0Q7lJq00zY2l16Mhnl50Li34yxh9aeJ~DNmLib7FpFCA53QTUXk2dfuD6xe75Jj1dApsqig7TaproMB5LvmYEx92cULyw--.jpg
//media.inmobalia.com/imgV1/B8vEv5Xh_VThvnEqMx4G0ZxU_YC_pCgmETwWNQKyeMqLb9Afo_WSoi~kcK5mwaepLz96AHEmAzWJQblCNhundhnOIYTFLWoaYU7x_q7Er12cFZqGMtE9TWA7574drT8d7o_Hm1UcthF~oiV6xUI1kF0T4bexOmp62LZ5Hc4AUxTxZnIqHs6XIB6mQcSSUsU8iUySzxeq1O0fi5_70356mwu9OL~cetmBJg5vR3rEjiPLtv5lT_z8YFBQdnKU9wysu9rmAwGstngoOCxeUrkGvuAgghTPEdmV4PyobdMOf6h51C3whI30ekRROWd29FqsFLrXTA--.jpg
//media.inmobalia.com/imgV1/B8vEv5Xh_VThvnEqMx4G0ZxU_YC_pCgmETwWNQKyeMqLb9Afo_WSoi~kcK5mwaepLz96AHEmAzWJQblCNhundhnOIYTFLWoaYU7x_q7EqhfylbgBGxLrLcfkkspBGEecxg3ZsG7Oh42SE6Y50DzsfYjPBX9UuV6TlX1MntYGOi50lPkFimjbjxCwmG42jiF3xh6HrXyTGtaW9CEdsyWiqpjCsWbdv~W2AmbTrTyZjjdVeubhH0RUMF2aHZeqPdLzzI6HdFR2hvUeXM0HwTqSVUVntsEEqhbTESmisWtLDwSLND6A1076FFjmn8CAGuANlvDtpQ--.jpg
//media.inmobalia.com/imgV1/B8vEv5Xh_VThvnEqMx4G0ZxU_YC_pCgmETwWNQKyeMqLb9Afo_WSoi~kcK5mwaepLz96AHEmAzWJQblCNhundhnOIYTFLWoaYU7x_q7EqkHLga28i1w3tBi8X7Uil5k2Cv4B1X_waKSCnmdkKNB~dltPwjPGhyFOOGAwME4Ktzfyl4GJHCP3jlwYobO1cUWzaqsbu~LQPVfmhFPMWbmMYSxd~HMZF9J6FaK5DUDH6mvM04McVflKxGXuc5MSFadk8iR~KsqkYAeHjNVpJDQc9LLc8Vv_LMhBo_RQr~806ToKQDIXboGWBWSuwIPEBeMdvi50zg--.jpg
//media.inmobalia.com/imgV1/B8vEv5Xh_VThvnEqMx4G0ZxU_YC_pCgmETwWNQKyeMqLb9Afo_WSoi~kcK5mwaepLz96AHEmAzWJQblCNhundhnOIYTFLWoaYU7x_q7ErfKwYxR3ysa0d9ICqfbrXGt_uiENXLS2UMXZ4lqP~g2DEHNd0Km_yxATTyejf~OQvKj2WtePDIDtCB~runbmvVR6KoNNlrP9B5pHAbqFPF6x7mgyMfW0IWl_IqIxxDIZNkBIEAOmIjoYv~hJ2oQjxliQqR_QGAIKXV0KOq5raj3a_Q9BvOfd5F9bLpfcW47nugervf989VAKh_BvCcEZiNqYpip8wQ--.jpg
//media.inmobalia.com/imgV1/B8vEv5Xh_VThvnEqMx4G0ZxU_YC_pCgmETwWNQKyeMqLb9Afo_WSoi~kcK5mwaepLz96AHEmAzWJQblCNhundhnOIYTFLWoaYU7x_q7EraOA2cu8VunQ1a87hVwBSIRSJecJ7RG_s88cL5Dxd~4af2bIpp0X2da6qdM2lckGcT8iUx_wJ1hzpkUFNhOn3oFbbJQN_V3EEKHaT72d~lKVLkkQGHi~fAro2vk7wVE3pnhTYpu3nPikyxynvPuDuItHKp_PZLTZm_x0TEArDjGZA8MvMBt58P9Ofsp4zTX9xlSyFt5AGGUzifpxs06ocLbCTNec3w--.jpg
//media.inmobalia.com/imgV1/B8vEv5Xh_VThvnEqMx4G0ZxU_YC_pCgmETwWNQKyeMqLb9Afo_WSoi~kcK5mwaepLz96AHEmAzWJQblCNhundhnOIYTFLWoaYU7x_q7E~6oFlZlKITBJyGWqUorSaNowg~8bsjng9xilut5pIvJ27AXqg19C1QTOq~rBYonoErQ_oycHcmp_tiC3M8IpSzbSbPBjxIahzdImOPzFdCp8jhWZS9JinOuRrnKm6_5ZILwq9~LCqtoZIr4jLVaqWqFPVdpF8KW0Xhv4IYzqzdCd9F30NcFLSuXvPHLOICqbxXBM7bJk5XtXUMlq3OdgUq6IimR0cA--.jpg
//media.inmobalia.com/imgV1/B8vEv5Xh_VThvnEqMx4G0ZxU_YC_pCgmETwWNQKyeMqLb9Afo_WSoi~kcK5mwaepLz96AHEmAzWJQblCNhundhnOIYTFLWoaYU7x_q7E~G5zfsLlytoE5ZL_7JP88DsH~FkSvo~~1yBA1FD1OBDnwImhGP6MlCiNrs2mRuXhrZyKqYmQUo9kJCrKWXDF4_JQu7iymWKkVpnokpso8AcD65oIMaA7_jt9tOKBduu1W03bTKSRsXy5XF7VoO4zyAdgmBje2CsbUe~rB9Blr5cYR8X0OLG7IpJwhZVpt9kOExwpHwwUwH34HoqH9z~uC480VfOHCA--.jpg
//media.inmobalia.com/imgV1/B8vEv5Xh_VThvnEqMx4G0ZxU_YC_pCgmETwWNQKyeMqLb9Afo_WSoi~kcK5mwaepLz96AHEmAzWJQblCNhundhnOIYTFLWoaYU7x_q7EqhSmlTruWydBT5urxh3JgOUtFmGjOOETZncBw_3yupUN~YScjI67dwnsIE2fd42cDDWYcBUQYvzvF1_gSYhFvJzV4zpkWRki4PUjZN2hs2AHy9k_vZ_OR0k8ZzjXT4PQxCV01KPvtTh4tyaUob64A_UlS1NDdpCrQNQeXDgMf~x6XEsXsPTDOQ5okQYk95y8kejqChplBzqTr8JE4tTkHVRdm68RNQ--.jpg
//media.inmobalia.com/imgV1/B8vEv5Xh_VThvnEqMx4G0ZxU_YC_pCgmETwWNQKyeMqLb9Afo_WSoi~kcK5mwaepLz96AHEmAzWJQblCNhundhnOIYTFLWoaYU7x_q7E~6_9VAZMOGL3ftgSBsH7JW05pc~NuwYnp~X2MxJPZT~7ZOMI8M4wBiiPkQrvh43DJuJxLwQwg9psqP~FRu~k0NTsdJScd2xNfbyp_FAfYafB9Sg3GFUwlwyqPKweVTEOzwuPl5TdELHdExc7rD~CPvg_z~SrH0ks8eGCuwO6FNE0tT8O9P9zzsf0ZdLmqTVogLMnatYUAqu~eW~jIW5PjueIu9vzXw--.jpg
//media.inmobalia.com/imgV1/B8vEv5Xh_VThvnEqMx4G0ZxU_YC_pCgmETwWNQKyeMqLb9Afo_WSoi~kcK5mwaepLz96AHEmAzWJQblCNhundhnOIYTFLWoaYU7x_q7EqhEu_HUkMm8vSjZVFEJS4tN4uzzHsKr2keEHqHXMz~zlEmpVQsgNex35wWkjeOXVXsIKx0WGmsFgfby0El~vb1B74pP0RcTXJjLk32Uar3k53JskWlCsEEXzuRmlY14HBNvTgNk8OtzK~_UuAfu8CajXHw6ytAad6WTdDrFsqjFi8ap4VtjNlLbkKw~sSXEJ7IiopTR~4IbkUcIKX~Mc9jHLv89PDQ--.jpg
//media.inmobalia.com/imgV1/B8vEv5Xh_VThvnEqMx4G0ZxU_YC_pCgmETwWNQKyeMqLb9Afo_WSoi~kcK5mwaepLz96AHEmAzWJQblCNhundhnOIYTFLWoaYU7x_q7Epp2n39qmLPYXqVewOTdrziACRqRKoW4IHvSrcxhAlwau5o03DPihWPFoeRzRL~PSqe1RWsNnHBS~eSKEC7WuzJXi4eiSpUDKnblzrQK7C22LtasMCAzENKfxLYU7SJ~jNppqMTm1LCfL4zdVTrXeFTZcYadBpordbFBsfWl3BFAahcRoj_292kgxTXNmQ4LpMqng8W74o_bFrjXRoWvewxcW6HFz0w--.jpg
//media.inmobalia.com/imgV1/B8vEv5Xh_VThvnEqMx4G0ZxU_YC_pCgmETwWNQKyeMqLb9Afo_WSoi~kcK5mwaepLz96AHEmAzWJQblCNhundhnOIYTFLWoaYU7x_q7ErhMMwcDY3rIr8cr6BoXSOyiwQt3YvjMh_gpu2xP60Hab6l9no97UG3dRR6UiUHUNI_EHVpdbFSBD670wMHb_z777XBqKWyKB6jr7pvjDV2sJYclTUkxyAhueFyqDYoBjUoXGujeVTrycO7i93EUMp_LLE~rzLymIcniJISO6MUpOZc8Scb9sx7oZVB2pkPcdM3GKgtyJ7Oayj5orJDW41EzS8_9t6A--.jpg
//media.inmobalia.com/imgV1/B8vEv5Xh_VThvnEqMx4G0ZxU_YC_pCgmETwWNQKyeMqLb9Afo_WSoi~kcK5mwaepLz96AHEmAzWJQblCNhundhnOIYTFLWoaYU7x_q7E_tutp~1lUvAPJj0x9p4Zw3JHVBE9b00RWFr6sTgKT1psKtVkecfB5fcQMTpTzpPAF1hYEg1xN0R61weWTUIKmPt1GEYLBFm_bJ7eKx~Q1N8lZwDC_h~mJdpZR_TTz6NhleKw5p8K4KZvHkFfSMPOHrs2uNkxQ8vajDqj5B8FAPrLRFFhlHV6MGDzkpFDjcRQz4qEJczTy6xGtSEhOXePCq2~UoejDg--.jpg
//media.inmobalia.com/imgV1/B8vEv5Xh_VThvnEqMx4G0ZxU_YC_pCgmETwWNQKyeMqLb9Afo_WSoi~kcK5mwaepLz96AHEmAzWJQblCNhundhnOIYTFLWoaYU7x_q7EqkRhyhe1NGD~ADAhXfV9jW5YIuHTtRx7JnJ1In5CJPu0ukanXMKf0QlOO54IcKfuR3iioINAKhGjIgl1p5SsBh7jzReyz_y87bK7ZXV8ti9B7iVolQt~Pl1f2STvMnZ5UCspJ8KuchjqOGyE5HvQDBAwMlfvCylMJxHCIWQDumWEpg~vN2UDke3MxWGYsl~8tYHUBkKzeUVPhwI2l8ix1J7hTLvEsA--.jpg
//media.inmobalia.com/imgV1/B8vEv5Xh_VThvnEqMx4G0ZxU_YC_pCgmETwWNQKyeMqLb9Afo_WSoi~kcK5mwaepLz96AHEmAzWJQblCNhundhnOIYTFLWoaYU7x_q7E_5q~xxIQoEjmOtY19G2C8PNxMSeOywkbOdnzMcOrE70MarSOy4I~Pc7YcyVlnZUiV4khSanRUU2oVHf~_SSUo2EftdTbLm8kEMrRbYsqGvd4UxZO2c~OdIG24BQchojm8x3MnM0b2n0vsPniXY9MnHHRftF9Q24Gp4Rd3ayJ6TPhSztegwg9IdAxrkeM1tVgfgnH_qeGGs7GR3ukmCJLzM92OMzAHg--.jpg
//media.inmobalia.com/imgV1/B8vEv5Xh_VThvnEqMx4G0ZxU_YC_pCgmETwWNQKyeMqLb9Afo_WSoi~kcK5mwaepLz96AHEmAzWJQblCNhundhnOIYTFLWoaYU7x_q7EqhU6E7WiN8wkNyWtsOI5~6kHpfVAQJ7qo5a6M8XHSxiB3UdWmmu_h5N7XGGFFA06oKbKlZb3ha_WQQJaL9~QGdGn_x0i4Mqjz3XR~j9I3sumPKsqq5lfD_nAcbhHSY1LPLgs84CA1cO49hNaYunA459bSIaj7ItEVkSKHe2UZ74umaB6FsZm2tt~JOeyK0fct9_1c~Jf8Sn8XufQoSB2_mIGpQ_rWw--.jpg
//media.inmobalia.com/imgV1/B8vEv5Xh_VThvnEqMx4G0ZxU_YC_pCgmETwWNQKyeMqLb9Afo_WSoi~kcK5mwaepLz96AHEmAzWJQblCNhundhnOIYTFLWoaYU7x_q7E~Z6v_hzRQH2IBOxNnxz_RxbUmKCrUC92WuaSY5kaVAUmEfRGTuOoxKCv5GJqc3YX2lU2vtUJSXwQaQ2nkF9nhdwgP3nermoDGhcljIzLMGcqJQWHmjHFEhmXQdHYcvesX761hSHJzXJuRc9HopRH_yxBAoAxFZoz4puQ_YEhwOcAno3wOhVFqxKBecN6NVnudC0LCmf3gkEMPUiLWlgweJ4gjB1x1A--.jpg
//media.inmobalia.com/imgV1/B8vEv5Xh_VThvnEqMx4G0ZxU_YC_pCgmETwWNQKyeMqLb9Afo_WSoi~kcK5mwaepLz96AHEmAzWJQblCNhundhnOIYTFLWoaYU7x_q7E~6kZoUQ7ECPM2a93rb5l_PQtmeSDFij3eSxYyV6aHIpXmgRSBm9nCtJFmeXGylyz8nCDriFQtf_BCk359vX6EqKw1zvKKeMpbWqT~tjCSRxQnK4vfqLfAi8By3WLIYUMJCkosWhW3Xo33KVQ348kysOTozpz3aWcyZIUJ0ZfHGGT02eqJ5gVeu22V393zbBxXy1xLYN645Lxi13Fzy_d_U2FYQroaQ--.jpg
//media.inmobalia.com/imgV1/B8vEv5Xh_VThvnEqMx4G0ZxU_YC_pCgmETwWNQKyeMqLb9Afo_WSoi~kcK5mwaepLz96AHEmAzWJQblCNhundhnOIYTFLWoaYU7x_q7E_LG0oCopnQJsn0FX1THxAxcfkJXkQ4XOVZXJU72fCQP_uiR~r7exsE9GHFzJwcnqL_KHo2SxPLF8MvyjgLJtOqWRI~TYo9WOdmYLhkPHFZrhrTPMkY4Anxj7TSg5FQaWcIrwsC3gAyYurdvK7Wyzs6HfkURPDYhphJToVNNU9h6BVrGoynmnbrja0cjjxvabq2L8N_vI5dgnDikwxRQgnRVCAXg1gQ--.jpg
//media.inmobalia.com/imgV1/B8vEv5Xh_VThvnEqMx4G0ZxU_YC_pCgmETwWNQKyeMqLb9Afo_WSoi~kcK5mwaepLz96AHEmAzWJQblCNhundhnOIYTFLWoaYU7x_q7E~cqyashRdFgXsUzuiiT0zJU5w3qPl5z5phsvvWcbSqBxc9L_xh4b9nPF~FRQhRKWzAPoHseXeQVw2NyZIcTgzGLP_7udmaqdT1KVtpvRFaOPKWCMe_Mh_AX9fWFc614zzRBEO9Sl3ZlLFKYWedRvdWaKU~Pqkaw4bvThxs6VHYGh3PjlT0_t8XZIyqfRviCw2R9d_4gwxu4HT7twgj6i4OQf0kqyZg--.jpg
//media.inmobalia.com/imgV1/B8vEv5Xh_VThvnEqMx4G0ZxU_YC_pCgmETwWNQKyeMqLb9Afo_WSoi~kcK5mwaepLz96AHEmAzWJQblCNhundhnOIYTFLWoaYU7x_q7Epppy7wXms5xk_~7_zOqFW8fd6A1RL0fm67oaEUw3uYWcKZ2_9ziw0r9tIXN8iig~jddJHyVD~9_0CQvsfPFI9GA2C_Qqg9BxopT82d3x_YVO0rSfWd1IYznan~5O~NzdRw0Vmm7m~xcOwvZyCuVN30EI2W0mt4dxG57jL9c4OGXqShzDyz_TaGpzwO8C96gjXbEjJxN9dMXgzE3ufYpyr2CfrWyZ5w--.jpg
//media.inmobalia.com/imgV1/B8vEv5Xh_VThvnEqMx4G0ZxU_YC_pCgmETwWNQKyeMqLb9Afo_WSoi~kcK5mwaepLz96AHEmAzWJQblCNhundhnOIYTFLWoaYU7x_q7EqTPRp59xv7LkRrginyeUIOOfBbtXoALTTURELX~LBGtocEF47UQWAQqNh9tVM5fs5DGl4r2FXSzEDY1oXWK4FqheR34nL6kiGhptAZ535B2VL5Q~TFpqCYuPSlr4GxvvS7G7b8zYRLCiiNR6wzyE1zAr85RZgi3AL67lWSzyRkWE5JRMm50Yjt1auFfJhJmjJIB3riWxV9QXPtj797vg6g06bDw1Eg--.jpg
//media.inmobalia.com/imgV1/B8vEv5Xh_VThvnEqMx4G0ZxU_YC_pCgmETwWNQKyeMqLb9Afo_WSoi~kcK5mwaepLz96AHEmAzWJQblCNhundhnOIYTFLWoaYU7x_q7Ep6cZSbLqRmoCthFF5fxhUh7yMJGHcMvENQ6xxWPEuRHewpQ1NoWlqN6YbalYEZZNjfjR~sXe49crVz5G3Cgy8csb1xuoxLDaV7dx3pyJheeXmn3CLT7ekpswe41gySTsweTXVspJaXZfT2_UZoToluMzkuSWOOx2gAF8Pi6mr1XNtIjodZNWCK3SfSU8_ueUP27dvfRAt~u8LIl7kykAvtVoOOmFig--.jpg
Las Lomas del Marbella Club, Marbella Golden Mile
Villa
2.650.000 €
Elegant family villa on the Golden Mile, Marbella
Charming family villa with views to the La Concha mountain, on Marbella's Golden Mile.
The property is located in the heart of Marbella's Golden Mile, in Las Lomas del Marbella Club.
A pretty cobbled driveway leads to the front door of the house, which is distributed over three levels. On the main floor there is a guest toilet, two suites with mountain views, a large fully equipped kitchen, with access to a wonderful terrace for breakfast and connected to a spacious living – dining room with fireplace and wooden ceilings that make the room really cosy.
On the upper floor of the villa is the master suite with two dressing rooms and a private terrace with mountain views.
On the lower level of the house, there are two more en-suite bedrooms with direct access to a terrace that connects both rooms, a storage room, a toilet, a wine cellar and a large garage for several vehicles.
Outside the villa, a large swimming pool surrounded by a beautiful garden that enjoys sun all day long offers a very relaxing atmosphere.
Situated in Las Lomas del Marbella Club, with plenty of light, in a cul-de-sac and with lots of privacy make this property a great family home, perfect for all year round living.
Only a few minutes' drive to the centre of Marbella, the multitude of services offered by the Golden Mile and Puerto Banus.
REFERENCE

208-01629P

bedrooms

5

bathrooms

5
built

578m²

plot

1.093m²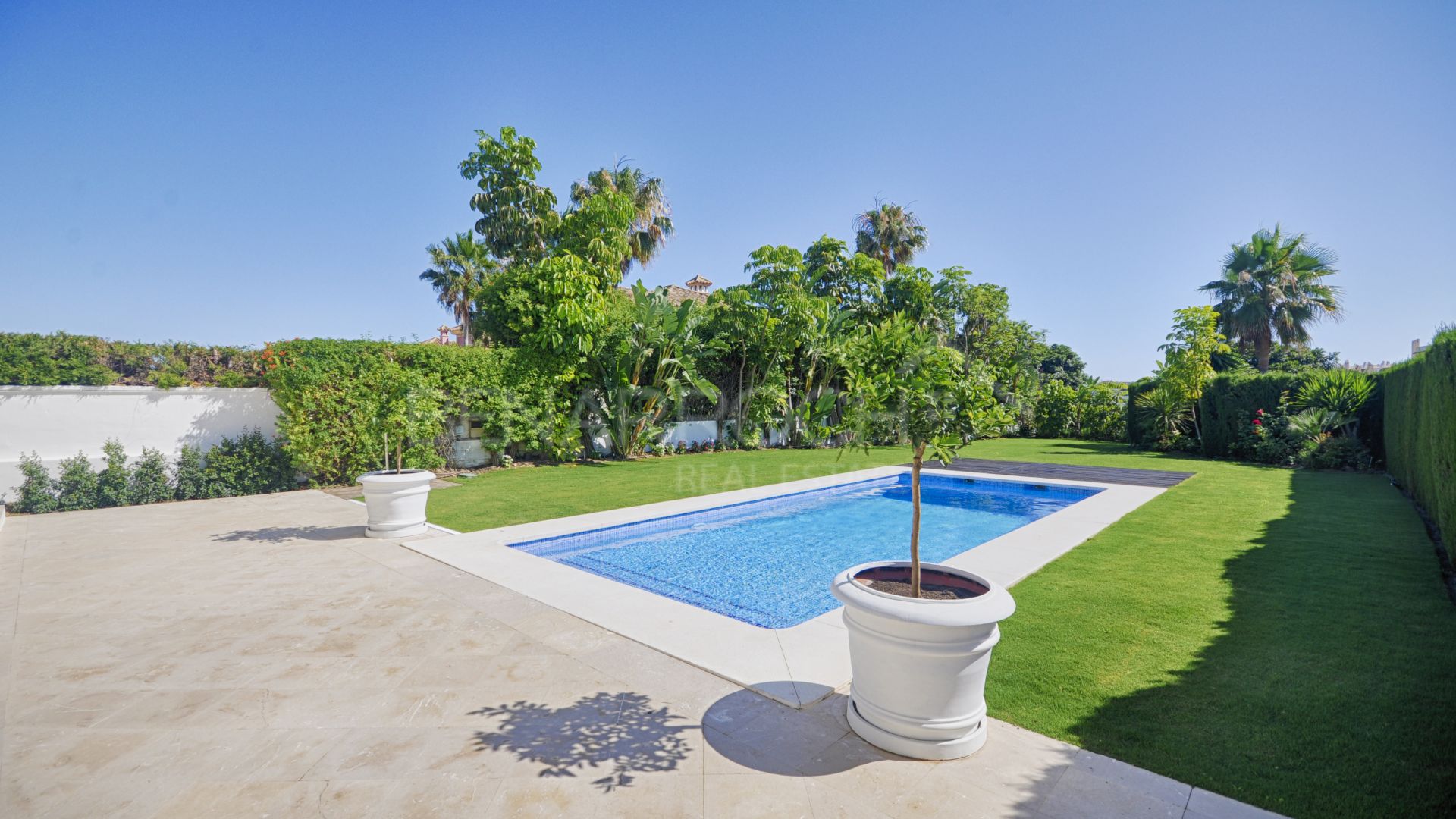 Video Villa
Video of Marbella Golden Mile Area
similar properties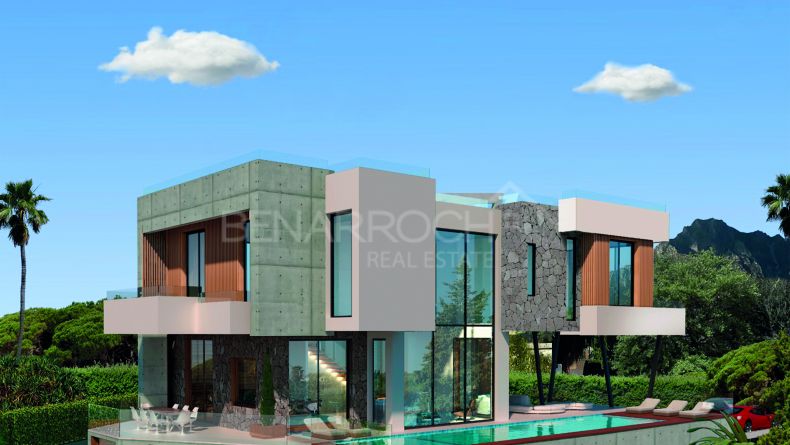 4.760.000 €
Newly built villa in the Casablanca urbanization, on the Golden Mile of Marbella, close to the beach and a few minutes from ...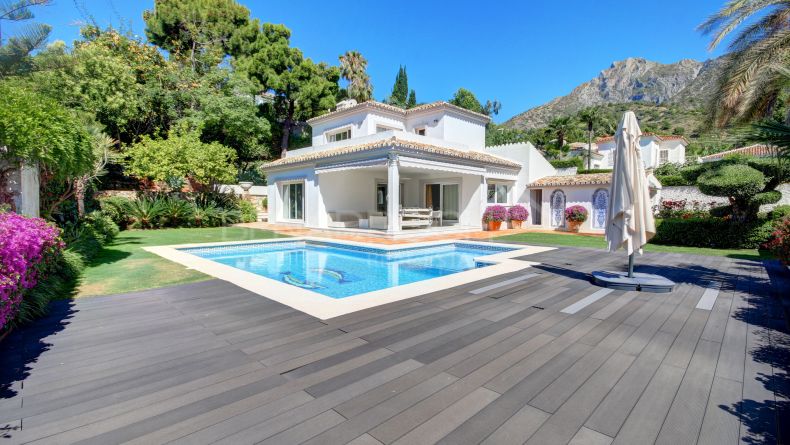 1.900.000 €
Recently renovated villa located on Marbella's Golden Mile in the Cascada de Camojan urbanization, just five minutes from the ...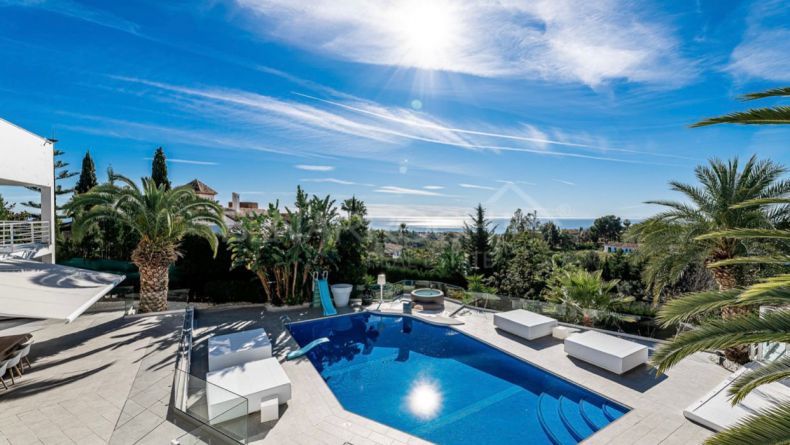 3.395.000 €
Villa with stunning panoramic views in Cascada de Camoján, on Marbella's Golden Mile.The property is located within one of the ...