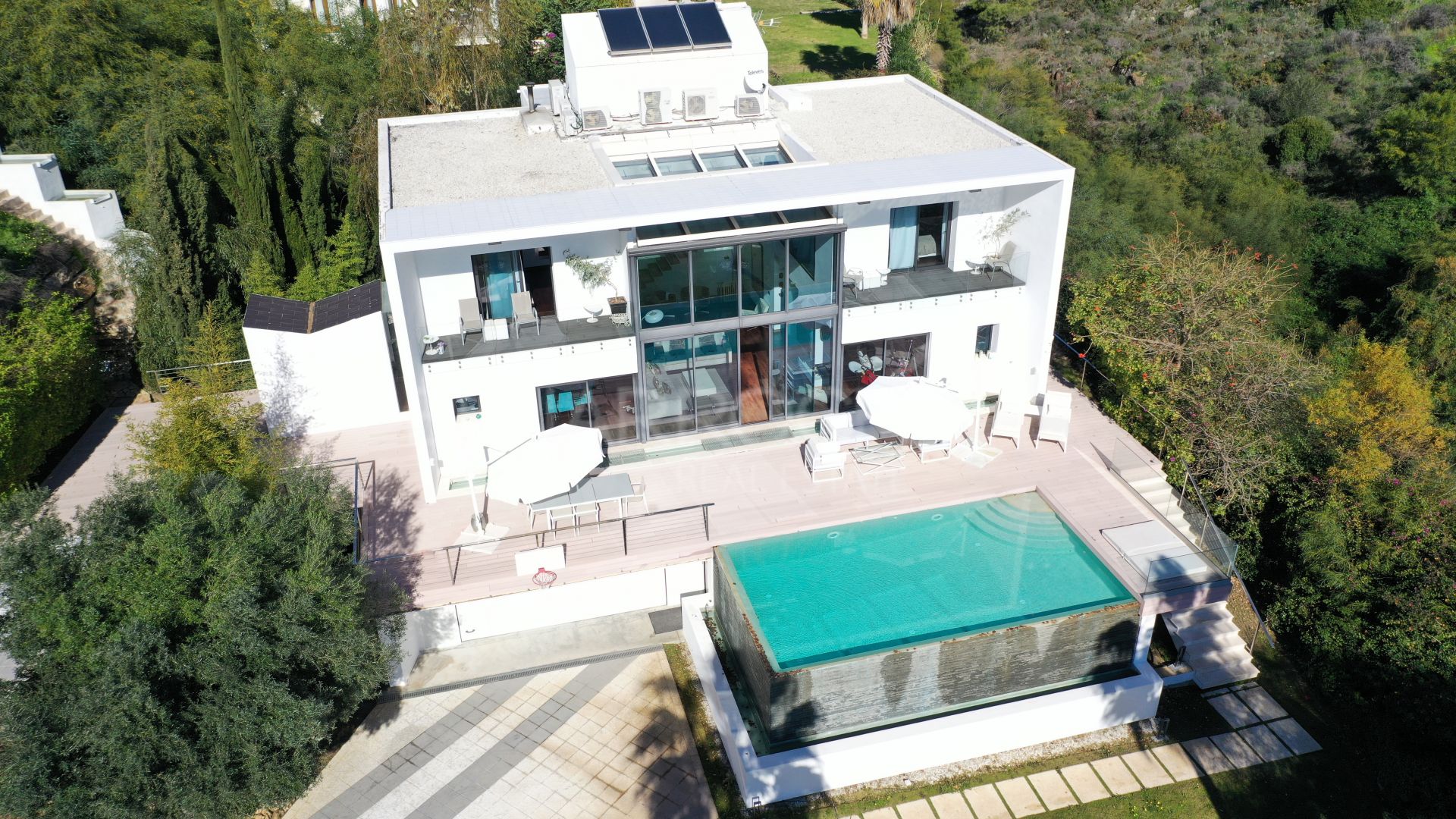 //media.inmobalia.com/imgV1/B8vEv5Xh_VThvnEqMx4G0ZxU_YC_pCgmETwWNQKyeMqLb9Afo_WSoi~kcK5mwaepLz96AHEmAzWJQblCNhundhnOIYTFLWoaYU1dFwYWusfklbIZ7KEE50gTmF99rPE9swfE4RA8X8o8QsbLYOevaBnXlYc6xEJWi7imTsNkRCaktIeATSiyJaHEC1LpQM_ETypdbgik9eRRPOcrohjMvYjkB3wssV8gvy~RmqOiSQ8_6DgR4hzqmivKb1zVXFv3xJGk4EkP2unUnPP4mDKzETOrLaw9afB3n7c0hpMsZVKCtAUhPmQARxxSqVxWlLJASt_aBA--.jpg
//media.inmobalia.com/imgV1/B8vEv5Xh_VThvnEqMx4G0ZxU_YC_pCgmETwWNQKyeMqLb9Afo_WSoi~kcK5mwaepLz96AHEmAzWJQblCNhundhnOIYTFLWoaYU1dFwYWv8~u8kTVoEkrm66k1Ot9zM8dkrXZMuNCDeXd3WiroTMZ2YrZzosWvdeFd8SpYekqC0e13EdLCH2LlauwFFkWKUN0uUALuT~3hIiuhfTMz_HAd6YGMgGCGsfOtVN1OpsmbrjtPXufxLRBTjRxiz2et7UUvVNvyAM9zStRJk4xYgY62RnOdr7ca2s5ayDV9AOuavUi~iO1w~IKm4i3ep8_iIQPGm5cbw--.jpg
//media.inmobalia.com/imgV1/B8vEv5Xh_VThvnEqMx4G0ZxU_YC_pCgmETwWNQKyeMqLb9Afo_WSoi~kcK5mwaepLz96AHEmAzWJQblCNhundhnOIYTFLWoaYU1dFwYW6mu05f~x2pinLXid~rWvtasyyKSmJn1GC8J95VXAxXkwjzed09owjdEux9Z~xAs5v2QGh7WUiUJV7U014P_~f0BrL6jm6WrfrgmDKFalo0E_~~Km1whNNKbQFl40ZAheRZUvgVRnI_a8HRTDcBitcuEj3F~lunAqZmDF4s76qFwAPmtSmwjEqyOwGJPFlI_X4Y2BwM~8rE8sGLeEt0qz2_W_bDzD6A--.jpg
//media.inmobalia.com/imgV1/B8vEv5Xh_VThvnEqMx4G0ZxU_YC_pCgmETwWNQKyeMqLb9Afo_WSoi~kcK5mwaepLz96AHEmAzWJQblCNhundhnOIYTFLWoaYU1dFwYWusDgkdgZhlu8PYtREqjTbH83Plxz8P2vgo~lSDRx_SipuMNYaMSB0OwgztLJoDE71mUkJpjzPNaGI60Uf0ppSU~WTNTAcYOf7XvMbJE_k0XTELww8h_gOtvu1EYFAMV1IjW_ap8HmpDKExe3GIxb0JqI13v7Ho1KbPYma3NtvbpKtYtkqVpbrJnIQTqQdpyWGqZvgIOPti2BkCUWsz~6GL6v6CfY7w--.jpg
//media.inmobalia.com/imgV1/B8vEv5Xh_VThvnEqMx4G0ZxU_YC_pCgmETwWNQKyeMqLb9Afo_WSoi~kcK5mwaepLz96AHEmAzWJQblCNhundhnOIYTFLWoaYU1dFwYWsyDifYABWReLZoUJ6cRJzOdnPvrK04csfxNdDjScVlDeUP2C68GZCBwskFfxhxSEgpWQ98jwxdv~i4e0bt0vf6y5qgM0aBLOk8Jv1b6BGwOMmTWjBGsDRwEC8JYxbqcO0UTXPvm8xrX~Pv0k~J_5FPWhjMHDItXBHOSyz63cgdu2hBsPqI6aZPhIjtfZN500OZlhz4G8Q1Wz6hUvF_n9IdzNaODWFg--.jpg
//media.inmobalia.com/imgV1/B8vEv5Xh_VThvnEqMx4G0ZxU_YC_pCgmETwWNQKyeMqLb9Afo_WSoi~kcK5mwaepLz96AHEmAzWJQblCNhundhnOIYTFLWoaYU1dFwYWu5wBmN09zfo7YwRYaG6f9nLqm7OG~hXWhNbHi30CqrHMzTD6BILA9TAmeWn3t4s0wMrlJlr0ewQlw0TA_oGhfjfUrQ5fBejtZinlDkSo2GnotB83KWDrPEdbDRuEX16J4hbRukX8jmaZIHSLJeXXj~W~5kMbSff9g6k5KijImSCULADi1OjH1cg2oQN1LDvl99BbJKoVO5ed17ByTYTHVNewhnuv2g--.jpg
//media.inmobalia.com/imgV1/B8vEv5Xh_VThvnEqMx4G0ZxU_YC_pCgmETwWNQKyeMqLb9Afo_WSoi~kcK5mwaepLz96AHEmAzWJQblCNhundhnOIYTFLWoaYU1dFwYWv5kMrNIjnDXgvRUMsA~rKNbOpUa85CzJ8YYHxmAb5sSzTVmcTwJ8t6fSqLJX~bc9J2UD6szprw2JS43EyazJLWLgh0it1hVhMqP5kcYadW~ZihUKIbtOWFt185Uye4oKChQjTIIFh7BJzOqTUrVtcK9OuqLEfDSD2C1UyOBBMnTNMsjTb8XeQwPAPnZWItHyofiEFqzRw6eaxwjebufdRsXbiEj9Gg--.jpg
//media.inmobalia.com/imgV1/B8vEv5Xh_VThvnEqMx4G0ZxU_YC_pCgmETwWNQKyeMqLb9Afo_WSoi~kcK5mwaepLz96AHEmAzWJQblCNhundhnOIYTFLWoaYU1dFwYW6RLvGhkMDEAJ9ox1fuYWNKGfxtIu6QpKjSJxO_3iGzS~EQp0qH0KB9GEePXP9FkUDLQAcTluBFnkFJgy~LPPUgx8mIP2MM__Y4LBn7XnDO05mgmBpcvRTSaBwu2pepCin7xKdrIj4W_bRvKdqVSYrmyJiE5O6rc3pslj547nny1rKGxfz87LMTJ6im2D3tTUWEtlCRF7RkZLFdHl33ATsb_FnJL~AA--.jpg
//media.inmobalia.com/imgV1/B8vEv5Xh_VThvnEqMx4G0ZxU_YC_pCgmETwWNQKyeMqLb9Afo_WSoi~kcK5mwaepLz96AHEmAzWJQblCNhundhnOIYTFLWoaYU1dFwYW71g8FQwPSWptzG4pw6Rz5kJW3MlKfMFV_IBM8Xvv1TzSJHsHBRoZ7pTuph9y_esKVzDqrnfM~hdRdQXva8tMYP8fyzXwGhU3I0EmeFPOkAJr~CclEKIBGytalxqAZqiz439sBi4a_7qZzkUbWMzIO~SvXFjZCcpHiByMMnRx4xW0lmHC5PfD_1hZNhP4yrYn2PPoo97R3zqYs2f_I4REXynPjRxHSA--.jpg
//media.inmobalia.com/imgV1/B8vEv5Xh_VThvnEqMx4G0ZxU_YC_pCgmETwWNQKyeMqLb9Afo_WSoi~kcK5mwaepLz96AHEmAzWJQblCNhundhnOIYTFLWoaYU1dFwYW6ABndbtQVPpuY6YjScSpB2kMezYtJctn4nN4npUYSVQcEbE__5du4n1m5nsYPPTwVksGYppqbWqtYoN7rSR4G6J33ZOBVHTl5GlJ4n5BMR0Ms33qwpokWi0smLzligJyO2_D8wGRHy39sMaw08tkPhgPB0x1B9AuvGjU7NX4ttt9elXIPkylk8XzRaejDbaIczsV8Dd5NkQl4DD3y7wkwfweRN0r5w--.jpg
//media.inmobalia.com/imgV1/B8vEv5Xh_VThvnEqMx4G0ZxU_YC_pCgmETwWNQKyeMqLb9Afo_WSoi~kcK5mwaepLz96AHEmAzWJQblCNhundhnOIYTFLWoaYU1dFwYWu554B~IsDvC7aIPx8I_mrnjlxEP6cssv1YWfBP4LOq6yW2ydFp3oBG0Pwx84o2kPtaI_NJJY0BguSk9GBYu7nmr_OvObmveVLLVHuNLL028e42GNLtHE8KwPcIp39rkK7cY06ExPL~OoV5Cih3ul4OAdUJ_F4F9B2B8SHbS2v~ekAJZr6~CujRnOyUfsfDZ1fiappNpk5Z5JPqkaw4VxR5~2swWsNA--.jpg
//media.inmobalia.com/imgV1/B8vEv5Xh_VThvnEqMx4G0ZxU_YC_pCgmETwWNQKyeMqLb9Afo_WSoi~kcK5mwaepLz96AHEmAzWJQblCNhundhnOIYTFLWoaYU1dFwYWsyHI6zCpJzb5~7CI52_nBkeP12Stc0d~qr0uDKmpPObqNs3PHgWD7XSyTyym_7jN1cNJAqJMXNZZS3w22tcqeyuEm0b_4v90wMdXClTvO6bwMOU61cGjBwtZmqjPaUHkeaOHxYPXF_p196HruMhQ_TkommqKv_NbkYGY26wz_kkXfzG4PoWdJBLyk7XA8eWBgUL5TLk2MAJqN0rQ4WQ6ZOldEpm~ng--.jpg
//media.inmobalia.com/imgV1/B8vEv5Xh_VThvnEqMx4G0ZxU_YC_pCgmETwWNQKyeMqLb9Afo_WSoi~kcK5mwaepLz96AHEmAzWJQblCNhundhnOIYTFLWoaYU1dFwYWv8lcF6L7lM52X0nfiv8xCmnEAlkGInzJgqwJ7qUSeC_2dQVoQPQeeM9fJKp93_pZO~RvdGbA~Hte~3rq5s~MMcLosYala3nK6jff1GNlq0_0sfqVZsFt0Z3z0UftWqXwohls8YGjFdY3_GnYsr2Rpr6HWIqwyEgs9mjC5znw2S_PU68PHCBz88V6Av3rXPtekPrwvKv74mAkWSSM4~R5yMVW8n3t6A--.jpg
//media.inmobalia.com/imgV1/B8vEv5Xh_VThvnEqMx4G0ZxU_YC_pCgmETwWNQKyeMqLb9Afo_WSoi~kcK5mwaepLz96AHEmAzWJQblCNhundhnOIYTFLWoaYU1dFwYW7VI9mlLJbsQUQ0k7BoNQZY1KLSvnBhC5MMBti6OS_Z_2PkahcRapB~o0E~DQlmYb2Fojt4ZSFSQRutuCxI7issnfn9ar5yznkOHDri4lnu6L~~fNowApKYLPPUNi0zCC7pc7yh1m~4BQAnqF0foifPcLAfFse9SogYckjUSsl~jgHZbYqvARVRocrqSwWwLOCSy1i8lGcf4PY6NfrgSNiO_Loe48aw--.jpg
//media.inmobalia.com/imgV1/B8vEv5Xh_VThvnEqMx4G0ZxU_YC_pCgmETwWNQKyeMqLb9Afo_WSoi~kcK5mwaepLz96AHEmAzWJQblCNhundhnOIYTFLWoaYU1dFwYW6URWILwT9nVJzbNqP26mbYyWxBx_kmDqJkppT8hPK1DU30vrd22SVlHhv5AoAgcBCF0SoxEjAn3K8fFkqamhU4XAQw6Me0awppYnua52qNIdcpTDA10PRfeMFXrHyQ7lLXW9XDm2fT5CQ1KLkJfsAowreJzt5PL5F6o2wZL737Mm7l7seY5iN3pq3DE0jfAB50oR5B9PhWCiVd_fX~gdQnROS2RTTw--.jpg
//media.inmobalia.com/imgV1/B8vEv5Xh_VThvnEqMx4G0ZxU_YC_pCgmETwWNQKyeMqLb9Afo_WSoi~kcK5mwaepLz96AHEmAzWJQblCNhundhnOIYTFLWoaYU1dFwYW7V4OOY_TX8sFWJ4l6X~f74VAp3q2r0e7eC4v1DJi1cp6wcjEpj5BRxHbTYYPbSPpminScsN6KP8xqldkiImHw55VoUJibK8hL7MOtriD0qY5APC63Blx8o19iKdr_w4hapOxAXskN4OeWXXpCyqDrFOU0b3gY66jqPLUntFKCBgEaTZrDZ8Pjq~BK5OlA_UX~8A20BUUylsxCAKeNw6taBArnVtJdA--.jpg
//media.inmobalia.com/imgV1/B8vEv5Xh_VThvnEqMx4G0ZxU_YC_pCgmETwWNQKyeMqLb9Afo_WSoi~kcK5mwaepLz96AHEmAzWJQblCNhundhnOIYTFLWoaYU1dFwYWvW4H_9V6VQ7LXZ39InzZUqGFpGb5TTfkt2sC~DOv3GAcLbAEl9XWBOarIZBlmLbgObTSeSu5y~la7IIu9fZmxNsGZBTcti7NkjoheREVU~dPS2eyTAAeLfvwzx71wT7fsrYjQ4jyQEtACn03yMD3mBWTaPHO4SiFH3lNH3Z7fwfcLgDm47BVhOaj0p1S4czOVAijLWjzC5fu_e0Ye4pFmjmv5Msl_w--.jpg
//media.inmobalia.com/imgV1/B8vEv5Xh_VThvnEqMx4G0ZxU_YC_pCgmETwWNQKyeMqLb9Afo_WSoi~kcK5mwaepLz96AHEmAzWJQblCNhundhnOIYTFLWoaYU1dFwYW7m2DdFVkT4OxIrDL3tmuSmojgVntWZWy51amP4cu~A5V8yZptW7pB9rAbBBAe_W~BNaMyN7raS76rtqXVQRSF~I9AJcVnEp9g0XC6NNAv1IaiSWDwHTflfjfk659KHSM7Ykv8mw17r7q67bM84hGJpvQqqQMDRSTnNsXRP5VJQ6Jg_UrVXJir4Eey5luNywFSUUjZMnxyiEqWWhQSF~nmp3_5vwHnA--.jpg
//media.inmobalia.com/imgV1/B8vEv5Xh_VThvnEqMx4G0ZxU_YC_pCgmETwWNQKyeMqLb9Afo_WSoi~kcK5mwaepLz96AHEmAzWJQblCNhundhnOIYTFLWoaYU1dFwYW6mfyGxBfiCM2wWR1bFHN8SuFvhbgNdtiBm5qdZkw2C3p5AZzhGVLF60xFD5NdLEsox0mJ~CJJQ7VoR5feD1zADxgRcQO04gZturL75i62vaHVCw8Hu3IE4DY~ZbLm_BreFqAwHiKLgE7S3rV_58_cP8k5K_Qj1A3e98YA2of7udoe_yFiJU~4oktusuB8sLzpDj1NrJLjzA~0ddjQUt~YwNzoW5jog--.jpg
//media.inmobalia.com/imgV1/B8vEv5Xh_VThvnEqMx4G0ZxU_YC_pCgmETwWNQKyeMqLb9Afo_WSoi~kcK5mwaepLz96AHEmAzWJQblCNhundhnOIYTFLWoaYU1dFwYWsghUewQe0kU9coCbZ~g6AzvddBkkhFgoDqrbY__9KdiluVWGlwV9wv4_70TxxZJd2j~v_7OaoUL095i62fpIUCOmQH3Ppt0UMmlNGBX1bgxIUEaXd300zvOaF1RFSRdTg5ZCALKJJC9jTimqpL~tjFyIPOwVT02rG7NfaAgK8FnSfYRVl~ibEjnRY3Ic51uQ7nNUvmZ9MpSSZVVPHvdMuQN~fmpb0g--.jpg
//media.inmobalia.com/imgV1/B8vEv5Xh_VThvnEqMx4G0ZxU_YC_pCgmETwWNQKyeMqLb9Afo_WSoi~kcK5mwaepLz96AHEmAzWJQblCNhundhnOIYTFLWoaYU1dFwYW7QOHtdseXOIl0wcAYJX0igi0C1JeT4dHV6W25OA1RP5dGyEtGIz6u_nt0iRvORC~9BOK1jX~fu7SVz81YoMuGDzVk7hgXpSiq7TvfLWTu7ofllKczbDMkGvXbFesOF2US1wX584AcKzlCsfdNLF_PyNxQy_waRIJTBkNvCgrCob6V_FFkltSEZyDm4Xq6qAQNANIOqU87IdVu0JKyiMEis7qENZAmg--.jpg
//media.inmobalia.com/imgV1/B8vEv5Xh_VThvnEqMx4G0ZxU_YC_pCgmETwWNQKyeMqLb9Afo_WSoi~kcK5mwaepLz96AHEmAzWJQblCNhundhnOIYTFLWoaYU1dFwYW6UNtPRgj8DvxAFIVg65OcVc1pDtqN_BSBw5VgjzTG1qOQaFGWFaWl1oQw2VdfFQPIfjkblfW_ZXhFAJ~u7gcgtR3UMMQoXIVSw5XWqQ_c3UAHlwLJEwN0lUamNpLu7sWybihs4YmBw1GGoB4PMHfK54sw~jck5AVJnWWzk~Gz0_p3cdtqvgceSnK7lW0QlUuIiVuyiyt2KfMX1VMV1fxu4esyPs0gA--.jpg
El Paraiso, Estepona
Villa
2.050.000 €
Modern Villa in El Paraiso Alto, Benahavis
Contemporary style villa with panoramic sea views in El Paraiso Alto, Benahavis.
The villa, built in 2012, is distributed over three levels.
A private driveway leads to the main entrance of the villa. On the main floor there is a guest toilet, fully fitted kitchen, en-suite bedroom and a bright living-dining room with access to a wonderful terrace and the infinity pool with spectacular panoramic sea views.
On the upper floor there is a suite overlooking the back of the house and two spacious suites with private terrace and breathtaking views to El Paraiso and the sea.
On the lower level of the villa, there is a games room, gym, laundry room, two bedrooms sharing a bathroom and an en-suite bedroom. From this level there is direct access to the gardens of the villa.
Garage for two cars and outside parking area for several vehicles more.
The property is very well built, south facing and with plenty of light throughout the day.
For golf lovers, just a little more than 5 minutes drive away we can enjoy El Paraiso Golf, Atalaya Golf or Los Flamingos Golf.
An excellent option to live all year round in a very quiet environment.
REFERENCE

208-01581P

bedrooms

7

bathrooms

6
built

560m²

plot

1.990m²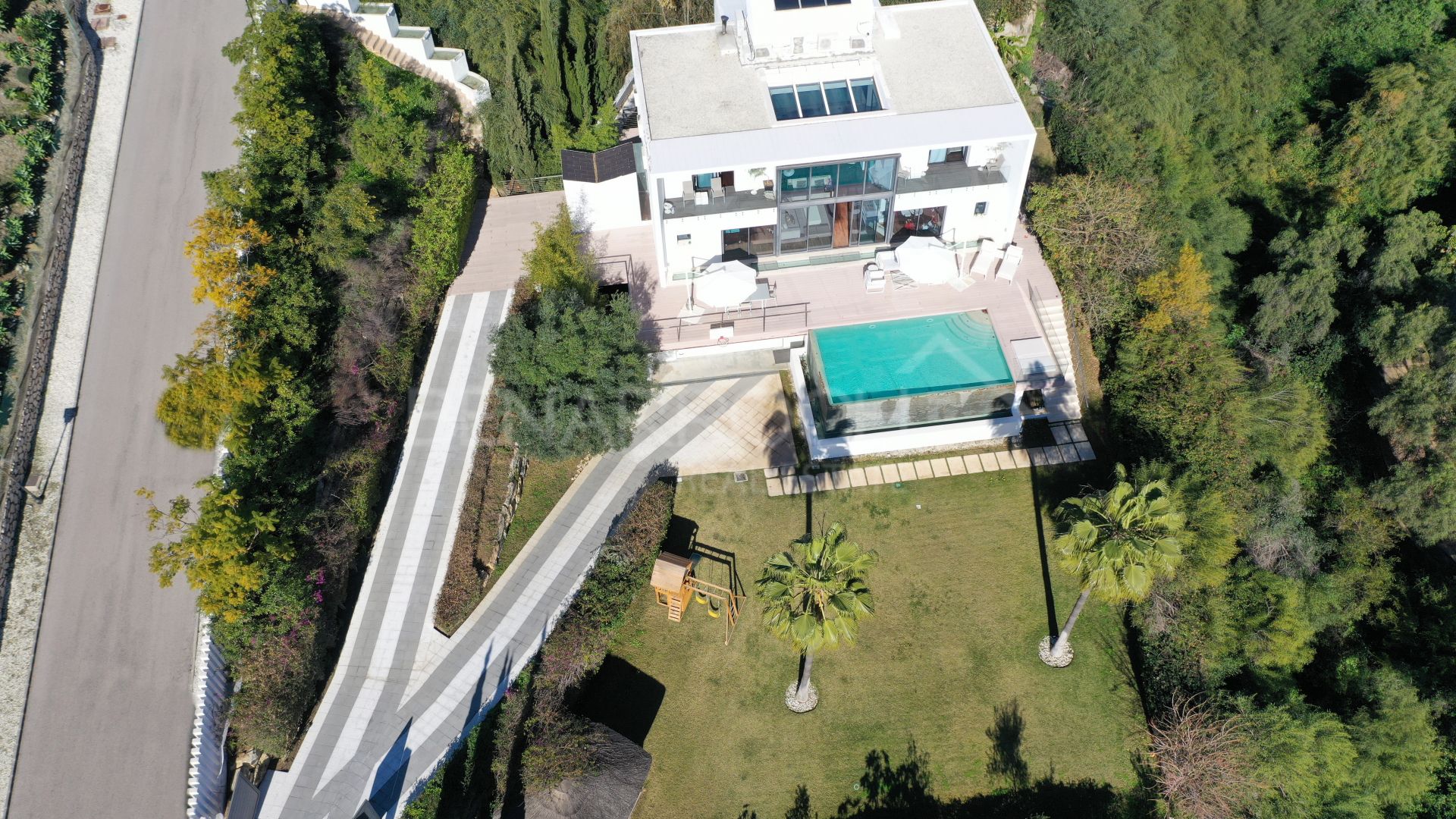 Video Villa
Video of Estepona Area
similar properties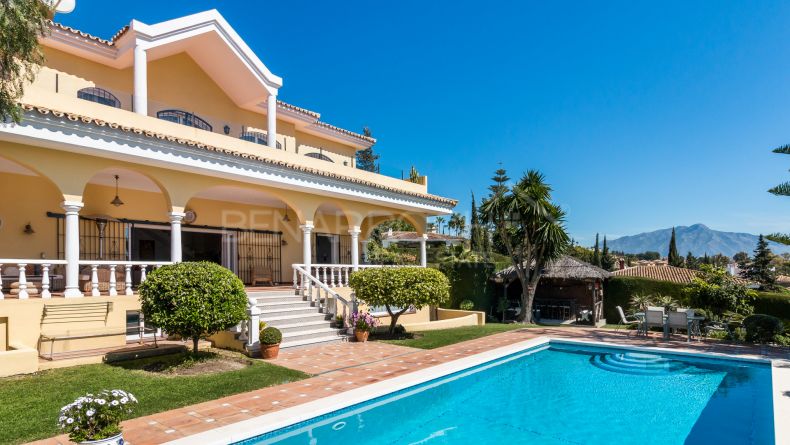 1.695.000 €

reduced from 1.875.000 €
Andalusian design villa with modern interior located in El Paraiso Alto, Benahavis, an area near golf courses and a few minutes ...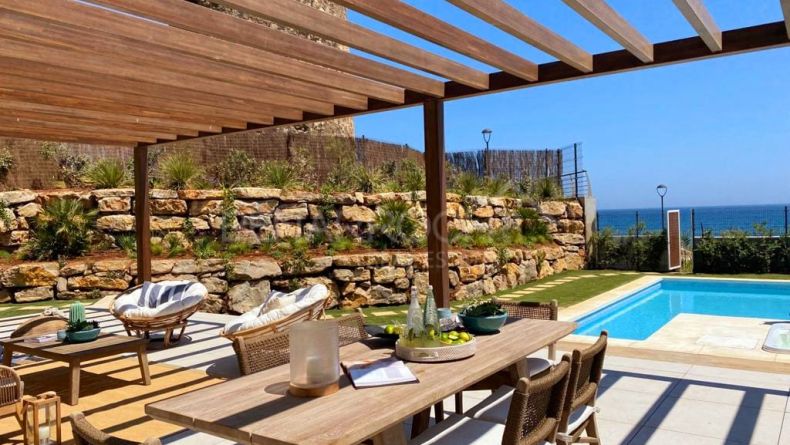 3.960.000 €
This brand new sea front villa is located in the Urbanization Velaya, in the heart of the new Golden Mile of Estepona.It is a ...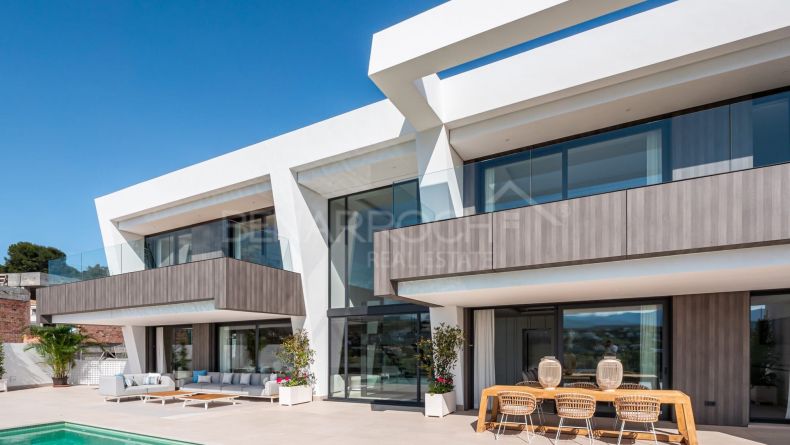 2.420.000 €
Modern style villa in the Light Blue Villas complex in El Paraiso, New Golden Mile of Estepona, consolidated area and with all ...