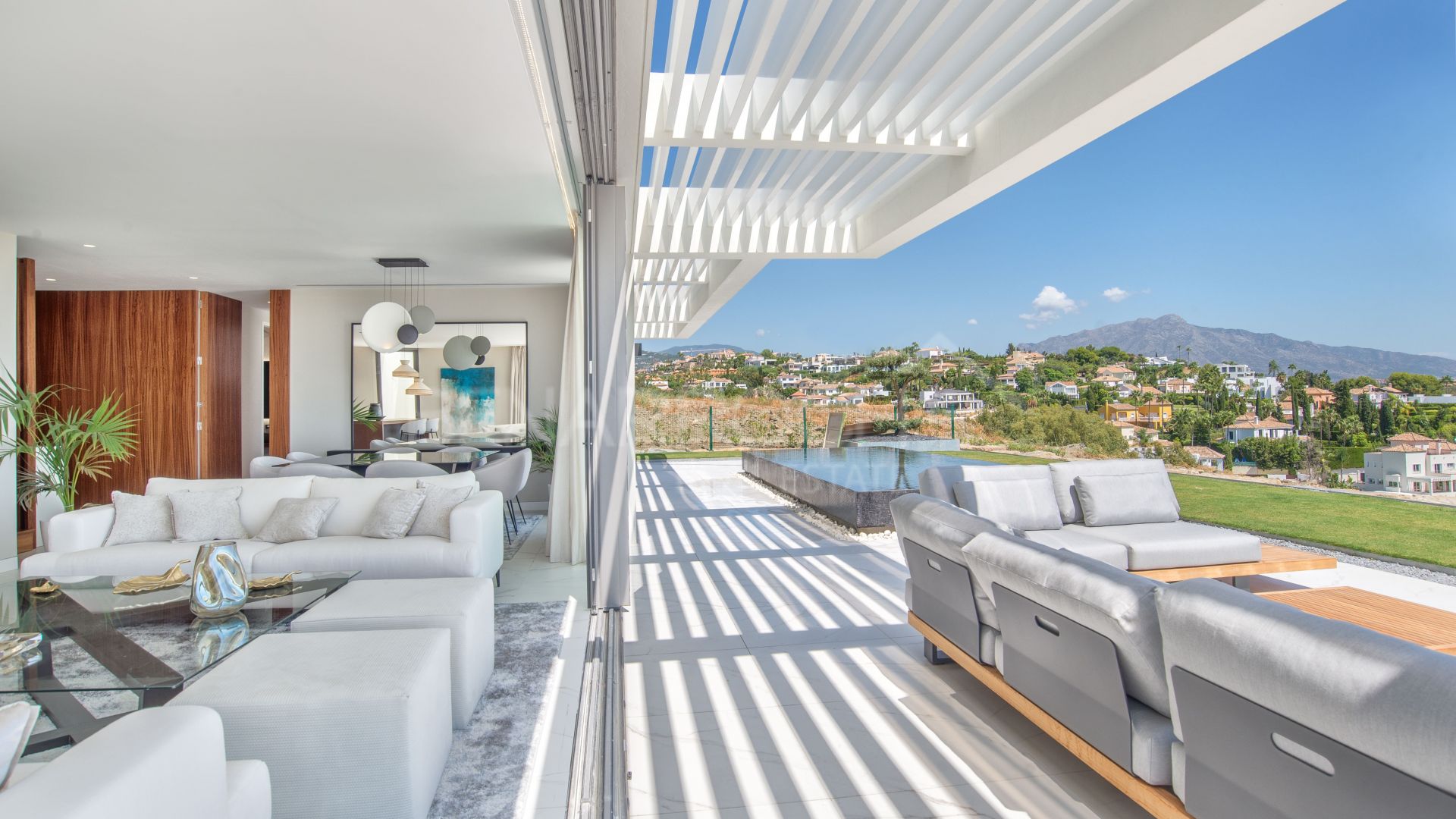 //media.inmobalia.com/imgV1/B8vEv5Xh_VThvnEqMx4G0ZxU_YC_pCgmETwWNQKyeMqLb9Afo_WSoi~kcK5mwaepLz96AHEmAzWJQblCNhundhnOIYTFLWoaYU1QH6IZ9nTy~JUUT1U3coA7U8Ia3GrX65A7gMUsFlOBVS4sXiQcz043x9aPJRGA4hXM7dB_e4P601IUrvcxbtYGuxwx5C1S82Z82DUWNqHFn1fT3ayXG~pELKnQ6KFQZPfKqcZ70qNGTTmb9xr9k6aSBn3_eME7QDYeGd19jgyDTskbLui2H1VeU7pQZMtJHDOzfhwrVMaXcbuDkl6aoa8wHqXkrJ3Ob2uUEw--.jpg
//media.inmobalia.com/imgV1/B8vEv5Xh_VThvnEqMx4G0ZxU_YC_pCgmETwWNQKyeMqLb9Afo_WSoi~kcK5mwaepLz96AHEmAzWJQblCNhundhnOIYTFLWoaYU1QH6IZqhBfNML4UfsckGyBAR07f4feB3vN0UuFjHRa5681rY0NGezpNXGuS4btNOL3RUWqtX4mpFDaABKARniRMMw53L~lxnAlNz1asorwPK9g1rwCVaVD4p9R1cOhMd6VcqBLU0k5syXjx0NupEJ09dmHNKOv~mxkil2nwJqH8aBi9lhYWW0R2spX50MiLXALgOHuf6clGD22fg5DgHLmcvkfun_wFxEUsA--.jpg
//media.inmobalia.com/imgV1/B8vEv5Xh_VThvnEqMx4G0ZxU_YC_pCgmETwWNQKyeMqLb9Afo_WSoi~kcK5mwaepLz96AHEmAzWJQblCNhundhnOIYTFLWoaYU1QH6IZoO58pHAxLNwexm~oP~jNswE7QpKrSiOXgzl_D8I7ZOQgUMfgo4D2swksgLF79qsdcJew~8RqIuDMCJTvwuzUDP2XakmvkQCR_qv3ThjW0z5OVN_XJiLQwjwNKrcLcP0ANDMNsZrhHMlXbEQlNnk877nnH_bBXwH9wQeWd9tq5ajuXXVj4VyBAMA8AoSFQqOmPGAh2bkST5wFlrikiPtOxiYA1wk~9Q--.jpg
//media.inmobalia.com/imgV1/B8vEv5Xh_VThvnEqMx4G0ZxU_YC_pCgmETwWNQKyeMqLb9Afo_WSoi~kcK5mwaepLz96AHEmAzWJQblCNhundhnOIYTFLWoaYU1QH6IZ9DH1gMDj50wHG25cChtkmM_~hm3Mt7Kp40u~goEdCbb_x_RQWXC_KfcPTCY3wT_HV7UnN5fVJ7Fzee8ZuMMzy7oTUHxWWK_P9IG3zmcv_sZCayX~p2SqP18FIoowSRS8AEvkXxRu8R1jWKsd9Gmuv0nYZXs1GVjZh_UjJfYAw4Og1neZtWYHwQXs1HxUob9B88zPNJtX9_xHeWBac5Hin6hQWMe4zA--.jpg
//media.inmobalia.com/imgV1/B8vEv5Xh_VThvnEqMx4G0ZxU_YC_pCgmETwWNQKyeMqLb9Afo_WSoi~kcK5mwaepLz96AHEmAzWJQblCNhundhnOIYTFLWoaYU1QH6IZozT9Y3CYaYktibVKGe_VRbkClSJm6UjSGpR89_EHIyue8124IIYigiiGKVtoXeFyqX7C4pXkCLYnp0PfwHtL6IGuAG1Ot_JufSBC3ukOa3Zzl2fJyJPrJZRWdRe7dINk84PiPs38gu_8lqnmRRyqGwsiTAL4Wfk9TvKQw6gGCuyzE4ggGnrR7lyEegP9Lsxb1i8vdv74ii5Op~gonpxzu9XQ3QsgGg--.jpg
//media.inmobalia.com/imgV1/B8vEv5Xh_VThvnEqMx4G0ZxU_YC_pCgmETwWNQKyeMqLb9Afo_WSoi~kcK5mwaepLz96AHEmAzWJQblCNhundhnOIYTFLWoaYU1QH6IZpOM_VZO5P9SYus8GBKrbOiuf522OeK78P0wXDlMCUgljr6SxlA0MhX1_I1PIGoQVUNVkRo7fogGgR0Q5Nr1yJLaxI4v7SW4qEB2QJO68EQ1fdA88ECWUXUNQNJIrDRDx2UO4W9y06yHCHhO4m5fRE00Im1HgntjgFrpVX_IPZ1dlMJOkhmzw8SLTeq1Fe6cbO4R5dDSV1LvZLjWwE8PdQ_N18f6u1g--.jpg
//media.inmobalia.com/imgV1/B8vEv5Xh_VThvnEqMx4G0ZxU_YC_pCgmETwWNQKyeMqLb9Afo_WSoi~kcK5mwaepLz96AHEmAzWJQblCNhundhnOIYTFLWoaYU1QH6IZpk4h9K3BK8Y4rIpUalY_Auj7b6iGobumwzAJ6n2lMNtHBiIsMbo5CRjefqYQn78OabaJkPxREEaL8CZFijrs8zYd~uRV0RmdWHL1r7Z9GK40oPNnRxeQUY1e8TjJ3w6iQrRP8CzNulAJw6IxXMtmLgLBQ1PQKlYR8UV2UtwYgvMGLaJTGPCeaN9EiTIsxWu7da~SG5T5yx36_~URJGNAilXjw2TDrw--.jpg
//media.inmobalia.com/imgV1/B8vEv5Xh_VThvnEqMx4G0ZxU_YC_pCgmETwWNQKyeMqLb9Afo_WSoi~kcK5mwaepLz96AHEmAzWJQblCNhundhnOIYTFLWoaYU1QH6IZqkvZioIaf8t4F0FwSEwpCqaaBdL1PWFOqpT10OqXyeSRX9AdTOGSMa1uATMDPaWFa3nOMZQGQwmyykG6XTslkfTTDlr5y3k3wBQVFnvtRJv~AQEWq7b6pXMMyKPi~ybsBOaBaCWMREOid5b2uQMI~uo3dbodZf2m5zGrIgtByO_yGYtxJ2lPUS7G84f4k2HONKvM_2_EnjnRwiWyYenRMOUN9cnATw--.jpg
//media.inmobalia.com/imgV1/B8vEv5Xh_VThvnEqMx4G0ZxU_YC_pCgmETwWNQKyeMqLb9Afo_WSoi~kcK5mwaepLz96AHEmAzWJQblCNhundhnOIYTFLWoaYU1QH6IZo2XGUHm_qbWRdHjwLsBe1tEvz6lwIQaQitScrqKPZM~7dwF~cqE0TFjdS4_BCpysNZ1kkm~3_xpp~uJCyjq_9h47tmUlKpPGNCQyLi7HrOtRmgrjy9J1sdphmWLqE6l~B4n6f3JPjj_fkYGEIYQfbEVBY4cX3zAjPHYbyGukaujE~nW4k3ydixypQLkLu~W7ctaIX9mj9mS8YJqBNiccjw5q1FBEYw--.jpg
//media.inmobalia.com/imgV1/B8vEv5Xh_VThvnEqMx4G0ZxU_YC_pCgmETwWNQKyeMqLb9Afo_WSoi~kcK5mwaepLz96AHEmAzWJQblCNhundhnOIYTFLWoaYU1QH6IZpkG7vlh~ENudN1k5O3PQzJ~uETlPIndfmx00VSIgURTwtVJdW43Fh8jPUL5OcvBS25CK~LI8j1ucOGAOxQd5cY0xGCSFvVwOZFeVCkNW4KSytfIvTrEoZfbm3RMNIYNr5trKa4qYKmV3s_xGS5xV3qPvhhH97smEf0cyw5wicL4udY7wGC0V0eI3dGdFUdS8Q9KqNie1CPveu2o78R6j2YUCtWCoGg--.jpg
//media.inmobalia.com/imgV1/B8vEv5Xh_VThvnEqMx4G0ZxU_YC_pCgmETwWNQKyeMqLb9Afo_WSoi~kcK5mwaepLz96AHEmAzWJQblCNhundhnOIYTFLWoaYU1QH6IZoYN7ZRxi9NkFlnBll6UTZ9T~uQ7TthElWgtpguZubniQLd~hC4W7QY1S2UHUioTdInZCaeLlQRwF3KIh1LlJ67DSr3UVbsv0jc6NUbf3kFFF1WNpcw9z6HcXsZI2FeLrwelcZkae~ca0PODsktHW2XktpYy82~rwaSRUzEWqPuHCbNfAbNFpdxWtgOFJlS0u~3R6tFLzVwKYSW9yjFgcfiYnW0v6xw--.jpg
//media.inmobalia.com/imgV1/B8vEv5Xh_VThvnEqMx4G0ZxU_YC_pCgmETwWNQKyeMqLb9Afo_WSoi~kcK5mwaepLz96AHEmAzWJQblCNhundhnOIYTFLWoaYU1QH6IZpSab2j3FQs3u3pqROrKEOQvKoRfrlwEXQ9ZJKh5RkOIRUzi6mvoRdwCSRXamwKBmdJnHaQjswEGVtAoohE3Cup2STMuc1cUZKd~T6Exwn9r36sjQM2VUTNNfvXWl4WHuq3fYT3WyPsf8vq3l2Cg2Xu1X_TonLHysvn~bvtfzhjtypx8ckjrw7NDfhJIhgSw2mHFxcJilL68xsiPdTgRp1jbVJKm~5Q--.jpg
//media.inmobalia.com/imgV1/B8vEv5Xh_VThvnEqMx4G0ZxU_YC_pCgmETwWNQKyeMqLb9Afo_WSoi~kcK5mwaepLz96AHEmAzWJQblCNhundhnOIYTFLWoaYU1QH6IZpSDkoHcK_xv4qK4eMELkUb6WVGg8BZl5AyuLjDYkzHNA8pHwRntYUvBmtPgD1tV3KKHCe681nz6a_tOTVwZxnXYA2x6ytW54frHdMBow6huAVV_H6MgVitdse2B~nEVkkYd7X5UjP1S4upms0tu5Qe_XdMBlFnYhXRSn2GNZXx7xfpiThJ5QbrbCxV1VTFLr0hlc0kLRrEfFvyj9JtzX_zi9HLNCLw--.jpg
//media.inmobalia.com/imgV1/B8vEv5Xh_VThvnEqMx4G0ZxU_YC_pCgmETwWNQKyeMqLb9Afo_WSoi~kcK5mwaepLz96AHEmAzWJQblCNhundhnOIYTFLWoaYU1QH6IZ8KX021QWJ11SA~zwdNzLT_qRfw_5i~vln4xX1MEae~I612Z9jPW2t3JLcQcoorM4g0iwx6PYr0HVeRquR0WPh6yXbZ6wccbCMP51Oc4w9d6k29Rm1zE4sakfke6rjkI4czd55VN8zCYR~rCIjp50bmXVSHowaQxhYQDJtfkGHfqPO~L2J1h7l4R2vbPWWXQ~9ApHRKToaj75QoOSHIfcfEa6SxQU4A--.jpg
Mirador del Paraiso, Benahavis
Apartment
650.000 €
Appartment in Mirador del Paraiso, Benahavis
Luxury flat in the residential complex Infinity, in Mirador del Paraiso, Benahavis, with beautiful views to the coast and the golf.
Infinity is a new construction complex located in the closed urbanization Mirador del Paraiso, composed of 24 luxury homes. In a few minutes we have access to all kinds of services in the existing shopping centres next to the coast road as well as in San Pedro Alcantara and Puerto Banus.
The flat consists of three bedrooms, the main one en-suite and two that share a bathroom, entrance hall, kitchen with island open to the living-dining room and access to a large terrace from all rooms, where the private swimming pool, outdoor dining room and relaxation area are located. The property has a large multi-purpose room to be used according to preference. The property includes two parking spaces and a storage room.
Infinity has a fully equipped gymnasium, a communal swimming pool and a large sports area of 5,000 square metres
REFERENCE

208-01551P

bedrooms

3

bathrooms

2
built

320m²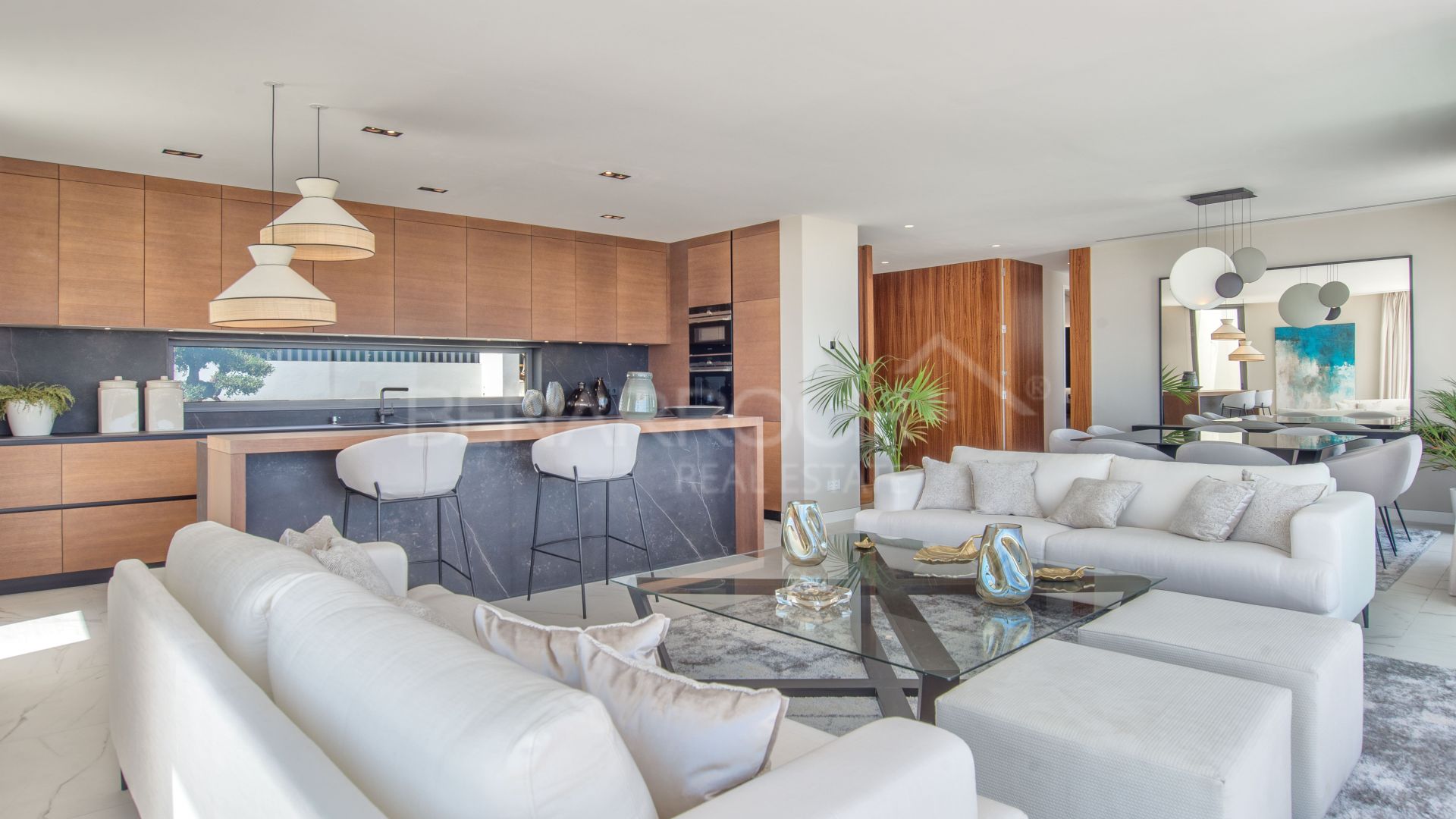 Video of Benahavis Area
similar properties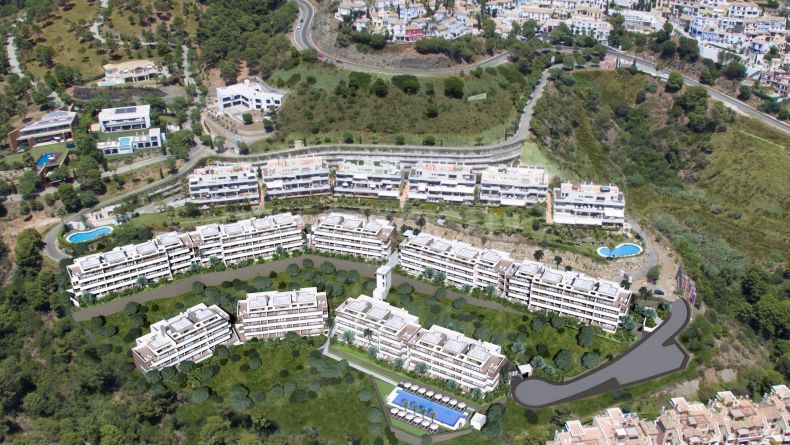 395.000 €
New project consisting of ninety two bright and spacious three bedroom apartments located in La Reserva de Alcuzcuz, a private ...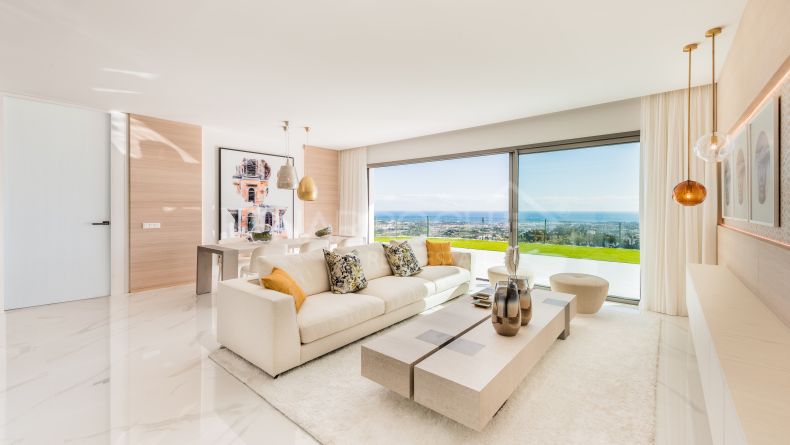 960.000 €
Luxury apartment of modern design in Byu Hills, a residential boutique located in the urbanization Altos de La Quinta, in ...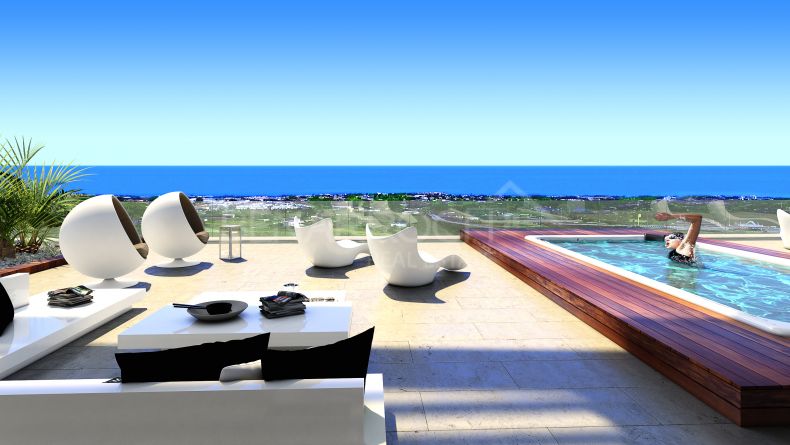 995.000 €
It is an apartment with views to the coast and the sea. It is located in the Fusionvista vanguard apartments project, in the ...