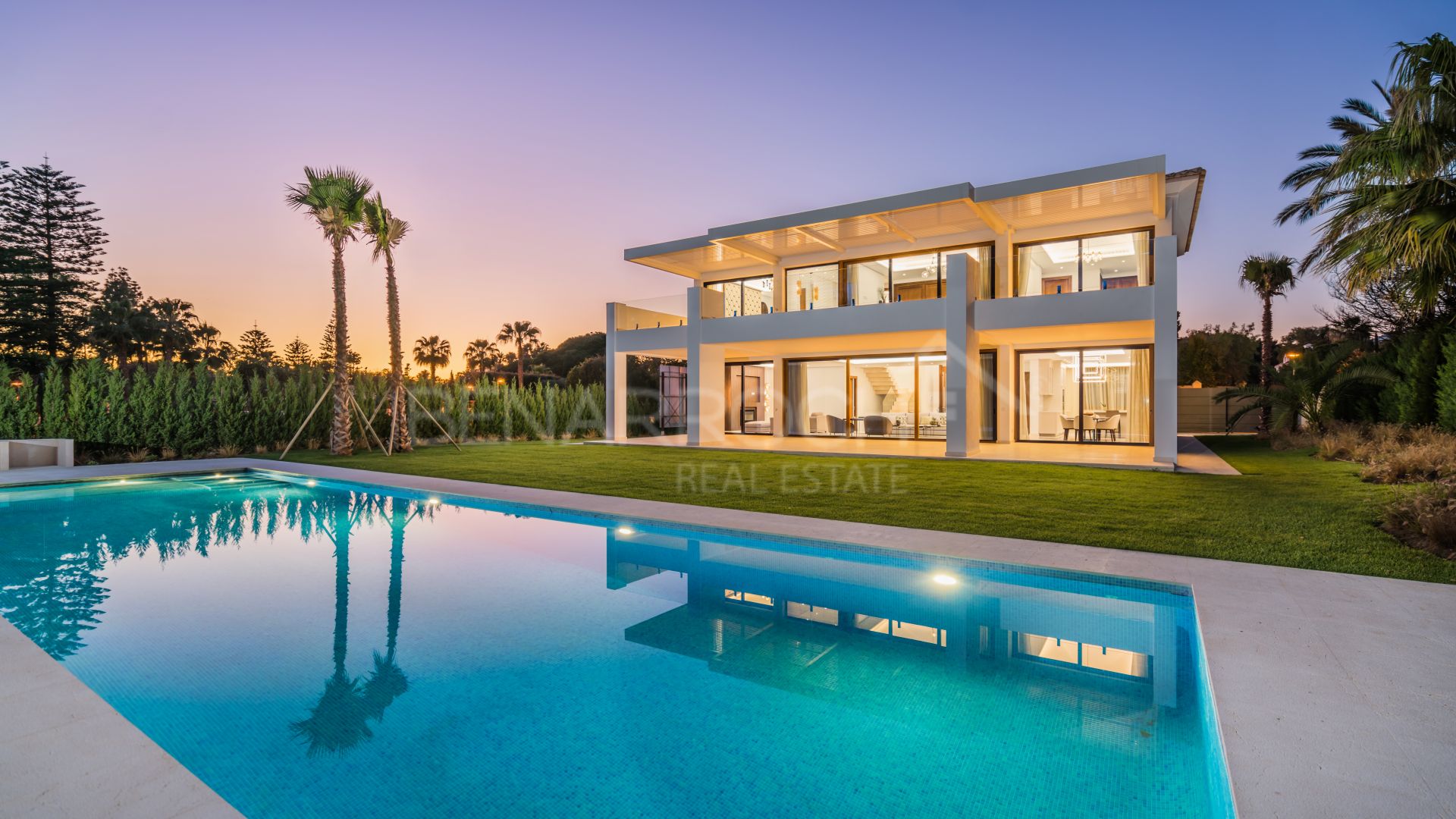 //media.inmobalia.com/imgV1/B8vEv5Xh_VThvnEqMx4G0ZxU_YC_pCgmETwWNQKyeMqLb9Afo_WSoi~kcK5mwaepLz96AHEmAzWJQblCNhundhnOIYTFLWoaYU1ViDxw~jFbV54xJItggdMRaFdxopXU930~Ll2DUujvHv2UNlhFC98AWP_zxXoajuVS3yZM8xHXoXe6A84uuH1XQOUoJvkhJvWWkuUX8gAk8tZoXTV~VtPIqgxVH0IL5U7lxyu0Xyxbg_bTDMPDHofharPDNL_E91TfKkxavxmDgNHFYECPzB~T8PQNTKySRm4ECguC91uEV4p61WjtiiD4l7tPCzqkhCvVRw--.jpg
//media.inmobalia.com/imgV1/B8vEv5Xh_VThvnEqMx4G0ZxU_YC_pCgmETwWNQKyeMqLb9Afo_WSoi~kcK5mwaepLz96AHEmAzWJQblCNhundhnOIYTFLWoaYU1ViDxw~26cWhezyau1~GugwIJhWQgqrTHF1n0ErvaGrXv8XW2McZlu53D2UsyJg3fy~3uOCs_RKwOc6D0KbWVKbgi_ak3wB9hT4dOeOqIvx0B4ZIVDQ8cKDmP4ujd8~5LSCnA1AotcqooIFBvxBJeDEav1NeyjeArLJtNN_VmMuouJXrBtXfXY3kfgOnYLK9PF4_K6Qx9Fpi4UcI0NsJe7Y7UEjtCQPFKsFg--.jpg
//media.inmobalia.com/imgV1/B8vEv5Xh_VThvnEqMx4G0ZxU_YC_pCgmETwWNQKyeMqLb9Afo_WSoi~kcK5mwaepLz96AHEmAzWJQblCNhundhnOIYTFLWoaYU1ViDxw_85reeRbOiN~4~mAziZMCzK1ZtADizVRIGQBAMpNxv9ASNPPxQhQVzHd0cWsUYkwWGHA1SGRRa2i80wGhSLPiXAPgygJi3ehP7JmwDKmt5QKt7sMo0ooqlolLLLc6SEvztfbLyj~Hq9~rK2K0bRkWuuPQwn9Pw5LQ5kSXH0lxAXPciBqluApeaJpriY4pbyjvAn_q602vjSr_njxetp1x_K_74Xmng--.jpg
//media.inmobalia.com/imgV1/B8vEv5Xh_VThvnEqMx4G0ZxU_YC_pCgmETwWNQKyeMqLb9Afo_WSoi~kcK5mwaepLz96AHEmAzWJQblCNhundhnOIYTFLWoaYU1ViDxwruwLFx65NmzCC98~CAN9jAsZbUnPDzylZCbYaPi9_O4t5VAoc~Ci~CH8CPOdWm82Ny3tstvTTEyldOXSMkG5Kfrjf97DE3kLgoyfO~W0OYHGZpO~3TYJUz_XmxfNMxfD4pxAQpz7KaHp4C3EtjcEWO6CB_gwLlSW2d7VnotOQ4BvvCHdOy77rcM0AJOwrudzowEUAO39p~bbQhSN4D6kyhRrg~ADaA--.jpg
//media.inmobalia.com/imgV1/B8vEv5Xh_VThvnEqMx4G0ZxU_YC_pCgmETwWNQKyeMqLb9Afo_WSoi~kcK5mwaepLz96AHEmAzWJQblCNhundhnOIYTFLWoaYU1ViDxw_ib5TTNqu5tmMVhpK~IPsNDEYevpVZemror~RUfFqmSx0oqqOoC6XlsIzsUe1K3qsnq1O615cv7XhD10khV~Ir7we6R~~ytVCuSl_VgiZT5j88m3F5Lc7ni8rlub_pSyWQnUA3TOdR3mGUvIF3x8Z_XbE5Lzf8AsHGsegO__aKxwRuWkTO63EAGGa6pMMLw2XhvFjzTXySBdEQWzkA0VGWa4w2JWXQ--.jpg
//media.inmobalia.com/imgV1/B8vEv5Xh_VThvnEqMx4G0ZxU_YC_pCgmETwWNQKyeMqLb9Afo_WSoi~kcK5mwaepLz96AHEmAzWJQblCNhundhnOIYTFLWoaYU1ViDxwr3FPJ7TfuA_SF~oLGJiltedz5EI1LCme0FeeDqcBaA1JOOdYwUhWZqqxoiA989lpG2KEMo5XfiaNDNeTAAQO6KH~y5lfJGfKKhMkpMiN7uo0yu3bB5tAuBzymaaP15lzXoGimutQDiVEfp0mAcb~4YY_Vho1Au_wYi23USJWNNnPCt93fNVSZGJlZrKzYkrK7WyvvKxlooxUsQejhRVbOFFz2dR4SQ--.jpg
//media.inmobalia.com/imgV1/B8vEv5Xh_VThvnEqMx4G0ZxU_YC_pCgmETwWNQKyeMqLb9Afo_WSoi~kcK5mwaepLz96AHEmAzWJQblCNhundhnOIYTFLWoaYU1ViDxw~KmWa1yHWRuR6sWIsNTy9kNzYfL5WI0YQcDH3wIPyjIBo03B~~NzY508_Akndou4OLqLXGn7pRmLW5s2R5X~3E4a5uWrc0RitowEuf94ssHW0TEOxq5OM~gy35xRULjylivPxgyPUnXQURUz8iEQQ6qbvTitleDPuXIEez3YczNgEIESSxYU_af3il5elshVCB9MpA5smG7dhABL~vQXwNowI2dYzw--.jpg
//media.inmobalia.com/imgV1/B8vEv5Xh_VThvnEqMx4G0ZxU_YC_pCgmETwWNQKyeMqLb9Afo_WSoi~kcK5mwaepLz96AHEmAzWJQblCNhundhnOIYTFLWoaYU1ViDxw~K_pSlFt5o62zQr3uNbq~T_L19~jx_e8vKf3XnangVAf63aCelSuN9r_6QeiXcZpe5GZVkG9P2~RpHHu7Lil_4n7E5~XcJiSMASP4LhvCgmvqMVc3CZBuzMtFoxDbG9HDfO2TIqM63TQdweZVA3MNGmGByYVnX1fJ_zrbvffS01j0sDh6XvyDs5LEFGxvhTsnvHdlXytm~P~glse_xdDk6N9hmEhkQ--.jpg
//media.inmobalia.com/imgV1/B8vEv5Xh_VThvnEqMx4G0ZxU_YC_pCgmETwWNQKyeMqLb9Afo_WSoi~kcK5mwaepLz96AHEmAzWJQblCNhundhnOIYTFLWoaYU1ViDxwrugIvkgGhoHTmkf5xgXpXyXyZPUexDCAVi~AIUuZGZklu8Fs9HHMb4WWWD4lxNp8uwVdvsDKrniOKVGsKfCu8SxW1JK6Fac6rkgbrQJW36~edxAzFy0unOPh9Z6eG5BBvy9c4vXe~wkcCEBXp8GBdzPWCwKq50Mkhp2Qdwk1odv~N~8nYZvWRGcjSnQJUbUlwt4C6i6kyddb5auKfC4TkMah8yfCDg--.jpg
//media.inmobalia.com/imgV1/B8vEv5Xh_VThvnEqMx4G0ZxU_YC_pCgmETwWNQKyeMqLb9Afo_WSoi~kcK5mwaepLz96AHEmAzWJQblCNhundhnOIYTFLWoaYU1ViDxw_DvIq3b5IRPe7GdY3DmKJQHFU63~QkbAAfP5rfx2rK5Z2fg_sXzLygptXRIhP5UaD~S~YQBFZwGPOp3TlTldDsPLAZQ~aSICTxVRzjZxKo67itqZGQkwy5HQCAexX8UgDzpdxwG0A_NrDtZWL0Q8O2MBXsrjysKaZI2n4v6cpJOChBjKCst~BfIup0Ai5DGsoHh6CIW1e0uBLiidRE0hXDRqLt_66g--.jpg
//media.inmobalia.com/imgV1/B8vEv5Xh_VThvnEqMx4G0ZxU_YC_pCgmETwWNQKyeMqLb9Afo_WSoi~kcK5mwaepLz96AHEmAzWJQblCNhundhnOIYTFLWoaYU1ViDxw_QGwL3oykVZ_d1blCDv_pZAFud2IHnsreOEsNHJdFj4e9h~gi400aXhr5rsezz_VzYQVP54eI~ifLMJkOAndWRax~BMDtKj8Ufgs81J16w~ALcDb0dMsy34PFtYFRfQusV7pWTtIuH3bKzWssztEUfJAhZi17T0V9D4nCSPxSocdML44E2gZB0tGcoLY4dr22aGaDdKbg8u8u5yl8zyfjLEEIK7PzA--.jpg
//media.inmobalia.com/imgV1/B8vEv5Xh_VThvnEqMx4G0ZxU_YC_pCgmETwWNQKyeMqLb9Afo_WSoi~kcK5mwaepLz96AHEmAzWJQblCNhundhnOIYTFLWoaYU1ViDxw_G1O_5TW8AKPIfHRHq7sNY0mdQPW3atE5Ztt8MIMjMkFRY1gbnVqyRrbNA1_XX_kCUp~eiuTFhdyb_Rqk1XBuEd6rj~4X0wVI_3ON3xQ1MoXMINC7SyqiUXKU5yo7iboR8glSUDJ~4X2uEROIR_77meO4Ia5hDoK0DDyJgFCj57rySdHC0QDwq9Dg_ztk9Rqp5qj0NQxnPn26vCWFeARwF4JVx2I1Q--.jpg
//media.inmobalia.com/imgV1/B8vEv5Xh_VThvnEqMx4G0ZxU_YC_pCgmETwWNQKyeMqLb9Afo_WSoi~kcK5mwaepLz96AHEmAzWJQblCNhundhnOIYTFLWoaYU1ViDxwqARY3vmucSuB31Olj3psqpY5j1tDkLos29E4l0p2JduzC21edz4MPrCrNTdLvPR0Xp5k~ar6UFKKqBsHotMIQkiJcetEqQIAP_p0FVntWSfmOi6Yt~cuvoJhWBKOiNq89MVQZ2eHlFa3BBHbP9ku7c8h~fwjPfN41AsM2uW8bHQA42pLGjvp8fJhx0CWqhMdbURSdNkHw4852VebJn9IWBSd5CIFeQ--.jpg
//media.inmobalia.com/imgV1/B8vEv5Xh_VThvnEqMx4G0ZxU_YC_pCgmETwWNQKyeMqLb9Afo_WSoi~kcK5mwaepLz96AHEmAzWJQblCNhundhnOIYTFLWoaYU1ViDxw8002iz9x3i1NhfOjiGoFH5VyL9ojyhoIcUrP4Ee7wL811u~rTsvRwJdLreU7krxNkgjcq_S_ytQti5qKgUtfUfgxCOQnpQvJW46upbX0ucZkIUNyQ8XMBQU7arGXlzQ4IovWcAKjoMHLpDjUepZ1ovF1jcMnsz16dQSYH9Ibnw7rg8z1_RnWmpCJWOMR6ra0u_ar~3PaifnqKO8r4muul~gYuM~BzA--.jpg
//media.inmobalia.com/imgV1/B8vEv5Xh_VThvnEqMx4G0ZxU_YC_pCgmETwWNQKyeMqLb9Afo_WSoi~kcK5mwaepLz96AHEmAzWJQblCNhundhnOIYTFLWoaYU1ViDxw~jC3~1zw1AePc3Sp1IntyJQ0vCmRpRc_iwW7fLO4jURBO9npH0OFLhMXujMqIjXXAEpTKjryJ4Ly3MrqX_~KJ~uBtK2_3hVprLT2mJDMV0gHegABQrds6YHCwID5vY1M~8pz9X4JrkRoYt9NYLID6eElb0ok3L2z7SPONJ1NpdAyq9Yz6c~PcsTnI54~YvUZiTbcjVJvfK83AFWfM~UKiPuXs6im1w--.jpg
//media.inmobalia.com/imgV1/B8vEv5Xh_VThvnEqMx4G0ZxU_YC_pCgmETwWNQKyeMqLb9Afo_WSoi~kcK5mwaepLz96AHEmAzWJQblCNhundhnOIYTFLWoaYU1ViDxw~T9T4~k3cRcGfn2bW6LXUwSuYfAlPBTTOXq86qovaQRJFyYrPfib4Koqkoq3AOX1ZakjtbX_Y0RkRT9R1uIqbq9o8h7i4Smotr1Hq1JBOsWhdl2U~gyhuQMcykRMWkyQiRFGjiddHbmsDuwP9BAEOHorfhiHMkj8qrwJvyA060dSjPO4gGLdlkUW5frOZpdfpKuLk6yHuP~eArqlxnVF8dh4NtF3gg--.jpg
//media.inmobalia.com/imgV1/B8vEv5Xh_VThvnEqMx4G0ZxU_YC_pCgmETwWNQKyeMqLb9Afo_WSoi~kcK5mwaepLz96AHEmAzWJQblCNhundhnOIYTFLWoaYU1ViDxwr3W08C265gFh6HQDPJiEe4fMxeZl1wvrmP8IWKY5gPlLims0fttXbWS2tR6JZmjWhhM3867Zgimj8bMl3g02ZzNjNtrkLM06PwLcSRtXC~852itSpdBUyC~zxHWGa9r653CzvCxYCWBpu7z6zqKn9KbnatUqowgwOMYvuo1EPOkeIIAVtIQlwQagZTYTEcYHPhX3HAPDZdg0jhcRx2oTDbhbsChamQ--.jpg
//media.inmobalia.com/imgV1/B8vEv5Xh_VThvnEqMx4G0ZxU_YC_pCgmETwWNQKyeMqLb9Afo_WSoi~kcK5mwaepLz96AHEmAzWJQblCNhundhnOIYTFLWoaYU1ViDxw_D4xu4MGEefpOZPeYg1qcIYrEb1lf030dvM1w994eM8e2o8Vm55TWuKAj2P2XJAqFTQsAGRDxnAJD2uTsMmr5LMr24oyJGKvcPparN5fItpXPc5pOkedh40b2PlbBmkqeb~IcWbokh1Yc3bp1IrwZo1tv9Nzj3WUrsdBiPA4g5yPzKKqAoT4990ePBOaoMU~qL06GOXVhUuqxt2JVT23M5R49NTugA--.jpg
//media.inmobalia.com/imgV1/B8vEv5Xh_VThvnEqMx4G0ZxU_YC_pCgmETwWNQKyeMqLb9Afo_WSoi~kcK5mwaepLz96AHEmAzWJQblCNhundhnOIYTFLWoaYU1ViDxw_QZ9Gtn1u7mlHRp5RjWPIrGImKhhomtK33I_ezc4h0V4nI9AsWGi_N_LyZVjI3y0UlGSr8QXecCToz2RuCboVH41nnEuVa_hnVMt0aL8BMXb_SUTNi~WLJR7NqrJJw6uWGS36fONLecP~bqAcjb2DRRHCBGpMMbucY7Xoh6vFui_QA~Cjqm8FVD2Ku7XIBqHRT13YQDktQU4uLs5gcqkXPvDu0Sntg--.jpg
//media.inmobalia.com/imgV1/B8vEv5Xh_VThvnEqMx4G0ZxU_YC_pCgmETwWNQKyeMqLb9Afo_WSoi~kcK5mwaepLz96AHEmAzWJQblCNhundhnOIYTFLWoaYU1ViDxwq7KrEOjS6nBYMvb6Y0M1cnOUTsmDmdSjLPq3mSG5K69lN4BLGIslSDpd8mmal1Rky3p3Dtv~PteUaHCDJf3_vYar5XfquarndPwbSZMDx8MFgOLKnbUY_hZR54rVEMCnb9T2erwdqMar0q09_qwQ7EdjLrWI0hyoHlIpOv5XZlqRXgENXcT8yscIDPgbB5tVNa7XFl17yB3ucH9YDxKm3D~KlmIzBg--.jpg
//media.inmobalia.com/imgV1/B8vEv5Xh_VThvnEqMx4G0ZxU_YC_pCgmETwWNQKyeMqLb9Afo_WSoi~kcK5mwaepLz96AHEmAzWJQblCNhundhnOIYTFLWoaYU1ViDxwru97nTfIB8pE~BrSlRZaIJzsBwI2xATvdw01T5x6Vvoo7dV6otyUTZ_R2JH7hc0i_6IZpTtdYWZchZk29~CESe35vkJ~zBWGJJ0K0RJDzRVXKIi43EmUHcvpyH~0~maOOPhxgfynRRHbW_069XpApoHWmfknBpskFGTe2yLPJLtQU_xHsI_mtvxZ_00CS8CHATrAVdi4pDC23sWiBzybnYVLC_kang--.jpg
//media.inmobalia.com/imgV1/B8vEv5Xh_VThvnEqMx4G0ZxU_YC_pCgmETwWNQKyeMqLb9Afo_WSoi~kcK5mwaepLz96AHEmAzWJQblCNhundhnOIYTFLWoaYU1ViDxwrr_dEPsqqYPHGqQrCQJfrtfNEI3XxpyBPoVbBSMFjSISGk~gmMp2hjyTpnoj1UWwDWzbHopGXmBuaBsxnn9DMtTjZoapMKp8I0yta0sf~vOZlDgHxLBALJT2r7njCcpJP2N7po3Ad7JOLZHFCFC4csJmXlXtqg0u_bgzeATlwJR7kkcbaBYsMJgsM_gVunhTQfxJ8CL_HcLsddA7gsv3tjTb2tF8MA--.jpg
//media.inmobalia.com/imgV1/B8vEv5Xh_VThvnEqMx4G0ZxU_YC_pCgmETwWNQKyeMqLb9Afo_WSoi~kcK5mwaepLz96AHEmAzWJQblCNhundhnOIYTFLWoaYU1ViDxwr3jhYH2PVmcg04Mx6w8YIcqVMdnLqkfSZr7OUUp4SuMq9vCF6~~kZVp4eTAiNN6_gV1LqV_jFizgA7dcnYzySo6p_J65ZoKw552BjGBGtgAEQclANVjcYHwCvKInpeWyCbpaIZo3aa5THJ2E_jf4rb08JV~aTgtPzasnZFCT~26rni27Rqh3lLKHs8YprgIJPWXjPXA7Sc7uGVNn~IBeXFtPxz97eA--.jpg
//media.inmobalia.com/imgV1/B8vEv5Xh_VThvnEqMx4G0ZxU_YC_pCgmETwWNQKyeMqLb9Afo_WSoi~kcK5mwaepLz96AHEmAzWJQblCNhundhnOIYTFLWoaYU1ViDxw_Gj6Y9chyGnKDvoHnaN~2Pr_Xthg2FeadbhbF5T2~O4ZNglPLLwIJYE4jsCW8SYbghBUP1Y75g0Owy82L1FBP867OlKatZy3BIwU_o5qBtunv9WCS9jYmorCKNg3LQXZL8JzBk9rEbiJcPOdBFlI_5w9XjT0wB4k4TmEsNQi3RAUSqEQM1BVZqyKo6XOl9IKFNyY6CTEez4LeUm~iVgFeOWUfyk8aA--.jpg
//media.inmobalia.com/imgV1/B8vEv5Xh_VThvnEqMx4G0ZxU_YC_pCgmETwWNQKyeMqLb9Afo_WSoi~kcK5mwaepLz96AHEmAzWJQblCNhundhnOIYTFLWoaYU1ViDxw~jDgAQzlG_OmKOUbTcxaM4i3zQP~RUDTSltUYmxZY~SNdejz8Stk4dHNQdtk8p7MDJf3F37qWYv27BaV2U6CAJN4oxkqOpaoo8m9Vioo7KjdbHDZTlM9GMkVzUA2PlSgUTdAqxG9sHMsx4ZDeEEfiP02YnX7jMppZ_qoKOHRXPNtfN3xyL5xvWavMvLAA7bXJiz_uiwbSV_~EsoiMUwZMqZH2DDQdA--.jpg
//media.inmobalia.com/imgV1/B8vEv5Xh_VThvnEqMx4G0ZxU_YC_pCgmETwWNQKyeMqLb9Afo_WSoi~kcK5mwaepLz96AHEmAzWJQblCNhundhnOIYTFLWoaYU1ViDxwqQvkEzlFjV7Sn6Njza1Zo4WArIOs10kzc7WxnEvwsW8NV3a8f3HTuYLLbdmrFCCJ7bfGgkUJlf1dBI6VQY~9oytnRo_dH0MeOymKfQCm2xho5B2VbeNCDK57lKUv4tMXac70~7mj_ngx9R~UUbNxT9LTCptZh8vVHVFo3Gyq6ZVLBDshuHP7Zdq_h7Be~UzOj0Gci4CYh5Qb~1UVK~~9mxGvx9eQNg--.jpg
//media.inmobalia.com/imgV1/B8vEv5Xh_VThvnEqMx4G0ZxU_YC_pCgmETwWNQKyeMqLb9Afo_WSoi~kcK5mwaepLz96AHEmAzWJQblCNhundhnOIYTFLWoaYU1ViDxw~Wi_DhTTvbsfr5paQ_2LZ~C4V3byDW4QiD66mAqipH42coc5PaeNWvwVujPUItLdfsL4AnU3bWJpSfZOoj3eSCzoMs1kDa7QMtngz02GUXAyzRuN9PImsqMoh9wtqBJiamPl0nUb3Plk~GZ1PDRd9ZUkVICxUxHtqU9vHJ0FxhKpvZvnnir2PecPYsf_oZgbHSyNQA886G63rcWSZEHCMLkaChrShg--.jpg
//media.inmobalia.com/imgV1/B8vEv5Xh_VThvnEqMx4G0ZxU_YC_pCgmETwWNQKyeMqLb9Afo_WSoi~kcK5mwaepLz96AHEmAzWJQblCNhundhnOIYTFLWoaYU1ViDxwqQcxQnE__09q41YRKVfYPtNX0KXRvr3WTS8DJ0MPjBcpGrrWKQThxRJg1chqMdxLUlmY~HRKmNG2xxy8X12bBLqwaq6OraYyAMXBHSvIVydlLc9zz6~~wvxPYk0iLQkRSwwTwpn3mpdlpPEv5Zt2RGKypFvfVl6qvOVtG~cXZkH9a6Xy3MUbfaWb1rL1ZLThQCmPA7t7jawCFfL8iwy~Vhwjc1l7iw--.jpg
//media.inmobalia.com/imgV1/B8vEv5Xh_VThvnEqMx4G0ZxU_YC_pCgmETwWNQKyeMqLb9Afo_WSoi~kcK5mwaepLz96AHEmAzWJQblCNhundhnOIYTFLWoaYU1ViDxwrJinAwrbmCDVtA4~2u~PilpbbtUpxDNOvPL~wavo28v~Q9AJ54TyLTyvjEUrv8B7fWmrgr0~TlC601QNfEhLBc5mht0rW4wrKLOeUuecUzDN4_8yWkVbXV60UcLEmlpWU0ONjfro9fa9nNiT6Dq1n4G_zfZqsAb_kv0oCGjHuzxMo1oShRf8IwmojXDIsbzOpTM1TG3ZK_Me2snHFjU3ZtkLiOel9A--.jpg
//media.inmobalia.com/imgV1/B8vEv5Xh_VThvnEqMx4G0ZxU_YC_pCgmETwWNQKyeMqLb9Afo_WSoi~kcK5mwaepLz96AHEmAzWJQblCNhundhnOIYTFLWoaYU1ViDxw8ku6cpE7kRm19SGm84c4224O7V_kwAeq7_AUPh5zVbk5fLxxGlDI9HOwV__Y4_xkZotHVQ2IEJoMWJhUZS~ORpg70DPi7wwYuu5Mu5jmY5oJDfeVeuqnBSas~n6tOjc_y5i3bzwUP5NuYAjGQBnfAkuR0Bn_CTj70NKHTVNcaAb4kZ1GSTuHTYKFQJV_9qGnj7~~v8eYIN1ARCTssuV1mE4YngcutQ--.jpg
//media.inmobalia.com/imgV1/B8vEv5Xh_VThvnEqMx4G0ZxU_YC_pCgmETwWNQKyeMqLb9Afo_WSoi~kcK5mwaepLz96AHEmAzWJQblCNhundhnOIYTFLWoaYU1ViDxw~W2OpnRc_VZ6vFMzeDJftgSoLaZ7nmzdcUUGLL1Vbv26fEUE6iIVLkTIBkwYTjiGpABVq8l_Nxeb3rc2LrEv4HkECClwCZEYkY7na76Dq027O77xYwfgZa84z1s3kjex8mMoIeJEck93VKqPxvyhDXNGKYgQ8WigOxdpubc06sZq~URcvfUdI2YEHP7QBT4GCIu6PXcNXue4BNivl~NVTBPyhHAtng--.jpg
//media.inmobalia.com/imgV1/B8vEv5Xh_VThvnEqMx4G0ZxU_YC_pCgmETwWNQKyeMqLb9Afo_WSoi~kcK5mwaepLz96AHEmAzWJQblCNhundhnOIYTFLWoaYU1ViDxwrMXRBM_yn5_NVURRlE5y~e7qRexda7L6orquR8HcMoyx3dg~M8ITtJjBgNxsvvNsncwUSe8S8MgHB5AZfn3bGG7ESSHlSuDgHcrFCiM0BdGxsIu2ZY81_eqA3jnpBq0gf4cKQVesSnyfoJRogADIOIBlODsQcX~6whfuBMtOgTq4gS8OPCoPSsIC_rtvgIAnnkR31Z0FhSV6Iwu2CeZl~S_pHgoQyA--.jpg
//media.inmobalia.com/imgV1/B8vEv5Xh_VThvnEqMx4G0ZxU_YC_pCgmETwWNQKyeMqLb9Afo_WSoi~kcK5mwaepLz96AHEmAzWJQblCNhundhnOIYTFLWoaYU1ViDxw80hTA~nJPYZGt665_NIlKaf2pvWlJynNbi7iaZo6abNZ4LHsCQnrA~k5pxz~0A~2GMSswy_hRCbf4SgtQscHt38H6VZCrj1EXaeM1AkPDAXfVzwbMohXwI2q4Em9DMQhFFjomyPUXj350yCnrKutjpm~gtiHOCS9i0gpRV28P_vfPjsmpaNjw~aStOrOuPoqzTwG6egLsw~giOHSRLWfHlff_wQNqA--.jpg
//media.inmobalia.com/imgV1/B8vEv5Xh_VThvnEqMx4G0ZxU_YC_pCgmETwWNQKyeMqLb9Afo_WSoi~kcK5mwaepLz96AHEmAzWJQblCNhundhnOIYTFLWoaYU1ViDxwr3XiyUBIrQjecphRa5lh2tcbpswNvF2Q72xIYMnc9BBQKDNGvkTtcZsRm0KnjHXHPA_GfVq8yvZ~AzfvvuMNPV9AT6YT~iu8kgLGO_0an2Mx~Y0Eo3u_40A3R2356yH0_pLShM_XbpwAZj2YSk4xB31Dh04OcTE40p3HPMEJkTVY5Rb5QKaCDPiKCrL43B~ZNd4Q_L4VRrQ5kPHdzdH4kqdLqVC09w--.jpg
//media.inmobalia.com/imgV1/B8vEv5Xh_VThvnEqMx4G0ZxU_YC_pCgmETwWNQKyeMqLb9Afo_WSoi~kcK5mwaepLz96AHEmAzWJQblCNhundhnOIYTFLWoaYU1ViDxw80s4R6nUCkE45OONpb0pHODTIlnMrLeQjveYU_2Z6nGVwE8qdxpuYbtRsPdg9EjGBMkbefFKyaZgxCq0HJIdKRQzlY6D4s0r2b3IADectgv2o1X_F7T~eB1wYzDftZK8pkSCUdciDNVjgz4BvzuaDGwTKcJ0JvAyOdATg~s6GFWk1oWBmDGrQP1LeEeLDk~OpnaaggsKW~yKZRXD3tNV~GVisKvODg--.jpg
Guadalmina Baja, San Pedro de Alcantara
Villa
3.500.000 €
Modern design villa in Guadalmina Baja, San Pedro Alcantara
Modern style villa situated in Guadalmina Baja, just a few minutes walk from the beach and with Puerto Banus, San Pedro Alcantara and Marbella just a short distance away.
The villa is set on a plot of 1.492 square meters and has a built area of 625 square meters which are distributed on two floors and basement.
On the main floor there is an entrance hall, a guest toilet, a spacious living room with dining area and several rooms, a kitchen with dining area and a bedroom en-suite. Outside, a big terrace with dining and living area in front of the pool and garden.
The upper floor consists of a master bedroom en-suite with dressing room and two guest bedrooms also en-suite, all with access to terrace.
The basement has a laundry room, storage room and a large multipurpose space to be used according to preference.
REFERENCE

208-01501P

bedrooms

6

bathrooms

6
built

625m²

plot

1.492m²
Video Villa
Video of San Pedro de Alcantara Area
similar properties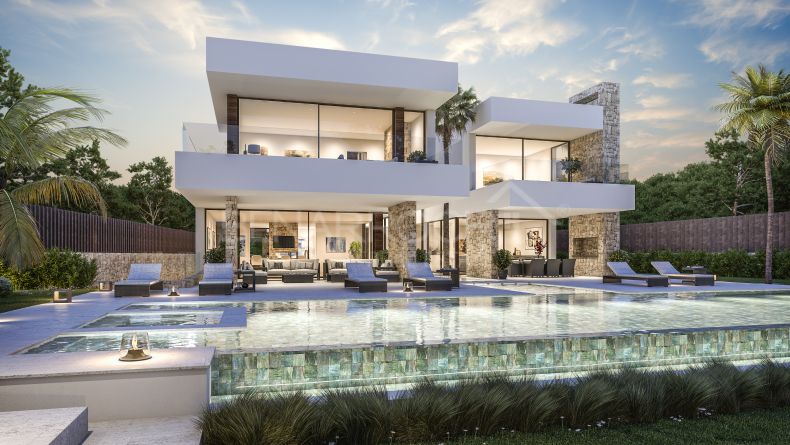 Price on application
Located in the famous Guadalmina Baja urbanization, an area known for its stately villas, this villa project is located in one of ...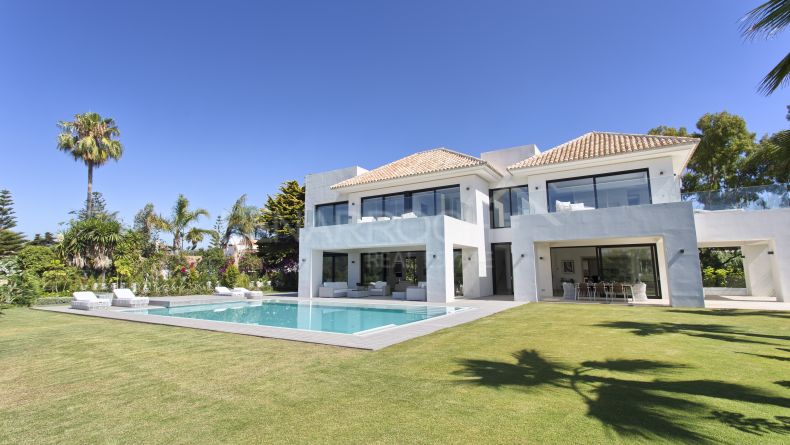 SOLD
Newly built villa located in Guadalmina Baja, Estepona, a step away from Puerto Banus and Marbella, in the residential area of ...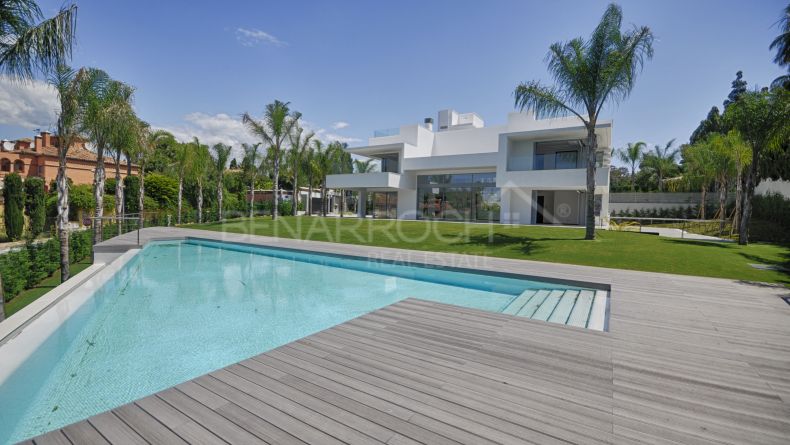 4.200.000 €

reduced from 4.800.000 €
Newly built contemporary property with beautiful panoramic views, in Guadalmina Baja, Marbella.The property is distributed over ...