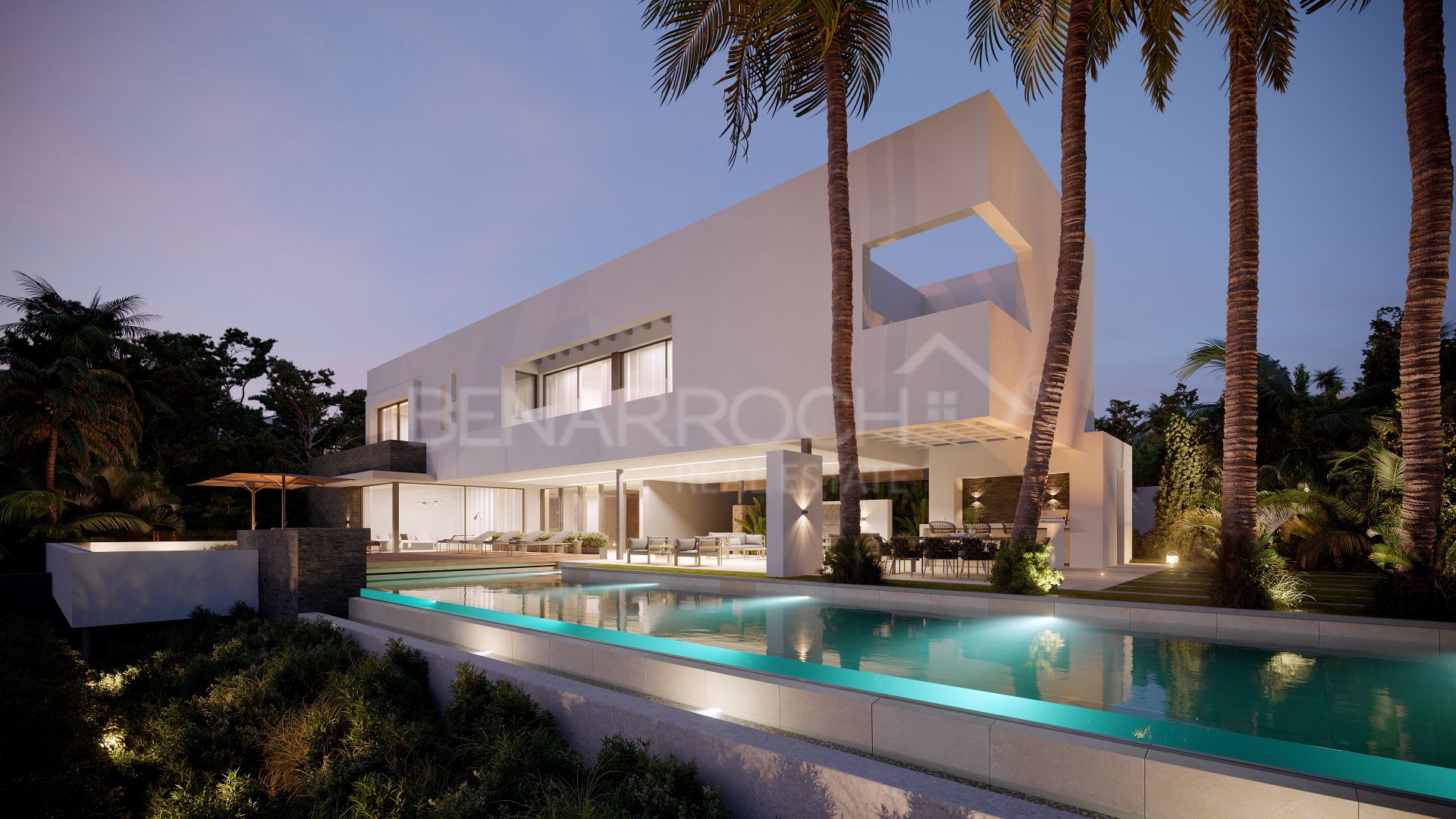 //media.inmobalia.com/imgV1/B8vEv5Xh_VThvnEqMx4G0ZxU_YC_pCgmETwWNQKyeMqLb9Afo_WSoi~kcK5mwaepLz96AHEmAzWJQblCNhundhnOIYTFLWoaYUwkUsWZebG0x936y5cRWFxBR~esPFOERMV7IOeTa8cLar87N~gZdkhNHwqtz5A_oKZxh1kxab8N7N9_f~i67KaawN8vgkR4UWxB_60Fkza~XoFxUW5vTeh8qXbyxM1Pd4Li7VRuoRZilZlpmf1ZX5_65duELVVJaZCbwZI0YxVAyvInEDl2TKUw2zqKDmf47vGEteOoSPaP2Gn79Lc6eGwPPiQ0jv7V35drWA--.jpg
//media.inmobalia.com/imgV1/B8vEv5Xh_VThvnEqMx4G0ZxU_YC_pCgmETwWNQKyeMqLb9Afo_WSoi~kcK5mwaepLz96AHEmAzWJQblCNhundhnOIYTFLWoaYUwkUsWZfvcpw2GhfpYXCZmOz7_rZmHzDLEVtk26K_YtYXXs0VrYl5Q6mzzsW3bEWxDL8jx_V9fXpEqoppILJ4XDM82Ma3mQ4mFMjdCaTLNaRhLbd3W97AeNrWef95IBkPwZazA59UO58OrdB_qMtZJ77DKxJ_cypf~Yat8sZQP8b9O9iBHeWdmfaZUESZxolMr9PlvhSaxuF20q9w4OvH9hw4idOWFfK_OEJQ--.jpg
//media.inmobalia.com/imgV1/B8vEv5Xh_VThvnEqMx4G0ZxU_YC_pCgmETwWNQKyeMqLb9Afo_WSoi~kcK5mwaepLz96AHEmAzWJQblCNhundhnOIYTFLWoaYUwkUsWZe5~A0sF5QqsxDaiNUQbL6G9UNn314xj5zNjI1DMAMrUgZlcAoz8pDpHk2XDA7pu~6JrDFbKOZddEQ_MzWonulBbK24p9Cd2qsw23SddVXiDZjs0~27TurheBMfFzlMj3z~XFIMJT0wt8_mcpLE6_CV0YGeyjE0~V9M0TYme4rLIjmFz2sa9EAVlQUGHH3Z0iGlfCgyTSexWk8vqVP9khYxS5UXsGsA--.jpg
//media.inmobalia.com/imgV1/B8vEv5Xh_VThvnEqMx4G0ZxU_YC_pCgmETwWNQKyeMqLb9Afo_WSoi~kcK5mwaepLz96AHEmAzWJQblCNhundhnOIYTFLWoaYUwkUsWZe509GcOcbENi5NXC1A_8egpGY0f~CcD_eEjMYfY8OTYJ_pSNDH0mmIn4UFd33XH8mdZ8EZ0CrfzImvMnBZN2~euHY9eq_XHbBGLgHkqdlayEnuHOLULLT1EaUhmbBX9Lad7zUIwJ6oBvaUneoCsIG61Ekanf5GcLCKiho5hK4NAB9uXaJnB1Hspq9t_t3x3IHHM97a9wed12zJ3e1NMn7cA69n_fUA--.jpg
//media.inmobalia.com/imgV1/B8vEv5Xh_VThvnEqMx4G0ZxU_YC_pCgmETwWNQKyeMqLb9Afo_WSoi~kcK5mwaepLz96AHEmAzWJQblCNhundhnOIYTFLWoaYUwkUsWZLL9PtPhhK45Gb8K1UexXnajS2SJ0WnQStbcSTOvjuVssb2Pf2cltNhn68A6ZSGddXqUtK8F221jIYSqStMU1RmnvxVJ6CcOgDQRXQUVUgIdtgE63ziKe6T80cQW~bqiNTmhJML7kiUnTKqZvy7nzGEhKDYMtldootiTlmi6DhkbHLKSgJw4U_Ce_8hsfFHE9SbGdsnuvcnlN9X_JHtyy~bYhCpzYxw--.jpg
//media.inmobalia.com/imgV1/B8vEv5Xh_VThvnEqMx4G0ZxU_YC_pCgmETwWNQKyeMqLb9Afo_WSoi~kcK5mwaepLz96AHEmAzWJQblCNhundhnOIYTFLWoaYUwkUsWZdlqkJPoiyt1h30uJHwdvk7oFk6BfB7ZAK5AwW_GJBGa5JLpHMfSD3EVCN3KAHgfpb19URHB2srPz6jJMi4ea0D50E71D4HPVddG~z0Z8pgv~LMrusQnCGGMjNWHo7GdyBI3q4Ao7gPN5E9haDZv5cr3OCaCAEbmmT34wk6zp0qO_N~8kHMz0O621VVSjAiYDiZ0~MEPyXOJQu33I1cwDWeGG6~T9sQ--.jpg
//media.inmobalia.com/imgV1/B8vEv5Xh_VThvnEqMx4G0ZxU_YC_pCgmETwWNQKyeMqLb9Afo_WSoi~kcK5mwaepLz96AHEmAzWJQblCNhundhnOIYTFLWoaYUwkUsWZebJ8KLqwgkHl9_zDtQUyXIDHk4VRqOTRfZ5cOg5PtdiJUp28DgA61KScpGWTGEoKCa5lljvE5AR5ez7myrAgpjRnNEQJwvLGGvvB0P8lj5XUKBpKYv9O2zSfbdOWID1zEnGU3Q0iz6isPyMFBBp2MqSdE64FMTFvcbmtzqH9utzFMFbxMqIF~uV8oIQxB7ZMYzvHFKiPE0ktE7c9VDjslGpv7A3cIA--.jpg
//media.inmobalia.com/imgV1/B8vEv5Xh_VThvnEqMx4G0ZxU_YC_pCgmETwWNQKyeMqLb9Afo_WSoi~kcK5mwaepLz96AHEmAzWJQblCNhundhnOIYTFLWoaYUwkUsWZLO7G9q2DWe~t_rpbewlcTtYKDgdFm4cY8ErGPEptE0AO8s5BCQUk7LtrpZUlLeF9idUYMVdPfacvxL_XvktFmiP1E7c0RtE~V97i4qQQo~Tcv3x3opWltlwJc~3EqOwrFyYUjvlSpNtkmLwnsZKUXH6wDW_jxZeLaYwDrw2ioL2RVXB6__K7yuhNaP~ulqST4DSJmEHP2KgP8K~47NyVpnbEFtAnbQ--.jpg
//media.inmobalia.com/imgV1/B8vEv5Xh_VThvnEqMx4G0ZxU_YC_pCgmETwWNQKyeMqLb9Afo_WSoi~kcK5mwaepLz96AHEmAzWJQblCNhundhnOIYTFLWoaYUwkUsWZLUEaDbMPDIOnvAdOYRz8G~GEUPnbtthuS19h3SmoJNoq_FG4wBVILiQu1kaHrZ0BdluG3p4X9jy7OZCzvVaGMqClXK2WSvNDcAZ7Lv31C_0E3BWjqRsYlyxx17cowAG_1YS_I7b7go1odHNztyW9y~5FU2NQK~aQKl1_t0SVQASalepUdazYg0JRO0NKAoA2WUagOHNIQwOMFAafMrfgu57qYEMxEQ--.jpg
Capanes Sur, Benahavis
Villa
2.990.000 €
Elegant modern design villa in Capanes Sur, Benahavis
Modern style villa located in Capanes Sur, near La Alqueria, Benahavis, an area very close to golf courses, international schools and all kinds of services just a few minutes away.
The villa has access to Puerto Banus, San Pedro Alcantara and Benahavis in a short distance, as well as to numerous shopping centres located next to the road that runs along the coast, equipped with all kinds of services.
The property is implanted on a plot of 1.460 square meters with a built area of 575 square meters distributed in two floors and basement.
The villa is designed internally with open spaces, large terraces, first quality fully equipped kitchen, large master bedroom en-suite, three guest bedrooms also en-suite, gym, games room, garage with capacity for 2 cars, laundry and BBQ area.
A magnificent property in an excellent location.
REFERENCE

208-01479P

bedrooms

4

bathrooms

4
built

575m²

plot

1.460m²
Video of Benahavis Area
similar properties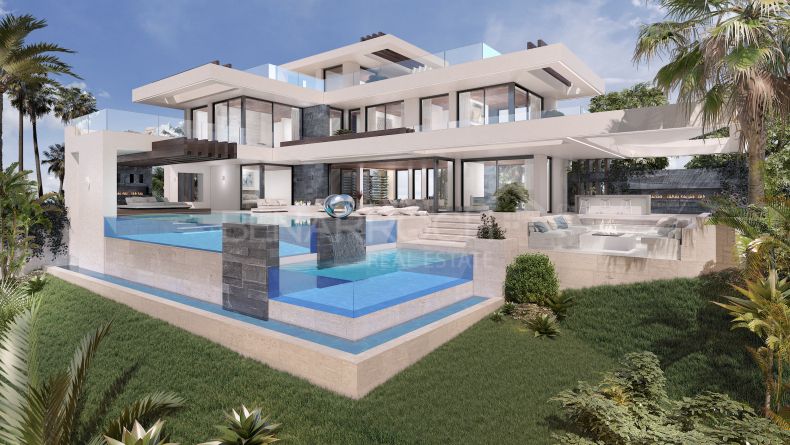 1.590.000 €
Villa of impressive architecture of contemporary style, located in La Alqueria, in the municipality of Benahavis, in the northern ...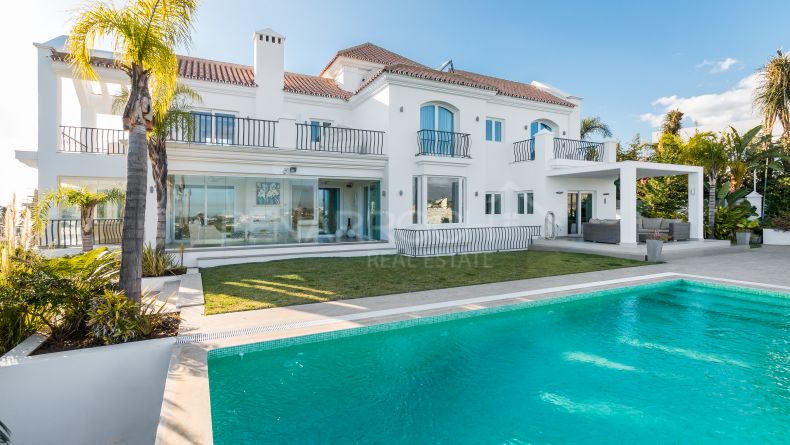 2.475.000 €
Elegant villa situated in Los Flamingos Golf urbanization in Benahavis, with views to the golf and the sea, in a complex with ...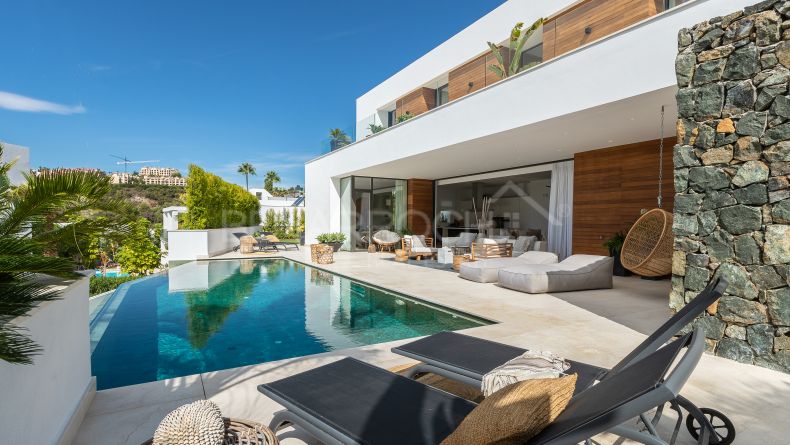 3.195.000 €
Modern design villa located in El Herrojo, within the complex La Quinta Golf and Country Club in Benahavis, a few minutes from ...