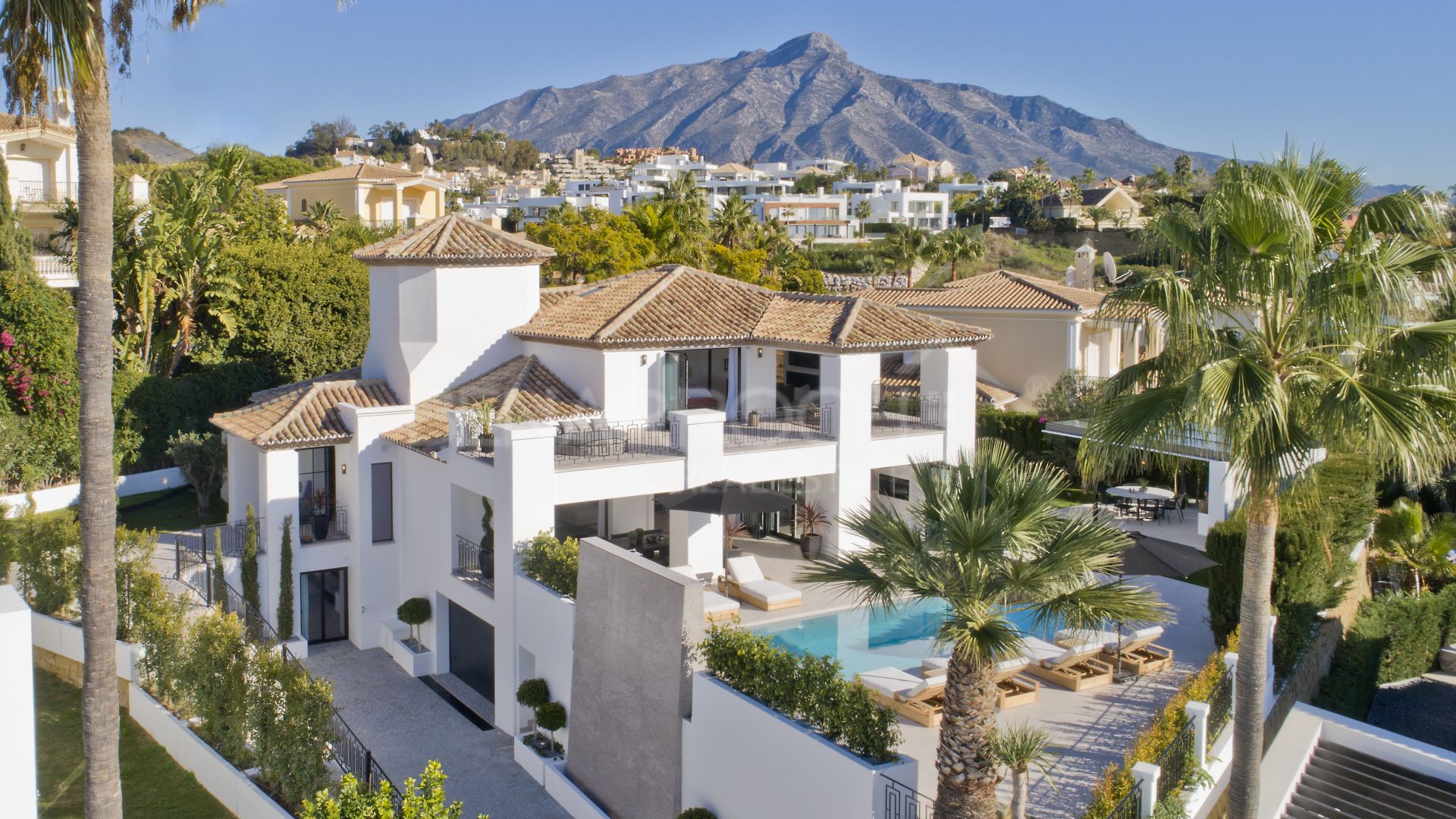 //media.inmobalia.com/imgV1/B8vEv5Xh_VThvnEqMx4G0ZxU_YC_pCgmETwWNQKyeMqLb9Afo_WSoi~kcK5mwaepLz96AHEmAzWJQblCNhundhnOIYTFLWoaYUwlowii3zHFNMC0twuEBb8YLyHIrC_7Te1vBvuaYtlH5xzneQ84d49yynRWEKXilb5BVAqGI9yYlNJi2_8eTx297Vk5Vb2RWPAE_pnr2bu_mIuIUOeTMzGp1~2mtS1BO9ZMA3bBZDOZA0Kwku8k8QtSF_QbWSDyablkRTriA4KxSmvdfsL8zo5rjMp3Tx1FNuXF0Hj_9Jzza~43C7DDY6Sj2sQTWhZBW8Yebg--.jpg
//media.inmobalia.com/imgV1/B8vEv5Xh_VThvnEqMx4G0ZxU_YC_pCgmETwWNQKyeMqLb9Afo_WSoi~kcK5mwaepLz96AHEmAzWJQblCNhundhnOIYTFLWoaYUwlowiijjXeJJb0o_5GGSJ5Z_OWO1BmIxh0cUzEVdP01vEW3w8qucQZbb4Qb8UH218MC8xJxq8rgZQrpGVw0u6WIomq3~cUb44~FsgpyyjIpsfa6gSnpudLEJyjiAfWYN7FeQOaGz53fWWFZ~40m~gu_0zNRPgEwSTwUtfXuWgF6fJzkb9qxnhbqvHXrF~3He5VFO6T7DISsORPAkbohq0HC9mvEv15aEI2bA--.jpg
//media.inmobalia.com/imgV1/B8vEv5Xh_VThvnEqMx4G0ZxU_YC_pCgmETwWNQKyeMqLb9Afo_WSoi~kcK5mwaepLz96AHEmAzWJQblCNhundhnOIYTFLWoaYUwlowiijma5V3Is37IFHzwsAOsaFx7X4r7OccaJVJ61hjOA551p~24s96Cnj7GEHNW_JUjHGerhj~MXCzxX6f92gku0KXZm4HeYkGiVgYIlmlt3dTe1VPAZYzgCeLpyFXNSKPYyX3ykVPYJn~486x4VTTHMREq_0kx8fvqcwqTrb26ND2U2rWuBs0EgpQDZXo0MQ_FZo9BOmxpYjPGt7GBbUiddTsohB4shww--.jpg
//media.inmobalia.com/imgV1/B8vEv5Xh_VThvnEqMx4G0ZxU_YC_pCgmETwWNQKyeMqLb9Afo_WSoi~kcK5mwaepLz96AHEmAzWJQblCNhundhnOIYTFLWoaYUwlowii2EfYImsS760rHEa6zySJGCxQZWiarRU4v7Mzzi7KyObaimYxLMCS_eNBQ2I_mMFVG80kTwcoNRPtE6m3_6XIE3vodu_Lqz4~ia__s1ARLNxtZtcKYJzZFFdAKzsT3Ov~DtM6GCHK6BFPVlvTWXirAS6WjglRcCgksE7YouKsrHPLvGiGfAHeu7u3x6cuYa6T0edT89qYYVXPhHJbIHCG38EY__enMA--.jpg
//media.inmobalia.com/imgV1/B8vEv5Xh_VThvnEqMx4G0ZxU_YC_pCgmETwWNQKyeMqLb9Afo_WSoi~kcK5mwaepLz96AHEmAzWJQblCNhundhnOIYTFLWoaYUwlowii32TARFTOv8Hi9ZWMzamKpVC47Dx4HCyIlUhD1wUqclK_cgAkGushtNK7nUct78Q3zGOoqiq68D~CQCeFtOJeRAV2gE3GiSQUqO6gveaiyUPezNvdo5iitgUhdJ~i4cUyPel8S5lsoVrr~qOznnq2NC7wUu3PFdm9U9DolqTVQNZ8CfoHDSLTw2VjAMVhkWVaeA1nhxSSNpiKgiMPgeY3URzUZFkdfA--.jpg
//media.inmobalia.com/imgV1/B8vEv5Xh_VThvnEqMx4G0ZxU_YC_pCgmETwWNQKyeMqLb9Afo_WSoi~kcK5mwaepLz96AHEmAzWJQblCNhundhnOIYTFLWoaYUwlowiigEJdRD3fAyKcJjMQauHFqPVNjd0DhIuPVDgNNIOsqRgcvj00Dz8ks91eZyutQ9r50A4N35VO~24GY8zryWD4qoNMZAZxmep5Eom88XwS4vxaOGmHNdEOF2ObxwBHXfnC2f0uUI_NHx62Ck22pNjl3WYjduULvMuJ6UCMmkp6uCJsN0opdzLksTGR_GjuL3k_oTcG5FhCjvYrInxsEzfdAlUQrmgIhA--.jpg
//media.inmobalia.com/imgV1/B8vEv5Xh_VThvnEqMx4G0ZxU_YC_pCgmETwWNQKyeMqLb9Afo_WSoi~kcK5mwaepLz96AHEmAzWJQblCNhundhnOIYTFLWoaYUwlowiijbZxznQZCCXrlH_6OTwfyZDo2VbIczB0Om5SCtV~8kIv5psZiFrosWzbnYMCCFsLdw4JI5W0MZpvkF8KskZZsnleG~zIcm4AfFZSBAIZiMOPquahUTUICAVTKVS1t2kcMEeDVTxc2XvL5jSvfr4UEIfvkH4THzq2mgY1RcTsnEtN8D56ydO~kzuYV56ybdbpWzzHreCk_H3rDQYi_VdXRl0FK5COUg--.jpg
//media.inmobalia.com/imgV1/B8vEv5Xh_VThvnEqMx4G0ZxU_YC_pCgmETwWNQKyeMqLb9Afo_WSoi~kcK5mwaepLz96AHEmAzWJQblCNhundhnOIYTFLWoaYUwlowii24fgZHVtmuG41SQamYCPuqAEfzYXICMns_7ZUA5e4JwZM9MBpVMGiO6EmnpNZV8d2_eC0wUsl~Pdnl_QHEo5I452~aSgy_dX9ObaF892WGDj5njzR4wdQeBcpEXIH462nNfE47ZtjW26TjQTA622oLya8VrQtRHQ1rVNr6E6Bcdm1fm_Tkx88Q6B5g15t5PcTWQHhqGXKoQKPbO7LC~2P4fhtmuwcg--.jpg
//media.inmobalia.com/imgV1/B8vEv5Xh_VThvnEqMx4G0ZxU_YC_pCgmETwWNQKyeMqLb9Afo_WSoi~kcK5mwaepLz96AHEmAzWJQblCNhundhnOIYTFLWoaYUwlowiigX4AHFGMhS56~kF~BhEGhZeNGC96WE0U1HLLiIggaiERChOuJHSz8HsBslYaK05e2rcy8s4HqN_0hPY9y5yA5R7Y9dbn4wwdpts0q2GbojF6Gs4BIpTxV_dW0_~X7W9XhEWkILSpq4fSufZvre_U4bvUjO5IMkDTDTg29kTaLcUKb3m30UJxHG9HSRt0jg6dt3K0K71inn4xaPUDzD9rgaFfpe7zYQ--.jpg
//media.inmobalia.com/imgV1/B8vEv5Xh_VThvnEqMx4G0ZxU_YC_pCgmETwWNQKyeMqLb9Afo_WSoi~kcK5mwaepLz96AHEmAzWJQblCNhundhnOIYTFLWoaYUwlowiijeV9tJzbHA9krNBI7D6F6twMuNNE8YKmNybkYAE70Y0yAITGAyMqcMFr_mwr5P4~BFkCFCy4Tkchsdxs4UiansC6i5m7KqAT3uDoYjusgcRPv~QnP~01kNVTEhFgn6vfSBuI18X8itQYwMjF~KvYlCZGW0mr3c1PdkDRD2Jmhu7fLLK3MBHp6vulFm2GDkuymRAB~KiQr8IVZgzaTbC7G0Fy~DAMGA--.jpg
//media.inmobalia.com/imgV1/B8vEv5Xh_VThvnEqMx4G0ZxU_YC_pCgmETwWNQKyeMqLb9Afo_WSoi~kcK5mwaepLz96AHEmAzWJQblCNhundhnOIYTFLWoaYUwlowii3R~iKp7ZhaxpJY9Pq62rbwENr2ENq~NV~EqJilVxTpscFagdffCC05EUfUAPJ5Kn1pglEXbCF5kREt0gdZ62_Wwf6RNo_lbhC3k~MxIUjESW9_gFZW2J9Ny9Kyy4mKJR6y_mN5JxcRxgF~Ruphe72bspHcZ3Oy20Zp8hztrQPQfgibI_C7qsJ4ej2HQMFB7TdM4cuEDHLjEqLnnKidMH2sZpoq54eg--.jpg
//media.inmobalia.com/imgV1/B8vEv5Xh_VThvnEqMx4G0ZxU_YC_pCgmETwWNQKyeMqLb9Afo_WSoi~kcK5mwaepLz96AHEmAzWJQblCNhundhnOIYTFLWoaYUwlowiij5xRuHDCXS2qW1fO19d9kc8lbhhRTnrajzYr~TaNocxIpVcKOuKu~vVXNOH13i7Pon7orkK0dNLp~AgDAdLS7oPVh0uCG~ZyueBXlgWrueaJQbwR0RBnN7HvuuUALxDtzvoDsZQTtDsFbW2QE3LCPQb9Uf~K54Qc8XcO6nzHWXPB31O9~VUzQihhje~G867WX9jq0L8qQqKrla92wTZNqUJ13VWOMQ--.jpg
//media.inmobalia.com/imgV1/B8vEv5Xh_VThvnEqMx4G0ZxU_YC_pCgmETwWNQKyeMqLb9Afo_WSoi~kcK5mwaepLz96AHEmAzWJQblCNhundhnOIYTFLWoaYUwlowii3RvV9OtdNdT7XGFIL2uKQnUBtjRSecmKvqm9nTjekgCThzoNlc1o_KDJTmfq5jJ5FcLr6YlDQs7gC4GUjc1J18mE~2WCTl4riXpG2tPrYAaI6K1diSOr3JKzryINZRsT80D~HptKLoO9LXbEWv~1NfbfaHeTiEjyaNEwyWDbDgKhR2_D7yz9AN~4KwsgPl6UF66UWX6DYcaB5yoKYimpFehD6CQciQ--.jpg
//media.inmobalia.com/imgV1/B8vEv5Xh_VThvnEqMx4G0ZxU_YC_pCgmETwWNQKyeMqLb9Afo_WSoi~kcK5mwaepLz96AHEmAzWJQblCNhundhnOIYTFLWoaYUwlowiiioFfIDEATDiNYTgeRHXx04E27Lg09VgAmkuTp7oh8OiXbKbHwqnhFl~KfJGwpvAvkGoTTaP7tcZL_dTHGHq84hy1Duyxfx0Ztmul9CNCFzGmWo1ceKuh9Xn_10Wcio2k3b242CUdZzdQzQ8OWxna502OJHyHbj15EK6knDkBPu2UHDgvZavj1PsI5SxFsSndwwsG59aRwZH_JUA69_~wNTNq1EBihw--.jpg
//media.inmobalia.com/imgV1/B8vEv5Xh_VThvnEqMx4G0ZxU_YC_pCgmETwWNQKyeMqLb9Afo_WSoi~kcK5mwaepLz96AHEmAzWJQblCNhundhnOIYTFLWoaYUwlowiigXFPxaVAKdeAOOzPUA9OZD~bw7fDjnJFOILw5RaEpPHmm4nvOQydJ1wz94cx~3hx_waoQHhfgeCxBOCryNFgwJrxbWmtDBTg12BZXqggQT86wYQyLDd28S186WAF368WcQD6wgvJhLORihSq8IxjKSHQqAVc50YAsBcvQpp4KItrD3koIcVWj85imxWmXqonZ9MiENm2FgSf4HtcZPjivL5Ejph3CA--.jpg
//media.inmobalia.com/imgV1/B8vEv5Xh_VThvnEqMx4G0ZxU_YC_pCgmETwWNQKyeMqLb9Afo_WSoi~kcK5mwaepLz96AHEmAzWJQblCNhundhnOIYTFLWoaYUwlowiijmGqMAA1F3n007_yEWTEZD3SMdGdN_CHb7nb3WgXc822ZVaQKtYIMh03hV5EiHC8u6K2jOdeTz2R1BID8XZTs3n7wX4P~N4eOOeHy698~LNhkz9Sx5ejGTbirOTwVFlTwYiGRTlOwMZZD_c_BTC98rrYuqV2wWShCAEXo6qMybP6fGqeyWc39BMO7cGXB3cbFX4xPvGcdimcSsBzagTsgWS8P8ZLEg--.jpg
//media.inmobalia.com/imgV1/B8vEv5Xh_VThvnEqMx4G0ZxU_YC_pCgmETwWNQKyeMqLb9Afo_WSoi~kcK5mwaepLz96AHEmAzWJQblCNhundhnOIYTFLWoaYUwlowiigBBZlYJR~bgIzhyxGymWN9SaEjt5qzfjwhyTUI5R0zmP4FcNloDDU_5A32SIPUbdeathjWeyxOIwRgohWjqSxdWtZMuPknQu6Or9HkwDY1gy3exGVBVcxc8~mwAfmFWTHTEEh4~Np7sNPyMJp4j2cp0xoNs30B7HTeRKxVsDwcvCTQgW34l49j2UotPYc2uL_TxVinB9wuUeiOTtOrNeGVl_hCCGqw--.jpg
//media.inmobalia.com/imgV1/B8vEv5Xh_VThvnEqMx4G0ZxU_YC_pCgmETwWNQKyeMqLb9Afo_WSoi~kcK5mwaepLz96AHEmAzWJQblCNhundhnOIYTFLWoaYUwlowii3UiCuUQgD9hB9mu5jEhHiiiwNy5x8WcAwAjLmpaR~S2UF2XWNCE0FlBYbzfUuDcQc96ERgF353_ztZyNM6m3oB~qjGNGtETh7NUFesOKQYjgIABhv~9AAzdYg_MgIyKImA5gS3lj~t2OojjXU1nN71DMrRvNQNLoaLXbsNJQvzPKU_X6Xb9hipxpQXaIlWjT9ztAw3jvrfejH4XoB0lAm6GSN5p5xg--.jpg
//media.inmobalia.com/imgV1/B8vEv5Xh_VThvnEqMx4G0ZxU_YC_pCgmETwWNQKyeMqLb9Afo_WSoi~kcK5mwaepLz96AHEmAzWJQblCNhundhnOIYTFLWoaYUwlowiii~bWTCPm5i080RLF1wFanj9UoK7fKFvByZgU_t9CpFcHXkS3GEuO79e6moXKFIA3Oxiw5HCxZZt2Vbxy8gb6OSVClv7EwqqkqtLN86lwEiBx5UXJE1HCFZVdS3zTSEA7l8JghoN_zXsU_wnSWOQQVPTKwzNUV9J8HCnWi3Ozj4uh5mxLRD3nkWgqqZiXK~JKAJrx1~NcCJmcm_5qP9_1RsUOjr8xYQ--.jpg
//media.inmobalia.com/imgV1/B8vEv5Xh_VThvnEqMx4G0ZxU_YC_pCgmETwWNQKyeMqLb9Afo_WSoi~kcK5mwaepLz96AHEmAzWJQblCNhundhnOIYTFLWoaYUwlowiij5i_xqnkRvLvd_70zMI7PYevcacIlSDnop1RY3zQu6ZejyavI52ZaHepocllNW4XV6HY8oVS2B9yvR4jI3il~gPcBg379UyNDUid4Hq8yGOXfDOclDuTXse1PElL4aMJt~pYVeyB0Nvj2Ltk2BRlyCt8tdb~pBHj59wwh1GUBNtGDWcNbU7dmtQm1_0ZMd9xnVZkOXldf3eTTsYxGrvwqjilTQ1t2Q--.jpg
//media.inmobalia.com/imgV1/B8vEv5Xh_VThvnEqMx4G0ZxU_YC_pCgmETwWNQKyeMqLb9Afo_WSoi~kcK5mwaepLz96AHEmAzWJQblCNhundhnOIYTFLWoaYUwlowii3znIQd783vhf_pMHm9jczIrj1Hcbnq5xKgKIUcgXjOcQqyW1a0gW6RwmNZkFNeuDjPT43YUVYPvtM64McE4OWhzaSJUSWnIDjYifFMivLaBU78Q1Ndfs~xe6ku9SmkPRtaDH0NVg5Ct_l4L4buzKSMawPqCaHp5SXFzYThwKpLQWX7Tnln1mw4mpu4XE7YcbL7LDn9aaXS1Tmtv95TgnDdNjwdHFAw--.jpg
//media.inmobalia.com/imgV1/B8vEv5Xh_VThvnEqMx4G0ZxU_YC_pCgmETwWNQKyeMqLb9Afo_WSoi~kcK5mwaepLz96AHEmAzWJQblCNhundhnOIYTFLWoaYUwlowiijmO6rjzWQpPHH1ZXPuhwCruohMdt2ILXvlK0qd_zWVy1_HuLX8gnrGOgDqRg_TYgwYz0s0kcqlneKudY~DswjojYCvBczXzyP_4xNe6fvYpCCKtPwu2AxCxt08bQoQbJOuc7oSx3bv~~UJUxJMf2EH1p7XGYBMJVkNbcertesxYHYWowN9ykFaV3F8hUhtM6nyPsSwtVgsOQCKM1TiOBwV9Ra1DVaQ--.jpg
//media.inmobalia.com/imgV1/B8vEv5Xh_VThvnEqMx4G0ZxU_YC_pCgmETwWNQKyeMqLb9Afo_WSoi~kcK5mwaepLz96AHEmAzWJQblCNhundhnOIYTFLWoaYUwlowiijMFjwbQgOkR57whNEu4WVSxjvNQQTn6A9Wg33T5t~4Xbb5tus2jYHbMizQGHK~~hJnpYBY5c_7OfT9DKjY8pht3klyJl9v_7obxuZvpksHQG6ed7TK_4ETw1zHp3OStXuQsbpHrTAVLqwH68NyeuvIt_rolBKkPkarTNEoyjKcPJyZXdy5rJzHfQ2bN36utnBlGnLE3TFQxC798CA1koayyguVHRvA--.jpg
//media.inmobalia.com/imgV1/B8vEv5Xh_VThvnEqMx4G0ZxU_YC_pCgmETwWNQKyeMqLb9Afo_WSoi~kcK5mwaepLz96AHEmAzWJQblCNhundhnOIYTFLWoaYUwlowii3OYrAR7JHYAvnBzYwAgGES7OhHGXOFUmj3FCSHllaXslzmT8kq~MoZWQqK3Et15kPDsOO9b0chAVffsJLWDoij0pABJyEwJ5GvWUOtcMKso9qM_PVKGF3S_EtzpIb5sATbSydwg0tf4r0wPCcrquPOZRYs004Xngpm7NYY6hCXOqvVEqEjJTX6Iho99tdvChHojqAG8BviUXe_h11I8Z7pvqG4n8XQ--.jpg
//media.inmobalia.com/imgV1/B8vEv5Xh_VThvnEqMx4G0ZxU_YC_pCgmETwWNQKyeMqLb9Afo_WSoi~kcK5mwaepLz96AHEmAzWJQblCNhundhnOIYTFLWoaYUwlowii2vv1q3i8osoKqsNcHa~mXDIre~dm4crizLk0QJmPOb7GbhTzPVVJRdMNTcTSQnCGlBdjsnF373BPXYJj8_s~vaoEqU~2mecbpsSSsEIrh1bB0Lmi~Tnue~5uDounT_YfZiZOd8M4sw8Wrl4GiQENQCA8KnUMvOrglwLi3kNJKZ7TCzOZyzd_4DELfTxaKVd8UtEwozJ9pxnf_lZzjgGvZhAZMnWKRw--.jpg
//media.inmobalia.com/imgV1/B8vEv5Xh_VThvnEqMx4G0ZxU_YC_pCgmETwWNQKyeMqLb9Afo_WSoi~kcK5mwaepLz96AHEmAzWJQblCNhundhnOIYTFLWoaYUwlowii3LZBBel92mPiE8tDpowCQ6KU2y~pbgQcQXrW44zRUICwK28TZ_LnnKj1JRw5L7qxZRG~YUwYb1eFw5YNq1Z8xMLmKpaWrzNx3~n7SBGh0G3kA5t_f_BFK5mO1iSiwqF~hRYqKyU8bOvGgO2ZX1X7oDdP~Gaci0mRuN13Z~YpuV9tPxlbo8GQaTMzbK8HGMRB_ioB_qhhAoaGk~TIi0xz1FPeZ5bBaw--.jpg
//media.inmobalia.com/imgV1/B8vEv5Xh_VThvnEqMx4G0ZxU_YC_pCgmETwWNQKyeMqLb9Afo_WSoi~kcK5mwaepLz96AHEmAzWJQblCNhundhnOIYTFLWoaYUwlowiiiBaVQrnBDjxYRmUW7xkvttXjMBOg6n9b4bmr36nfEQUCmPQb7iiMRx7VURPPPLy0eG39ymq4g1szdoDHYP~DPoYZA4~c2ZyrSG0EXnFs7yRyOLeGzxv0XGBgs3vjFtcGHdRJvwsDwlSAq14zHOY6esaybw0eIWt0ERTjls46Shb86RNAykrbbe3mXnxxPKbKOtbp1g1Yz7S0pIXbIoZx~TzSaQDQSA--.jpg
//media.inmobalia.com/imgV1/B8vEv5Xh_VThvnEqMx4G0ZxU_YC_pCgmETwWNQKyeMqLb9Afo_WSoi~kcK5mwaepLz96AHEmAzWJQblCNhundhnOIYTFLWoaYUwlowiiioSn3oq0iA_YZ5lM136nPm479vTPERsKtTDNOpj~6sy8_P57Iz0e5puzzZajjkUcZbeeQhqHKMx9QVkyL9Q6zLMvNdHDPk_oj8gCWv2P6BKqHWYsEvPDkSYdl995znvlPSEWUxkZNmu4jDQBYwXv9CV29G8wGabysIoiKefKaSnfvwiF65u8kNcjOKauiPKuMc3AmxZA4MBuHstLOy~_5mhg6iDFbw--.jpg
//media.inmobalia.com/imgV1/B8vEv5Xh_VThvnEqMx4G0ZxU_YC_pCgmETwWNQKyeMqLb9Afo_WSoi~kcK5mwaepLz96AHEmAzWJQblCNhundhnOIYTFLWoaYUwlowiigX4OSeGhoaR~m5tQ_jOcngXP_J2eU~CoWBAOqrL1ecXB6fxrMYPi5djbfEnHoTW4P81QLe6~o0r5aD~dtNcP8W6aDH9zd4tHKbMSs8IACDmsxzqVFN0TVZ9snR3~MInJjm8fte_CiT30l4FI1o1F0KARXSr5_MSudEwz1sVRMkXbysiPwolT1kZ5wX7JgX1ZB9NjpRosQjBvcR5xBcs3ODiiJGMeyQ--.jpg
//media.inmobalia.com/imgV1/B8vEv5Xh_VThvnEqMx4G0ZxU_YC_pCgmETwWNQKyeMqLb9Afo_WSoi~kcK5mwaepLz96AHEmAzWJQblCNhundhnOIYTFLWoaYUwlowii3ROEhuAVYeDDn2fATAjmDBkW7kCzSSnxObW9dKdZHmzAy8zuGgP9pd5NS0xXPBqxFTggCpWBzE3liEZshjOJNJtm4wupwoDbpCSs2XTsHuJWoJCtPPHHRjuU~PyEMKpC4zLHA3jKlrU4B2J5Gs9~hcD4FwRVd0PVScys9jdcIUN~pKtVYhdOnZmdaMtMlDvdswGoPZ0n2wRO0ImW2NQVpHDZg5kTOg--.jpg
//media.inmobalia.com/imgV1/B8vEv5Xh_VThvnEqMx4G0ZxU_YC_pCgmETwWNQKyeMqLb9Afo_WSoi~kcK5mwaepLz96AHEmAzWJQblCNhundhnOIYTFLWoaYUwlowiij8xGfBxqWVN5lT46DAWq5jdt895t1AmVspZCryURyjI1w93Ge3mJ8qjCAYA3IwpArrt8Po1YUKboMLf34OvdGrOnUZK9v6D5qc_A_ChTGJBnk~jqKgEkc8szsigm4Bevsm5o0eKN2yOoZJwCU7cJ7f82w273SHsPFZpOwi5FyFnrefxV0j0QNxAiQwIhXgQZ_KyMP2GZ~HzavFkNKA5Fs6N5pDDhCQ--.jpg
//media.inmobalia.com/imgV1/B8vEv5Xh_VThvnEqMx4G0ZxU_YC_pCgmETwWNQKyeMqLb9Afo_WSoi~kcK5mwaepLz96AHEmAzWJQblCNhundhnOIYTFLWoaYUwlowiijjBG8wMGaFYx4t4NZSofI6kmmxUug0JU2MUe0G9sJvVucdnLz42oZK2wmc9tRtok5d0yQB0lsy_4boud6Blsi~qNntXiIcqDPAuRFKILNCeVYimjX6t4TsK_rPtiGNzdc1CbgWHebpIIUOs73K0ffXHRMxoju5cBTpWfJJxyY5pc1ZEns0p~OAxRSiP4klY7w6flZd7r3oDVAtt1uGSVWJbR~eqp0Q--.jpg
//media.inmobalia.com/imgV1/B8vEv5Xh_VThvnEqMx4G0ZxU_YC_pCgmETwWNQKyeMqLb9Afo_WSoi~kcK5mwaepLz96AHEmAzWJQblCNhundhnOIYTFLWoaYUwlowiii6TGNPmTas_84GmjNUH0r~AE_gtx4H6Lq~UWFFta3q8D4Am7TcRk2Ccmvz6xYcFlbyQ2GSnao5HVn9JI9z6PptNp4PhW4gsJMzM~SWSy8Eo_QWMvu7O7qrlQEqv3jQlowMR556GGY8hS2aaI9XZJmouA8EeFZGmIBsAfJbnLR9qCkdcpl8_TC1DXm3V5m0aRGGg1Dj9fPsIjx~FLffXGrssY3CsRZw--.jpg
//media.inmobalia.com/imgV1/B8vEv5Xh_VThvnEqMx4G0ZxU_YC_pCgmETwWNQKyeMqLb9Afo_WSoi~kcK5mwaepLz96AHEmAzWJQblCNhundhnOIYTFLWoaYUwlowii32MsJPQuYGAIL3~~SKSZWvXhUSuYdA9iUaw1bzGGlNlP3hPT~4JsxRh_gSkpbOwGlUt4b8vNQmqThUcOPwiL0CYBCwtmp~o1P1jvvxVsG_7t3rIPVc5_FEJB88J3EnkIH8Bruvo02zAZI9Dq2VMNktroiOcm8UrkcPC~RuIPy6qn~6Q3602TiG4n00Yqy8gRzruPbNbnI~hJ4QTTr7KFBMnzv5zkuA--.jpg
//media.inmobalia.com/imgV1/B8vEv5Xh_VThvnEqMx4G0ZxU_YC_pCgmETwWNQKyeMqLb9Afo_WSoi~kcK5mwaepLz96AHEmAzWJQblCNhundhnOIYTFLWoaYUwlowiigS64eQhaR_58OuxGdrdJWqYVqug0tiLfQxGVZBjHTc6xUinqQRJGXjDKj1TBX1LuHlogTOLDkXYrwdU0pZaHPWYLkQY1a2hX3CmTSHtys5sqMHMBjbmnDMvGohwM8Uq4VAVtRNdGdCcxhAAAjbPNTqoGNvu4Z8IzYOZq2gL4iRJuCRkO_r8_~HlOm1Fj9XVcWtB4qQaUHJ703PyStYY67DcW7ojFlg--.jpg
//media.inmobalia.com/imgV1/B8vEv5Xh_VThvnEqMx4G0ZxU_YC_pCgmETwWNQKyeMqLb9Afo_WSoi~kcK5mwaepLz96AHEmAzWJQblCNhundhnOIYTFLWoaYUwlowiii~FKvEx1VmfQKqpSMzTNiT_CE1ecY0sjPMh7YPQ8JSCRAcNOYgvJz6mrsl_H3uVVI1e0~bahef67p~R12Yvpaka5z8E9gWwVvljeZDLcgkf~YSj6dQvrNVKIuEcVwk4UCfg3zMUJGX2N_LP__FsjBthwJ2BH3s3hl6SL2QKzdMAoS_KD6qXT5lQ2a9enKGQru4DLGodCgBhnvSv_MJJVstYR~MiXHw--.jpg
//media.inmobalia.com/imgV1/B8vEv5Xh_VThvnEqMx4G0ZxU_YC_pCgmETwWNQKyeMqLb9Afo_WSoi~kcK5mwaepLz96AHEmAzWJQblCNhundhnOIYTFLWoaYUwlowiijmGrBt60~cSAOu3SUuN~bZtMlO_nSeMTYWi~EQovk3zAlLWQvoFJx6dP6Lvwpf6qoPsTinhVQdH6oIM8J14J8zqFYKMrcoZdbNZcXBUc5rvreFjstzuoCqduJnl3XkP326GEAIROZO~NpDSHt8DQxUTBtnhPqPGXLrM_aWnHitFBRI4AsHVotTo9Bm9lMcAP011OBvWh1rJPyTBCQ1tzeURrJoLlvg--.jpg
Los Naranjos, Nueva Andalucia
Villa
3.995.000 €
Recently renovated villa in Los Naranjos, Nueva Andalucia
Classic Andalusian style villa with modern finishes located in Los Naranjos, Nueva Andalucia just minutes from Puerto Banus and all services.
The villa is located on a plot of 1.084 square meters and has a built area of 520 square meters distributed over two floors and a basement.
On the main floor there is an entrance hall with double height ceilings, large living room, dining room, two guest bedrooms en-suite, fully equipped kitchen connected to a gazebo consisting of dining room and outdoor kitchen.
The upper floor has been totally dedicated to the main bedroom, en-suite, with dressing room and living room.
The basement is composed of a cinema room, gymnasium, bar, bodega, games and relax room, two bedrooms en-suite and garage.
The property has been redesigned using top quality materials and top brands in an elevated location that provides magnificent views of the golf course and the sea.
REFERENCE

208-01467P

bedrooms

5

bathrooms

5
built

520m²

plot

1.084m²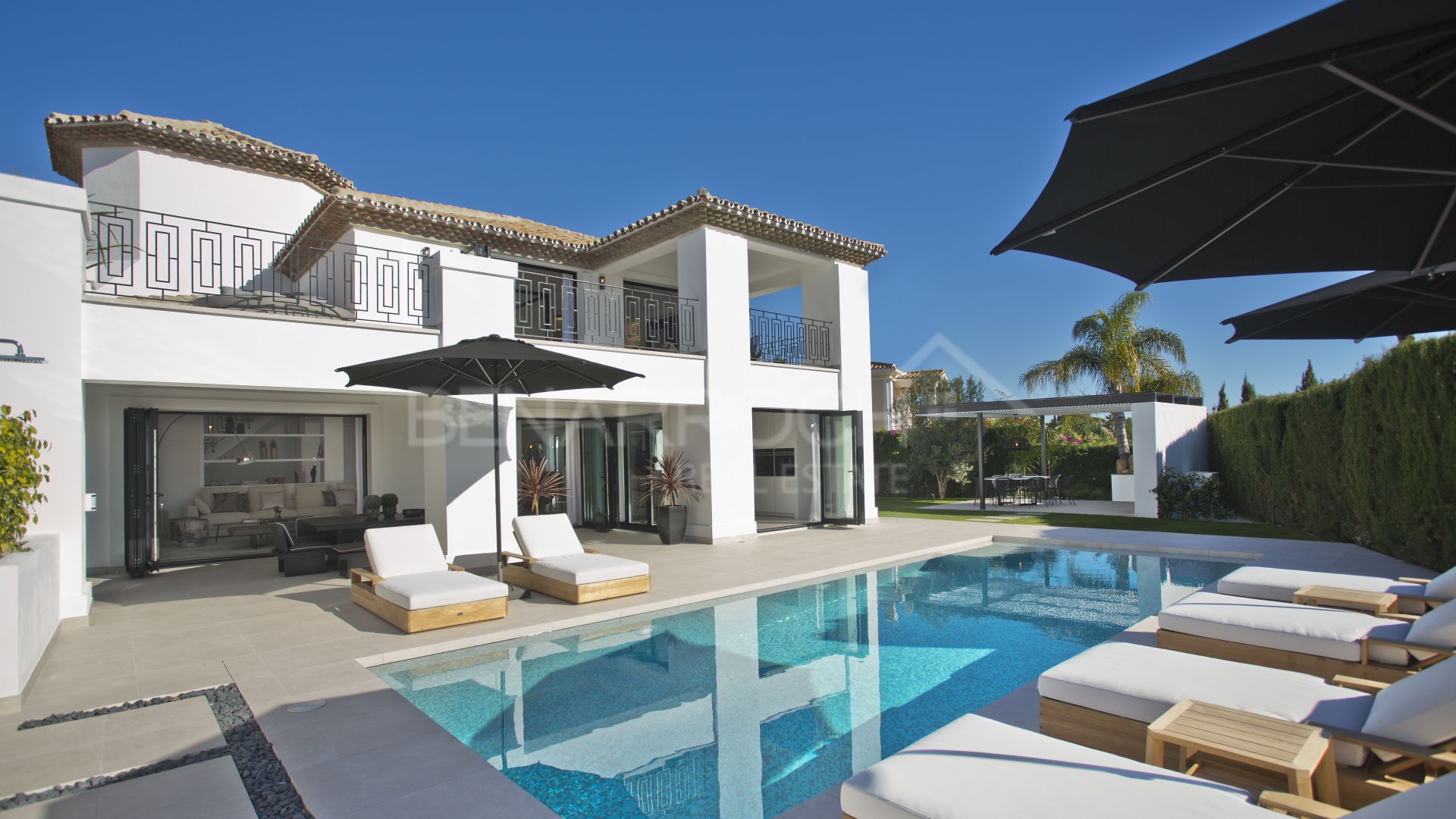 Video of Nueva Andalucia Area
similar properties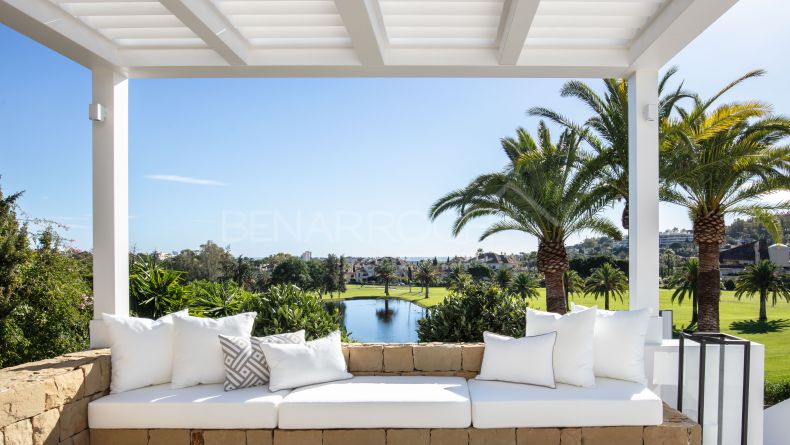 SOLD
Spectacular frontline golf villa in La Cerquilla, Nueva Andalucia, a very quiet and private area with five golf courses just ...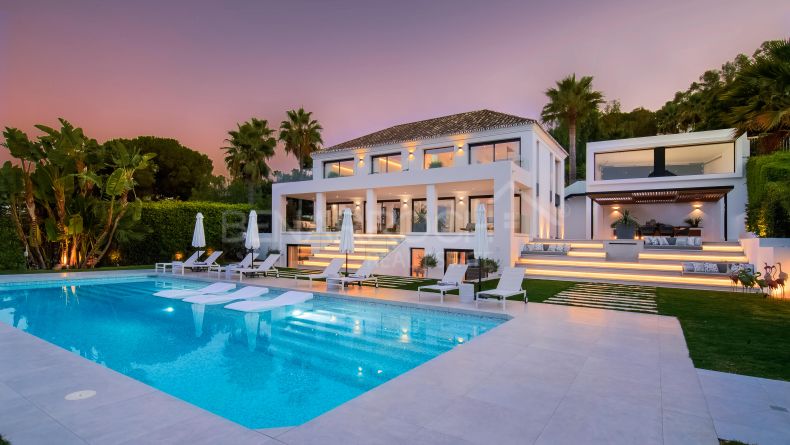 SOLD
Villa located in Nueva Andalucia, Marbella, in the Golf Valley, next to the golf course of Las Brisas, designed with an ...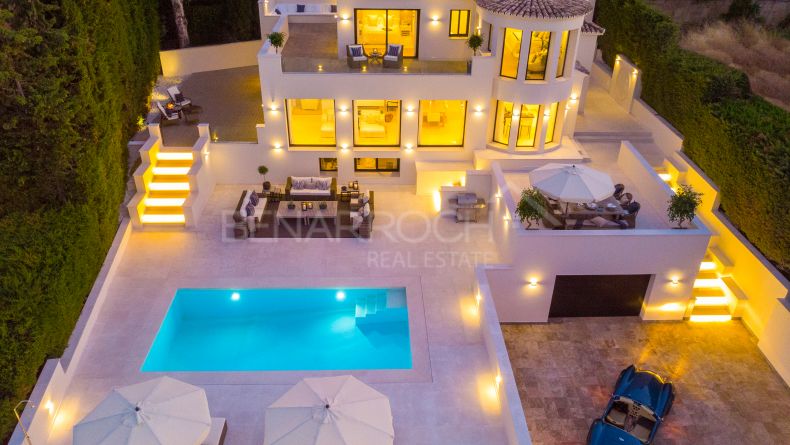 3.245.000 €
Elegant recently completely renovated villa situated on the second line of golf in Las Brisas, Nueva Andalucia, just minutes from ...