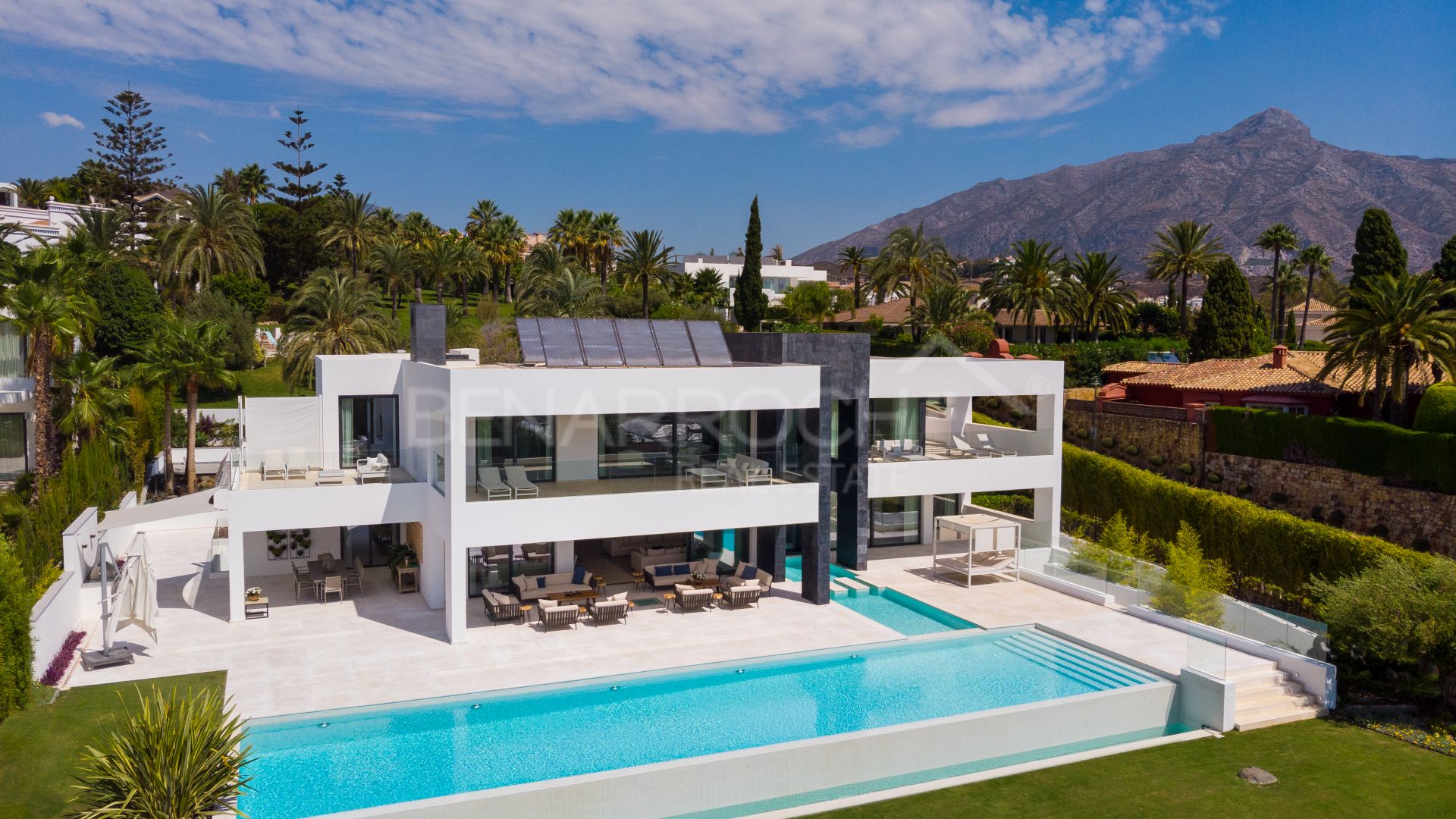 //media.inmobalia.com/imgV1/B8vEv5Xh_VThvnEqMx4G0ZxU_YC_pCgmETwWNQKyeMqLb9Afo_WSoi~kcK5mwaepLz96AHEmAzWJQblCNhundhnOIYTFLWoaYUwnYKizwWHl4~y6iKss9EmbS9vs7_NrDdWYaCGc848rre1s8B0GfnZHfjx4hR11EI3sEvTIOFFnfeJXvrdlR2Y_EKghI1njPf_5FGANwPhAF0vXu0zEkJC1WnGegkWAeUfdjhW7QXrK1Q5p1CxsE12C1A5PC5TBImAXfQHx7b4K3Iul3U_ejWhR8XxkrUTQOhPglqiSNQGhgZcRWahCm_GNo3xOh0HksS2epA--.jpg
//media.inmobalia.com/imgV1/B8vEv5Xh_VThvnEqMx4G0ZxU_YC_pCgmETwWNQKyeMqLb9Afo_WSoi~kcK5mwaepLz96AHEmAzWJQblCNhundhnOIYTFLWoaYUwnYKizwWLnPTkztKAgiHW8hVFcahOjROwAMNljxcFwqItNNZGp0r~pYGZ260aE0GIdEKQGsq04K8tuI6gvEDAwFN6NqHRMAoGWZOCihAEAM9JhJlxewqNF1xOPBOgylnKvuO9EZvxBriGUgYW0d~yeEQKZ8iqQWpWeQrzNyMCPC2nEJhlxqTYZ3n6vht8U6o5UZqhC52O_7Xex5ESv~BBdnXC7ekXvPzbihg--.jpg
//media.inmobalia.com/imgV1/B8vEv5Xh_VThvnEqMx4G0ZxU_YC_pCgmETwWNQKyeMqLb9Afo_WSoi~kcK5mwaepLz96AHEmAzWJQblCNhundhnOIYTFLWoaYUwnYKizwTCPVHmSpKwRWUoYtek5kKetOYVPSIdIwzJLycbiQZFcP~eO3RyNkyDAlZhSsKPh9W_g~msiL92s~KRl4oanDeL5y955WU_p~IQh6_rmMvYSfUdMdEJ08Hxll5fWOoyrHutOBiRoZxRnkAGxIYnIVFcJsZZJQZlD0VNFHFQ7hsMhv9pjCk8Fp5YW6Cw4myibZkDHxQRIZ2jh3yqqVY1mfzlJVjp_MQ--.jpg
//media.inmobalia.com/imgV1/B8vEv5Xh_VThvnEqMx4G0ZxU_YC_pCgmETwWNQKyeMqLb9Afo_WSoi~kcK5mwaepLz96AHEmAzWJQblCNhundhnOIYTFLWoaYUwnYKizlh25SJ5na3wTeqi51nh0RzYdBYrEGG_8YSsez2VNz_jpWCbetGypR6efkCy3NbNnoxKo2704GgCThp51Bb2KHGSeaRWZ7BFaj2_6BbZY~V0tPT9VTWl~XdmhIrAjFya6VQwMMtz83X1YF3fwyPm2QyfYKk9Yt9EZ9rmtQ2CTmcofiHb304bEvwcC69pSEiIdBb1NaxyQ7KpMPVieAVSX7pgf1AyP4g--.jpg
//media.inmobalia.com/imgV1/B8vEv5Xh_VThvnEqMx4G0ZxU_YC_pCgmETwWNQKyeMqLb9Afo_WSoi~kcK5mwaepLz96AHEmAzWJQblCNhundhnOIYTFLWoaYUwnYKizkUhhtDDTgbRUJm4lLZZ94hUNWW5FRTz4zgVVKME3Oy88~gLyQgtay2rLBwsWWwnviKncrrTf76Uy0qtmFp8vdQ7h6Jcucwh1BV2NiGqEnoBrH2_dyJ3mUIXbo7gQzTBiwLuRu02boaERB1le67FOJKDYD9H76QCmmtgNp0ljB0XdqW~HXfNDREfrSPunhTpmKqT5FoEbrVFfn5dw_xzglRxnbMXgbw--.jpg
//media.inmobalia.com/imgV1/B8vEv5Xh_VThvnEqMx4G0ZxU_YC_pCgmETwWNQKyeMqLb9Afo_WSoi~kcK5mwaepLz96AHEmAzWJQblCNhundhnOIYTFLWoaYUwnYKizxkEGI0vCX4GbD1NDW7d1NOM13JLmcSkRknmMTCFHhVmeL5sO4pGnSRwAZ~JidDqFhNBQ7TVrbgTpM6HHbVB79bdaAXq2tJNasyleRyIzAYkERWSr3qw6G~ziw7PDlCOc3d97fn5NY6rj~cV0Uz2uLE60POjYyTkzmJnPrfChvjG~LWoJ1Ea5~ERbZVLXTGEw2EwHft5G_DAvpeM9cn05EoMukaDWbg--.jpg
//media.inmobalia.com/imgV1/B8vEv5Xh_VThvnEqMx4G0ZxU_YC_pCgmETwWNQKyeMqLb9Afo_WSoi~kcK5mwaepLz96AHEmAzWJQblCNhundhnOIYTFLWoaYUwnYKizknIXeiEKiMQIOPTIJOUVo6cp2I61iInMJAQyRZ2wLuQwsbT80tGsIocMCM832tFB3st9USVlR5vOgYtnm1j4P8aiV0n8Aiik8IAjug78Bz6GSIIFdCeiylR7ZFPpFxWkGKic0lr~wEhkTzgLbxrO0wI1v9IbLJNEv4IVDiyitG47HcRH0U1SxpLmtSpRv3sDpsHYnaw_Slug6s1kb6LjvAloAeIclA--.jpg
//media.inmobalia.com/imgV1/B8vEv5Xh_VThvnEqMx4G0ZxU_YC_pCgmETwWNQKyeMqLb9Afo_WSoi~kcK5mwaepLz96AHEmAzWJQblCNhundhnOIYTFLWoaYUwnYKizxJy9h2yMn4Zr8CDxwKHihtSbwPyyeZXO4hpX0J_D9UnbabcLVdcEw4Rx6czZT9~yBlBwy0BTnU_NbMPac1rF6oUl0GqkavZpDai3tb_sU84II_Y0CbMJgZgnoewZnn8CO4APy_dpwAZ1hJTLLgR~SSPO5jqZqnaFXLVv_N7lJVPd8av2pgLZbIJVd12SmykZHPHBvHYc9OaCyJmK3g2ENetEqpIhRw--.jpg
//media.inmobalia.com/imgV1/B8vEv5Xh_VThvnEqMx4G0ZxU_YC_pCgmETwWNQKyeMqLb9Afo_WSoi~kcK5mwaepLz96AHEmAzWJQblCNhundhnOIYTFLWoaYUwnYKizlcNY~ViJkJwMpt_ZXYXhZgPFT3tldK7G~5ukw389SiZ_IKHRgCJhqkxrxLAjBbM5ZQRTnU_8luqVSYZEDEcqEcC3iFyw4FaiAHqPLAC2egRUllDD765GUJrC6qERtR3_BFHvx30~7lFBdhBAK1DcPijqh~NkwY3Pz7e4kQAmjtdcYwElBLwRp~l3o58Hvp8DnjssRZNNkFfNQQ05vibnUVVbXp6BJw--.jpg
//media.inmobalia.com/imgV1/B8vEv5Xh_VThvnEqMx4G0ZxU_YC_pCgmETwWNQKyeMqLb9Afo_WSoi~kcK5mwaepLz96AHEmAzWJQblCNhundhnOIYTFLWoaYUwnYKizlh~jhze_UqsFKu8sGs64VUEIc9G5RQAIjyiHeux__7IEaUd5KHye3L6oPt5yd1vrTIkF9g5_DuY1YSmDSQWEdUevYgV02og~T8TddgTOwCDzmrIkmI5MECTMFX6wT5HeAj~LuBJBSRq5sjh9gtbeTJ_A4HiFvODTwmWMmY69eg~tVu_37jD7FEbucjuUiaTEOc5HhuhZB5F45cn2IZ45wLP_wEFETQ--.jpg
//media.inmobalia.com/imgV1/B8vEv5Xh_VThvnEqMx4G0ZxU_YC_pCgmETwWNQKyeMqLb9Afo_WSoi~kcK5mwaepLz96AHEmAzWJQblCNhundhnOIYTFLWoaYUwnYKizknB148SWj5vDFo8DpWIru~w59bTDxFe7DLfJZR_wGovrFjLkni991L4xu_MXprf6IyarICPMSLV7BGmXkxNYCdAmqsIJJLO31qEjbJiHUwUax9fl9zQ03KRsBScjEgcGtvziq292UhrX6sgee~7dan6KCth68kB8sYU4q_1NGwqdlDYONmo84ODPCxrBQjmoE_Ulj~OZVpI7ZiHtdaeOoiR6yi6mHQ--.jpg
//media.inmobalia.com/imgV1/B8vEv5Xh_VThvnEqMx4G0ZxU_YC_pCgmETwWNQKyeMqLb9Afo_WSoi~kcK5mwaepLz96AHEmAzWJQblCNhundhnOIYTFLWoaYUwnYKizx1lTYOZ5EHUgGCD4OCt7fEXsb~zAjCpC1m3ufIAfVC_YSAkEJ1ieJD4ErqYPuZlU6v~CRWGqSXQ2mwRDtiioQpOXhcixOZi2oGxWHuzSgcoQIU1O_XaHCQ_SIeNopRU5pN0nW_XPltEgV0M2CWopCkeypIn7LI6Gj9MQYka1w3lQOClF7yoS8qiHJx0ws9zn2vBfaXKwWqoI2Jl1KCJWcRTL9XnLaw--.jpg
//media.inmobalia.com/imgV1/B8vEv5Xh_VThvnEqMx4G0ZxU_YC_pCgmETwWNQKyeMqLb9Afo_WSoi~kcK5mwaepLz96AHEmAzWJQblCNhundhnOIYTFLWoaYUwnYKizwshum9jFTVn10LeSSyLtbQTKwKm9c68OBh4B1_wYly_n6Mie3C5F_6T7t4j1fY6af_5ru3eWO_nUEID00bvUUQvndqhqDbIEzzuvsqD2mzjpGa90248uK3NNilS9S0vaqHNBVMvcLXk9UkM6VBhccy3oBhFeJJJRuYBzGv9roUTKZXoLml4IfAeWrX1IS_nj85qcfHSfUhkXoEARimEXUCD9fuAGCg--.jpg
//media.inmobalia.com/imgV1/B8vEv5Xh_VThvnEqMx4G0ZxU_YC_pCgmETwWNQKyeMqLb9Afo_WSoi~kcK5mwaepLz96AHEmAzWJQblCNhundhnOIYTFLWoaYUwnYKizz3RWbSRqLgbtADkZSja9wCEM4Y_HRNgqHWi_kbOZ5dNeVvhCEEFz~oNt~DECCGadUSswUoxzxyIB2QNZLN1r1Iqf9KE~L3xAgNm_iteZMmNBaf8AG3swhayPNDki0WjMn_55az0jOWI_yxaYlipsmHz1pSOrIFW_G3_CeNVJ3D2G3VVe1KKQUpXbVF9FDuZBK_B6UnbUwkRrcpT7_f5mSVUTvUknsg--.jpg
//media.inmobalia.com/imgV1/B8vEv5Xh_VThvnEqMx4G0ZxU_YC_pCgmETwWNQKyeMqLb9Afo_WSoi~kcK5mwaepLz96AHEmAzWJQblCNhundhnOIYTFLWoaYUwnYKizlk_atxUxT1PBh2bgXOAMaa6rtA~CuRlBLO1cJHyxES6WKOWZKUbHLbkopgXYLqP3s8okkJKw3dw0dEW_3WCCFbzvF3xKyUKYQ2Tjcz45tSsL86eOoK2n6JA6uG60C8dDEzm_NCO3zXLEbX_ptHLVtfkMUo3c~hXo9RrsAFBpSk~xKkoyfEJVZCgScMhIigCkYZnUPNyF4IpW~2ZocIchHWAyGMiC5g--.jpg
//media.inmobalia.com/imgV1/B8vEv5Xh_VThvnEqMx4G0ZxU_YC_pCgmETwWNQKyeMqLb9Afo_WSoi~kcK5mwaepLz96AHEmAzWJQblCNhundhnOIYTFLWoaYUwnYKizkRIkUwPD7z0mC1o7fKKMFu6rGRjtwwUIsfefHczppM_WbJDXf6~FmV5Pm26szRBbAbcfGYzIAVuZJHox92bTCGkHkZX_oaZBxwIVrt~tYd_do53x3KiB9vIgRx_XtSM92aezfPEL98tSfzF98m5u6mjSgPtAX~DG9KmtFhkun2uGEnj9DXQpa753KT_r5u2Yx06ZBVuNDzpEyIjS13FcGrqoiSq~Xg--.jpg
//media.inmobalia.com/imgV1/B8vEv5Xh_VThvnEqMx4G0ZxU_YC_pCgmETwWNQKyeMqLb9Afo_WSoi~kcK5mwaepLz96AHEmAzWJQblCNhundhnOIYTFLWoaYUwnYKizk6utgWCaBNaP19JLMu5hVEK9fIOCO7QQK4qunDdfyheV5pDaT4flhWzDBsn9aEeThCapHLDjGyCm0mfpbxK847dWmotm_qE3ormpwwK2yMGddOtkwYfw6_RRL6LKF~YxUCQp1PR0XicgriVz54r724qUe48UPc55G8hjUFXVdbbXlb4hxYbqB8mkau_DCkGJPfp027Q97GKj6B0amb7UKvhwQ~6vGA--.jpg
//media.inmobalia.com/imgV1/B8vEv5Xh_VThvnEqMx4G0ZxU_YC_pCgmETwWNQKyeMqLb9Afo_WSoi~kcK5mwaepLz96AHEmAzWJQblCNhundhnOIYTFLWoaYUwnYKizw7_e6ibwUGZ0q22~yRJJS2E6SXxdiXxNjE0NO6wtNKzQbtpXncOiwdKiMncswE79g3SOnMpuqXJxEI_~W14NrbNgdRCRqzLvk8Egkgtbky8sOY~Lwvtn~S2Ks7NxdQzfnVm_BtImvfe76rtdEDQMh9ll7tfPRcWCppLZ2JNYAURzSJHkFM45YpEXOY66xdPWRODs9T57w83mepz1g5f_uNtQM_7kWQ--.jpg
//media.inmobalia.com/imgV1/B8vEv5Xh_VThvnEqMx4G0ZxU_YC_pCgmETwWNQKyeMqLb9Afo_WSoi~kcK5mwaepLz96AHEmAzWJQblCNhundhnOIYTFLWoaYUwnYKizxMyHUc8rCDTmF0MCsNFhdaeI6KK0Df26GWL0urNuCNyGcnO2xbArDgnA96fxJCewnQ_ydNZtkXr3zznNsamKL_vgrMc4NUth6bafPOSYNbUshFIiGMkzUSP8QQGUSXP7ou7Avp2szwu9sTTeW3GJCVbZeXlJIirFo3EyqFPjOgBxf2jge4ykdeR2Y6Pma41IpzEoutefFHm9XbgU8UTCnVRKNdcxQQ--.jpg
//media.inmobalia.com/imgV1/B8vEv5Xh_VThvnEqMx4G0ZxU_YC_pCgmETwWNQKyeMqLb9Afo_WSoi~kcK5mwaepLz96AHEmAzWJQblCNhundhnOIYTFLWoaYUwnYKizxJCG6NF44h4AL3XycK0DKNc5NDFIJOknfVyu103OfQ24Sqmjyo8OlirkuYzWKhZqlOOXhruu3Yt~hb6x38GvaF8AuoUtb5yPiUjUejHfZWMhFITqS1olELdbSbA~B_u10bS5suAigVhWB1KQMBtrNRi9ZN1cjg4Bu1BAoTwPd5Klcc1VE8s7~aMoJ9305F9bCTw~41EsYg0OI9MErpjPHA9ucU8_xg--.jpg
//media.inmobalia.com/imgV1/B8vEv5Xh_VThvnEqMx4G0ZxU_YC_pCgmETwWNQKyeMqLb9Afo_WSoi~kcK5mwaepLz96AHEmAzWJQblCNhundhnOIYTFLWoaYUwnYKizzrEkV3OVZOo~C3AtkCXUPYPUsgS~op2rs2tcdMLsh5nQ2hE21UpE7VvKeANguR9JnQWT_SkotKvy7Qv3q1yiTj1_5sHQyUp~GPTFRBsaFnOh3cbH6rix3dlfHsMVh778FhCTDBPtojwrKUzZ2cpvyjJ4QOUh2wJ7o_Cy0XDm2rYMX4Jre8KKBCtP72KYQjOhVYHzNJ0A~VsWfLP6SHP_RQ2TtmXVVg--.jpg
//media.inmobalia.com/imgV1/B8vEv5Xh_VThvnEqMx4G0ZxU_YC_pCgmETwWNQKyeMqLb9Afo_WSoi~kcK5mwaepLz96AHEmAzWJQblCNhundhnOIYTFLWoaYUwnYKizlhhU7IYNLeE_u84z7GSf6WA9iU~3QOodMtP99shdyCj7FIagOG3wssR5onOeUKdGdUa2tPxodMTCxdwbPSQjukfcnzJCFvXbH9GWW55MIQhZFfdGamTJ43bTEuoTsooxdLLvjgtOMr9uP1h6rjEciQy_qbWRq4as_xCrDM~6ppComI9HabneUrpbGTQsP71Pr6UpDQp~WHvtNSmJQyyx4op05~TodA--.jpg
//media.inmobalia.com/imgV1/B8vEv5Xh_VThvnEqMx4G0ZxU_YC_pCgmETwWNQKyeMqLb9Afo_WSoi~kcK5mwaepLz96AHEmAzWJQblCNhundhnOIYTFLWoaYUwnYKizlhk4SJ7wMpv9yVi_6CPMiSlXcR~t1svm88cS0D3onz2Nt14ESsFKoffji508qCfeX1sUJVSR_DP~bR_Oo40PV5tvhkQD8C_q1UQYItklwJAV0nElVGjtnRxHJPmp0ET5wCA5THRQ469wYuxmZopIe_nGFgtMGNBVKknZmVJWsiWnNucg_HbZTiQXwydQFa3remmBL69IBSjkkzKk~hpAuz_1mmY2hg--.jpg
//media.inmobalia.com/imgV1/B8vEv5Xh_VThvnEqMx4G0ZxU_YC_pCgmETwWNQKyeMqLb9Afo_WSoi~kcK5mwaepLz96AHEmAzWJQblCNhundhnOIYTFLWoaYUwnYKizx1lV02dGeBMa9kzByjqyXfTu~S390Vk0aFRNgaimTSs2rNqH9AO6F9MTDng044nlzEHM55UptAWW~nbr3u3rXb~ruVADcHHd~YV5EAiQYkVu_EzXC2HC3peoAO0Z1pmJZ3HIBgMxkLzxYUbZkP~4BkZzeutDtKfnLEjdoO9eYDolruPPiqj32Khk3CnuhXCquWeIThOd290wEVx9b0ApJdAR2lnT2w--.jpg
//media.inmobalia.com/imgV1/B8vEv5Xh_VThvnEqMx4G0ZxU_YC_pCgmETwWNQKyeMqLb9Afo_WSoi~kcK5mwaepLz96AHEmAzWJQblCNhundhnOIYTFLWoaYUwnYKizlGzgyO7e2g6gq6S058KmH~tE_B2QpgIKVHNex3qiOyd3XpWq2x~cUHh7me7mGEQPcRzqOZTbwYSbUA1oWnNVTZfKxIBPwMAE2aNXDtNH9i_6w39OtyrwMVTUz9vfMVhBXdHGvYN5RMukUQ1vaEZGYZuiUBg3dN6XdIwB6ynj9hsyqK44N3dEPqWR3f68ruyqcBIj2o_f0kYucRxLQZRuhnhaCS18~A--.jpg
//media.inmobalia.com/imgV1/B8vEv5Xh_VThvnEqMx4G0ZxU_YC_pCgmETwWNQKyeMqLb9Afo_WSoi~kcK5mwaepLz96AHEmAzWJQblCNhundhnOIYTFLWoaYUwnYKizxbr2VuASN2WCVpSvaszKlniW59SJxDpvxCdfB6ilpv00MhiQ5~1I3WtJ3don~DffpNRvlVWGzzUL2hogL_yGSwkME~1iZOe_rBOs7Q3yc4v9UzbQDpfqN_zqZtZZlgZOBQwNs2ZLnkIIeYHPuSOsYRl1m_~zZiLzua6swKuCX2I12As4G5N_TESLLwb8NFw~U~4NYnUjVZN5JvPemWk6TfFR5oGykA--.jpg
//media.inmobalia.com/imgV1/B8vEv5Xh_VThvnEqMx4G0ZxU_YC_pCgmETwWNQKyeMqLb9Afo_WSoi~kcK5mwaepLz96AHEmAzWJQblCNhundhnOIYTFLWoaYUwnYKizwWXPUsssiraIV66ucXp7PuLiqMlFQtNwkrdrtc3fdiGQR~YV7Ln2mxQIMW6RKyGnI2rsimnv8Hcyr8bYvLFXb~gKuBz5eObUNinevj_eaHkdieurI~GLBDgEFoEILhavv8KxoUa95Fp~h_xFkA8Js51PT2o6AfjB7i~VwfDoALg8D3j9VJntFmtHjmo6iZ1hiE3ftMwTCCiaJ69AEERqebzZb7jPEw--.jpg
//media.inmobalia.com/imgV1/B8vEv5Xh_VThvnEqMx4G0ZxU_YC_pCgmETwWNQKyeMqLb9Afo_WSoi~kcK5mwaepLz96AHEmAzWJQblCNhundhnOIYTFLWoaYUwnYKizwTTIGbnrsrApfxVl7hy1pA79CbtFIh3mis3GEhocbGLbDprdaVt6GxOK9PatWjS6qxjGDJuqnZl4cjlhhhEuTcW~Hnj9sZj8PTADWzWeFcDxnqVleWepZzjFnQNMY7l9Rdkcy_PnRRdFwWwOADgZTVfG4sHIKfFSlQQYwVC5n~3e4Ar9q0g0mZco1BCJVQemT8Z72hvedRBDQir9MSBISNEfMG4pAg--.jpg
//media.inmobalia.com/imgV1/B8vEv5Xh_VThvnEqMx4G0ZxU_YC_pCgmETwWNQKyeMqLb9Afo_WSoi~kcK5mwaepLz96AHEmAzWJQblCNhundhnOIYTFLWoaYUwnYKizxJDVwOPLCHNxygn25iPI9nmAkAb398UV2H0fyLAaFS9Zk4n9bIxK57t86feQqk_QttLSmm6zAap9PbBA8BbY7208tDNauehq3qtpDbSoWh60550j6SN0X5ap7dPMaWvonIZIrzWb3wN9cxC4To4mZPsNiQo0soid6Px3lrPh6QL3sljmXHbNZ5oO99Hyi1_yG0U14GQRtHyV4RjVE9GjkxjOV~sgYQ--.jpg
//media.inmobalia.com/imgV1/B8vEv5Xh_VThvnEqMx4G0ZxU_YC_pCgmETwWNQKyeMqLb9Afo_WSoi~kcK5mwaepLz96AHEmAzWJQblCNhundhnOIYTFLWoaYUwnYKizwTMy66ijAeeFRVPiHtwui_rEgYjkKHbCmdqFLcpxWKzrun1pzJ4mtnhpZ6mGmco847lyM1pbNHmcvKbkC~NR51ALCEUWqT5OEiUUl8O1Y~xBUvhsBluIFdoDadjCH1iAodF4tLU_Nmfuu8yhLYn7VYzo5kdEJSqlCSZrIEsBpdyolulUhEP_DO_D~osdSPH6in393P1CeUfLTCkmDeUPkKpiqdX3hQ--.jpg
La Cerquilla, Nueva Andalucia
Villa
5.950.000 €

reduced from 6.500.000 €
New construction modern villa in La Cerquilla, Nueva Andalucia
Modern design villa located in Nueva Andalucia, urbanization La Cerquilla, a perfect location with magnificent views, close to the golf courses of Valle del Golf, Puerto Banus and the beach just minutes away.
The property is very close to Los Naranjos Golf and the Real Club de Golf Las Brisas, in a very quiet area and with all kinds of services just a few minutes away.
The villa is located on a plot of 2.451 square meters and has a built area of 794 square meters, distributed over two floors and basement.
The main floor has an entrance hall, guest toilet, fully equipped kitchen, lounge, dining room, two bedrooms en-suite and direct access to porches and terraces in front of the pool and garden.
The upper floor has two guest bedrooms en-suite and the master bedroom also en-suite and with dressing room, all with private terrace.
The basement consists of an en-suite bedroom, cinema room, gym, sauna, indoor pool, jacuzzi, massage room, laundry, garage with capacity for two cars and two English patios.
All levels of the villa are connected by elevator and access stairs.
A magnificent villa in a perfect location.
REFERENCE

208-01445P

bedrooms

6

bathrooms

8
built

794m²

plot

2.451m²
Video Villa
Video of Nueva Andalucia Area
similar properties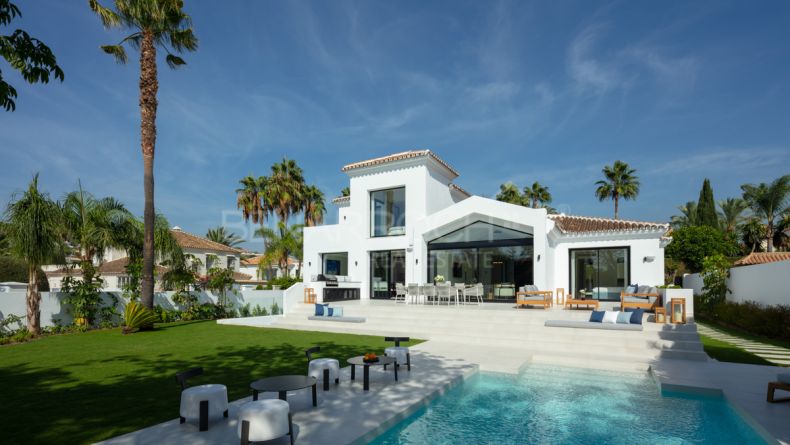 SOLD
Recently renovated villa located in Nueva Andalucia, close to Las Brisas golf course in the centre of Valle del Golf and with ...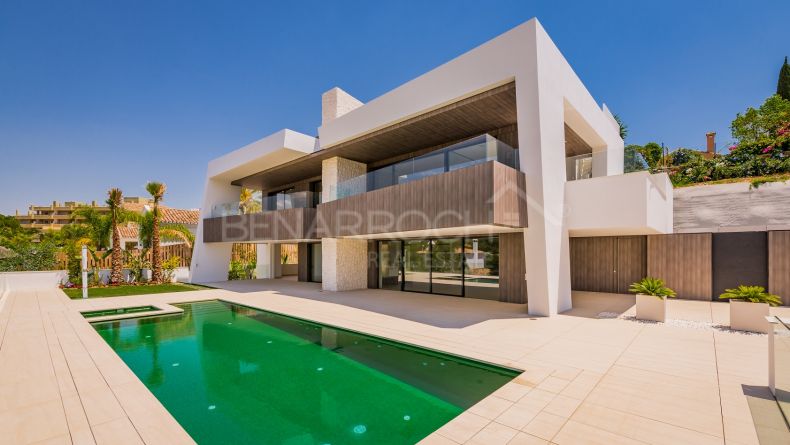 3.500.000 €
Amazing modern design villa located in Nueva Andalucia, Marbella, next to the Los Naranjos golf course, in the Golf Valley and ...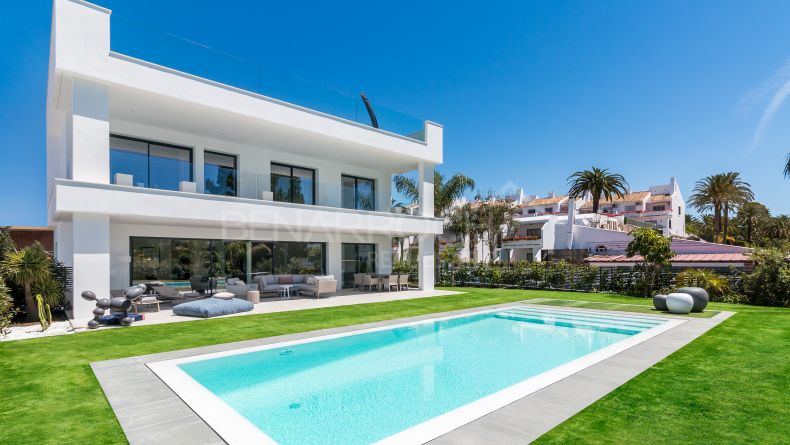 3.500.000 €
Newly built villa in Nueva Andalucia, in a new development of villas very close to Puerto Banus, Villas Gardenias.Located a few ...