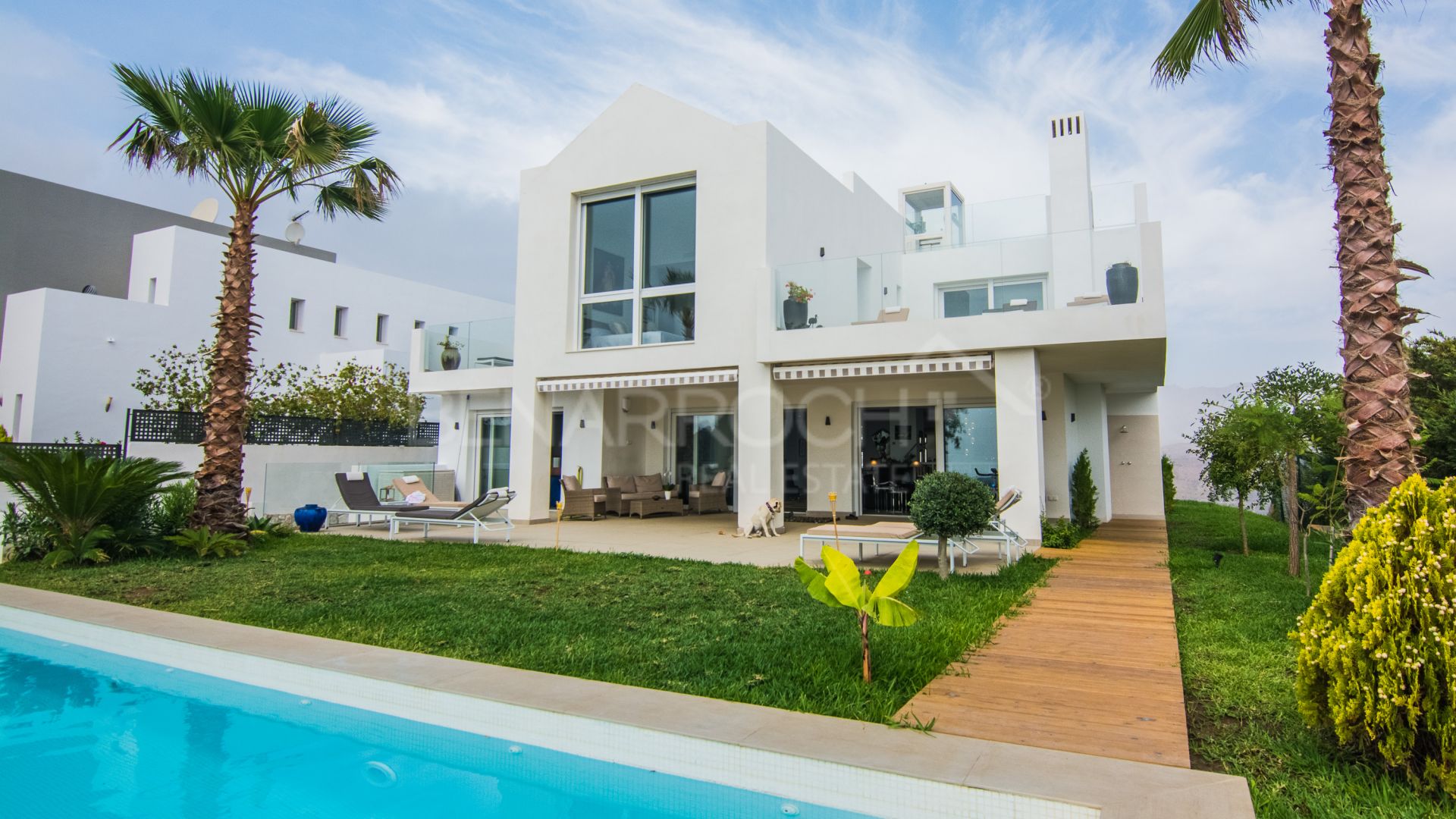 //media.inmobalia.com/imgV1/B8vEv5Xh_VThvnEqMx4G0ZxU_YC_pCgmETwWNQKyeMqLb9Afo_WSoi~kcK5mwaepLz96AHEmAzWJQblCNhundhnOIYTFLWoaYUwjpo9692vfYMFKBzpbnDqnI1cSoeoyndtk4SRLvsGXRFciyOygCmS6tVOXI06rx1oZpjTGwCZv0_SER3oWAp_D11x_uyG~4au0or_K6V_iWRoZa3emOAUWmGvQpWVY2jH0Nv_SAwP_Bmy3kGf6wVn959P9v9l0gpYQCu2HcoufC4pr1GgOer40H~XkQRg3fis0DqsUAXEH2n4s0T8wO3147X9TrKSo0grS3w--.jpg
//media.inmobalia.com/imgV1/B8vEv5Xh_VThvnEqMx4G0ZxU_YC_pCgmETwWNQKyeMqLb9Afo_WSoi~kcK5mwaepLz96AHEmAzWJQblCNhundhnOIYTFLWoaYUwjpo96rgATI6hjHe0ef8~mKcwCn1dIG2cw~_CxtIfNvnoI~F0Hr2dMeWuE~IlYdjrRPQXffpyj3F9OLuwlrtNujvUx15M3ThCepFapSpsBqT3yqvz0lY67nFLz4VZGUNx0TfHrSI4ALuB_jQyey9TiGtLEJCTi_SAYeDB7kpk1y~tqT7F_TAyPQ3hkJDGZK6wXSIITU~4DiqpUde_lW0gnELL86Lcky8SW2A--.jpg
//media.inmobalia.com/imgV1/B8vEv5Xh_VThvnEqMx4G0ZxU_YC_pCgmETwWNQKyeMqLb9Afo_WSoi~kcK5mwaepLz96AHEmAzWJQblCNhundhnOIYTFLWoaYUwjpo96_DMy~AUy9d_huM1aFtdr~SXO1zzfamT1cGq_vWAse63lMd98SlrtfNHxFg3bU0k9vlW9geZszavSIlVhfSalyAJ9HgwTCT6LqqCzJhJa6yaNld1llcgJT2XJEX4FjVOT821ntaV29rX7XBRpU2iex2vfmFc~vwfJRKMr8YzdmB3WT8vKJzhdnQ5FRZgpwwz4BEdp1AQ~Q7YLMLdy8vLByhkIj_BkJQ--.jpg
//media.inmobalia.com/imgV1/B8vEv5Xh_VThvnEqMx4G0ZxU_YC_pCgmETwWNQKyeMqLb9Afo_WSoi~kcK5mwaepLz96AHEmAzWJQblCNhundhnOIYTFLWoaYUwjpo96rlesYH4MUWy6BEAgqvtuoXE9X3YTHWyAwz0fTanTVp7H6ZOLFtTAL21th7G7GUbRoUWeiRsXfEItuTtQJ4SsaL3rxrds39Xxe7qpbndt1es0pIPHe3e8gzl2MWIHwxBzdRVwtR1ebLP8IWrBBHr9PRUPCASdvEOzxe7dxjS8eIqpopuzHtBeOrIdYVymsMC6n9n6k4IlsCzvi9XI4sCqI5WrqLOezA--.jpg
//media.inmobalia.com/imgV1/B8vEv5Xh_VThvnEqMx4G0ZxU_YC_pCgmETwWNQKyeMqLb9Afo_WSoi~kcK5mwaepLz96AHEmAzWJQblCNhundhnOIYTFLWoaYUwjpo96qfp9z7ecgxZNzKBfSqTN3oh7sAoIRJ3KAwSB3kCssNxVADF8DF~oRTVauWrfBTDEPlX_EhltkgyCJ8M~Q40mu0JAgg_mOKo5X65pR0_IbkYaWu7n5wl4x9BavxY_mUeJ8CeJ9Edq~JUYLz1w~jp2rKYQ4YEaQoxQLNTC_z663Wpl3XKb3JSU_1XupP2~VBYUaFeFJuWqNsY8j3f3LeFVf~AF4zwTXg--.jpg
//media.inmobalia.com/imgV1/B8vEv5Xh_VThvnEqMx4G0ZxU_YC_pCgmETwWNQKyeMqLb9Afo_WSoi~kcK5mwaepLz96AHEmAzWJQblCNhundhnOIYTFLWoaYUwjpo96_ULFTU2Qg01qA~iE0EbSs0K5VxKmuJs7K0xwFD_O1MCuf0qkVpkkDYdAJ~CFOKHTdweOc0IK3pg3A3Y0L1ZYGOlG9wOlHJxt8nfqBHgPTRMaAPYpK0Mi1nTl1BsId7X5__GHmggOe23jlLbsKAgesCP6~wTRmrsDCx2~1OzPHxwiaXmGKZaxXM82zGn~WmlRu4x1PCWPBAyRv2W57MM3iS3nT9sRHQ--.jpg
//media.inmobalia.com/imgV1/B8vEv5Xh_VThvnEqMx4G0ZxU_YC_pCgmETwWNQKyeMqLb9Afo_WSoi~kcK5mwaepLz96AHEmAzWJQblCNhundhnOIYTFLWoaYUwjpo96rPRMgvuOQKaTubnvI7TCum4zXkG6S0p9DJMRfaWzmIqaiVD7sKMKKl0vTeZxyk0cMWgf2Q81rsEGlJutyB8SG4FmT~U6aO~2LuueFBD5vxUD56R~067jCd20DE~8WKBYvu~eZXCTvtZFguUH05OFklm2RqSAX3pJQtxBUe_T9IFJxWP8tC2ijv5hP8N1pviYPPtjU4j5YK0bj6l3_VWJOGY8xbE5TQ--.jpg
//media.inmobalia.com/imgV1/B8vEv5Xh_VThvnEqMx4G0ZxU_YC_pCgmETwWNQKyeMqLb9Afo_WSoi~kcK5mwaepLz96AHEmAzWJQblCNhundhnOIYTFLWoaYUwjpo96rdr8pD0Da3O8yLzl3kGfkSt_~2_RNcPR1gQMpDFHX1_ARr2K8FoChxzw2rMPTmVPPaGa37yr_1Pcv0r4t7H0rPhOTf2LweGm2KX4A506lzTc1vYANxKAnz9YN5CPK1aiBEZRZ5QLIpY9We6kep41pcJumhndaQ~YMBVjM97fe2o1vqN8fJXZk1TaFS1SiXVmqiOiumHXNjS2FUwsu~tiKOdFHaBDWw--.jpg
//media.inmobalia.com/imgV1/B8vEv5Xh_VThvnEqMx4G0ZxU_YC_pCgmETwWNQKyeMqLb9Afo_WSoi~kcK5mwaepLz96AHEmAzWJQblCNhundhnOIYTFLWoaYUwjpo96~CZt0ArCMRizExmsMJk0Zd2qmDpIaIVvU62Sjr8DvMFCaO34~Hl1YkEGDe29Gv1ErAEXkNRJp2Sac~NGc3a~0xHRc8CPP9LYVzWm6kOvfiCLaGlg3S~Jyp0wgqTOhwXBeNhZbpuyWdhaqLThosUxT4dJoMAGffO0R~U7gvJeGZ1KbgPjolFs8kec6wXsDVidey_HH6fMbsqG5_AGKJZfLZQfrjSf~w--.jpg
//media.inmobalia.com/imgV1/B8vEv5Xh_VThvnEqMx4G0ZxU_YC_pCgmETwWNQKyeMqLb9Afo_WSoi~kcK5mwaepLz96AHEmAzWJQblCNhundhnOIYTFLWoaYUwjpo96_ne6DyzWZwXijUs349786ilanYfPbpQEM49BB4XcvNJ26uPQfD1WMjzsq0YQ_MOEtfep6O7mB0TIE4h4nhkjKFj1j5jVb~Zpt~fGF9CCQa8HPAN91mIh5rk7PLATPHMoBcRXpjOJCnLa5jzIuvqpibupqenbPCPAWnVsdc4wp2mwDfZIPKhSgtUPnWHVcS67D0QlNFWyFFv0jvkCWA8V48guIMuAKw--.jpg
//media.inmobalia.com/imgV1/B8vEv5Xh_VThvnEqMx4G0ZxU_YC_pCgmETwWNQKyeMqLb9Afo_WSoi~kcK5mwaepLz96AHEmAzWJQblCNhundhnOIYTFLWoaYUwjpo96rlf5zEJFTOKz9wcrAX0t0MOxfh3DvMmq9dMY2Gb8Xt5LoiQqxzxDE8VOhaArgaH5iX3ip0stIQtw7IMaqsiccKC7wtsXt0dwFZSw7HKUKQQkuGhEyjQvUEWSL4B7R6pbvUMg1ElugvPlYTa_k6HO5Fw1UA3URxlpTT3sxjNMWOriOznXhVYG~FqPWtfZ2yRr6XHBucqdCAi_vgI5YbEkqFhjSOMZSw--.jpg
//media.inmobalia.com/imgV1/B8vEv5Xh_VThvnEqMx4G0ZxU_YC_pCgmETwWNQKyeMqLb9Afo_WSoi~kcK5mwaepLz96AHEmAzWJQblCNhundhnOIYTFLWoaYUwjpo96~gxg1QV0g9GMoQMIeqZjkEezzS3Z4QBfcNDWi~LR7TR0Z~VFaGCH3yzmwJg0HAbRICSqnmSCIQgrZ5GKFaY6XMa376QzWYW1B2MslqpgCTbI4fzY6_xxv9760GUcgse3kAVC74MyvpHAVvxkevcchVHzbwyIZS_b_8EeMsFpGhismwAOSGSavUYVahWewXMfZzL5CGL2MD81IJOub3fda6z8hy4prw--.jpg
//media.inmobalia.com/imgV1/B8vEv5Xh_VThvnEqMx4G0ZxU_YC_pCgmETwWNQKyeMqLb9Afo_WSoi~kcK5mwaepLz96AHEmAzWJQblCNhundhnOIYTFLWoaYUwjpo96_Uae6_RnOa_tI~NbAZ7rkV5kSKzxeuyBqpnqG58tnJts0Xu3zKpnsJOcxj1~~pC~vIPoXk6ouPIABOnHnhtRhdUbIdXNFI5DzdSNA0OlluUx_kyaFPt2s_nRyRdZnM~Tpc3WyGji2PabPNizBL182uP_rMfgzr6WFeRv0293Oh91whbGY3LKZ8VmA5h~kbw3x0Igcfg0OsMya1h4mtY7YQeV4l4_xA--.jpg
//media.inmobalia.com/imgV1/B8vEv5Xh_VThvnEqMx4G0ZxU_YC_pCgmETwWNQKyeMqLb9Afo_WSoi~kcK5mwaepLz96AHEmAzWJQblCNhundhnOIYTFLWoaYUwjpo96~HE9hUlfJPODqNF~9uH5DPsBthnfy1PVlK_6i2mThvJHfNBbERRcopt4UZkRlf~ODKigvqTERfLefbFYUYn~qfL9uiCIwvlL1HK~eSlGgRFbYErMThGaUWepmnbgNfk5DHmActqBNYVc8pwvnapi1AR2Ct_k1WvPA~VJzxQVn5jLiim51kbJ~On4hDRiVHdRYgr~W6V~XQN4_dYtPN5pFLqC9oWo1g--.jpg
//media.inmobalia.com/imgV1/B8vEv5Xh_VThvnEqMx4G0ZxU_YC_pCgmETwWNQKyeMqLb9Afo_WSoi~kcK5mwaepLz96AHEmAzWJQblCNhundhnOIYTFLWoaYUwjpo969zyauhxLk5Or6lavUdJjzjnqmksN766OLDloAZQfK8ug6g3U4sOSUU1g_CUFera234Lq7bPRCZJ3tvJ0AQUCg0R1Lr4WOKsHq8ZgK1KTQolYP72iKvCzsUecZ66bivcg8OCR608iH9I2rnYZ697uS_L88xAp0QYukCGPKqt7uPjjrTTnlMNUeB4VafQFoxzw7qe66s3txY74UMDkL86Nqy01ygbMRg--.jpg
//media.inmobalia.com/imgV1/B8vEv5Xh_VThvnEqMx4G0ZxU_YC_pCgmETwWNQKyeMqLb9Afo_WSoi~kcK5mwaepLz96AHEmAzWJQblCNhundhnOIYTFLWoaYUwjpo96_GEJXLolkv08_mcj6~pxkdIJdeL0bTFxW6clLBK~2Gr5rwJvX~WqPyvxNvbIGt3ZgrSGt~OmURJPOlZqaIQpFKbSTanWmYoXw1Uin11R5ijMX7UmuxAr5t54BH4AKmcnjzJFsWWX6mUHI_i1MAaIR5I3SrOMiV3chpIYve0GysHFGBwLmUcTOdDRRJUouK7PeT2WGRhg0SQ7Qy947Ylf9erRvpzmnQ--.jpg
//media.inmobalia.com/imgV1/B8vEv5Xh_VThvnEqMx4G0ZxU_YC_pCgmETwWNQKyeMqLb9Afo_WSoi~kcK5mwaepLz96AHEmAzWJQblCNhundhnOIYTFLWoaYUwjpo96qxYIwDSyzXzUHKJrGdexRHLFTuXA9z5RTBb0qvEhijKEp3~9vpiUDrXzvSENKYOP3fPnSfWG3Yv5bQIOS2doD16JjW9TsJqF5nUp~TqxiRLb9wQ5l4~G2od2HxljjcLM_8ZLhh7wtggVlXMkL39aRimL4_W0lBweNEPKALUpNdYkbpW2WpFSe~PeCRP_71WTZ5KUCkgr7S5UkEQanQHQjSQkoPzqPg--.jpg
//media.inmobalia.com/imgV1/B8vEv5Xh_VThvnEqMx4G0ZxU_YC_pCgmETwWNQKyeMqLb9Afo_WSoi~kcK5mwaepLz96AHEmAzWJQblCNhundhnOIYTFLWoaYUwjpo96_GLJh4DPpoBeZvYFWsRzBqzWKxT3_Fh6xqDRLIq~owoA2eWzpXMDMgJdY8139s4jICvMrhgSjDzCyWMBXTpLAgi~rN1pr9OaSqqtDy_PL8I6vfHnABAxV5jPYP9PNVAYEBj96ftlV1mNJi4cDgzMQ1hb58ZXrO3xowwAjc~on7c1G2Rh9Ax4xwzA4LS2ipxiYaYlreWZcUlkgDD65ak_GWzrEV6ShA--.jpg
//media.inmobalia.com/imgV1/B8vEv5Xh_VThvnEqMx4G0ZxU_YC_pCgmETwWNQKyeMqLb9Afo_WSoi~kcK5mwaepLz96AHEmAzWJQblCNhundhnOIYTFLWoaYUwjpo96~lz8ZDQReWXEOzCxTwTaKtSy2T8aRh0bHf5y67gNZ3lSN_nnrOGI9BqdNvXUYQIPg_WWgWfohmlEavdnlDXtbzksMdVtpw_ZvoyLi48iNWM_bXs2LOGhLzVlwPYTEUV5SyGPW6O61MfKIH0IIjv6qbf9O76onQuKYl_BfWeHzYypIeiWsqLGdAfk5RzbMMkvH3QadPK4M5WqCJ4uef9s8OdAomCjxg--.jpg
//media.inmobalia.com/imgV1/B8vEv5Xh_VThvnEqMx4G0ZxU_YC_pCgmETwWNQKyeMqLb9Afo_WSoi~kcK5mwaepLz96AHEmAzWJQblCNhundhnOIYTFLWoaYUwjpo9692VNai_H_Pup3pf9sfmAS6EF5V9XhsCWOLfg~PXiO77hupgrc2Smnw0RWsMz53oupzgZgcwgUrvaMk2_no6FBygdtPL~A4Vb5fRXHnJYsKiW2VuJDOmapqox7fyRllcJlA78a8ZVWhgPzw6~IylTViimfXTCFbsyWLVmnPPCMzxAr~~x_uozC2qR~urTDbhr2XFWZki6r~I4aVaLwVU32KhO30~1mQ--.jpg
//media.inmobalia.com/imgV1/B8vEv5Xh_VThvnEqMx4G0ZxU_YC_pCgmETwWNQKyeMqLb9Afo_WSoi~kcK5mwaepLz96AHEmAzWJQblCNhundhnOIYTFLWoaYUwjpo96~4BZza4XmE0ErBkT8tQ_45SWuURnnSeP4bZLN_A6HYfbtR9M_Q_GfYDU0KfL8jP4pa02~0iXytJMy_s33ePc3aMcjnFeMCWSRexCovks0p582wZ5YPVdeK3~qgFPAQeUFxOIYqi7E4sxgmyeuOs2H~Q_nhHZfSUWM2f1mXDX5QezgsapRiYI8LlNO5Grn7XviR~Z3rnknN8RUMl5jIercvROXdbEyg--.jpg
//media.inmobalia.com/imgV1/B8vEv5Xh_VThvnEqMx4G0ZxU_YC_pCgmETwWNQKyeMqLb9Afo_WSoi~kcK5mwaepLz96AHEmAzWJQblCNhundhnOIYTFLWoaYUwjpo96rlTj0Ki3L2h7dVTP36BpYL0ve~JvRyeUNXNvMTR_41BbGWIZxDxkYNvIStXeHLeti7VqgXCQ_xbrPZmXN_QUH1usWv~2XTiUlAVS68pCkkxC~1lcikxYSfy6Wi2m~wSdJnJEHP4dDeCAS1fqUVZYOK18yV8o7nE0jkxZJXZ94FktOcANAW4EGobuuasfmDArSbElyFRZOFLVXMsnN_GIujPlnQs0DA--.jpg
//media.inmobalia.com/imgV1/B8vEv5Xh_VThvnEqMx4G0ZxU_YC_pCgmETwWNQKyeMqLb9Afo_WSoi~kcK5mwaepLz96AHEmAzWJQblCNhundhnOIYTFLWoaYUwjpo96qg~IS91VILyXswzb8_z72k5b1ONiWRRpk1XmEK4gM5M64IdW3ZLiYM2cmXWwTT7Xs4flsbn5EApDUdtGtqjtpWtJzI4dOk5eX~Qsh8d4lXzKCP3XLp7vEL7c4x0qt1sSZX9R9MBMoRFiL~RPxDlpipsil~zyMtvjQMCaKBkCsOpwYkqqMpZP05~0FE9qhm00JKLaxdq_jtU7CPxbU6MkIApIh_9W~g--.jpg
//media.inmobalia.com/imgV1/B8vEv5Xh_VThvnEqMx4G0ZxU_YC_pCgmETwWNQKyeMqLb9Afo_WSoi~kcK5mwaepLz96AHEmAzWJQblCNhundhnOIYTFLWoaYUwjpo96~dAXk5~EivK9NSU5MX0_zGwRMsgpJF26aB77qOUCHX1osVVB2lNnLPcagN75kPcM1V5huV2OUDXEoILRTWpt706TEh1cczjkN6~aROLYTvHGE0P5oyW~PN_7qZfGS2Yd5G_DnFZV2ZILlrfiLhE7BlbcxBhlm5~ZiqyuxvV4FNalTgIoiqJwsl0zoyAo2MXtQKzrYkLpxpDKeJ41wcvrYmaabvbJzQ--.jpg
//media.inmobalia.com/imgV1/B8vEv5Xh_VThvnEqMx4G0ZxU_YC_pCgmETwWNQKyeMqLb9Afo_WSoi~kcK5mwaepLz96AHEmAzWJQblCNhundhnOIYTFLWoaYUwjpo96_GXmsJj2VpOfa1TyM2DpZZr6AQKWlZj57uTcxhJjKxtCtmqJdYM_e~bFAbUW21iYIZfNyKUp8Dp1Ej6VIlTg7BFq6ZVFKfeIJl9Zw4ND_UeA8s~QmxZyCqwyHwMKhF7YIj~D0AYod3ScUVbikGPGKW6zPczDkvIy08ztK6TsEjUvGQrdV79tl0SctKAREudXfxJPPywQdzkhz~Su_xC3LoycmtWtLw--.jpg
//media.inmobalia.com/imgV1/B8vEv5Xh_VThvnEqMx4G0ZxU_YC_pCgmETwWNQKyeMqLb9Afo_WSoi~kcK5mwaepLz96AHEmAzWJQblCNhundhnOIYTFLWoaYUwjpo96rKgIcaLEKoqGwPPZNx~ZGRqICyjwg55NrJn15EBc9kESg7jPM8eLGqebTHmd2G9p_wNE3io6nvs4RjhftjewZ7lYF7u8bJN8xBDPneoN5kx55lwFHI8ba9xSIlL77essHbMGXtUywCvocO10~rYj5hL3LqXn~pKTWbTkZqz~MsZWTg6D6Lv9ROlpVq3C5Xq1uD0sb_NYu8sbjcjIifKSGyMKgKeoHQ--.jpg
//media.inmobalia.com/imgV1/B8vEv5Xh_VThvnEqMx4G0ZxU_YC_pCgmETwWNQKyeMqLb9Afo_WSoi~kcK5mwaepLz96AHEmAzWJQblCNhundhnOIYTFLWoaYUwjpo96rKME4HlJttmXEFIjae6ZwFesk5gxbJkMUzv9nPPrsIvfK4Tk4Oqq1t8IwoAid~WpYWdAZJHH5k9hZJHCIEg7_psB2Ig40mA8guilyeGs0iaIWB~K1InQAVmrhDrUTJvsFv136alAWgxj2RqgqzRYijyaySk9UPygOyxqASEGwuvWm26KW9nq3w3xUOrvNaHo67r~Weua_O4UbbeOoQ1WPImdGdKdGg--.jpg
//media.inmobalia.com/imgV1/B8vEv5Xh_VThvnEqMx4G0ZxU_YC_pCgmETwWNQKyeMqLb9Afo_WSoi~kcK5mwaepLz96AHEmAzWJQblCNhundhnOIYTFLWoaYUwjpo96_GQ9hwV8ESA4ouolGkQqG6zQ0gPWKj~va4m6PSpKGD4sqIIdpyMki7ZDZoXeo0lvPwbw8hrdskM2xKQzNWfBjH0pfmVKZi3oVS_DIgWSKzvHu4RoLu95wcnnFPSpY3DCkqm4PnvBBftCy0jtkgk7BluV_5aCq4LE1QgnCiIyg32KuHRkJqhOXGCCf9LP2EOPFyrMptSUTdx~edQPKkanhovX9BBJVA--.jpg
//media.inmobalia.com/imgV1/B8vEv5Xh_VThvnEqMx4G0ZxU_YC_pCgmETwWNQKyeMqLb9Afo_WSoi~kcK5mwaepLz96AHEmAzWJQblCNhundhnOIYTFLWoaYUwjpo96_iLdoPEj25tsiWblUuM2O79v81i4yEqiIC4piR24~szpPMEUlrQpaGvye9nnzxWMZCPUlpSP8qECh4o_u_oXRelCKS7hPdbMFCvEDBvnSdTQnAznC4LQKInizj_aoZSVwf6aHOYcs0WrCO_gTHgvV8lcy18qDr9Rp48c~8M3It0SUp16KMJR8H9fnSuQx90XjDHuaVl_YLN8f7JbWmY6ULSvn3zkwg--.jpg
//media.inmobalia.com/imgV1/B8vEv5Xh_VThvnEqMx4G0ZxU_YC_pCgmETwWNQKyeMqLb9Afo_WSoi~kcK5mwaepLz96AHEmAzWJQblCNhundhnOIYTFLWoaYUwjpo96~CRvEezyhQyBImt7t_drG0ZybLyc8KFJ6F1a_SRB3LNjjIF9QBtCXwkAbzMHP2wUQNJGB5mjlA2ix9CM36L0eTJCPnzuIoPtbOlQwKcgO3hGxajdS03fKryyWyUGIjqwpNdM3POMcRgEI2buyHtrqW4wm5ZsQhhZa89zEOxP_7E3VBQj27l6Ep80NXf6CDU~qTKw08Cz_7FtK5JcPgpeH5WDZ5L3NQ--.jpg
//media.inmobalia.com/imgV1/B8vEv5Xh_VThvnEqMx4G0ZxU_YC_pCgmETwWNQKyeMqLb9Afo_WSoi~kcK5mwaepLz96AHEmAzWJQblCNhundhnOIYTFLWoaYUwjpo96_UV9gmiPaJQTh29R~DPj~tafVzrMWiTZ8zs_TpqdJV6AaNDtMlfIO4T~iYIbAcq0xyhZGnGauXXtTi~TaEYL39a3pAyBgimBWY~WIezwrrlbaYKS_ZPknc7rcVPXRskZRcb3v50zau70v0tas6PFnjsaHFwTjy~ryTOtyeoQWqlEqQEiZ1fbaNBVf9VxpG6llB_h9hHaQhMTuKd_dk6_FsZ5~RPJkw--.jpg
La Mairena, Marbella East
Villa
1.450.000 €
Modern design villa in La Mairena, Marbella East
New construction villa in La Mairena urbanization in Marbella East, a modern style property with amazing views to the mountains and the coast.
Just a few minutes from the golf courses Calanova Golf and Cala Golf and the urbanization also has two prestigious international schools such as the German College and Ecos College.
The villa is located on a plot of 1582 square meters with a built area of 350 square meters and is developed on two floors, basement and solarium connected by lift.
On the main floor there is an entrance hall, guest toilet, kitchen with island, living-dining room with access to the porch and terrace in front of the swimming pool and an en-suite bedroom.
The upper floor has two en-suite bedrooms and the master bedroom en-suite, with dressing room. All have access to terraces.
The basement consists of a garage with capacity for two cars and a storage area.
REFERENCE

208-01406P

bedrooms

5

bathrooms

4
built

350m²

plot

1.582m²
Video of Marbella East Area
similar properties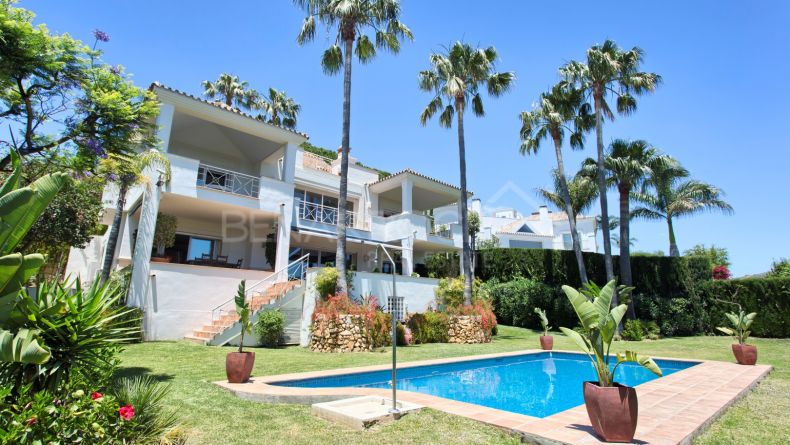 2.400.000 €
Located in the residential area of ​​Rio Real Golf, in Marbella East, this villa designed by the prestigious architect Carlos ...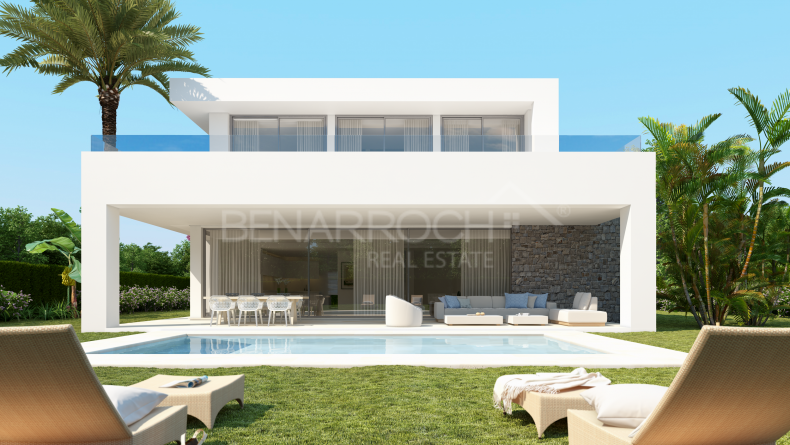 1.375.000 €
Magnificent villa in the residential La Finca de Marbella 2, in Rio Real, with an elegant modern design, located a few minutes ...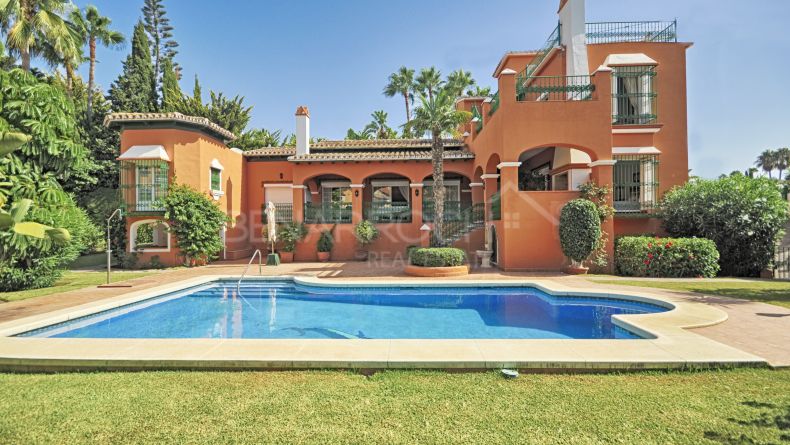 1.900.000 €
Mediterranean style family villa situated on the second line of the beach in Bahia de Marbella, Marbella East.Through a well ...