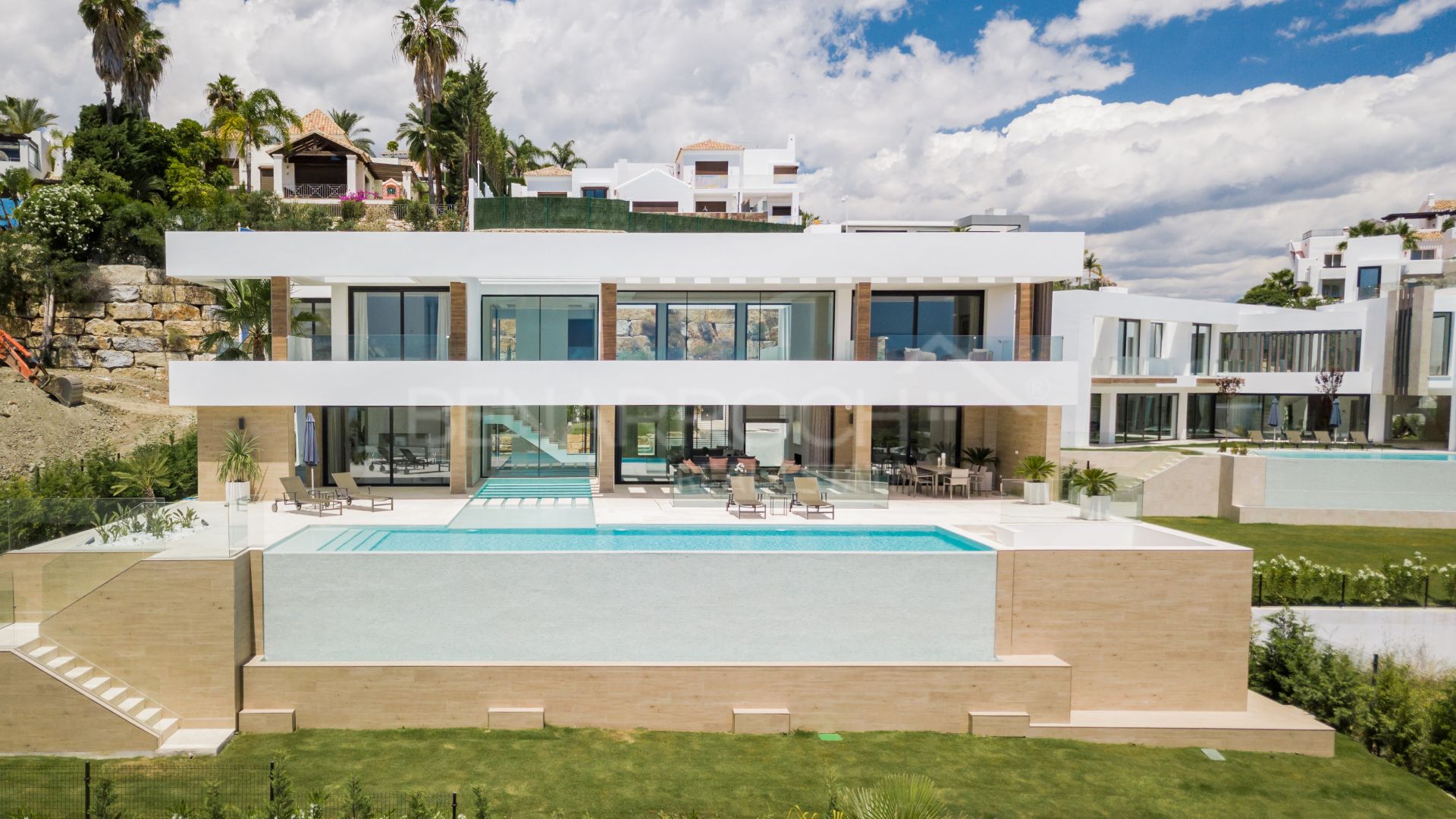 //media.inmobalia.com/imgV1/B8vEv5Xh_VThvnEqMx4G0ZxU_YC_pCgmETwWNQKyeMqLb9Afo_WSoi~kcK5mwaepLz96AHEmAzWJQblCNhundhnOIYTFLWoaYUs8qgPr~9lTAzcj8n67QZF9iSQT2dy2gXIg2_vVCnqE3mBVWsLavftgaPLScjfx~yJNhN9Nr8sGfslonQw2a3EKPaUyyrkZPuQY5~N6G~RBschOpJ7SlRU8Fp8v3zk0lqIqtey4Gaj1VmwDPC2gZWv~iAo2N4ADHSPtJUK24pcieHlR7jLRPdF1edbbvJJ0qD7BgAacby0taLvu4lFz~~oGh6RKcFOQvliwdQ--.jpg
//media.inmobalia.com/imgV1/B8vEv5Xh_VThvnEqMx4G0ZxU_YC_pCgmETwWNQKyeMqLb9Afo_WSoi~kcK5mwaepLz96AHEmAzWJQblCNhundhnOIYTFLWoaYUs8qgPr9SDjiYLoRcvVMd4z2cqZ5MtlDndtcl_bZfz~pBJOOpmteEzvRKDlIQv~VIb~Hft7zlrWN7gdTdsn2pMlT2u4j1cG4heDeAPQZunj~y~dF0U9IXAawS8ctgto0Ry2APdgcdaQQNEWglYWhxZEq5T3P4I0n3HQfIC0rFJoAEdwzWayFTy2rbJw_vb3DMX6WElHt0ZE04U3XEXVgzB6QxeljTTn4TfZQw--.jpg
//media.inmobalia.com/imgV1/B8vEv5Xh_VThvnEqMx4G0ZxU_YC_pCgmETwWNQKyeMqLb9Afo_WSoi~kcK5mwaepLz96AHEmAzWJQblCNhundhnOIYTFLWoaYUs8qgPrrjj3huCFgaLP_5~UpJVSRWp8CIaANZRfZ_lOVmZwdKHqboY22kDHWImP4bOJ4idePX_ytShuBn_mQy2VHqZAErY00VeQXoET0tWFT9IZRsDSv~q1cmIrDd3~WM4xzB6KH3WTg0FoPulT1tigl0p97E9FQ2DLGz9IEZfU~c70IjrwZebJUw0asN8WcMwYWasoq1phSOUFZTQCV25d4TIztsw0SanA9g--.jpg
//media.inmobalia.com/imgV1/B8vEv5Xh_VThvnEqMx4G0ZxU_YC_pCgmETwWNQKyeMqLb9Afo_WSoi~kcK5mwaepLz96AHEmAzWJQblCNhundhnOIYTFLWoaYUs8qgPr_EjZ~V7hYzibJNds2BI7UuR4hN1umadUx~WHvNBKHiP9DWpgcaZyvXYGTjtd1xPn2PPDc2PkHNVPbBXA5r4KVpKhN8ckbftp4jW1CWtwa4Ir~rsnpfbALy6yFxtyVYaecwps_x7hGoFPNhAGCrjUEHyQW15OxhgB4X7~f51Jr0C9nIu_~nVljk_OmC_wwhoe3_9YOD8zb05R6UmR3NQOsbixnuoi4A--.jpg
//media.inmobalia.com/imgV1/B8vEv5Xh_VThvnEqMx4G0ZxU_YC_pCgmETwWNQKyeMqLb9Afo_WSoi~kcK5mwaepLz96AHEmAzWJQblCNhundhnOIYTFLWoaYUs8qgPr~i2kGNK7bD007OqRuWonQKI7xGSNawuWj_CI9CMKLo2hHbu1RuSTgFNnJg_DU2AIMTWeiCIV9x8f9spLbDS5VKdNwoYoxHeI4xe~r0DKGgZ~piGGyFvQfIdvX6EGasqlZEuecRIMpPipajjJTZ20qmg1ZF6z8Q~P2gauPurdNkKDRok3wq05eONJWDPnfFn0LNvKoVbWEB1uhIRj61rWFH6R8~fjOw--.jpg
//media.inmobalia.com/imgV1/B8vEv5Xh_VThvnEqMx4G0ZxU_YC_pCgmETwWNQKyeMqLb9Afo_WSoi~kcK5mwaepLz96AHEmAzWJQblCNhundhnOIYTFLWoaYUs8qgPr9SDvsd09vudXw7SvSGWXV8jgT8yXKqSebv9ddlay1Hp8iyoKA9eNdsWYPbMErYSgRGi1Q7AmmIT5AGeYxYcA~EjeZ7sxXIv3eS6KLlQN65G6F2NRwFBEPK1Wrmlx~Ek9bW9jrIHkti~AA_XmIwvMJ2ZMKb4sMUi~x5lRfr~czxZvZCGdh_ESwpzDnnEY6Yu~zheYQIsnqX5Bqt2zNRgNyw4kQ5cPwg--.jpg
//media.inmobalia.com/imgV1/B8vEv5Xh_VThvnEqMx4G0ZxU_YC_pCgmETwWNQKyeMqLb9Afo_WSoi~kcK5mwaepLz96AHEmAzWJQblCNhundhnOIYTFLWoaYUs8qgPr~VvgELddLNueitGMPgNSbUYSv4z1NeRN1Zc46xZ9LWvVC9x~U7lMiH2FP4J6DIGCJGkfiDYHAEKGhUmPxcwzlrd33u5xs8jt6oA0eXBB3Fd9AV9609ij5U0E86gtcHMd9yUWfcwpt5NZ001kV_wbKnPRsaA1~1oT2rK3ou0JZcurztb89ayD7kMTxAoevmB5DbVYB5feedgZiggaQdOTKD_Wa0FBzA--.jpg
//media.inmobalia.com/imgV1/B8vEv5Xh_VThvnEqMx4G0ZxU_YC_pCgmETwWNQKyeMqLb9Afo_WSoi~kcK5mwaepLz96AHEmAzWJQblCNhundhnOIYTFLWoaYUs8qgPrqeO08mvkotCEGw42ElDOQA9dNi9uXVocF0ZazrGAmR8oX_S5X8YLzPH9x7qZj45R1wsnbWqBK7PYom~YUbBRN6qV~YV78Up8DWE6HuM6y15dq3XPU77N0xyo7UYhD1CeMHTlT2ZtyHKsf3WdzfXEbfEoDEpKLpk~Vedlj73pjEvVmwWVqXTirzhQuVAKKEQc7wOfNYqCu5TSSX395st~Nofr776cyQ--.jpg
//media.inmobalia.com/imgV1/B8vEv5Xh_VThvnEqMx4G0ZxU_YC_pCgmETwWNQKyeMqLb9Afo_WSoi~kcK5mwaepLz96AHEmAzWJQblCNhundhnOIYTFLWoaYUs8qgPr_zAN3dh6dw1SKHw_Kw2IAQpnrP2JQ8kQNgOI6IUiqxNefV4_qt_UJr1t3gr7oGWv8pCbeUGMgWL9p2TSIgJZ57nElABxd3js_fLHmzX9EG6CQKHEetSGkGVa9bImZJxji0hsSymwBoPLAWl9WJcuhuwOUX5cdxHIoFuR3YJD4pjs3ECMj5Bczuer4Veg5Tt90AwS3udsRmcMIiEHnKABzuYzKHvkdg--.jpg
//media.inmobalia.com/imgV1/B8vEv5Xh_VThvnEqMx4G0ZxU_YC_pCgmETwWNQKyeMqLb9Afo_WSoi~kcK5mwaepLz96AHEmAzWJQblCNhundhnOIYTFLWoaYUs8qgPrraUqj4806lmmv9K9MWmD9IqUht7Ll0LvDu2gx7pBAF4kOUS5tOBV528iKQa9fc9JWyVtlnWhEXeRUXc4zyLDd5aHaAJVGbxvLWrVOAZSGXJILuzDlSAL9YVkEl0Bork8LsFdB69k1WOPTg1iT10f9Gc9qKYfLoBcFGGmt2sPTUfePyICaizwkPlp5u~HfYP61td7oYn9eda5U_CSAqPtu~p8awBDcg--.jpg
//media.inmobalia.com/imgV1/B8vEv5Xh_VThvnEqMx4G0ZxU_YC_pCgmETwWNQKyeMqLb9Afo_WSoi~kcK5mwaepLz96AHEmAzWJQblCNhundhnOIYTFLWoaYUs8qgPr_EOulh0q4UPE4fzCSHTd9PH1MxejXVtL6nUli0LCvXMxjNXrdbXMt60dSbi6w_n0vn2HnEL9gvqk9SEovTG66SGpg343ee2ERB1Hw6oIXd6wyI02tapD57v2bm~A0guPsRnJ1DFVPGbBqD188iSKCX4SpFGiFaJaWQBn7b3YQycHMj12aowQ_ZLyOhyaOZPqGfm29sYyYd7FvSltqMyx5xE~gUk__Q--.jpg
//media.inmobalia.com/imgV1/B8vEv5Xh_VThvnEqMx4G0ZxU_YC_pCgmETwWNQKyeMqLb9Afo_WSoi~kcK5mwaepLz96AHEmAzWJQblCNhundhnOIYTFLWoaYUs8qgPr_ni67xnUbUQlvXSU3g6f378trVT9D_g3YGEqR4d1ZT4EKeJsfV1gV49FiB1rFa6zaIuM4wbNW3pgaRsAqaqVF1Aphnd~0PYVh4L4BazhzdcJybR9NAB995pzcHAl0iAG_G2dE6r8Z~wP7cQlLgJr0iM6YhR1csuhK0j11hlSE6Hkrmzd35Po5wCapfNIOfkGm0RNS5gNcb5GrxpfmNX~hu3EjGInKg--.jpg
//media.inmobalia.com/imgV1/B8vEv5Xh_VThvnEqMx4G0ZxU_YC_pCgmETwWNQKyeMqLb9Afo_WSoi~kcK5mwaepLz96AHEmAzWJQblCNhundhnOIYTFLWoaYUs8qgPrr6wDonvW~zy7wMfSGbblcPXhoqPUJcIELHQmePnSn8vYDn7i120afZkL6p58NYYueJHdSXp~jBJy~wGarNzk3_rbK7imkwmXuOVkgITnsQFFZ00REv3oCebQcW_xUmUYvIKph4HjhdRV1FW4dE0XjaW9VxctArf47KB5vUIUIrnuG67l7kR8_mrz__rWHlnhnWHPY1V6M8q3Bz1ouwe4LBlcOlLWwA--.jpg
//media.inmobalia.com/imgV1/B8vEv5Xh_VThvnEqMx4G0ZxU_YC_pCgmETwWNQKyeMqLb9Afo_WSoi~kcK5mwaepLz96AHEmAzWJQblCNhundhnOIYTFLWoaYUs8qgPr~DQxMgPAffZRwHHUBazbT4JvZVi~dVuxYN7u9aVPkyq0C1DwShvfqntwMj7FbQvrIBJ_a5ektDz4tRVonWtUvmcICXZId1yZOIsRkZ178E74wbZy~7oFV25qVhYcOPLC6Cf_iUhgd~FsmB7w7XBc0aG0BnHdagzdEHxBCUlooZSlk5R5uzoZhYX5GaAvWoWyKKR4p4_ioG82R_MYVx9ERe0m874dKg--.jpg
//media.inmobalia.com/imgV1/B8vEv5Xh_VThvnEqMx4G0ZxU_YC_pCgmETwWNQKyeMqLb9Afo_WSoi~kcK5mwaepLz96AHEmAzWJQblCNhundhnOIYTFLWoaYUs8qgPr_EdxwDGZS~Fg1XFsf7QzNUo~lXz7e7vA~pk1GDsEJIgrJjClaTqMFa374nGbAunW8JG~HiH_NRviDtCP28wSizns45tInTJG_0csZjiGddzZ_OlD6gAPgMkScpy8TF_GPdm1CMgbfL5SwOFzxSW99tAk99~eFJjRlp_rFBteK~3rDqwfx0_0ic4yMkCcIgvebnjT7aJ60YE_K1xmOmrITsA3Lto81g--.jpg
//media.inmobalia.com/imgV1/B8vEv5Xh_VThvnEqMx4G0ZxU_YC_pCgmETwWNQKyeMqLb9Afo_WSoi~kcK5mwaepLz96AHEmAzWJQblCNhundhnOIYTFLWoaYUs8qgPrqBjyerlAZuWikWxgYRFQodsDtIMEjWNQZ~5ZZVIHMcuiPsUsEPhZA~RSv8xtoqdlPikv6K4B6rrccSliSpl30PlnT4Gcqg02JCsyp7ZoAaYEjynNW7keubYL~25030zMBiqDBhwjEVcBuOUOqfCuP3PqWOMw6MxAKYrJYdU7pbWZCZJe_7tSvIu840v61Xyj4SBszIOwFiK2iLRjHFfi~EIF2_P7vQ--.jpg
//media.inmobalia.com/imgV1/B8vEv5Xh_VThvnEqMx4G0ZxU_YC_pCgmETwWNQKyeMqLb9Afo_WSoi~kcK5mwaepLz96AHEmAzWJQblCNhundhnOIYTFLWoaYUs8qgPr_iz6vPHLteo5bGD6U1bDq8rHipX4tRBNiF61ce4YPk0NyIXLVzsTx9HzIgvYiwtXpSxGr80ONRmyHoW95gI_l0~KQQwWKyBJJtRn1h7Hn3SLmW11dhxk0JDhiqF4QVRCOl7iU3h74ZdW_lCA2sWEqq2v~rq2IKy0XyOXKfmOznTV_tuYJhJqxm1plEg_SCKs1K3j1xhdKFAruOtOw3pr6B6Kbi0Yzw--.jpg
Capanes Sur, Benahavis
Villa
2.900.000 €

reduced from 3.250.000 €
Newly built villa in, Capanes Sur, La Alqueria, Benahavis
Contemporary style villa in Benahavis, in Capanes Sur, near urbanization La Alqueria, located in a cul de sac in a community with security surveillance, in one of the areas most in demand for privacy and tranquility and just minutes from supermarket, school, golf, beach and Puerto Banus and Marbella.
The villa is developed on two levels, solarium and basement. On the main floor there is a living-dining room, fully equipped kitchen with island, guest bedroom and toilet.
On the upper floor there is an en-suite master bedroom, dressing room, fireplace and private terrace with magnificent views. Two other bedrooms also en-suite and with access to terraces complete this level.
The basement consists of a multipurpose room with gymnasium, bathroom and bedroom.
The solarium has a jacuzzi and spectacular views of the golf course and the coast.
The property has an elevator that connects all floors, as well as air conditioning, underfloor heating, alarm and storage.
REFERENCE

208-01378P

bedrooms

5

bathrooms

5
built

625m²

plot

1.246m²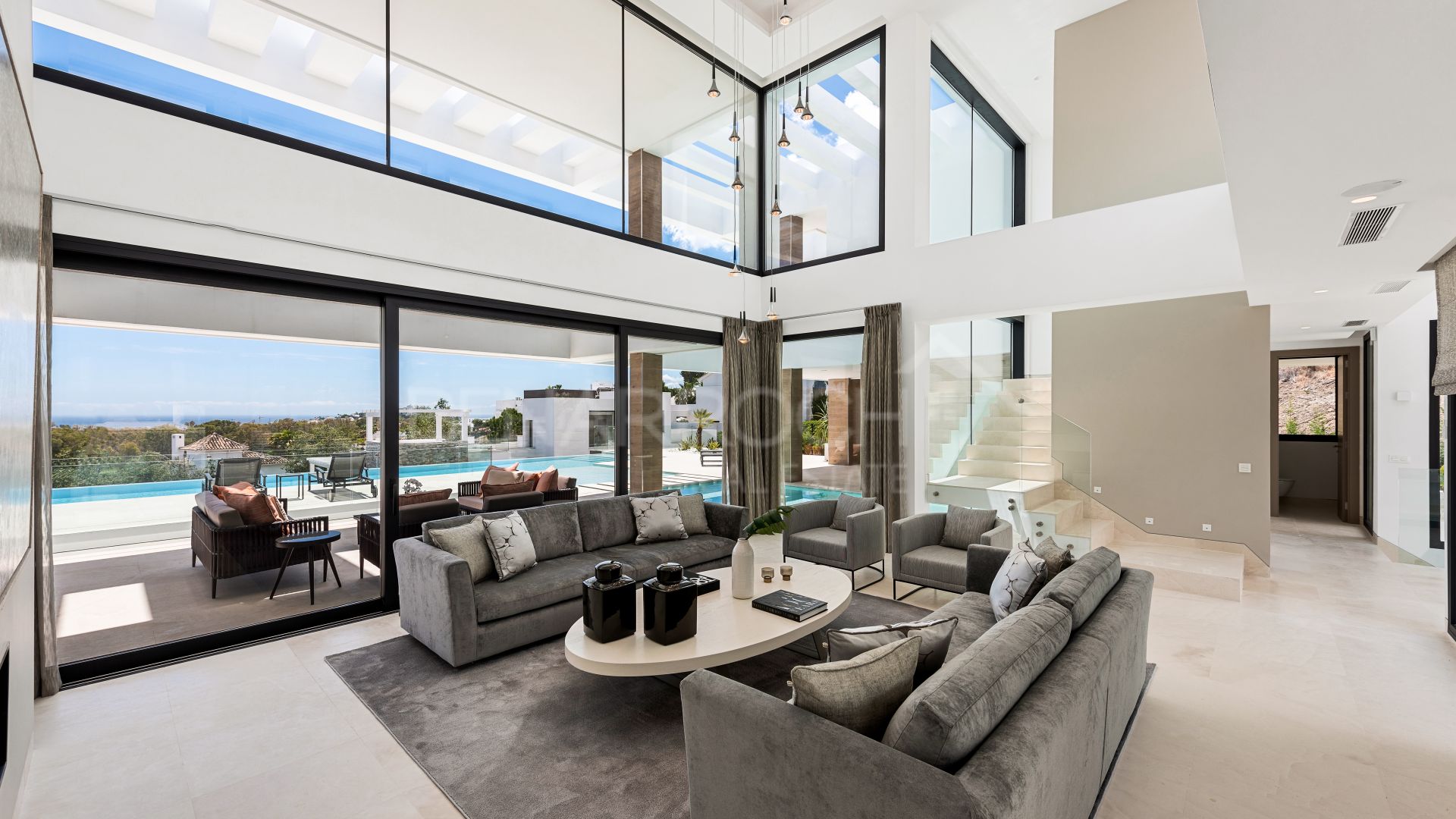 Video of Benahavis Area
similar properties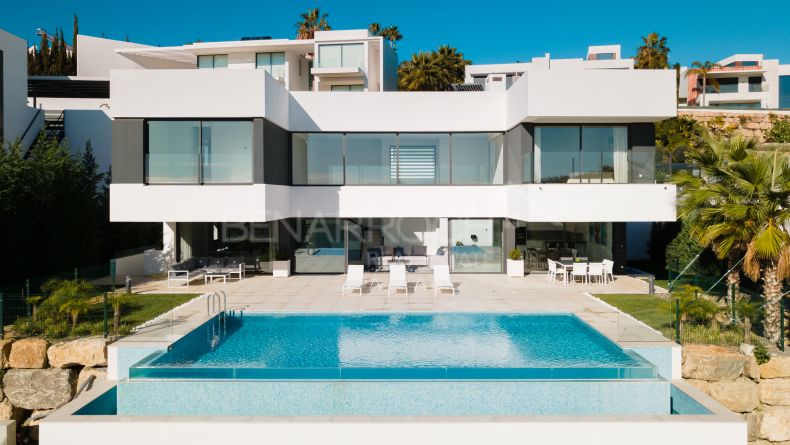 2.490.000 €

reduced from 2.590.000 €
Villa located in Benahavis, urbanization Capanes Sur, near to La Alqueria, a few minutes from Puerto Banus, Benahavis and San ...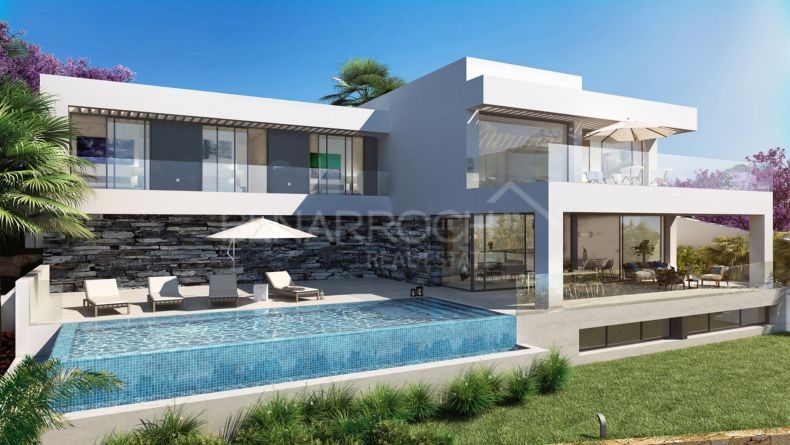 1.950.000 €

reduced from 2.200.000 €
Modern style villa in the newly built complex Los Flamingos Views, in Benahavis, next to the 5 star Villa Padierna hotel and the ...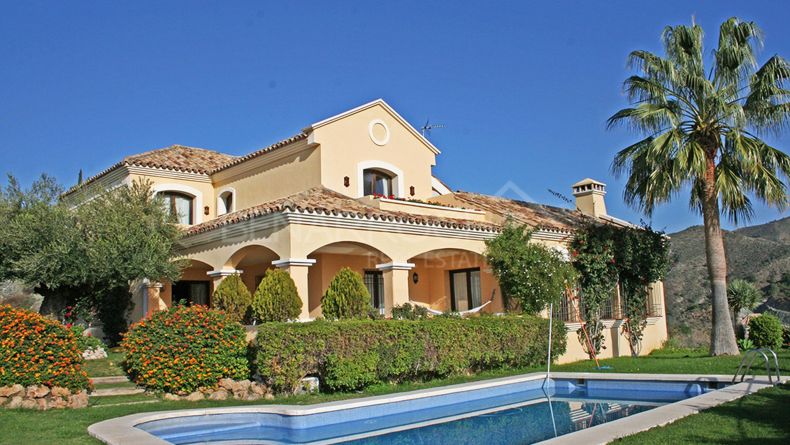 1.600.000 €
Villa located in Los Altos de La Quinta, in Benahavis, designed by Cesar de Leyva, built on a plot of 1,111 square meters with ...