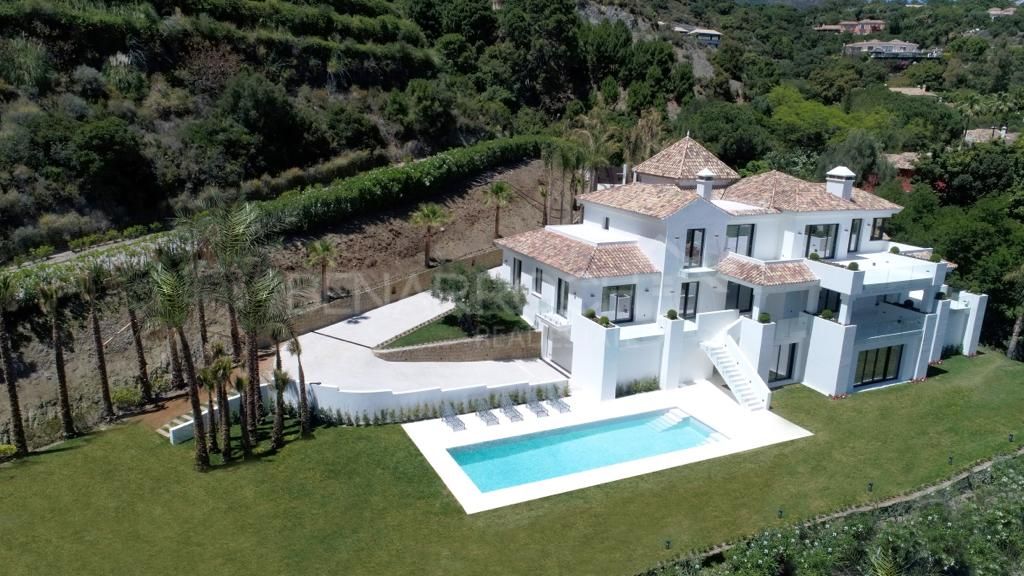 //media.inmobalia.com/imgV1/B8vEv5Xh_VThvnEqMx4G0ZxU_YC_pCgmETwWNQKyeMqLb9Afo_WSoi~kcK5mwaepLz96AHEmAzWJQblCNhundhnOIYTFLWoaYUs8pQ3_LgfnI6w7hFAbtKaGHpkkeIfRVyXVpMW0J6YOdiCY7GQGP4Zz1_dIBesk5QiftPaAC0wm4CzUoN6V7ZEIjuvU0rsfUPdOpBDly3opLeGjL_mtgQdKetkXo9OcN5EKOcUl8f9o5U25FEiVlmOhJvoJqDkqQwbxyvZB9nYxnsNA7RGGOlIkdIJ96ldIY03P7n0oZVVMmQpvVS82~M~LM_UMpo_ns4V~gg--.jpg
//media.inmobalia.com/imgV1/B8vEv5Xh_VThvnEqMx4G0ZxU_YC_pCgmETwWNQKyeMqLb9Afo_WSoi~kcK5mwaepLz96AHEmAzWJQblCNhundhnOIYTFLWoaYUs8pQ3_ea0BKt6BtPF2GmaUpNeelM4_lqcp44hM6hCdPjZrGnM7D9Yx1CVM5PewvRNN3iRlFa0ToUercatgRVQfRTJF2csvCTEK7GW8JXFf_IdwB44fF418OmuYMyLeJAexo1~1yN1_6sRKPdcDYVN~vyN~mCAS11stTf6mZiq2DQzlcKkXMK1CfVrXKWINyFdtDxrbzg63AwpF_nNHe91nUrBGFId4jkEkkjE-.jpeg
//media.inmobalia.com/imgV1/B8vEv5Xh_VThvnEqMx4G0ZxU_YC_pCgmETwWNQKyeMqLb9Afo_WSoi~kcK5mwaepLz96AHEmAzWJQblCNhundhnOIYTFLWoaYUs8pQ3_f~vysIs1HwlgYVuLXkZi3kMxiJZnU3evRBmXwEOJZ4YyV~vTfC~ISo8rKmIUYXRfLPKlvtYhe_hyytNknp479JG7tIMUXtABtNnzF_2o6LByh8PeKXpbJxi16eYeTh2t92UJbw~gTZXDcBt2MtVtHsQ4Nqm_FPBHl9YU2SZ39Y~fOb_4OGn~_5DhboaElgVmXA3Xbp52Z_SyzkE4glisgDk9EWXpLg--.jpg
//media.inmobalia.com/imgV1/B8vEv5Xh_VThvnEqMx4G0ZxU_YC_pCgmETwWNQKyeMqLb9Afo_WSoi~kcK5mwaepLz96AHEmAzWJQblCNhundhnOIYTFLWoaYUs8pQ3_Kksg~yBWoeNrBWwJqST73s9L05Jq~Ctxl~L1M2UBTiMbVYlIq17QdIwsm~f7kSGht5Lx1HkN6SSmACZzNUbjSISDfv88Yw6i83tibu6g4obGtN~lh3_KX9tDAPMAc1IoVrp3YaNqYvVgrcNl9goDMtYcV6F2yCPHMaz_Y12gI_Z0BXTVmkBdPIguOWYOBGIrChYW54QByPPdk_ygHp5OAvh0y_swEg--.jpg
//media.inmobalia.com/imgV1/B8vEv5Xh_VThvnEqMx4G0ZxU_YC_pCgmETwWNQKyeMqLb9Afo_WSoi~kcK5mwaepLz96AHEmAzWJQblCNhundhnOIYTFLWoaYUs8pQ3_e2pb7CJb09mXfOH0yKy~lvj14O~fDf5mbm4FRrK4lyjymAqB7z5tV_6ivq_k59~N5lJrImFqlGU6K8ntLFsJ~QxevPfRBovX0iTzeu9cnafKx4pb43NlELegVStu2_0hzGS6QBQEEj6kKptXKohpNo2rYVXGWHUDl6oMem9Dn_2dPp8QFfQCzVCT0UsCHhgq0_vDaS4~nmwioN8ibZMInWnGIDuLwQ--.jpg
//media.inmobalia.com/imgV1/B8vEv5Xh_VThvnEqMx4G0ZxU_YC_pCgmETwWNQKyeMqLb9Afo_WSoi~kcK5mwaepLz96AHEmAzWJQblCNhundhnOIYTFLWoaYUs8pQ3_elqWgfMoYa13Hqw1FksJm5haIeKDHpMSinwrhMuWCUso3dsm5c7JIuldKGF5KEkaB_ldXDNYMaB88ufmWnrn8utpuNBiQF1mtKYL~Z05qarC2N78kHr8ZvzHS~Oh_CSaMWf6EfiMY3ritgJfbql13sQHr2~HeqrNJBCC5tWwI5Uey2Fgt4XWT2nJQLROnbaAE2WKBLFcvWbc7LJd4ZThcD7IyEPXjQ--.jpg
//media.inmobalia.com/imgV1/B8vEv5Xh_VThvnEqMx4G0ZxU_YC_pCgmETwWNQKyeMqLb9Afo_WSoi~kcK5mwaepLz96AHEmAzWJQblCNhundhnOIYTFLWoaYUs8pQ3_LDJuXUYzqoUcQ7YvKT_oBa88FEKlp116~mMPLGlNZytx4emdrFkHWxubYQfNZWZfbb66BdUaPSEbIoBwvfmKJVJ4JeiqXOAtMUnGDMI9DEd14~wIfhyWCet~gjNNBAI7gBq7Yf~HLo8ZhAH3iAmluOkhcomYso9c7UeGbgtCL6yQ8h4oG1f4ypn3417~i2yld7UXhePrd9X8Yig0e7dLnq6aCgtSjg--.jpg
//media.inmobalia.com/imgV1/B8vEv5Xh_VThvnEqMx4G0ZxU_YC_pCgmETwWNQKyeMqLb9Afo_WSoi~kcK5mwaepLz96AHEmAzWJQblCNhundhnOIYTFLWoaYUs8pQ3_LluVMmHO3BxxqbNaHm0TliiZozCdZijIT4NtjckUuifOIA_Kaovlu79MwQPNFkIxm4vUNMlkm_hjMQzRyeczPgS6SxykssMWcNSK639DVCjK95HMikHiI2_i9x67T4Zo13YV3F1aDdMFXytLS1GmGmoXGIPiET9aC9fDiOmaXCckqvQX8NFfKeoLR14A5hq1nWggG_6DEL7HG9ff7Y1Cth6My_XFmQ--.jpg
//media.inmobalia.com/imgV1/B8vEv5Xh_VThvnEqMx4G0ZxU_YC_pCgmETwWNQKyeMqLb9Afo_WSoi~kcK5mwaepLz96AHEmAzWJQblCNhundhnOIYTFLWoaYUs8pQ3_dlbKD1ff9FRpZKNbp~dW2_CHyANOchucMjDzikAZM_IIRGGFo2yEFRRSoEFiVe5uzRpzZmC0HJO5lkjrrw3ED9_J5OnKOXuvn3fCarSxQR0QwfHTemYU_sbjWnvjgEUp3woGBXfBg4mUsUphHSAqEhEhF9LZh1DhoPRzCgSnRyyo3dTavO3ZPrsjiRPupaYoW6YkDhbKYcSdOudYulY599Gx5_SsiQ--.jpg
//media.inmobalia.com/imgV1/B8vEv5Xh_VThvnEqMx4G0ZxU_YC_pCgmETwWNQKyeMqLb9Afo_WSoi~kcK5mwaepLz96AHEmAzWJQblCNhundhnOIYTFLWoaYUs8pQ3_d0bvkAhIGEpNR6dK58dh~D_9n0389gIc1kUcW3C3H0AbC2yGj_ieBqYF_2XgP8cXrNdfeJIdFqK~8RWBxFrQiuA_6v~fwrSjBF2UK8utqCZAEXOGl4AGtgjPdoslDlrxam9fpdz63en3Mr~7PufdCiMa8Zbi7cxc1_jMGLSE5H08cq7bK0E34gazkBv784d6s5MEISldNjFso_8bXgYH9TR2gF4_rQ--.jpg
//media.inmobalia.com/imgV1/B8vEv5Xh_VThvnEqMx4G0ZxU_YC_pCgmETwWNQKyeMqLb9Afo_WSoi~kcK5mwaepLz96AHEmAzWJQblCNhundhnOIYTFLWoaYUs8pQ3_fBi4vnkOZK_KyvLJfShzZhxoh~bJoVIHx1wZ9yp93JqxoSX5sVpmbBWEsEPww3FZDl0w3Nxojt4QNEsk5m_ggIA9E0DlasKYYGxMTxHrpafe_Cy8z5GwunS8Zizmh4oDp~lMdW95nSoax74wKeqwg4PmKtwQjuIGwHSSAS3j_7_gaiVBnw5tZ~RayqoAzZwHmiVWpzsvbRpPTGiiDQIl80KhNNA6Qw--.jpg
//media.inmobalia.com/imgV1/B8vEv5Xh_VThvnEqMx4G0ZxU_YC_pCgmETwWNQKyeMqLb9Afo_WSoi~kcK5mwaepLz96AHEmAzWJQblCNhundhnOIYTFLWoaYUs8pQ3_KUNQSjX59uj1V_N5ANTP6qwKYxEgBDl~oqflmpLQPms50EVbTXulXbFq486hf1mkV8SaWQrwwrRA74H0z20qIGvfsN~XE8~6xynVgYm49Bk5iKhzkTTNR8F41zzv0wrByS0SeMHn~bSskZl7eW52aK3xqZxEHyaKSNdfKA9iT6t964XznUZ7mvCfQEk7K1BhB5fNcTVoC2WV7HPkQwH9rbByRHK4xg--.jpg
//media.inmobalia.com/imgV1/B8vEv5Xh_VThvnEqMx4G0ZxU_YC_pCgmETwWNQKyeMqLb9Afo_WSoi~kcK5mwaepLz96AHEmAzWJQblCNhundhnOIYTFLWoaYUs8pQ3_dlVyCth0H~dMiQC7mLhgmCr4cB6QIv0Fn1n_2e0EoUiPwTV3jaODxdILGMdnjVyQTMWWzY3HMtdOz6UXRcvm7Q5wLdQYfV4OCW~88fi20FC_vtcMIiiX_SXOETIBUxuoFJbcsy_n4iMFXfjMCLHzZK7JSCO6TVmAmPe17qOMmSXXsu5pTHwBKLMVDZoMqtmND2NWQfyrKBOPCfRt12S8LgKFldOfSA--.jpg
//media.inmobalia.com/imgV1/B8vEv5Xh_VThvnEqMx4G0ZxU_YC_pCgmETwWNQKyeMqLb9Afo_WSoi~kcK5mwaepLz96AHEmAzWJQblCNhundhnOIYTFLWoaYUs8pQ3_fEwww2Z3tYIwNLqGHmc6rbpdoSHFMXS9saEZBuk2TfxbNs18UnfY5LMrAJ9_g~VAEdfOM0nvw1ImepjP3Z0HE6XoMg17xhDmtHUDQRLmMLQ87xtVvgxtFoTrrq1J1qqKEOkWRoeOEwWgeBY5LpyuE8LMG9WDnHTuI4HVAo4BSNoJVvK0DIh34W2ZONOARzTLsfKOQ20hI4LkJKOw5vLQNCSwhMR2hA--.jpg
//media.inmobalia.com/imgV1/B8vEv5Xh_VThvnEqMx4G0ZxU_YC_pCgmETwWNQKyeMqLb9Afo_WSoi~kcK5mwaepLz96AHEmAzWJQblCNhundhnOIYTFLWoaYUs8pQ3_dgNYtDDlGslGbXUbUoB2dCJB1ldcFMgKXOhU~cQXI1aRSoBHi1KQp741Mp_FswAjezpGLG9cKgbGNUTCNXKHZeKWEcF04b7uDk2MH230dvUMUEaVMxoZ4qPElA1PkBrmM1YagTjpL9U7LWXDPzhJHO6QNWiJELLzRdy~JVw7BXvxLkEylkI84c8MqEFFjtidP9A~CoC~sR7RedvebrwHzfKvDo77mA--.jpg
//media.inmobalia.com/imgV1/B8vEv5Xh_VThvnEqMx4G0ZxU_YC_pCgmETwWNQKyeMqLb9Afo_WSoi~kcK5mwaepLz96AHEmAzWJQblCNhundhnOIYTFLWoaYUs8pQ3_eg1EjZ8rSqeHTpxlrkusQzmqRnLPj65CocZY4RU~RUcMYvaujjeB4y2pc8JaWynWSPbgdPWM~P8flQnQmu36EuNcnRSGn9uV_ZlLYx8_gk0QSbLWmCPKCC__19d7Yn5BVHGNpJd0S_9z0y8~Ho97fRMkrzNmz2klREHvjeNcI3tfHm7btGpwnyKvOU~V64M61JCEgjmRo0_APZOkvwxzK5eNUbZoNg--.jpg
//media.inmobalia.com/imgV1/B8vEv5Xh_VThvnEqMx4G0ZxU_YC_pCgmETwWNQKyeMqLb9Afo_WSoi~kcK5mwaepLz96AHEmAzWJQblCNhundhnOIYTFLWoaYUs8pQ3_Kzt8VM6TtjaB_CUNu0yVpxY_3rlFAglAqV8lBtsXPl6Pa2mt~m~VzN~qNR0F0JhudXX~QK7qNMo0ATbyNnIo0vvKYG0~Fxs4W1oqyHqH4XnI8cwPEk2JlLMVx22kaQeGhmobEvAtlMKi0tKRaCpciHSLQAD0YmShTnb36G6t5o8_oNyJwjgZZCdxSrOup6ld_dJvclAM15YPjxuV4yRYnitaIrf~_w--.jpg
//media.inmobalia.com/imgV1/B8vEv5Xh_VThvnEqMx4G0ZxU_YC_pCgmETwWNQKyeMqLb9Afo_WSoi~kcK5mwaepLz96AHEmAzWJQblCNhundhnOIYTFLWoaYUs8pQ3_KUIcU4qbJi~fIO~8xJ6Y8RbzBJ4A07y4195Mrf7XpbqG9fdPlua5WJjj0vbQaYMCG4CNXyK72Y5IXnpdZPh6tN_550V8x1aepE~RQUpmtgkL6Kxm157nHBAzZG_xtSDIwlOoML~R6C8Jh2MBQrUOtPFhZyZVxHDkUr7O~4MPOBHxIQPDmzR1xLKK_RaOVHvbun4_Jc7bsaPDHQ7jjDtQXWgLvw2cWw--.jpg
//media.inmobalia.com/imgV1/B8vEv5Xh_VThvnEqMx4G0ZxU_YC_pCgmETwWNQKyeMqLb9Afo_WSoi~kcK5mwaepLz96AHEmAzWJQblCNhundhnOIYTFLWoaYUs8pQ3_KzOzsDhjyaiAkwWImqZXDUn0uDo6D37pcw48gzRS6pVsXoLq2eyWojE3riRf1gTJR4KXcPa4cks94FK24PAeVam9R5EWWwV9xeo6JjAH0WFVUEJCUu8f~e3znBVGdhz4U5FeLNxnlJLfbON8YFPEz84LaGDFuwVXLzh7W0DNbb~i7hXM408peXQgmY_~xpwyzK9HVDlUkde6rvqV~TbH~CGHKrPBjQ--.jpg
//media.inmobalia.com/imgV1/B8vEv5Xh_VThvnEqMx4G0ZxU_YC_pCgmETwWNQKyeMqLb9Afo_WSoi~kcK5mwaepLz96AHEmAzWJQblCNhundhnOIYTFLWoaYUs8pQ3_f6x2H_82mCWLZfXwnyG1PO6Q6XxBqTMcBqLtiM93kDOGrDzWXYZA~U~eGnZytUdxGuFseqynG8nuPKy5LQSYL4ysUqfjQKWq4O5wMfm0L7nHzPK3E~fssZ_yrtCWytza4_U60FaAu58_Qk92_sgZ8snCtF_JuUuzCrkFqzVAgpe06W_xohXrYTAs7RYAwZDW_srxjNi1W6sDRc1gw0Cerl~fW8wTAA--.jpg
La Zagaleta, Benahavis
Villa
5.950.000 €
Modern Andalusian style villa in La Zagaleta, Benahavis
Newly built villa in La Zagaleta, Benahavis, an exclusive luxury urbanisation where privacy, security and tranquillity are assured.
The villa combines its exterior Andalusian style with a modern interior design and enjoys spectacular views of the coast and the mountains.
Implanted on a plot of 6.088 square meters, the property has a built area of 1.148 square meters and large terraces.
On the main floor there is an entrance hall, a spacious lounge and dining room, separated by a fireplace, kitchen, office and three en-suite bedrooms.
On the upper floor there is the master bedroom en-suite, with dressing room and living room or office, as well as a large terrace with amazing views and a second bedroom also en-suite.
The ground floor consists of garage with capacity for 5 – 6 cars, laundry, large multipurpose room and independent apartment.
Outside, swimming pool, barbecue area and garden with automatic irrigation.
The villa is equipped with alarm, sound system, domotic control system, solar panels, marble floors, air conditioning, under floor heating throughout the house, video intercom, satellite TV, fully fitted kitchen, security shutters and double glazing.
La Zagaleta is a gated community with a security entrance, doorman, 24-hour surveillance service and security cameras, in addition to a series of exclusive services for its residents.
REFERENCE

208-01377P

bedrooms

6

bathrooms

8
built

1.148m²

plot

6.088m²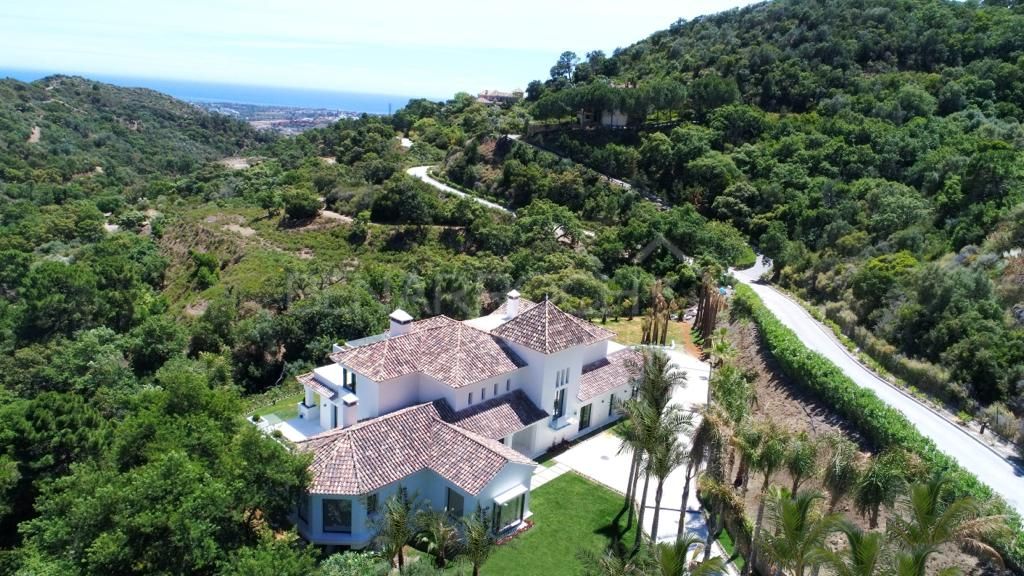 Video of Benahavis Area
similar properties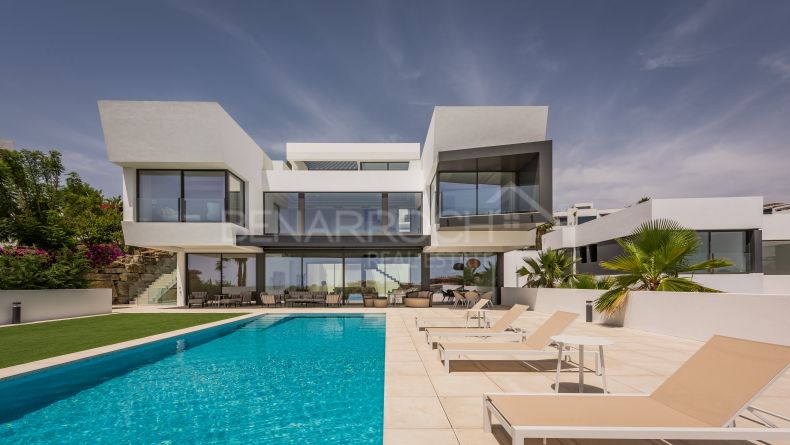 3.300.000 €
Modern contemporary design villa located in Benahavis, urbanization of Capanes Sur, next to La Alqueria, an area with security ...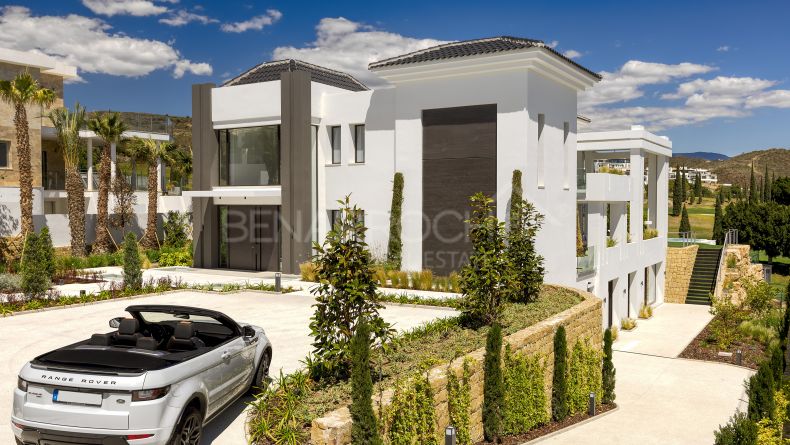 3.300.000 €

reduced from 3.500.000 €
Villa located next to Los Flamingos golf course, overlooking the golf course and in front of Hotel Villa Padierna, an area in ...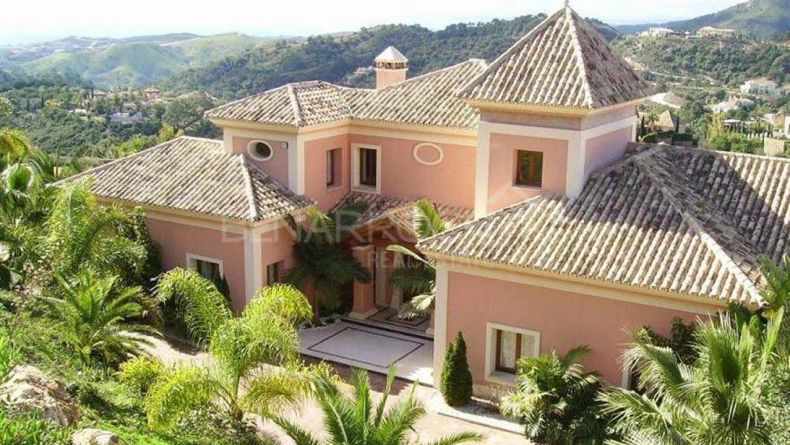 SOLD
Villa in the Country Club of La Zagaleta.The property, located in one of the most exclusive complexes in Europe, enjoys very high ...