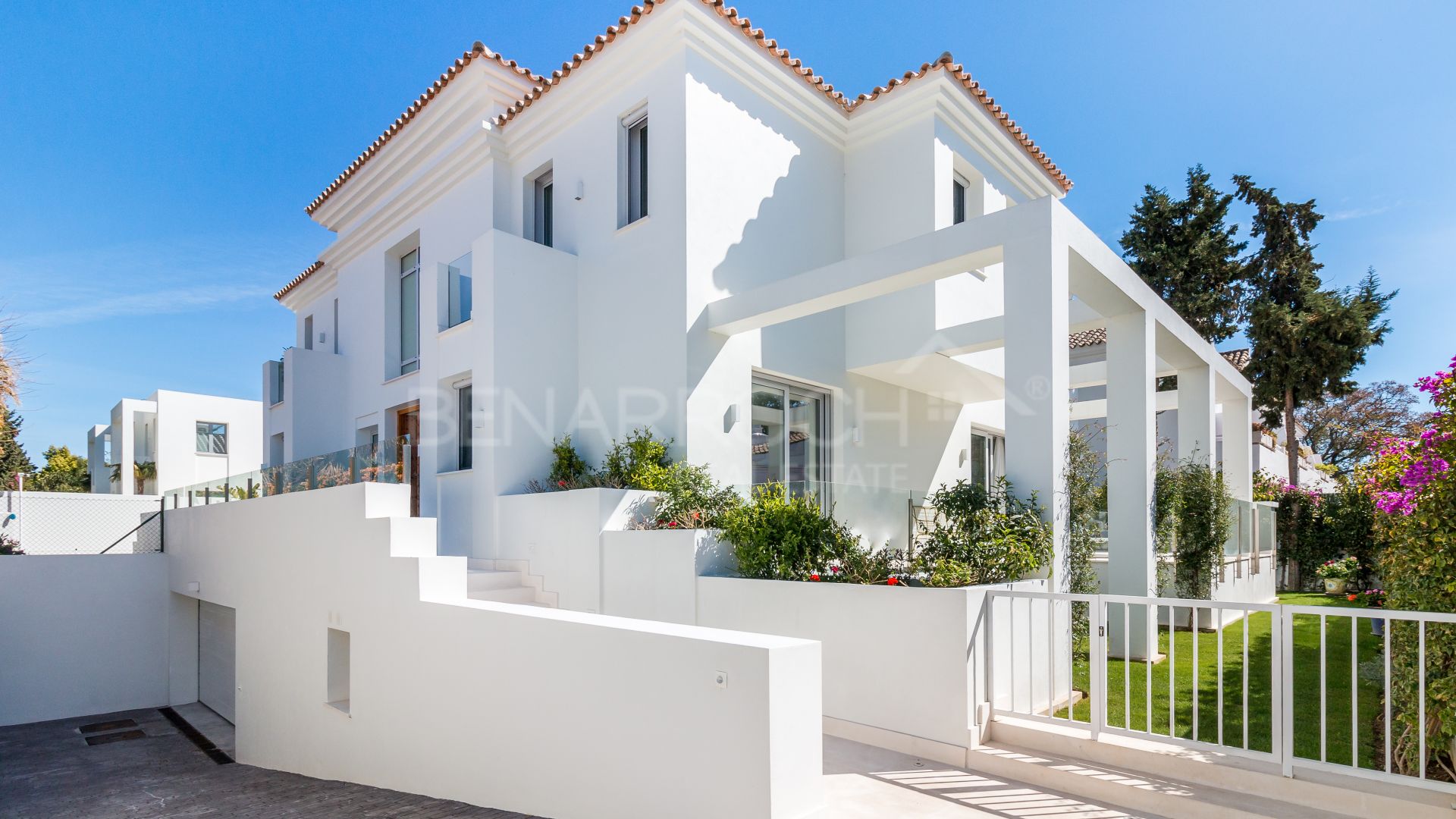 //media.inmobalia.com/imgV1/B8vEv5Xh_VThvnEqMx4G0ZxU_YC_pCgmETwWNQKyeMqLb9Afo_WSoi~kcK5mwaepLz96AHEmAzWJQblCNhundhnOIYTFLWoaYUs4i3qylaDOl2wvQAFIj_4qk_LuYVM9Kqvjr1OOioX27vweWrKU2LcTjrVVlBv~WdQ5Z9RAAob~khJTu~TdOwiKdSeeTKOcvecBsS0gVCIr~MeA5uASg1qcMMYH~6cK5oUvyOkA_rU_CTp5Zma_YSopOw8UXp9XjVLiF52wbiFYy1QaxGV5lRZCgmfbmM3o5TaZgtEIcvPlc3gb1osi7yG6NKrDtS66JgqqDA--.jpg
//media.inmobalia.com/imgV1/B8vEv5Xh_VThvnEqMx4G0ZxU_YC_pCgmETwWNQKyeMqLb9Afo_WSoi~kcK5mwaepLz96AHEmAzWJQblCNhundhnOIYTFLWoaYUs4i3qywNOJUN7gI7UvBTZPMJFym5SpSrCiXLvLs3Jn1WRfDdSjke1EFUv4MLtRKkLUOmuPlZvKdujJJ0i4lEDLaMS8B2kKlzb1IRKowNG_XfZ4hv_wqUlRMgkzddCR0ODVcAF1KDKQFlZSwkXXMsQ7_OxlzkyDY1rdkCxUY0Bdkkb9yLxAPKMyAZv6G~AQJBdUVwDUvWgJ3Je6lsh6O5W~0UJF3rOhN6__DQ--.jpg
//media.inmobalia.com/imgV1/B8vEv5Xh_VThvnEqMx4G0ZxU_YC_pCgmETwWNQKyeMqLb9Afo_WSoi~kcK5mwaepLz96AHEmAzWJQblCNhundhnOIYTFLWoaYUs4i3qywrg9PKlGdwbLqJi2Ulc4IuZmGz5H3O5x1dKfAjSU7GvV1nNM76AWSzXoLlMxzl_TpmtVWLzKacKIM2kTkwzWEgfSZlot8E5nn6rohLcz8gi_18MAw0I1c76MPzJj2LWBtOqwpndFX_g4ukD8I0kkGaMR1pTggWyncDK9zuYH8RgTaY95H5La6g~84WWDhS3T~hA31Z8EXdP2HKsCtltIkSwGAh5A9A--.jpg
//media.inmobalia.com/imgV1/B8vEv5Xh_VThvnEqMx4G0ZxU_YC_pCgmETwWNQKyeMqLb9Afo_WSoi~kcK5mwaepLz96AHEmAzWJQblCNhundhnOIYTFLWoaYUs4i3qyk6W3UxtLmy_wEqYkIAdKgHEyMZFTTCuJQFU3SJqm_v82R7Yxy8R7~psCYw7AA2opQokVT9HXsKa~GWDCu~1llILijukaTswGxKEPVaUBJHEzeFMZdDagoVUlAsrvD0XI7bMrBRfvwIF9DBbN67~an_~c~G7k3OlnKhb8njZN6m_VAwvekJ_366rAX6I_wmk41RHkyJQE6Ch9hFaQCN7jS9K5A8y4NQ--.jpg
//media.inmobalia.com/imgV1/B8vEv5Xh_VThvnEqMx4G0ZxU_YC_pCgmETwWNQKyeMqLb9Afo_WSoi~kcK5mwaepLz96AHEmAzWJQblCNhundhnOIYTFLWoaYUs4i3qywNu24zcstuPxU3x2QHMJG3CZIviQ2Z4N_4IK4s77~lKuGslfmonNQefV3l7QvVPdBPbFnc8MsqCGEaivA6dpcmt0FVeCUut0tX2Z4Xvqx2rhmmvqMmQE9nEnYtQyHd9UUkfnn4Ch5ULsN~eNjjprULp~KdpDsycbNY2VgxcaSOIS0WWqWXaURFI6ekPcPXjj7TaW625kmyBkMOloWG5SulUMMRBLiw--.jpg
//media.inmobalia.com/imgV1/B8vEv5Xh_VThvnEqMx4G0ZxU_YC_pCgmETwWNQKyeMqLb9Afo_WSoi~kcK5mwaepLz96AHEmAzWJQblCNhundhnOIYTFLWoaYUs4i3qyxwlVQBPRABgeBhkJqJx95Lfqhq6j6vWCIgNUeOh8hj75P00o7dpfiU34btZrw6~uDGtKoB0LYluGXZURixilm62huA8pISTmzYoxriVnglTgZH09d5pvmJdKeYQWcTZcLIlP4nbx87oWiVjS6XtoVxiQfiij9Fe0CIjYv9BbDBqZNHbLwUf3zzuSYK5db2v9G1KfbOMDpUv42Z7R2jxOtUUqg2JQSA--.jpg
//media.inmobalia.com/imgV1/B8vEv5Xh_VThvnEqMx4G0ZxU_YC_pCgmETwWNQKyeMqLb9Afo_WSoi~kcK5mwaepLz96AHEmAzWJQblCNhundhnOIYTFLWoaYUs4i3qyknKDOHxcJvMEIRqJ0He5k92hR4UDnRFJ~LK2dOhklmCCt~H585Qs2btw4lSmYs0Me0PHC~E3mBEyDjVVibyP0IjT59S~LcVWALMwOu4fWLiMtFLtVFF2JhpvHUjQ~a36~t_LD2UJonCh_WM9ty4IAQXJ3gcjd7kPUHiYsHvavivuNarGz96g7gNWyi0pcHgBKjUq_mXqdoNTAp_jp5f0_YjQagvIhA--.jpg
//media.inmobalia.com/imgV1/B8vEv5Xh_VThvnEqMx4G0ZxU_YC_pCgmETwWNQKyeMqLb9Afo_WSoi~kcK5mwaepLz96AHEmAzWJQblCNhundhnOIYTFLWoaYUs4i3qyw~uR6imzqYMAjZcsBf6hTv5Bw1fOa~ua7P49sAhJngKLteoqyA7AKuCSYtOA2vcXG657cdhi_8rZDHeCwEaP5rH~sJZOh1gTdZo~ZVRHql8UUXMHoeZMaDLxCL5~3DbrO5opHsk5nSM6jadcee6n3J_jSsqKw9jtAPA~rfjlmaXgmE9f4eLQZ_yt5SeI4ASC8zM8NupvqeTFXkLK9zl3iuG005se6Q--.jpg
//media.inmobalia.com/imgV1/B8vEv5Xh_VThvnEqMx4G0ZxU_YC_pCgmETwWNQKyeMqLb9Afo_WSoi~kcK5mwaepLz96AHEmAzWJQblCNhundhnOIYTFLWoaYUs4i3qyzhqkqUo1q4izgfYaUj996hZctiazkJhVTDeyhqDVYPJyHpRPCKZWIeuUyZrmSrOHXIaF8KDOX0v01QMnnpFfkbvJ2AmF8qTfl4OIbB6kA5~GsSJkPo0qWJ9DZLLhrVgJnrmmStLmSkdCvi_WlKIvq3hcn7mAds6coDNRSG7FAi9UYTLuytq4H1uoYxNQ7R_w2HlmR0OhqlS1xAtn2KbznncWP52LdQ--.jpg
//media.inmobalia.com/imgV1/B8vEv5Xh_VThvnEqMx4G0ZxU_YC_pCgmETwWNQKyeMqLb9Afo_WSoi~kcK5mwaepLz96AHEmAzWJQblCNhundhnOIYTFLWoaYUs4i3qykn157AC7OFKgHfHOu8HniKGjgwXtktPImbyHmE5GGn5MjBG1TVZYiyPb7clJGzDjXGd_5OV0o5DbBeMZgWZrlWSTUMbCuspwDrf6X35iloYfyBEUp41z3BMwy3q05CxVILChbTtkgxukiUHhT0ZXNb7ffgdJcTWL_~RtaMqovImRThDuskNNc00MUDlil1V4pGg57GCwVYUsQVTqAWleOZnE7Z~Dsg--.jpg
//media.inmobalia.com/imgV1/B8vEv5Xh_VThvnEqMx4G0ZxU_YC_pCgmETwWNQKyeMqLb9Afo_WSoi~kcK5mwaepLz96AHEmAzWJQblCNhundhnOIYTFLWoaYUs4i3qyll4O7CW5THUbu~suh2rg7AGV4NLLyxoJhaU9KILLZU2GDdYpWCznnAHNHOuawyoTHazc6gG4t1UxnsQY3uRKNS5rtdknZLTXaqkANh7Vv5XNyOC6Re5shgN73eZBSYPoV9mBPaEiPnovORLFyJKjPVm5DbF8TkjmNljMVyM3fQ0g6dh3sfN5HcJGpsymdW8JIAbTSuZ_tgT7ClXdAvTI1FuxQcq_HQ--.jpg
//media.inmobalia.com/imgV1/B8vEv5Xh_VThvnEqMx4G0ZxU_YC_pCgmETwWNQKyeMqLb9Afo_WSoi~kcK5mwaepLz96AHEmAzWJQblCNhundhnOIYTFLWoaYUs4i3qylDJwML46pHrD5iQm19Gqb0NSjmXfyLCRwyD8JYNKo5IgfhWRDc9v8su5R4UYw8gkz0PC5RWgIBI5WhI~IogoJIpjD4Xm4cCu2JI4Mf1xhF6x8wQUW1KDVfyLMKvylPd1f3r0t7SLTiH~ycnt3MnPchpkWCsuu2sKPwO8DhcGuF0mTh__7rCsxYHp8X6YbMTiPFvznz9PF5yJF6sN7KFUAj23PLABHQ--.jpg
//media.inmobalia.com/imgV1/B8vEv5Xh_VThvnEqMx4G0ZxU_YC_pCgmETwWNQKyeMqLb9Afo_WSoi~kcK5mwaepLz96AHEmAzWJQblCNhundhnOIYTFLWoaYUs4i3qykXnloU13seuWPAx~QPGdHC8UsjL8flBr1mqvM9xmKif_5OLT3XoHl~sWxCwbNE1YTHqxyAIw71kPqd49XScz7svB8AwGg2b08kufC~YYBV3tVL1_D39kzGR4AkIR1U2t7QNtKkQeA0LebuDXrfeYfvXka6lRZAuze2tykQ7wVKsFcVG5YN9LsMnCeTbbw7D8COrHiCOG80JOHESBH3VxBBmpThdKfQ--.jpg
//media.inmobalia.com/imgV1/B8vEv5Xh_VThvnEqMx4G0ZxU_YC_pCgmETwWNQKyeMqLb9Afo_WSoi~kcK5mwaepLz96AHEmAzWJQblCNhundhnOIYTFLWoaYUs4i3qylgmOuwTy01nVnqVnJCiaL14BfOVo4l4RE9ABM4uex3rioyIYJ1QwEAEpq48lE5EF85uJUdzkedVywcW2XuIxrLT5RA6i9~ST2tYrc9i3vZX2~LKNxB5CUuOTLIZOUclZyK0~O4YEDyZLatnp7WET87CbuuZB6hS_11_jLuXTbG6DHKZTDfZ4771ZTKzcf7wwP0yD1YRz0F~cn58i5Q3eijSJPMzW1w--.jpg
Cortijo Blanco, San Pedro de Alcantara
Villa
SOLD
New construction villa in Cortijo Blanco, San Pedro Alcantara
Villa located 300 meters from the beach in Cortijo Blanco urbanization, in San Pedro Alcantara, just few minutes from Puerto Banus.
The villa consists of two floors and basement. On the main floor there is a living room, dining room, kitchen, access to terraces with windows from floor to ceiling in front of the pool and garden, guest bedroom en-suite.
On the upper floor is the master bedroom en-suite with dressing room, terrace and three more bedrooms, one en-suite and the other two share a complete bathroom.
The villa has a large basement with cinema, games area, wine cellar and gym, as well as a garage with capacity for two cars.
REFERENCE

208-01332P

bedrooms

5

bathrooms

4
built

588m²

plot

800m²
Video of San Pedro de Alcantara Area
similar properties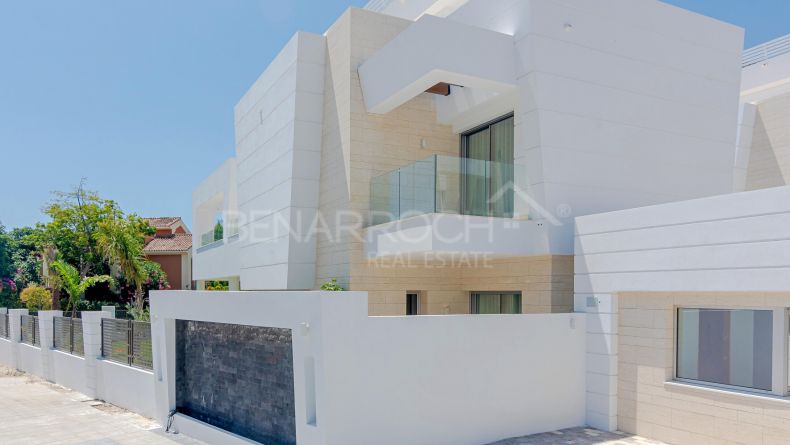 1.760.000 €
Contemporary luxury villa, elegant and with high quality finishes, is what defines each component of the new project Perlas del ...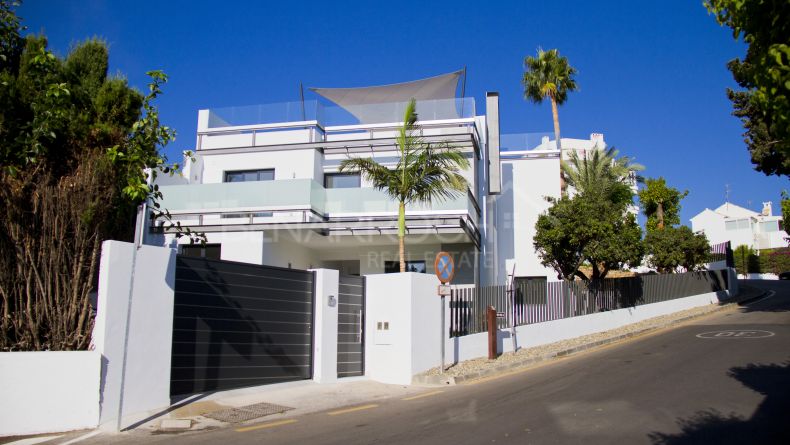 1.275.000 €

reduced from 1.395.000 €
Recently renovated property in Guadalmina, in front of Guadalmina Golf Clubhouse. Designed with high quality materials, the ...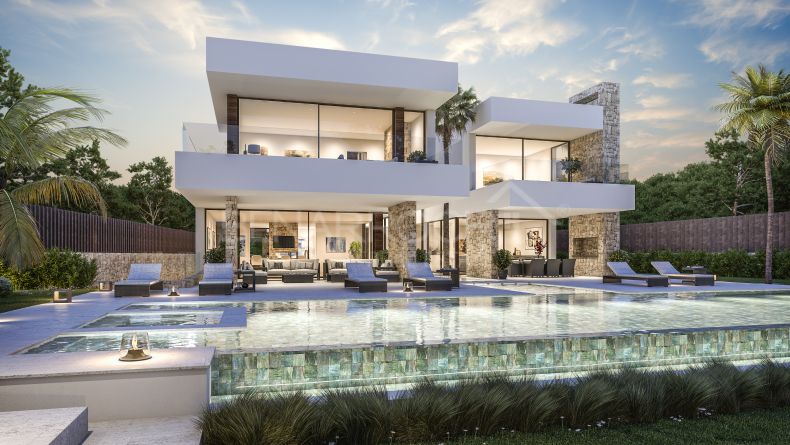 Price on application
Located in the famous Guadalmina Baja urbanization, an area known for its stately villas, this villa project is located in one of ...