//media.inmobalia.com/imgV1/B8vEv5Xh_VThvnEqMx4G0ZxU_YC_pCgmETwWNQKyeMqLb9Afo_WSoi~kcK5mwaepLz96AHEmAzWJQblCNhundhnOIYTFLWoaYUs6_~sVWUTBOmGW14nSUr~k9Q6Bsevo0KVQwm0u8W45QUs2kuQf74h82yFbVZbUhEhdHZYYQE09lVJlpfFGx4u57175jbeJ7aCtKM43tZm_VhEBrloSzVZ_hgnTmxjKMirTPkex6X6wLJAclBbqTlgIaqUtMQ4qkVUYr8Z2_DBarwW1TDoQ9hMIFdzOgx3cRFfaXAZp55bfEUFPFc8lyvK0hyEzW8XI_FnTQg--.jpg
//media.inmobalia.com/imgV1/B8vEv5Xh_VThvnEqMx4G0ZxU_YC_pCgmETwWNQKyeMqLb9Afo_WSoi~kcK5mwaepLz96AHEmAzWJQblCNhundhnOIYTFLWoaYUs6_~sVDQJQVyfVsDqKb4mQw_2XexzT0IkuJK5aM4yFr_WVNGYoWHkHEJG_uW6lyeogsDwt_G6V8DJdPa9FGnHkzF_aJm12OIxUMJeuDc8xtkAnEtnYy7UWnoIB1GcYYsXFQFCep3GI7r1W~Eq~gMS_2SaI2Ay3b0VZBqVz9IuX6XxMH41ptzs1S50636XT~O067ASNBkRC0FxGn59IU1s8EUz_3_xmxJTDEw--.jpg
//media.inmobalia.com/imgV1/B8vEv5Xh_VThvnEqMx4G0ZxU_YC_pCgmETwWNQKyeMqLb9Afo_WSoi~kcK5mwaepLz96AHEmAzWJQblCNhundhnOIYTFLWoaYUs6_~sVWUML8ojviqcrrawU2u4W5_FBK6dkfOBrH0qdRNN1JmXwSfxJfKnqO3mOKfxAHhmp84s2XeFlEQDN7ey7nFnUeBCa3dqWSi95Xa~g0xLniXos_MEie9bwqdABiwHT3YLr0OBkPqQX87mgKocNSgNc4vQSJWddPY4LjWIIqgHAr5WDS3QqhqjTxaF6IJKbKKwPd5vARnpspnCwdtBfaw5YsOtuEX89_A--.jpg
//media.inmobalia.com/imgV1/B8vEv5Xh_VThvnEqMx4G0ZxU_YC_pCgmETwWNQKyeMqLb9Afo_WSoi~kcK5mwaepLz96AHEmAzWJQblCNhundhnOIYTFLWoaYUs6_~sVUt0IYoxJuHDht4CN~XiphEzhj8oGzmSwae5FbMNp4ZIa_HXC3L_~SGr2pm4ksrOpccxrMWCHiGXK75XyAaj0aoyWJXH4bL4a5xUuijKu6s0O7NPUqqCnQLEiwCDjoO9kKIMcMnPmzHF01eWgSsbaz5bDAVj95e1movUQRqVTOXOCslDWmBPoT8hwEXx6l4Ampz4xHsCMPlPgczuI~Vaws243hlQyyA--.jpg
//media.inmobalia.com/imgV1/B8vEv5Xh_VThvnEqMx4G0ZxU_YC_pCgmETwWNQKyeMqLb9Afo_WSoi~kcK5mwaepLz96AHEmAzWJQblCNhundhnOIYTFLWoaYUs6_~sVCWgyALLeiFu2dZx7zCSkH92S6gQrcVVPsNcvPy6eIPRBJRRQnfV8YbnqsY6koMoKLzgFeRylrMWu9F6blIMszn47azrxb0G2lRgBYOwAqlK~Sn6ga3jPxm5ZE0xwb9E364rg0SpRU~zW5EZEL1Xzc7QvHPWaIFfOvH8PfJB56dh7GYxBkCePxhEgBjuX9c_xAZevJA1l3ugG9Y_rFfE2NcE0LFfXsw--.jpg
//media.inmobalia.com/imgV1/B8vEv5Xh_VThvnEqMx4G0ZxU_YC_pCgmETwWNQKyeMqLb9Afo_WSoi~kcK5mwaepLz96AHEmAzWJQblCNhundhnOIYTFLWoaYUs6_~sVCBwybC~WPg2fS4gGI8DLFIKuYYZtPltmyEjcdjkO_jx09QDGqvA1k8PV2TC9W5xEzH0k7OezXqQcjbLgwO78evetloLW_A~IVzy_dmy_cYxjcaUgZvnSzcPoOPUYYLXBpGiAnLC4GoNgf7G50zOAm1lMnP00NWHAf2KYqya~eZBecaQrn_z8j_0_Jonv1qh10ERApKZGiOo_WaCUQqoh7vcnpEoWcw--.jpg
//media.inmobalia.com/imgV1/B8vEv5Xh_VThvnEqMx4G0ZxU_YC_pCgmETwWNQKyeMqLb9Afo_WSoi~kcK5mwaepLz96AHEmAzWJQblCNhundhnOIYTFLWoaYUs6_~sVWRfaC3LFEgWRSkWu09xsC4ruLux1YxfNifLqVq_1JB~43s2hhnrX2CFgHCJdIs_h1Ck7sa~U0Dg0n8mVDlPrsmU5XkknHCeA0PNM4YYFGXlkPf3mSv2gpUd2aTi~_YwzVyMKCLvlV34pnPISbhU11EIlIQnAWdq3yy6Omb1Ckbe8FJGzVIeUVq1c~KlsqSSdP8O8CyvvSC51grpVy_Gd4wO9c0_2Kw--.jpg
//media.inmobalia.com/imgV1/B8vEv5Xh_VThvnEqMx4G0ZxU_YC_pCgmETwWNQKyeMqLb9Afo_WSoi~kcK5mwaepLz96AHEmAzWJQblCNhundhnOIYTFLWoaYUs6_~sVXu8YBcSWgKhYl_EN65EfRu63~_yHG~ro8JXxYe6Nt3Gcha_naBkooQU7IdteKu~SsHJIhIcYcwwRZydjn1CAkCVIThY1N_36SZ73skjdrOrLa7yMswm4Zf0IwLp6yweb06NlGxAQhYZ3Q4DwnY2hoUypjrvfOlpEqeabha5xhWvuPtssPaZ4LMG7hl5P8WBX0n~zqsWrNKmIy7S8BJ9Z1wVn9KJOpA--.jpg
//media.inmobalia.com/imgV1/B8vEv5Xh_VThvnEqMx4G0ZxU_YC_pCgmETwWNQKyeMqLb9Afo_WSoi~kcK5mwaepLz96AHEmAzWJQblCNhundhnOIYTFLWoaYUs6_~sVW7ZhNOrVa8ga3nlMMp0axbA2EvM5F~GD12ieKmMaK0iDx8wyuzp6LRZSTAgo2Z3nTMTTmb_2TlOWL3lqNDTYKwj9H2j2_p8Hzk6cLj28w6I1BWmUpbpGHCb3M3Cr~ujV_YAu5uX77Ej1MahVyY5JgE3bFCtkELhwWji2jKFBexhQ7U9pEwE9SZsJm4RYmng0yVpLZpzXA3z~tHV~LRZ0Ax9t2Abcmg--.jpg
//media.inmobalia.com/imgV1/B8vEv5Xh_VThvnEqMx4G0ZxU_YC_pCgmETwWNQKyeMqLb9Afo_WSoi~kcK5mwaepLz96AHEmAzWJQblCNhundhnOIYTFLWoaYUs6_~sVXaDU2wt1S0ceniGgTneFduRH8KYwfjlp_aMekQr96Iqs6vsQd0xF9W7~NKsXtAKhvSF_d4inkruIWY5iKTCLK867xcPAObgfGqKtFs_0bvXfC~t8WP74NYKAd67WaCPGBOUULEtJPWJgxYjWSRkpcreUf_UQLohcOye6AiBAmjYjj_aK_hqrptA9998o3C6ljHzfzHP6COcIDq9CxOjf0uRlz_pegw--.jpg
//media.inmobalia.com/imgV1/B8vEv5Xh_VThvnEqMx4G0ZxU_YC_pCgmETwWNQKyeMqLb9Afo_WSoi~kcK5mwaepLz96AHEmAzWJQblCNhundhnOIYTFLWoaYUs6_~sVXaMtg_5sCssJp7AncAiglIH_7IHnoUJtu4fkAvR2ouizh6s_ea~2MG2FcpHSVflIrln2F8ka471oefEgI9dCKb_gqKtfrzZ5GiA2aE9UgzzHO96Xe4i6WHw23hWa_UBxDXPwDcNMdlarUO_5P4Tbp5MNiaOB6o~XDjxIwrohpRtXRpSaCEdgdXRDoqzMAx03al~KAa_o83w0cfr0URUAR~DRq6avZw--.jpg
//media.inmobalia.com/imgV1/B8vEv5Xh_VThvnEqMx4G0ZxU_YC_pCgmETwWNQKyeMqLb9Afo_WSoi~kcK5mwaepLz96AHEmAzWJQblCNhundhnOIYTFLWoaYUs6_~sVDoPr9wr0S71UKnPmDu43eI7CrvKUQH5cRr5Gy6Y7SIK43d~IWyVimQJyOIDKkmiFXdU3aVAki2txdrtdxyG1vdtRLgXdiQhBA1kDCCusa8HFRPkUjc4rmn617gqNxVHA_X1SYq7Tq~xbuz4uABKV5jGNYRM3OG0WpkhMNHkAkV4OHAvGrR4nHFBEvQPXSptlZikNpl8ccjTIu1PVSRheBxwqdfmTOg--.jpg
//media.inmobalia.com/imgV1/B8vEv5Xh_VThvnEqMx4G0ZxU_YC_pCgmETwWNQKyeMqLb9Afo_WSoi~kcK5mwaepLz96AHEmAzWJQblCNhundhnOIYTFLWoaYUs6_~sVDoCMhjkEd4VFtJDRumnB9aw19K3W1jRlKKIF6BDhgCgmFIsCXC7TiovXquL_q5HLWSvVdhPYUTi31uR6qKKq2Nth5wZJMMxt1jSc9WS7BIEzpOukUr97OR1dl_zqGHigjCG~nDj~xqoAYeCeNEEcxkMnq67S84ukbPOkqrk5zpVdgbghj_ZK6qpnAe1_zPFGYwctARjXu1YzApoKPvIw5hOupFjjAA--.jpg
//media.inmobalia.com/imgV1/B8vEv5Xh_VThvnEqMx4G0ZxU_YC_pCgmETwWNQKyeMqLb9Afo_WSoi~kcK5mwaepLz96AHEmAzWJQblCNhundhnOIYTFLWoaYUs6_~sVU6GadrsmxPsoUrqLvlpM4GoSkjxcGyT5YT2fO~E1TNstjXB4Q~5LQnlJA8y7BjY589YPNAWeVUHiSt1AfZCH1Soo8jQNCqRwiRpaSFZR1n2CIZ6enVkVOPazy9CQE8bQPm7qowRe7DPqjsfIrzOkgwsg_OPVDzlUNaDvV4W52yLy_hmMwyhSgwA~Btxyznc0kqq0nn8vbfn_6xkoifPHNVnOrN_7Mw--.jpg
//media.inmobalia.com/imgV1/B8vEv5Xh_VThvnEqMx4G0ZxU_YC_pCgmETwWNQKyeMqLb9Afo_WSoi~kcK5mwaepLz96AHEmAzWJQblCNhundhnOIYTFLWoaYUs6_~sVCB7~n_jw~K~ETaE80uLSp54bv~eGKjH6LtLKwbZb5dlA9lqDJ7zsB~SUcasZfLmxF50mfsdH4hl9N9rDx0wUNLtQwdUX0CGvUM6bIT7eO4gZx3N2rqIF9iAhFLzhb2ktXjUPycPbFR27btSq9BEp9JLu5oGj4oaDjo6cgsDZAj7DSLZDB6UJXcpU9U5bCIxSacMgSrDFEUnWbUIMay0SA1_1cncMpQ--.jpg
//media.inmobalia.com/imgV1/B8vEv5Xh_VThvnEqMx4G0ZxU_YC_pCgmETwWNQKyeMqLb9Afo_WSoi~kcK5mwaepLz96AHEmAzWJQblCNhundhnOIYTFLWoaYUs6_~sVWBs77I6CcedCmqjFUyWLL9A3vNXh7sEaxPnqRPzYkIWwJxqJuSjnoE9p4UeNoKhYrhsWDrODtopFJSWFzLZoJcvt4HQh~qYZ90EWpJJne1AV2mBUeZiO9b6eK8BS0SXekuCSN0hkESiSt5tGY1N9Sx4lwMYhGJlt0UFrBRiTt3f3No~CFzgDidbV9ohBBQMLHebfVMVsgIlOGwuRqNLQI_8ITHsClA--.jpg
//media.inmobalia.com/imgV1/B8vEv5Xh_VThvnEqMx4G0ZxU_YC_pCgmETwWNQKyeMqLb9Afo_WSoi~kcK5mwaepLz96AHEmAzWJQblCNhundhnOIYTFLWoaYUs6_~sVXr5GTTsH2hwXieY7H16zAcVhxzgwTx0gD9LsriA69USltGr6Sbzk2x6qtHy42Iwy8tnJjkghtlM~9yLR5b915BZ2WsfS4PxEaqII6WoneUle2~sa6uOWdDU1v3MWwzSI_V7qyzNPEhUQ9IiIgwUoyCfx8HqKdhZIl4RjuTFh0VpPVgQ564kqKko6PkysNySmO83u2BOTycXIWTbVZ0ckJAEoOfHNHg--.jpg
Los Naranjos Golf, Nueva Andalucia
Villa
2.795.000 €

reduced from 2.995.000 €
Charming villa in Nueva Andalucia, Marbella
Recently renovated villa, located in Nueva Andalucia, Marbella, in the Golf Valley, very close to Los Naranjos Golf Club, Real Club de Golf Las Brisas, Aloha Golf Club and La Quinta Golf.
Also, in just a few minutes we access Puerto Banus, San Pedro Alcantara and Marbella, with its wide range of services available, basic, leisure and all kinds.
The villa is situated in a private and very quiet street in this residential area.
The property is developed in two floors. On the main floor there is an entrance hall, living-dining room, open kitchen, guest toilet, laundry room, three bedrooms en-suite, two of them with dressing room and access to terraces, barbecue, outdoor dining room, swimming pool and garden. In the entrance area to the property there is a parking area with capacity for three cars.
The upper floor consists of an en-suite master bedroom with dressing room and a large terrace.
The south orientation of the property provides a great luminosity and views towards the golf course and the sea.
REFERENCE

208-01316P

bedrooms

4

bathrooms

4
built

260m²

plot

1.184m²
Video Villa
Video of Nueva Andalucia Area
similar properties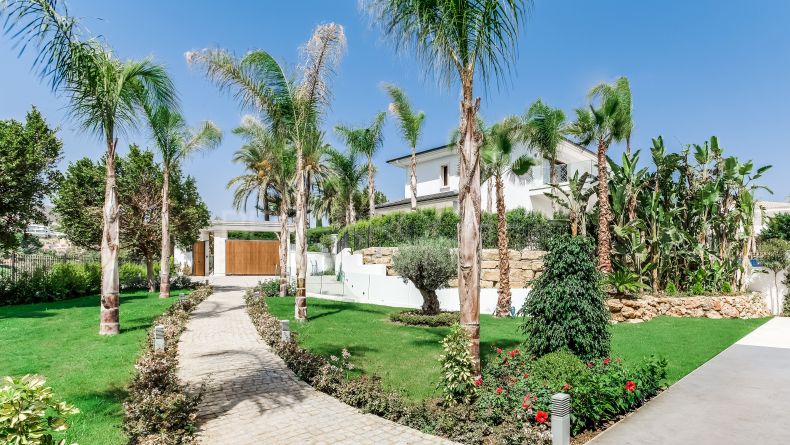 SOLD
Villa situated on the frontline golf of the Los Naranjos Golf Club in Nueva Andalucia, in the heart of Valle del Golf, with a ...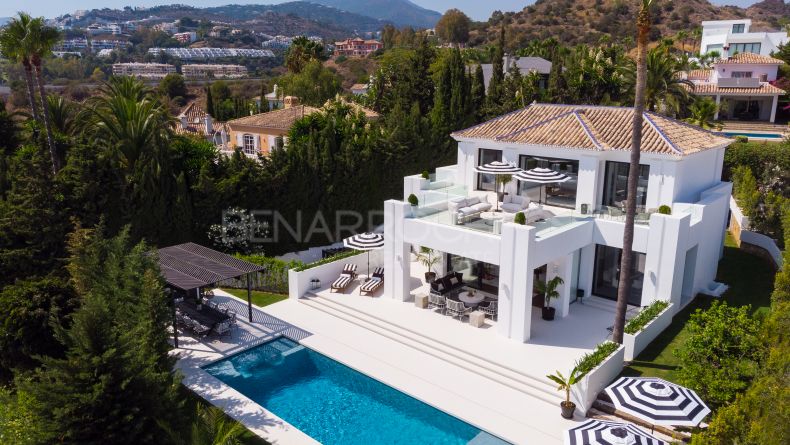 4.250.000 €
Lovely villa situated on the second line of golf in Los Naranjos, Nueva Andalucia, with beautiful views towards the coast and the ...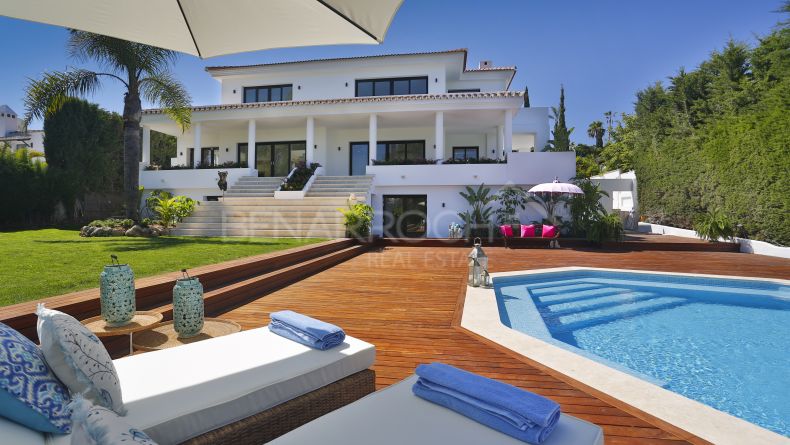 SOLD
Front line golf villa in modern contemporary style with exceptional golf views and La Concha, situated in one of the quietest ...