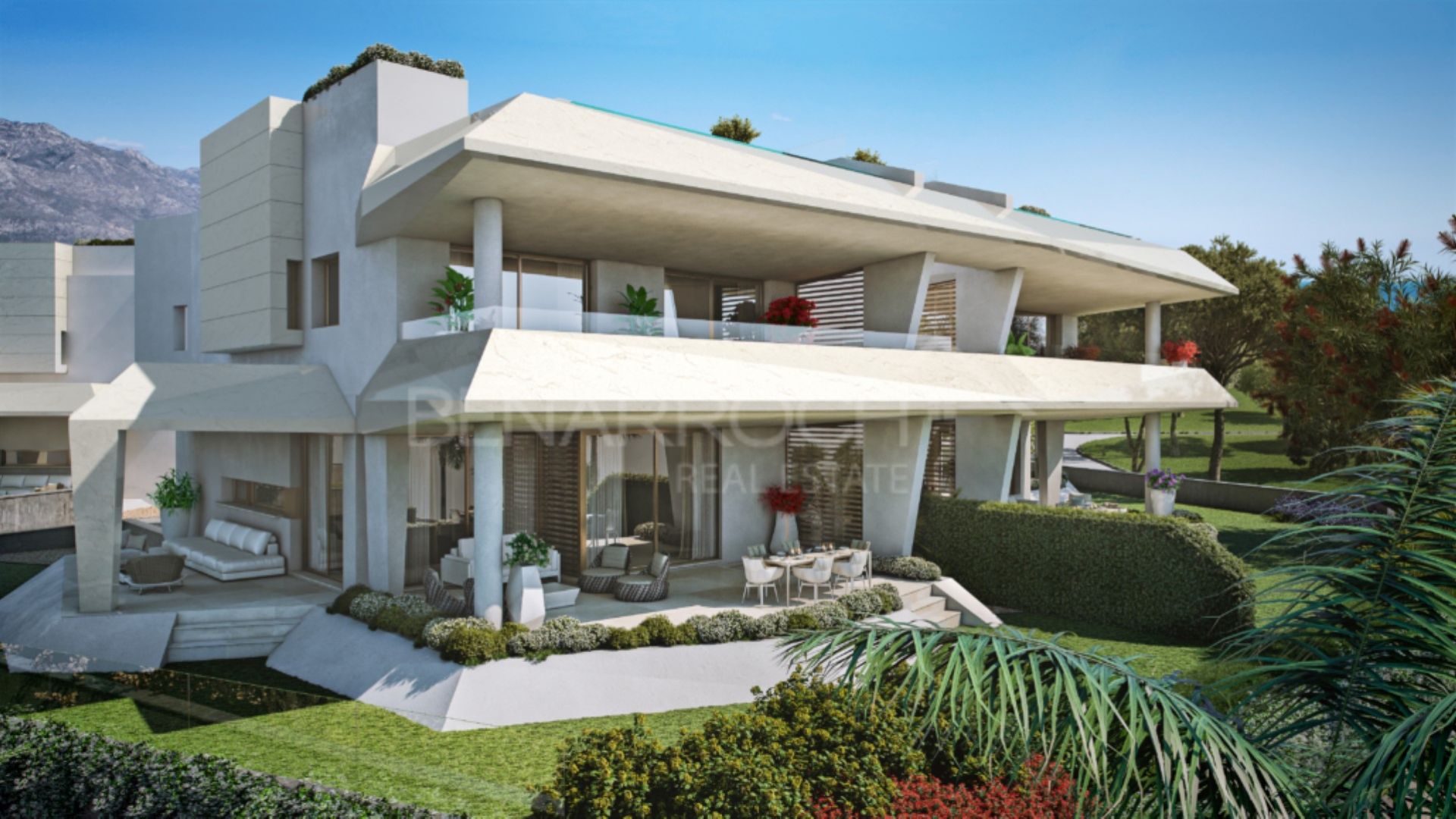 //media.inmobalia.com/imgV1/B8vEv5Xh_VThvnEqMx4G0ZxU_YC_pCgmETwWNQKyeMqLb9Afo_WSoi~kcK5mwaepLz96AHEmAzWJQblCNhundhnOIYTFLWoaYUs7DZFvfRXVkUSjqWjM1ntrghjX8i0oav5T7L1KIpzUO6CDuRN7fHRVBMgKsqUm8h8TZtzX5QwMaiy1Bo_adDILHbEAONznsIuAqwOVLlUtg1zxOCseMuBe~vaqOKAfnlcFbI8WdDBNKt26Mzy8vqjTLw8P5idpe9qIKIcFvg~r7w9KxMuzAX~Rm91Z5rSMIYONbBDW3eWhLxtZTIFemT3AFrYdiUOStPVuWQ--.jpg
//media.inmobalia.com/imgV1/B8vEv5Xh_VThvnEqMx4G0ZxU_YC_pCgmETwWNQKyeMqLb9Afo_WSoi~kcK5mwaepLz96AHEmAzWJQblCNhundhnOIYTFLWoaYUs7DZFvdwDaO2mqT44oyanOoWFCZClmiDk6M4A6OqkhVhgPdxEHJyJsmIdCZ5xiX3Ew9Tl66nbXjCJOdxJmkkbjLRQlzgF1R~hg3h8Wij7qpJ4KSlLRMSQFR4~KFfTiwguwDMcma8xpSUXxyPyoYGWACm6LWv~oULUlLqppwvr11cHH5nZ86am8fh8ZrvGIwsPJyZp0UCqlPjx1_OBMpeQFfSFLM8wV6YJrgg--.jpg
//media.inmobalia.com/imgV1/B8vEv5Xh_VThvnEqMx4G0ZxU_YC_pCgmETwWNQKyeMqLb9Afo_WSoi~kcK5mwaepLz96AHEmAzWJQblCNhundhnOIYTFLWoaYUs7DZFvKY0DG9awyHC0_pxb99xTzxZI9UJYAo9HkhDuQIaphdlVyJJC_3crjUrFwlBQCucnF6emZP7fqOuHBxP_PUoN7JVSsXix3pouv2G~S~kePk~VCuDP7WN8JNBKuS_pnpuWjpBf8_x06sZLjQuIHJE6ExiUB73LiFyl1PSqp8nC2wXf3G23D~KRFgb62u2HnycRc8WEtaVGfaBQxOR6OZ8d5bVhR6xkwg--.jpg
//media.inmobalia.com/imgV1/B8vEv5Xh_VThvnEqMx4G0ZxU_YC_pCgmETwWNQKyeMqLb9Afo_WSoi~kcK5mwaepLz96AHEmAzWJQblCNhundhnOIYTFLWoaYUs7DZFvfmjq5FcGuItEHbac1YVu~RLovRBaA2_D7wGO4KdS2Tr~NNvPZuMAM3IaECxD5vdVdnmBPIgJQ1naxC0XNx0IZ_tMMW3FOLCXBfqGVVKyx5Ui1rnNsbzlT78bgaQBOl7hNjNHPNMteDxfRAMn2ksB~jNJuhWucGUd0orvffPVv8C6ChD5T1E3Ni_h5ZkybOKiVRRg_ubI0YPPm0_EMYeCkx_s7esM2g--.jpg
//media.inmobalia.com/imgV1/B8vEv5Xh_VThvnEqMx4G0ZxU_YC_pCgmETwWNQKyeMqLb9Afo_WSoi~kcK5mwaepLz96AHEmAzWJQblCNhundhnOIYTFLWoaYUs7DZFvfUypo8Axq13yebU6Hmih~h9JnRWgSrJMZCvgkL8G2xgQfSb6qbqP4d~K6eXmPvsMWjVc_T0iKdKs~ssFjtLirorcpDQyumUcjvSU4MWVFZLHmlUZznuVcQ~KOo5kebMuu6wFPMQyYcNyLQiFNyBlI2QL9W~nqv5uzAkt_yZkA5YgTCaaVNYSZGCNgDcUHGxEwnISbA_V8ddLhz6GKKy0ERXjowDShA--.jpg
//media.inmobalia.com/imgV1/B8vEv5Xh_VThvnEqMx4G0ZxU_YC_pCgmETwWNQKyeMqLb9Afo_WSoi~kcK5mwaepLz96AHEmAzWJQblCNhundhnOIYTFLWoaYUs7DZFvdwMd2Zdp0uZ_d9qM1Ty3nvt7WRctDPzF7KgxrnI0Brddb~X5hdbRMhOs~DUvrnKTl1S6AtWULkhc9aP_LgeeoHI1jSPh71ytGf05HvTJTfMKgjxXiH9~u4llavkI5Ll9dwWPkhM9d2P8Z9HsMJZjcD5I9pNxo2xNsLCFysvHKyjn_~G~phc2Dh8Eqhv~GgoGVd2zR~5WLDUVQV7hOR6B6eaGAM2Bbw--.jpg
//media.inmobalia.com/imgV1/B8vEv5Xh_VThvnEqMx4G0ZxU_YC_pCgmETwWNQKyeMqLb9Afo_WSoi~kcK5mwaepLz96AHEmAzWJQblCNhundhnOIYTFLWoaYUs7DZFvLRx_J1oUzqq0AkKbEIErL_QXUn~l68typVTPMkEUFbQSBiLAYRZVz5JjkrEpiC3I0S1a75rPUSrvicNtF86LLUlL0SNIM8kmZ7DZ3KsIZiaNzi5Bx_GCy3OGEluGakU432exIjlfRwcr~It4VgN6Quj4k1Cz26I6NhFiJqCVBsWxJU_FzVNXmho5hgPr5U0DHZRda~K~xAFoEiee33UJF6zMszJ1aQ--.jpg
Celeste Marbella, Nueva Andalucia
Villa
2.300.000 €
Contemporary design villa in Celeste Marbella, Nueva Andalucia
Beautiful contemporary style villa located in the residential Celeste Marbella, in Nueva Andalucia, a short distance from all amenities, golf courses and Puerto Banus.
The villa has a southeast orientation, with views to the emblematic mountain of La Concha and to the communal swimming pool and gardens of the residential.
The house is developed on two floors, basement and solarium, with elevator access to all of them.
On the main floor there is an entrance hall with stairs and elevator, living room, dining room, kitchen, laundry room, guest toilet, en-suite bedroom and access to two large porches.
The upper floor consists of a master bedroom and two guest bedrooms, all en-suite and with access to terraces.
In the solarium has a pool of 34 meters of lamina, shower, barbecue area and rest area.
In the basement level is located the garage with capacity for three cars, storage area, storage room, toilet and multipurpose area.
Celeste Marbella is a gated community with swimming pool and 24 hour security.
REFERENCE

208-01302P

bedrooms

4

bathrooms

4
built

489m²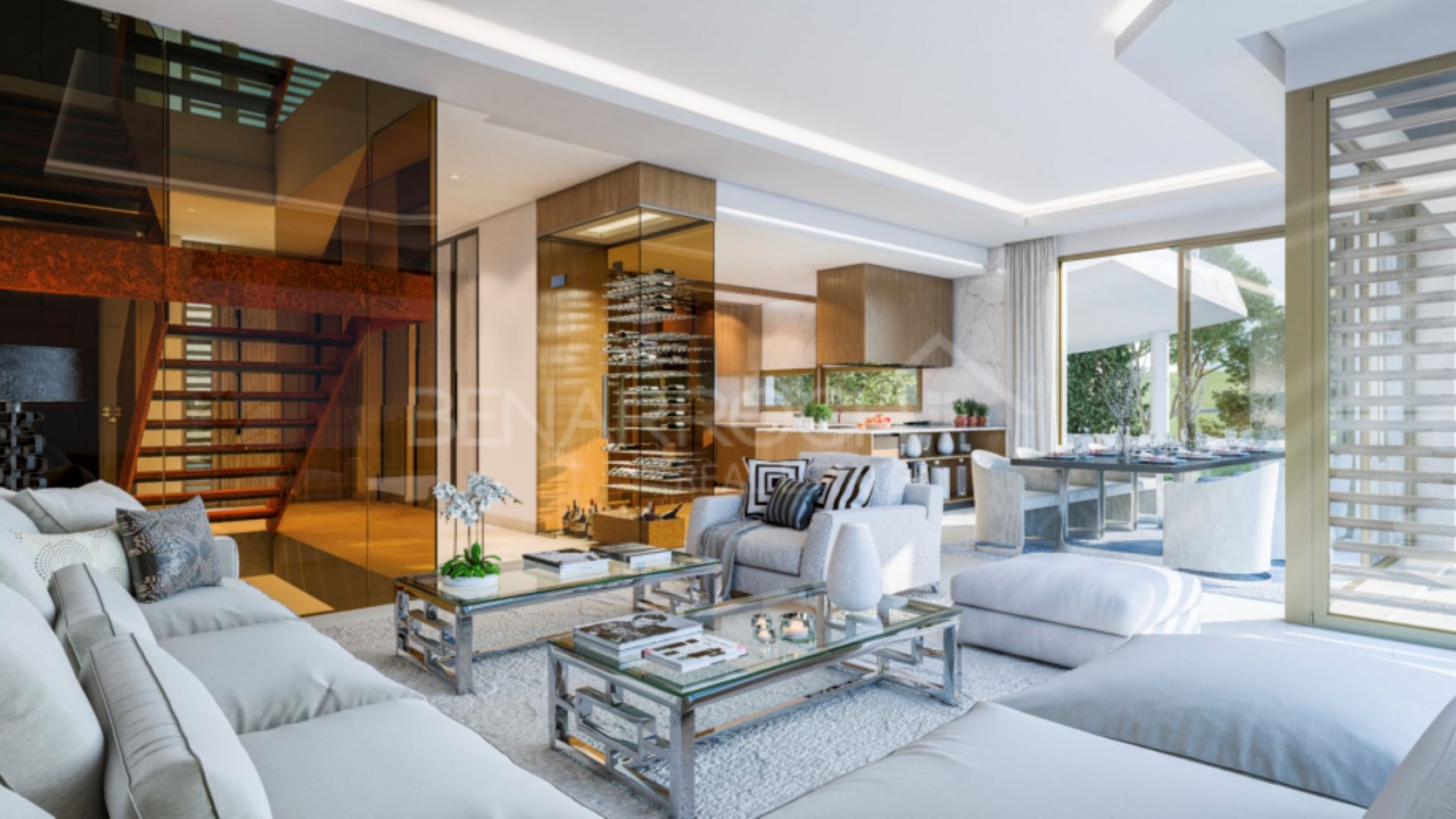 Video of Nueva Andalucia Area
similar properties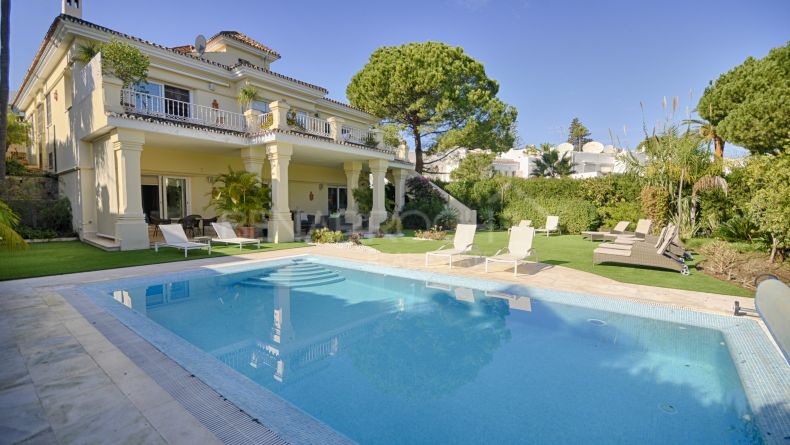 2.650.000 €

reduced from 2.950.000 €
Elegant villa in classic style on the first line of Aloha Golf.The property is distributed in two levels. On the main floor, ...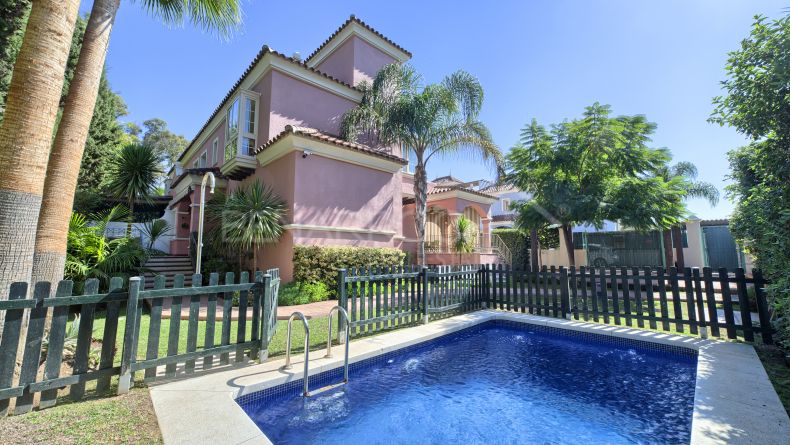 1.350.000 €
Frontline beach villa located in an urbanization facing the sea located in Nueva Andalucia, next Puerto Banús, in front of the ...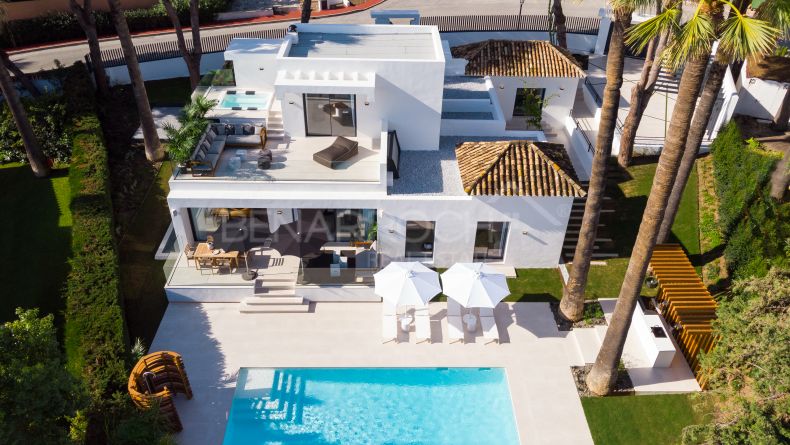 SOLD
Villa recently renovated in contemporary style located in Nueva Andalucia, urbanization Las Brisas, very close to the golf ...