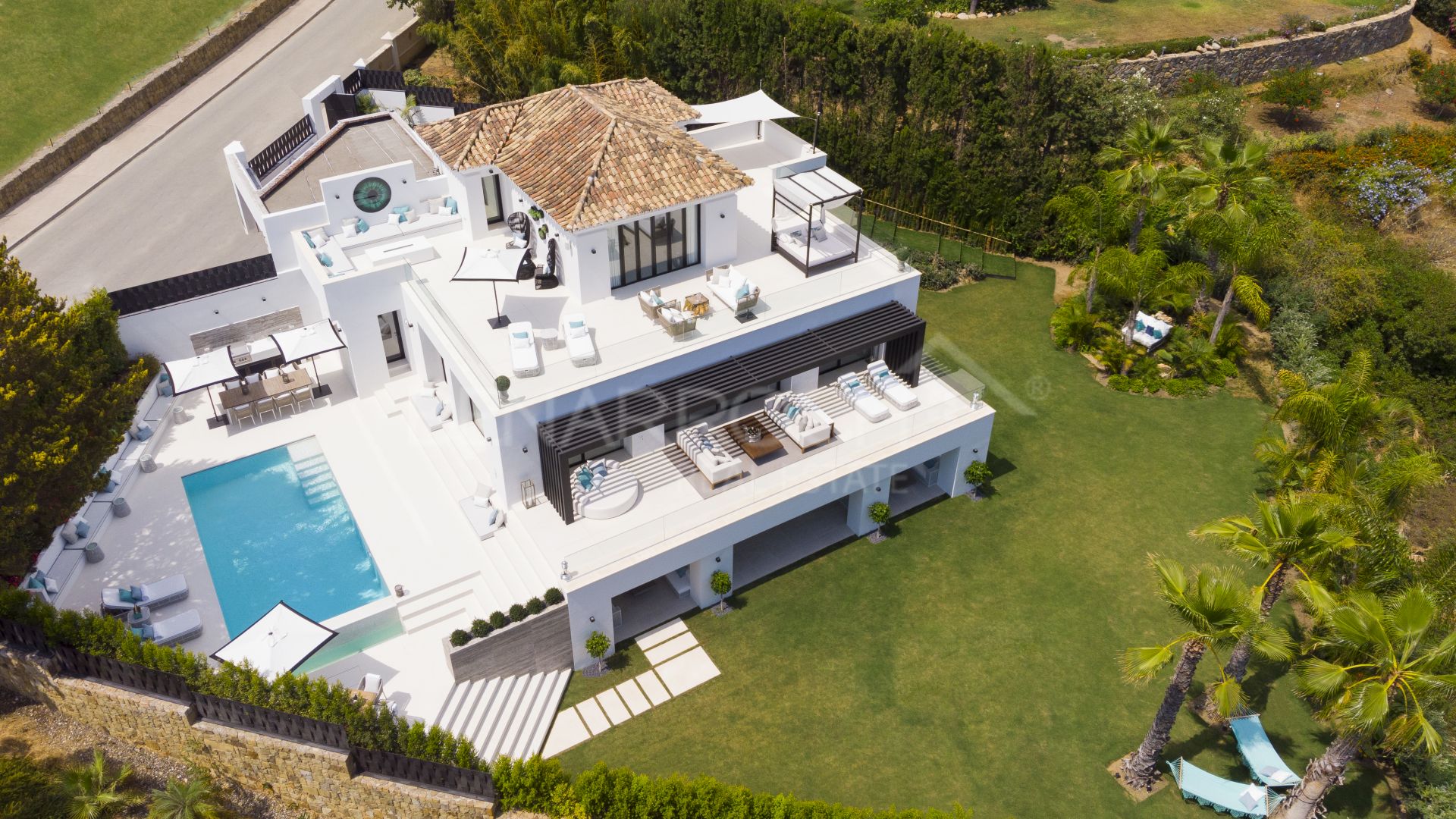 //media.inmobalia.com/imgV1/B8vEv5Xh_VThvnEqMx4G0ZxU_YC_pCgmETwWNQKyeMqLb9Afo_WSoi~kcK5mwaepLz96AHEmAzWJQblCNhundhnOIYTFLWoaYUs7DtumZcvCqRt7rld2X~I2kdi5SXatVjClO1Qeg2I0OSzkrGjOoHctQdt5N~_DpTIsaQhvEro46WH~eer_7dRdazGaXYck5T3H0KIlsGMsHJhszer3824cNZxjrh3W2bfSI77kSfrdgWZpI2moN74goSV5q6dF2U~95QNqSt~4ZPab4UhMzaXQRgDDS1_ag4Kbs72ij1m3W7UkmVQzHdv3qkrDz8QpdHZ6Vg--.jpg
//media.inmobalia.com/imgV1/B8vEv5Xh_VThvnEqMx4G0ZxU_YC_pCgmETwWNQKyeMqLb9Afo_WSoi~kcK5mwaepLz96AHEmAzWJQblCNhundhnOIYTFLWoaYUs7DtumMnSS8Yw5H9XAi80gwIyjheOxd1mD69j_DcyFvQ5sfjlmAt463FBkeDJASb6PL~q1nCrDZl5ON4jYCaBszPS3ue_app6qD88Sz5S5WO1VzS6DDonPCDDB2Zj63f7P5BrfD4IEet2apJ_3ux~b7MNke5XNs2Kz7OttKs3D10V1KA6IVj3KiOdTZrh5DMAhlMoiDwY3c_k3AyivGeGW6p9pJbYV4W8YdQ--.jpg
//media.inmobalia.com/imgV1/B8vEv5Xh_VThvnEqMx4G0ZxU_YC_pCgmETwWNQKyeMqLb9Afo_WSoi~kcK5mwaepLz96AHEmAzWJQblCNhundhnOIYTFLWoaYUs7DtumZxgcGv2DXBnHVDsCOtCuBeIUXEc2aSSdwMz~CdOFReMubH_KJPNH0_9qvwqotYrwhR_a_ewHG3yKm9pH0VPV~LoD7nRe6IP4_wOsKfu5owXEdzirGK6rO6aVBMfYdSKL~UT6HyXWL2iyGOkAEipk1h3JMwVH9ufi_79lUL0_Mt7sA9czRqDVxU1LV~3sxWpxJv1aYwnG0pOyQQm0MOcecoKtw56mag--.jpg
//media.inmobalia.com/imgV1/B8vEv5Xh_VThvnEqMx4G0ZxU_YC_pCgmETwWNQKyeMqLb9Afo_WSoi~kcK5mwaepLz96AHEmAzWJQblCNhundhnOIYTFLWoaYUs7DtumPPT5VUCQFqn7ljH7lwji4EJ87~RSluQOySwqLaWvCLvVdciusfWxrjX9J504Gi7HuC8T57GJ7zehuAeOhRmR43B0zW4GN~ALpYLIlULpbcmpfZbfjNYuMfQpC0IeEJvdZVFM8v28tTSQZdcM~Gm11qjcbm7MHBTRAbWR9eHd54TYWhqh9hCa3zOns08Av~BoH2VevlFzyB3XjzBRhyTwaEr9oi4ZQA--.jpg
//media.inmobalia.com/imgV1/B8vEv5Xh_VThvnEqMx4G0ZxU_YC_pCgmETwWNQKyeMqLb9Afo_WSoi~kcK5mwaepLz96AHEmAzWJQblCNhundhnOIYTFLWoaYUs7DtumYkhQoG4LqX_BLtAJQPdHSt2PhkfXtkyzE2LCa_Bdi_7LeDXgMlKWFNpOfZlfIXK276ldK3Sej5wuGd3oC20i_BF~zfndRw5ULjDf81ITSI8GRnBzuzMLuzUK1wKRj5DFKkB0uM6VVWF8LFy_s8MLkOPYUXSSJvLNg7iHAY3MZny3yhl3DnJfAYkVrRImNextv92d0q0mC0DHtNl988JDZP0T_d~iqg--.jpg
//media.inmobalia.com/imgV1/B8vEv5Xh_VThvnEqMx4G0ZxU_YC_pCgmETwWNQKyeMqLb9Afo_WSoi~kcK5mwaepLz96AHEmAzWJQblCNhundhnOIYTFLWoaYUs7DtumZxhGel7fbd2XXonA1eLfOCQsBoSq0S8F7yN5ZN3iuJe9Uw8d5IxkVQJI2~NhIBXWYgb67d7M9pda_OBqpX2IreLbCsAl0hyDf2PaF5mWg1GZzdNaSRAgBu5~f3CUOZI4lNaz10MKwDhFWI7iSidPDByisvjXaZXelwXEaYsvtf8tM~H0ad6~r8BWuhgBTLuerYQhE6vItwz1qcEmg2rxI0OfZbctOA--.jpg
//media.inmobalia.com/imgV1/B8vEv5Xh_VThvnEqMx4G0ZxU_YC_pCgmETwWNQKyeMqLb9Afo_WSoi~kcK5mwaepLz96AHEmAzWJQblCNhundhnOIYTFLWoaYUs7DtumNdzc4mHXzW2847dHsVa03C~fO9QWqoGZpX6ocG3GcFwaK5LaZvR2ahsJ~_NGK7qh6DA6zPAzlhJGrZvf5BBrjofisP4S3DU~RqJ~7xu0ebNLK6YAt0W3e7WZA9o1dfNAwrN_UfgZS0XXlQiwvMVQDL0vtfYoqQ1iyEIouNuhcDjbnBKY4HlHzwKM73RL2TvvqPSRnggb0s0wWvLr4yMqIne9T6ovjQ--.jpg
//media.inmobalia.com/imgV1/B8vEv5Xh_VThvnEqMx4G0ZxU_YC_pCgmETwWNQKyeMqLb9Afo_WSoi~kcK5mwaepLz96AHEmAzWJQblCNhundhnOIYTFLWoaYUs7DtumNqMKpXlo2MDbaolb2dJQ_utptx6UehYCgwCWjDJsYL9lRdSqGEoRa3RQ_BVdfbgC_F1lvL95okdTfVTmqemI0lbK3APc_DlYGZZM3X2dW815I1pkliK3X0W4PIiroEHM2stXnsDg191WPrHJS_ND6KHDHG0RuDULl7NdzHp3LwKf24zAwRuUIxfniJ0DDXX2UPNbCAz~fCSUUIcwdr7SvrejK2TPIA--.jpg
//media.inmobalia.com/imgV1/B8vEv5Xh_VThvnEqMx4G0ZxU_YC_pCgmETwWNQKyeMqLb9Afo_WSoi~kcK5mwaepLz96AHEmAzWJQblCNhundhnOIYTFLWoaYUs7DtumYk6hnP2uRKTNnLT7Fses17jlgCSMJq3jCNCThH7UejZbHrrHYKi0Mmxeb8u7k~uPHJas6o~oGoYEGcFGXJ_lN9eB56Er2F44XjZIj07w880oOMnWSLrJmZiRx39Jzp9~j_lip1Eeg4_kaptGrHJQBTSSJA0ZNq5fu2CjFtH~s9y7DKUH_y5cyoHqLHMn_jfCUEr4y_P1Fe3rhIxK2o777kS5qWUsHQ--.jpg
//media.inmobalia.com/imgV1/B8vEv5Xh_VThvnEqMx4G0ZxU_YC_pCgmETwWNQKyeMqLb9Afo_WSoi~kcK5mwaepLz96AHEmAzWJQblCNhundhnOIYTFLWoaYUs7DtumNYGgWAL2rml4tTkmtsaWR7bmqi7OswR5CZPdWOaGdD1C3kNekxKMOKNZi3ZfyEsLnrNz7_xVIKvlTYDWwthfdbV_TsFC2GF1fJWLH7JK2rYpb6M~3z2e84fZWxtcrlRdHtofqY4_mJ2tXYt4JNtP09sBdwkNVhnGoVmSu5Z3Swu2NQbO0X5FbyKW4FllOCXDBOU1BwtmhW4z21iz3PJslpTA~vh3Ng--.jpg
//media.inmobalia.com/imgV1/B8vEv5Xh_VThvnEqMx4G0ZxU_YC_pCgmETwWNQKyeMqLb9Afo_WSoi~kcK5mwaepLz96AHEmAzWJQblCNhundhnOIYTFLWoaYUs7DtumYP5V7hpvp8EwbR3W7SuplVwdoTuvCM5BK1mBitvJFAgpdnVJrvXignF7viZrYuqbPDqKwcsGg0ZIXYoQlwIunM7rPvfHv7BEpbitIyLCbpDCGWx99v5moukmqC43TWUVNZbERR7vWi8vv9XbL667ZQl58RN61f46iBX6jdswjs5xqmY2pPtyV8XQoZXUGHq36f8PObKET4T0vNbrPciygiKwwDTQ_A--.jpg
//media.inmobalia.com/imgV1/B8vEv5Xh_VThvnEqMx4G0ZxU_YC_pCgmETwWNQKyeMqLb9Afo_WSoi~kcK5mwaepLz96AHEmAzWJQblCNhundhnOIYTFLWoaYUs7DtumZcO2NMcKPtN1O_je~uBc58niLkO6t~QHJ21QWMImWpO4R5pKAblFj0akX4pLOBDN3H58v764krewagXYfjZPOEzs5EoULo6kcWhkdiyKJIM5vo0w2RDfH2EhvW65hH67rbCJtQhwu1nsyiCUV9NS~avZity3qOzotgj4R_TuWi0X1Ws1dfkPPGI7LSHeCQW0FYQXj0Re0T6PViAJiwV4eCst_cXg6Q--.jpg
//media.inmobalia.com/imgV1/B8vEv5Xh_VThvnEqMx4G0ZxU_YC_pCgmETwWNQKyeMqLb9Afo_WSoi~kcK5mwaepLz96AHEmAzWJQblCNhundhnOIYTFLWoaYUs7DtumNvB5ICqPB3pqVN~xjRbsggqm668FVGpM_88PjEwy8Z6Hh7o0yub_PTZ_CsjQrE9a2vWnolrLYuyx8y1LMoZgehpgI7c2l_NEcLNMEsaE2Dnhme2Mz1vKg_TWeqQmmX_B~Zg0iOKe9sdq~KrVQD2RY_ZDepxFDRtfbvCQm0LmjuqQcrYiXIjja0ui7UfyPPVrODEFurTpvsodY3dC4SCPCAEEMBgpfQ--.jpg
//media.inmobalia.com/imgV1/B8vEv5Xh_VThvnEqMx4G0ZxU_YC_pCgmETwWNQKyeMqLb9Afo_WSoi~kcK5mwaepLz96AHEmAzWJQblCNhundhnOIYTFLWoaYUs7DtumYklgYHXc_~W4eYKYHVambqwWcSXuxwv1eU_JH_JUI8KfDkmhuReHqWP9th8_PG8LWbwpu6b7cPEMpya_DQrT~e5iDeGqbuNMpVBXeGBa7AXbSbbs5D7zNsbMgIb7sU6b5GYpO40gdarhQe6IAX_TTB4HYKcuED3U5n0bxgNkRDWZkngjAajjoJaMS_cxQ_pIXY3ISBqq1aTaroI~tRYxcFLtI8PPBg--.jpg
//media.inmobalia.com/imgV1/B8vEv5Xh_VThvnEqMx4G0ZxU_YC_pCgmETwWNQKyeMqLb9Afo_WSoi~kcK5mwaepLz96AHEmAzWJQblCNhundhnOIYTFLWoaYUs7DtumZZnUywhJZ~UfKBBTN2bbSUxBkGc1iD1Oeyy1R_5sq~85rvVBvcb5ZtaXNK_YUmHVvXcu2gd9ouPzWFIoKfqfYxbm3_k0JLgapI3AN84KQ6W7F5OS9ANP7jblPw4ysO9jAPcFbxoQWO7pkkC6Bvmdn8XElkS_QEi5ymlWSlU677rqX4xT3O7wqa_XXnA25RNsstuB62al4jpILY4dmJNSzjBiJbJrrg--.jpg
//media.inmobalia.com/imgV1/B8vEv5Xh_VThvnEqMx4G0ZxU_YC_pCgmETwWNQKyeMqLb9Afo_WSoi~kcK5mwaepLz96AHEmAzWJQblCNhundhnOIYTFLWoaYUs7DtumNMCNdNO_i4SgyEtZds9FwRhk9G8jabwG6OhOOmuDWXfStqji3wKp1Kg0_6HgxXkLaBgJ7_KHroorSvBNUghVvJqBFpeWPYGtoW8TJPzGgxxSdy8yf4O5I2QmssdAMAO1xvuwBOWlOhDX8N7DLZlH~We~fQUi7vpOUt0kE0cBfXvCJRyWkYVSAeTXXvfdy62rr6rENrxi43MTjTV9k3HjOmilv3DmrQ--.jpg
//media.inmobalia.com/imgV1/B8vEv5Xh_VThvnEqMx4G0ZxU_YC_pCgmETwWNQKyeMqLb9Afo_WSoi~kcK5mwaepLz96AHEmAzWJQblCNhundhnOIYTFLWoaYUs7DtumMEBpCIK9nIHjiSow_3vikylpfzZqLipPJAPRZSdc0rcYXq8h7kOBTgt5bHI0VFt_nwJoLo0bUMUwBUbs0hlmgkg9Tu7D20PkXpJFVZDGTew1VkDmKaERKOIJ3NfW2kfd0zLaIwDiQsjcE5qwpbfYvsjAmrcq5GY_oUTjmepZq6Gm~58Bezn9nryO1ZTdMnuixmw8rF_7DJAgoKtX2GnrAQqZtR04rQ--.jpg
//media.inmobalia.com/imgV1/B8vEv5Xh_VThvnEqMx4G0ZxU_YC_pCgmETwWNQKyeMqLb9Afo_WSoi~kcK5mwaepLz96AHEmAzWJQblCNhundhnOIYTFLWoaYUs7DtumYKUWTYQ55Hw0sVcQLrk~GzKyqwZ3iGIJEF3zoglrc8NWho5wQGmx6TX41Dmt8ksl~WTJEb6~VB9R_8L1mPDZXlwDfGyFRnI5jrShY25GVFo0wtpVhNLbJMuJ3ZNbqaT1JJxmZzNCGwGLkGHrFq_ktadWu5hpoaxVGKXITPFLEweqiyiw9GewhOTClR6lUgiiudtArPCP33~1vu5NGNOAEelmnDdzrg--.jpg
//media.inmobalia.com/imgV1/B8vEv5Xh_VThvnEqMx4G0ZxU_YC_pCgmETwWNQKyeMqLb9Afo_WSoi~kcK5mwaepLz96AHEmAzWJQblCNhundhnOIYTFLWoaYUs7DtumZgXy_17RjbNghSIZkgtTqgElIRF7YHbqlV1YGv9eBk9Eq008Q7k8RL8iWabYbPb2cqJAoGlKCP~BW~HVHDsdXLMhI1Xh709TgwXZuyv51IsJAj5s0OBfdOprf6vvSBIhn8aWobvM_w0eGlppQod~g~1T69xtdEcZiPpdUXUDOa3HIiniK9dWYkE~0IywM6Be68~ZiIeB7aXMdzNy8Z2Q~P0S6KAI5Q--.jpg
//media.inmobalia.com/imgV1/B8vEv5Xh_VThvnEqMx4G0ZxU_YC_pCgmETwWNQKyeMqLb9Afo_WSoi~kcK5mwaepLz96AHEmAzWJQblCNhundhnOIYTFLWoaYUs7DtumM3~PGSFQX81T_L~zzMkOsBrGYVp7v7ixffLnoRArmsku6tsnN5n0uaIKscpfPltjGfdzldJX~7KKFz8qvZdXNsh88DogmTxdZeXWDpn1ezjaseBF8CQxI3BP4EuXuZb31bimRd7UfeGTLvZcFeoNBcPXnmFHjcv39xj28TnxC8fcCWnYMISBsRNGNk6nHumM9FAZy1gwpwvJ9NV0GIoeu9dhLQBPZQ--.jpg
//media.inmobalia.com/imgV1/B8vEv5Xh_VThvnEqMx4G0ZxU_YC_pCgmETwWNQKyeMqLb9Afo_WSoi~kcK5mwaepLz96AHEmAzWJQblCNhundhnOIYTFLWoaYUs7DtumZlD0Dy_c~qdXO4SLE4JI27hF9p0AJXlZmz699g73dHmh59pqj85eAqsICFjdXcmtpNjlj04_K6vSJ3IPlYoDSY8kmeQVnIkpt3MtCw7edU~Cg2Oy13y_Hg8TFmMgmqF_qSXQvzXLZ37d2gr1h7jbMblQKcCIYFC2MBCDN~mmHVghrxgIALzpXfjk4Od_k62a3IC3hRn2I3ryUI54g4VWGwabI68~nQ--.jpg
//media.inmobalia.com/imgV1/B8vEv5Xh_VThvnEqMx4G0ZxU_YC_pCgmETwWNQKyeMqLb9Afo_WSoi~kcK5mwaepLz96AHEmAzWJQblCNhundhnOIYTFLWoaYUs7DtumYVxFTp8q6uC1kF0lS_lcxNAAfpxrkxKziWNc0pfoIo0K0LXe6YMQbwILbkDpzFeQj_HmzmK0_5fN6WSMbL9YpSYBtBb5Uvj6bwrXszUdKKfVfRM8AjZlrXxOTxqbV6F1IzNffRfwsODahx67uWrZXTVPyen4bfKX9j2cxN9ZWlAj6S0mxDp~ALFzkdxyqnoZTBDoDtWFNYl9mcU1IOXjCduU40TgnQ--.jpg
//media.inmobalia.com/imgV1/B8vEv5Xh_VThvnEqMx4G0ZxU_YC_pCgmETwWNQKyeMqLb9Afo_WSoi~kcK5mwaepLz96AHEmAzWJQblCNhundhnOIYTFLWoaYUs7DtumPe6vzHjalgIUZ4JtT9jkCVxxEp~0giih~jQ5a7EDz~jBW8GbYtSRtu82o4He6yYffqhabn0QqvkAVWw9dk95EOPhNXrAaoeUbWxYpA4rCWvQ8xtbHhRjW5VchcDvXGp2pd0FF20geKrIK6clXafc3MTSjcd2086zXkVFQOyMQxCPEAjE49a1zxKDp4d~7RIzND0HxzBfdKXqlGxtiegJ7kzHvFKLow--.jpg
Haza del Conde, Nueva Andalucia
Villa
SOLD
Modern style villa in Nueva Andalucia
Modern design villa located in Nueva Andalucia, north of Puerto Banus, in the Golf Valley, with the fields of Las Brisas, Los Naranjos, Aloha, La Dama de Noche and La Quinta just a few minutes away.
The villa is distributed on two floors and basement. The main floor consists of entrance hall, guest toilet, an en-suite bedroom, kitchen, dining room, living room and TV room with access to a large terrace and pool area.
On the upper floor there is an en-suite master bedroom and a large terrace with views to the sea and golf.
The basement consists of three bedrooms, two of them en-suite, wine cellar, bathroom, laundry and a large games room with access to the terrace.
The property has been completely renovated with high quality in a distribution with large spaces of great luminosity.
REFERENCE

208-01301P

bedrooms

5

bathrooms

5
built

516m²

plot

1.258m²
Video Villa
Video of Nueva Andalucia Area
similar properties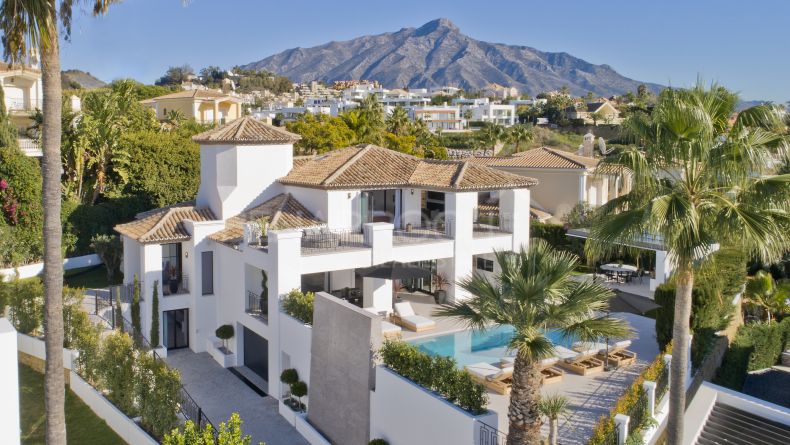 3.995.000 €
Classic Andalusian style villa with modern finishes located in Los Naranjos, Nueva Andalucia just minutes from Puerto Banus and ...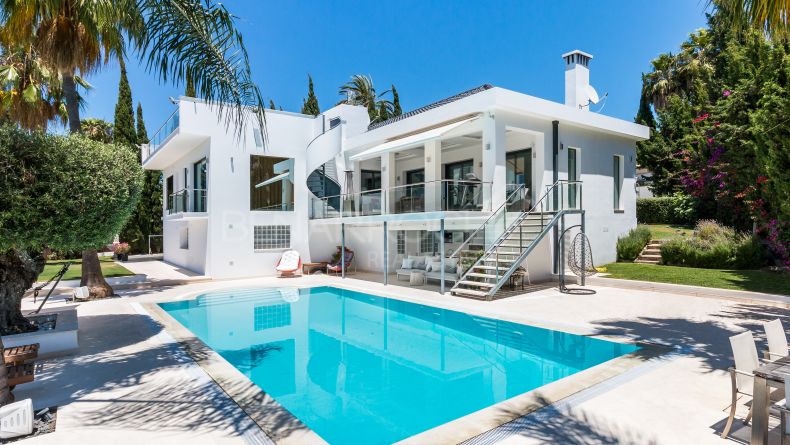 1.995.000 €

reduced from 2.300.000 €
Modern design villa situated on the first line of golf in Nueva Andalucia, urbanization Los Naranjos Golf, very close to the ...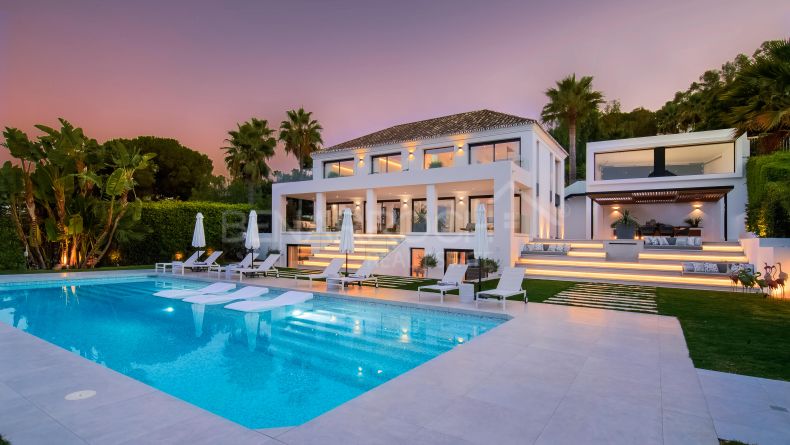 SOLD
Villa located in Nueva Andalucia, Marbella, in the Golf Valley, next to the golf course of Las Brisas, designed with an ...