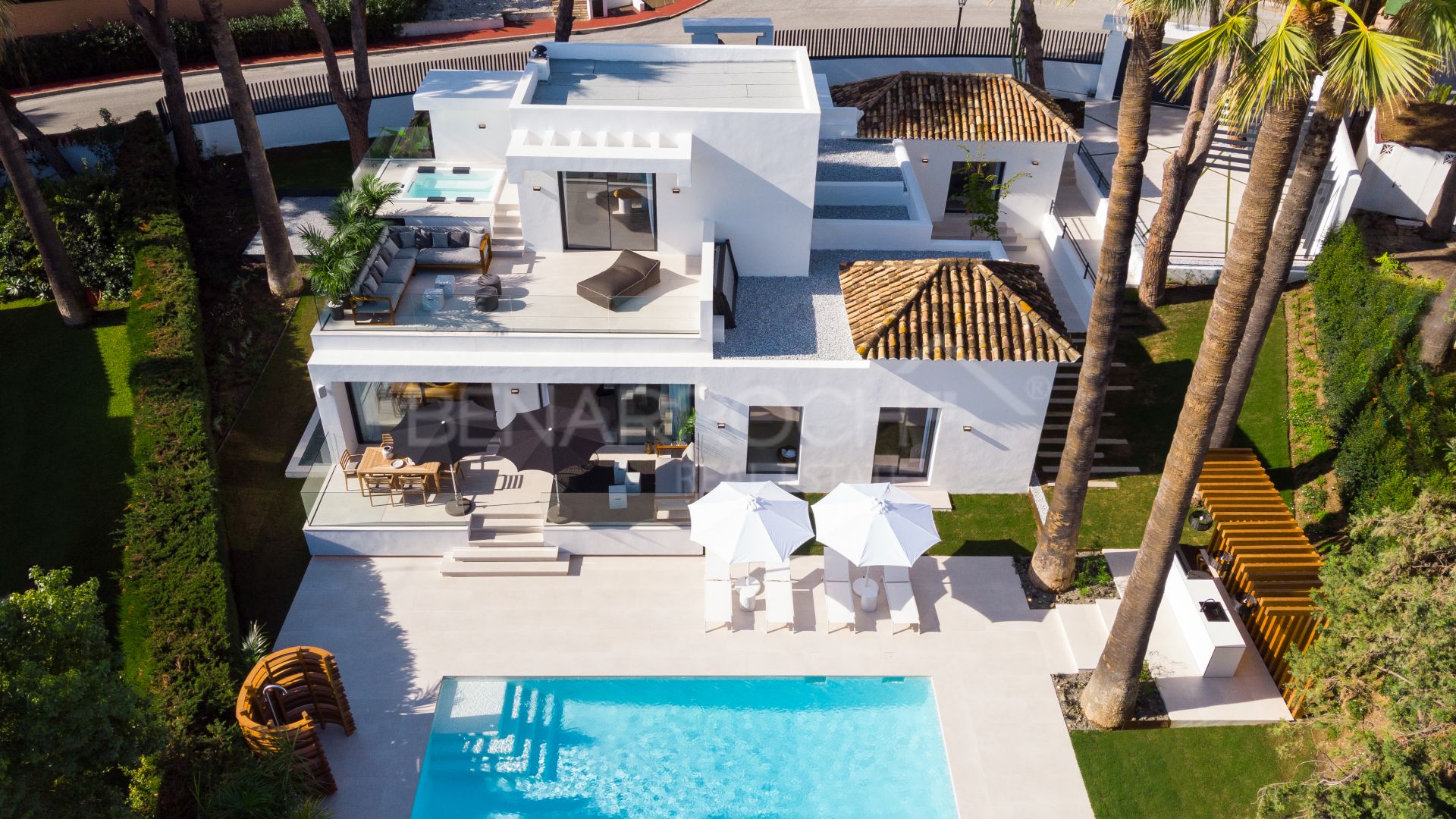 //media.inmobalia.com/imgV1/B8vEv5Xh_VThvnEqMx4G0ZxU_YC_pCgmETwWNQKyeMqLb9Afo_WSoi~kcK5mwaepLz96AHEmAzWJQblCNhundhnOIYTFLWoaYUoiZL41TnTNCDG6CYbXcYQllFjJ3~abfpf_maRLig5ce3TdlmYKc5lCyGNoa_NNx~T~SbF4OLdyRKRcLZMIYsJ91CNkP3tACrfL4dTwMSuoohf0Hk8Z5m7tDeZqP3yavU3lpRFpxtreJkKgjn0mPLRFlI~UrRBunxaqe465geaaFhnzIIxUkYjvjQgup2zPLkgT7Zz_PcBHRjT2ZzHciwiUY_b7YApRIY~mmQ--.jpg
//media.inmobalia.com/imgV1/B8vEv5Xh_VThvnEqMx4G0ZxU_YC_pCgmETwWNQKyeMqLb9Afo_WSoi~kcK5mwaepLz96AHEmAzWJQblCNhundhnOIYTFLWoaYUoiZL41GKFnbRDyIvX5SI~IWfoH9yCvcqpgTJmdzYzXDshBTwjYg9sPuy6vtsxJFykXYzW1G7YAhibxeNm5704hf9R4PGQFdS2RkrW6SkRPOL9tVECP3q6Y5eGfGbOOdKRWk7jcclNOKyFdRLvFhy7XoptkaxL_CopJo1u0E6h9UfNFgsw_azIGUdL518A5_zaYW0vRhaNVsRY0j9lMKXatEkhjHUuKbL0DWA--.jpg
//media.inmobalia.com/imgV1/B8vEv5Xh_VThvnEqMx4G0ZxU_YC_pCgmETwWNQKyeMqLb9Afo_WSoi~kcK5mwaepLz96AHEmAzWJQblCNhundhnOIYTFLWoaYUoiZL41Glt6yIHZuF4j01LgDAZKFToWom_9zIuQYAkCMcKI2elFs8OJ~cUJmvwopjU3HIodYnpkgcfQckX_pJvsIzC0eV7FSrZaA54_~Kr8I~qddMSRpnXpYHLMK4brrc9EQu4acF_om73ksY79Ktme25cxUTSb6SqKzFDSTC4oLoXi9MsNO_ojvs2vIDZLe8dClYYNGpkFYOP0Pb_C9ctfcEKZ2GJvGPVuCA--.jpg
//media.inmobalia.com/imgV1/B8vEv5Xh_VThvnEqMx4G0ZxU_YC_pCgmETwWNQKyeMqLb9Afo_WSoi~kcK5mwaepLz96AHEmAzWJQblCNhundhnOIYTFLWoaYUoiZL41GgmVi_RyoKI3U2stacA2iE~vT1iajAafkV0B7TFlsgo1HHiyp~zMVwBkrPGUUkcGM9Rt5Se68d_sbEhJ5a~do1HkU5AbWA73mnASvw7Mo96Su~GZjkIBruIJt8FxeNifFIea~hXYt2~m5ngD24356kEZTJ66L7A0t_2w7o5_04foPq021MEL1y~niDle43Rsl66DPx95w59yBRyomUnkNudX8TsGHw--.jpg
//media.inmobalia.com/imgV1/B8vEv5Xh_VThvnEqMx4G0ZxU_YC_pCgmETwWNQKyeMqLb9Afo_WSoi~kcK5mwaepLz96AHEmAzWJQblCNhundhnOIYTFLWoaYUoiZL41F6Z1AQ9P4gB9o65p5eoprhdR8MxO3FMraSR3WNqJ0H8UJtzpqj4BN57fTQIbuhyxp7P3sOv1dwIkV4umUFTpewz7xe2zLo9dbUeJNXFIfKh0jR_J76VK0odz6I8vWGxOP~RmAEXp6YvOiq8sTf25VFxUmVa4UhEm_UJSul9EIhFw~dPTWLAMPhvZyCZZBZLJAsNJ7AURjV0Q663_T1CCZuDe6adDOw--.jpg
//media.inmobalia.com/imgV1/B8vEv5Xh_VThvnEqMx4G0ZxU_YC_pCgmETwWNQKyeMqLb9Afo_WSoi~kcK5mwaepLz96AHEmAzWJQblCNhundhnOIYTFLWoaYUoiZL41HeEXzuFseiRIETLxrPEdpODD3Pv~olpp7kJORlRaeg8J0icFXhDKx442cKQf8Kbr3Osa5bp0C9Y0ZCXq9V4E7dThzcSdd4qI~qwGSrc_mj~1GVxYDN6w2m21c9F8JZ5N2SLPsUhwtp0K1jdGx3vJFALdg6YBrjTf~xn1FdU72x1fX~RRy9CeEiC1auZVT~bPcbH371LXPafk0HcIuypA_h84HGrpcw--.jpg
//media.inmobalia.com/imgV1/B8vEv5Xh_VThvnEqMx4G0ZxU_YC_pCgmETwWNQKyeMqLb9Afo_WSoi~kcK5mwaepLz96AHEmAzWJQblCNhundhnOIYTFLWoaYUoiZL41SnhaAR~nmdMCLSiUdeI3LCHAFTqIm10PFJln7rv0sEMu2_gWgNUxi~bYJOGePO2w~hn7nt2TwJ1MscC8SeIEJi1Kf0DzqeSfpnsOrltOCNEcYvN9TMmyIo7RObQxNAfHOm1607zFdL47pyOpYc7CEJspfc4rNzUCuEXqNIeOwS3E1bIGoMXgtSRIJIYjObPAfwiRtRr_GUps58k9NyUI6LQ93bZ0jw--.jpg
//media.inmobalia.com/imgV1/B8vEv5Xh_VThvnEqMx4G0ZxU_YC_pCgmETwWNQKyeMqLb9Afo_WSoi~kcK5mwaepLz96AHEmAzWJQblCNhundhnOIYTFLWoaYUoiZL41HeVv4huXU~~miVpbvzm1AcW1wEtHnjOwWjTg9DkIle14jjohzC0L~qgxUDLvIo8BAVuw5XKygHJp0qIp6f21S66z5i57nh34YK~kjRFS7maFYPPDEgxu_FZQVrltkZtsA61F6zu9fGrY6IpKdl3W96yMrBVMs6YJTEr3ORxlgZSIuHiveLHqE6NeenTBLYdcZ5uWu28Z9CP593OEgoAIcBKOLezLDQ--.jpg
//media.inmobalia.com/imgV1/B8vEv5Xh_VThvnEqMx4G0ZxU_YC_pCgmETwWNQKyeMqLb9Afo_WSoi~kcK5mwaepLz96AHEmAzWJQblCNhundhnOIYTFLWoaYUoiZL41TEu3~M0FlurIXiaXAcS~LCoyAHu~JXfPKjjut~n4sYHxlqkqRJ~G17AWKQDmtRAajfBHqin5MlP0LyoJ_WdYMWXWXTDDvwMwB85SFWB95PtgLjTIsjCumW2mqfQxVp0H7XfcsrrHPYcf9J_lo2MQk9GQh5hFabH2PktFOBtQeHtcpPnBcUdKEoz0YqjGQpcXzrQTJyjFsmy4FcHhk74GHJBjDXbwEQ--.jpg
//media.inmobalia.com/imgV1/B8vEv5Xh_VThvnEqMx4G0ZxU_YC_pCgmETwWNQKyeMqLb9Afo_WSoi~kcK5mwaepLz96AHEmAzWJQblCNhundhnOIYTFLWoaYUoiZL41GPxh8vc5AwBHd23UpVTl56_5meq4w~1VoJr2UB~QVfdlFXzKvayAZby_OhC_q7VvSYHKQiNxgliHIVY9RZN8F86IWVu_ovScoyx0uknD1XfUQZx_Y4Jujo1TSlgL2zVUA_6oz1coqOOi8vo2heN9jBYZqD~myuS01SHL20zUwEcSpTitzoEbM5JjTzeeklFNqYEOoi7WkKRsNceE9fpJxWnpks~Dmg--.jpg
//media.inmobalia.com/imgV1/B8vEv5Xh_VThvnEqMx4G0ZxU_YC_pCgmETwWNQKyeMqLb9Afo_WSoi~kcK5mwaepLz96AHEmAzWJQblCNhundhnOIYTFLWoaYUoiZL41GSwYm8OQH_aRonIij0M~8Kk8Ylgs0E_uqPq9NACz_U_LDMeU0nVPFgQvu5j8wB88~vUdzxG_bRmWNvNuw5uqYdeNfpCYkSCus1csSo9lHoEYI0k9_YTh~xb6PY0nQSi~MJOkGskUDJVsdMc3QlYPycpIayMm4RXBpQwXIOEZ9U6hQ34r~KUWKQQWAm9X63F6kSzaQvVz8vWyNHfiZ2bTYTVF0FTZ3Q--.jpg
//media.inmobalia.com/imgV1/B8vEv5Xh_VThvnEqMx4G0ZxU_YC_pCgmETwWNQKyeMqLb9Afo_WSoi~kcK5mwaepLz96AHEmAzWJQblCNhundhnOIYTFLWoaYUoiZL41GgiOX0WtuuMVfaHfDU0MFIe1wwW82HLV0M_~dhL8pHHZkbESq~VO7bveBZYnI~hOwUNhRDIfziLj2O3vZ2HqwhIK1CxJ5lbUcHHMpjz6yoRLSXmvsrOY6JF5q2Im1FV3u9bLfX4GXi9VxtziGkzCbxjFnRTlGE_Aiov7zuquqqYcOeUVA493bqnhWUMC3AJt2QCJL75cqkOKT7t_MrixTbtdUh1enw--.jpg
//media.inmobalia.com/imgV1/B8vEv5Xh_VThvnEqMx4G0ZxU_YC_pCgmETwWNQKyeMqLb9Afo_WSoi~kcK5mwaepLz96AHEmAzWJQblCNhundhnOIYTFLWoaYUoiZL41FgNwjyh5uhi6UEZOf9V4KGrLd~lMV_sabcJ6pGO57cHTMy87TH9hXpCHUnajNvHN_HD0Z8EeSjaHJOmTFN1YCG3_tOP3JN~BiSku~lEufIjTlu7xUCous65H~30O_kFv8AaJAtdFtAs~yQyu9rpuofC4b9aEpEEtzJvpFSYhSpRDsepTq97ZjKMTU8WAu4IyO8XpsTY0hF5lTPb43FOT6hXQin6mIA--.jpg
//media.inmobalia.com/imgV1/B8vEv5Xh_VThvnEqMx4G0ZxU_YC_pCgmETwWNQKyeMqLb9Afo_WSoi~kcK5mwaepLz96AHEmAzWJQblCNhundhnOIYTFLWoaYUoiZL41Hra~ZAV1IHFTG7~ZeTnco6wMX7bs02CkHuq0_uEwIuIj2XZG_001wrbo13Zzq~vlFM90rTkefqakMmxGDeDfWzORoVtEZ5F_K4EABUt_48yR9iIMvLRQxpHx6qIqhZjP_hN9iC2m9nphmZURZdETQRCfJnGE9uMQOQ_yYLjeg~Wik3NynJ0PMjbiLkmL23fxbsVYfMXDFYkwT7vbFzfwGHqLdleBpw--.jpg
//media.inmobalia.com/imgV1/B8vEv5Xh_VThvnEqMx4G0ZxU_YC_pCgmETwWNQKyeMqLb9Afo_WSoi~kcK5mwaepLz96AHEmAzWJQblCNhundhnOIYTFLWoaYUoiZL41TiWnSckduWZ0vm7JgC4tzDAQHpN60uPwM3l3bc0Pi4CmdDHUGzUTwfRnLh_1jo0DGBueUy8oxGj1xtCY8JMxqbiIhM5w3ct2OMCLKmG1csLR1ftbM5k5khmyhtgIG8WstwurbuIQ7baLDEhLV25XaarXnr1VbLqiIRsv6vJOOl8iuOUskjofUE6YENVxY56n9nIxv6k7BzC1Pi_OVtj7EiKd6CK9TA--.jpg
Brisas del Golf, Nueva Andalucia
Villa
SOLD
Villa of contemporary design in Las Brisas, Nueva Andalucia
Villa recently renovated in contemporary style located in Nueva Andalucia, urbanization Las Brisas, very close to the golf courses of the Golf Valley.
The villa is distributed on two floors and basement. The main floor has an entrance hall, office, kitchen with dining room, a large living room and four en-suite bedrooms, the master with dressing room. Its large windows allow you to enjoy great brightness and views of the gardens surrounding the house and the pool area with terrace and barbecue area.
On the top floor has a living room-TV and guest toilet, with access to the terrace equipped with Jacuzzi.
In the basement we find the fifth bedroom also en-suite, toilet, laundry, large storage area, living room and a large multipurpose room.
The location of the villa allows in a few minutes access to all kinds of services in Nueva Andalucia and Perto Banus.
REFERENCE

208-01272P

bedrooms

5

bathrooms

5
built

449m²

plot

1.034m²
Video Villa
Video of Nueva Andalucia Area
similar properties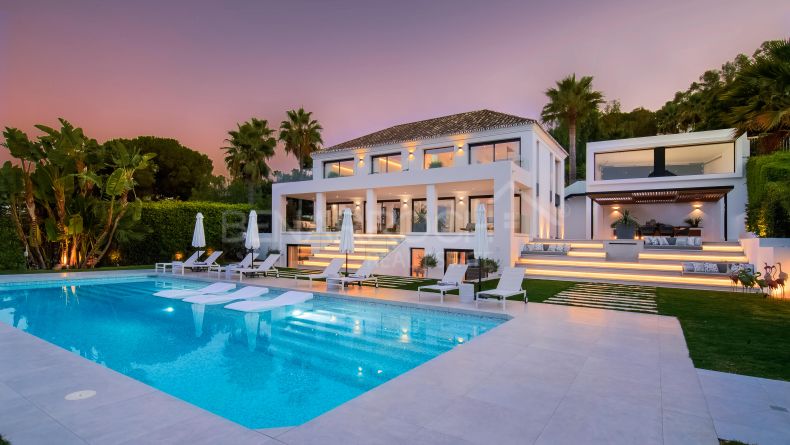 SOLD
Villa located in Nueva Andalucia, Marbella, in the Golf Valley, next to the golf course of Las Brisas, designed with an ...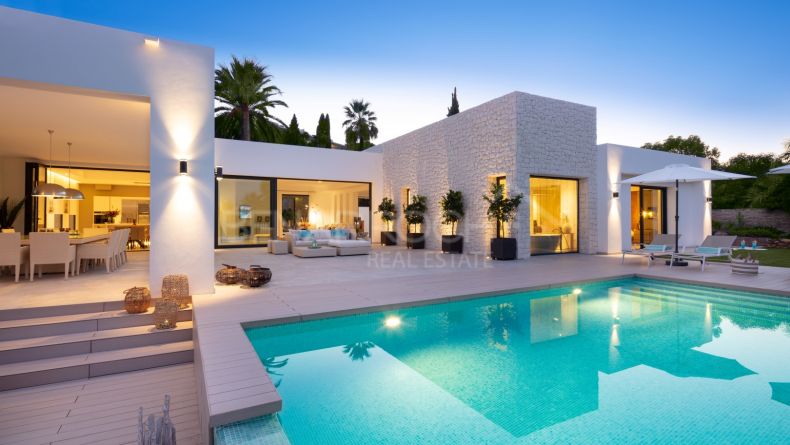 SOLD
Beautiful contemporary style villa situated on a very private cul-de-sac in Las Brisas, Nueva Andalucía.The property has been ...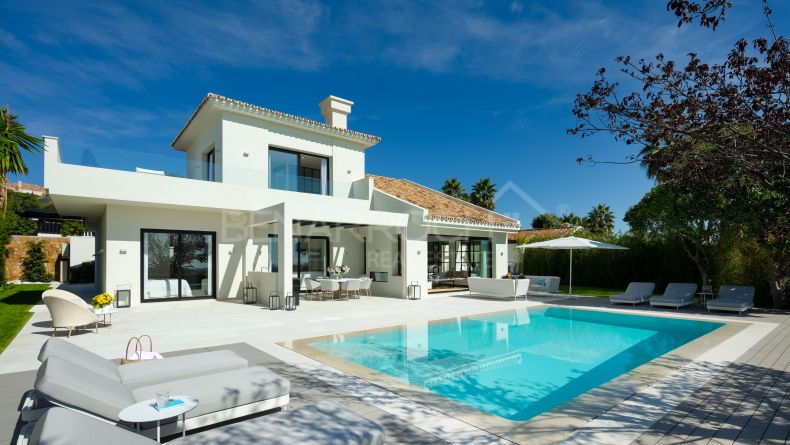 SOLD
Recently renovated villa, located in Nueva Andalucia, Marbella, in the Golf Valley, very close to Los Naranjos Golf Club, Real ...