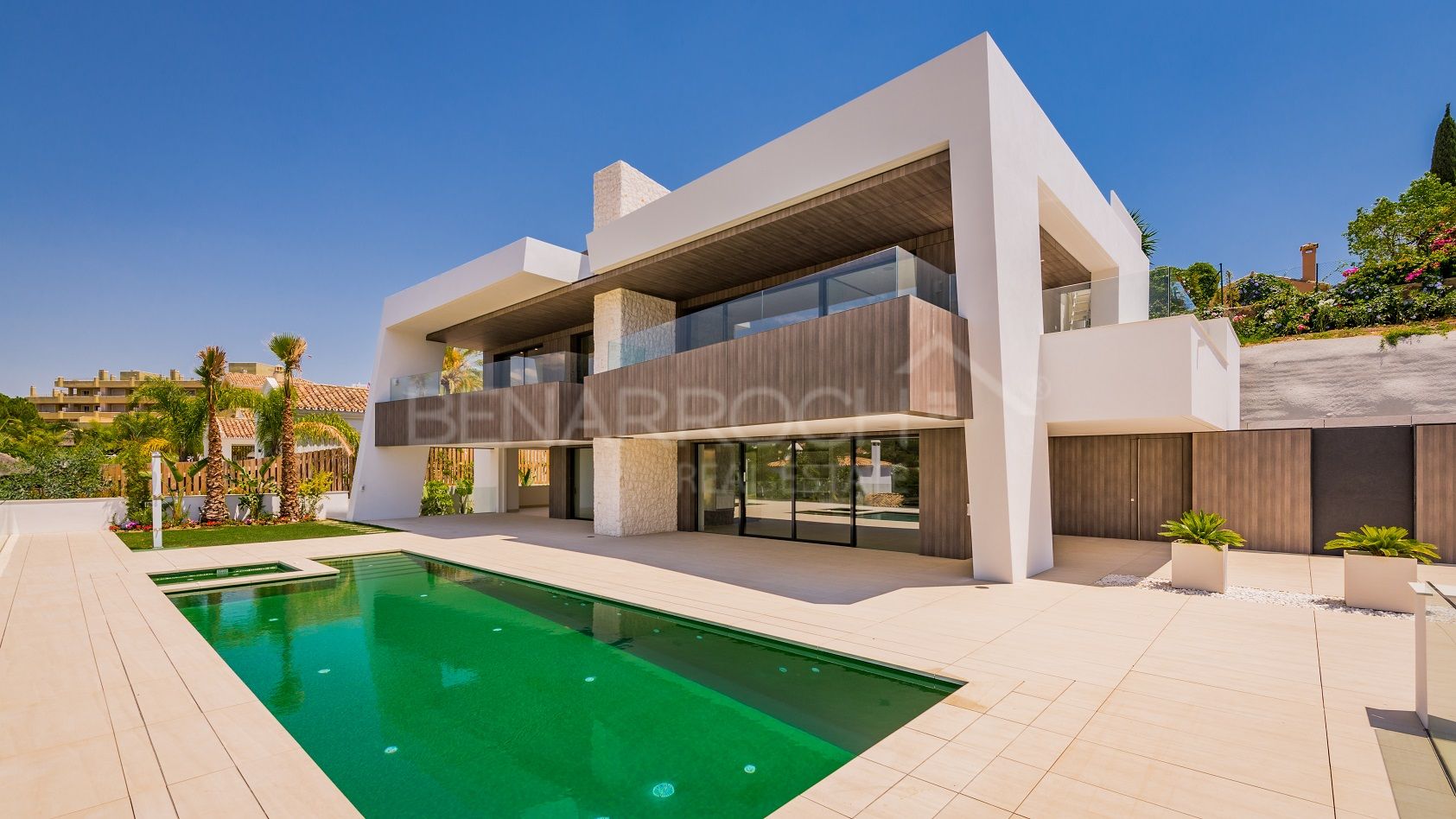 //media.inmobalia.com/imgV1/B8vEv5Xh_VThvnEqMx4G0ZxU_YC_pCgmETwWNQKyeMqLb9Afo_WSoi~kcK5mwaepLz96AHEmAzWJQblCNhundhnOIYTFLWoaYUonZeuYQvtjYGI1JVrGevD9njlrJ3RjRq_1uuWHjcsQVN76PSwzUS6DhVOR~ZQBn91YOaeyhKJVFKhwB28MS6JYCwC57fBAdCW4RsPeq~fUp5FymfX2wYRE7maMhWz1lwAnC0bOqCIeXfJmEppI5Ea2duxWLhIo~A8U8DyPQWNELFnzp05se2dQyshu3myezHg4RFZVeq3R_3we1lOFZb0dRnbFKDZObCrOIA--.jpg
//media.inmobalia.com/imgV1/B8vEv5Xh_VThvnEqMx4G0ZxU_YC_pCgmETwWNQKyeMqLb9Afo_WSoi~kcK5mwaepLz96AHEmAzWJQblCNhundhnOIYTFLWoaYUonZeuYR4h45d_RYNB5aS1iRM3Eakwf0tG6LT3~AD~XvicgCYQ3dcboixmh5ZrAcOfeJHV911fMXfVybUeczeLE2ZkiYv6Deud83gQzY0D9Vv8V0fRBXB20i~Uc1IPB38Yk8h8DXwC0QU8BTFvE7zNqoz1F9q0DJAYZtWPFyn9fFX_jeOsTFew3dFwT5P0Zgq1nH3Q93w4ONXf1ijPQb2ugG2Vu5T_IOCtOsA--.jpg
//media.inmobalia.com/imgV1/B8vEv5Xh_VThvnEqMx4G0ZxU_YC_pCgmETwWNQKyeMqLb9Afo_WSoi~kcK5mwaepLz96AHEmAzWJQblCNhundhnOIYTFLWoaYUonZeuYFVNSwFC_zDb4wy_KAjujDChq31PwYMlFHYRK3eMcJLjGC4sYv2oIUr3PDNsZcfApWsvjAIIqZgu5LKZbEiZFqfVXmuYfXxPjCInmGKCVi_0hjuDgBT5aQZhiChZodClU2JWixFbABPdfF8vjcTJriW1OcwfppUVC96NReq9pc6uBnz9SxCHuMSBKD3NrEiWiiCelcUBZNvEgofppWWjQrJOmMf24hg--.jpg
//media.inmobalia.com/imgV1/B8vEv5Xh_VThvnEqMx4G0ZxU_YC_pCgmETwWNQKyeMqLb9Afo_WSoi~kcK5mwaepLz96AHEmAzWJQblCNhundhnOIYTFLWoaYUonZeuYFwtCaHI0RLbDHq2M1jHAVOqzaGIHng1UC4ScUqqRR6SX_OSefXZafgnNHnF50Sb_2OX5EgkdxVeInnj5~dxUTvGR3JzEi_jkieGBtSiZZbU9jVS2TzHJtuyRMiIH8n81y9qckkjn7PLBl~zWT8tURJBKgnhE8ldYrUV6FbbfKflZCnh_wZ6~LQZoSC6jQZqqpFJcUBnhzvj3E263EYp4ySXcd8lEAg--.jpg
//media.inmobalia.com/imgV1/B8vEv5Xh_VThvnEqMx4G0ZxU_YC_pCgmETwWNQKyeMqLb9Afo_WSoi~kcK5mwaepLz96AHEmAzWJQblCNhundhnOIYTFLWoaYUonZeuYFPqHVQ7WdQi8ZsdRa3QP2DIcCVCnRD6fQ6iDLVuJiwB521CaTUSMTvnB3_~sbBwh7iNkHD3kMWePixnNrHPhjFjH~jRiPs_Cm~WFK9OYlUSZESZbC0I5~axBPnEZrwogIx5GoTtd~c5IPS7id69RN~GAZhVsAg7WwLeYNNt4wheA4AWnmqxLpXDxvUSXMTB8hAwp9wBO4dFEn91naGgtCme8V4x2bQ--.jpg
//media.inmobalia.com/imgV1/B8vEv5Xh_VThvnEqMx4G0ZxU_YC_pCgmETwWNQKyeMqLb9Afo_WSoi~kcK5mwaepLz96AHEmAzWJQblCNhundhnOIYTFLWoaYUonZeuYFvwqcwf0oIq6158aFmaJP7UjmFQ7XSwSx1b5RP13TvhGFo_6AiZQ3T2_YIX1D9qhhv7kLuGKTB8dx5S1MU~p_K7pQqozC4NuQ60KlCW0CMUGs4h4Wh1iFSPYKZlz_eVWoxT05tCjQeCbCI7GwvMBVd92koapO78sB5MmzbSvXdFdyatxvBY1Kv8apBkXORkljcMYHooBflmctM9d1k1GqfA6SdWGWQ--.jpg
//media.inmobalia.com/imgV1/B8vEv5Xh_VThvnEqMx4G0ZxU_YC_pCgmETwWNQKyeMqLb9Afo_WSoi~kcK5mwaepLz96AHEmAzWJQblCNhundhnOIYTFLWoaYUonZeuYE5rndPSuawqrb26uZGsRrfwMMnUocDtXr_xMYO1RTvNuGQDMUGR3hzKo8lOAEmd9l9YB526EWQtPyUmHLLXjOqRwHK6cgm7juEKMHzR9Eit3yIhBJqjG3mW2jBPJJIAPoE4dfKeasWXyMhw17D603LzK7Qm73VAMGNd1rPDHBraHOiEJWxSrA_~LaK1FId3sZZvHOxp2BsLRHvPio8nxiaSa1hKb~Q--.jpg
//media.inmobalia.com/imgV1/B8vEv5Xh_VThvnEqMx4G0ZxU_YC_pCgmETwWNQKyeMqLb9Afo_WSoi~kcK5mwaepLz96AHEmAzWJQblCNhundhnOIYTFLWoaYUonZeuYFQScPW03hbnOLUm8Vc6q7HHBondJAGgRSQYCa52C0r7RWqaJZkKBW2fk48TEt495NTm7YqWxun3YHu7fmOyC_ZHFbgdS9qdL1OxHVaF_pMcYycJzXQI_FFTdfKlgdHJJGl2H_fLVJ1lzPiLF20PgmOU4CLJSBchFFiiL4KUDQYj1c8A3IYBwvHETGeUESEY~BfiF1gT1brbmnkIr6IB1qOYLDZcaxQ--.jpg
//media.inmobalia.com/imgV1/B8vEv5Xh_VThvnEqMx4G0ZxU_YC_pCgmETwWNQKyeMqLb9Afo_WSoi~kcK5mwaepLz96AHEmAzWJQblCNhundhnOIYTFLWoaYUonZeuYHE2_1vLavsuNqK3jX_APNwYPZI~hoqEqTigIOGWDImb3dCDoGmCHH6rLyDBHS2JYym0hTUWTIV~wyzIIh0RhVJc_gDttCg~TW6j0~wGkxiOX5avgbnwYFlv0mKcHMwfzGg4tRCcdVKOonnzpx3U2r~_0i_CPoX2G_a9GIGmXfiqo4GKW00d1X0oko9wWf1PmUMw5xRFJTnBApMYNs6_p0GehkEJyRg--.jpg
//media.inmobalia.com/imgV1/B8vEv5Xh_VThvnEqMx4G0ZxU_YC_pCgmETwWNQKyeMqLb9Afo_WSoi~kcK5mwaepLz96AHEmAzWJQblCNhundhnOIYTFLWoaYUonZeuYFw2A3MiPiiMGXWiKSxzedEYub2gFzLZE6z7v~5kXcRA4xGmogEZfvu2CahRT_b7SlM68qZMBWqBBjm6NrocjXioE3BZ9OmzICJ9_kvkgPNNGrSPe6y_F0f_mScvYzoCTyV84bPs3MrhL6EoRCm~8r9pUqPNTPZK4EwReBV5JM7Dhr~UjO6JdZnY6PFL3mXCP_DJVPbPjUdHs~GfOQa62mepIcsQGiw--.jpg
//media.inmobalia.com/imgV1/B8vEv5Xh_VThvnEqMx4G0ZxU_YC_pCgmETwWNQKyeMqLb9Afo_WSoi~kcK5mwaepLz96AHEmAzWJQblCNhundhnOIYTFLWoaYUonZeuYQqhtPG~OmHGLmP~gbT79E4uru5B~_~vq5JrqM6vZB_V~d02_p51Cr3kK38g7i9pVLwewtXnKA0NIZjOG523ZJg75n6MzaCv6AHNsGNEnX5MJqRf0J0zovWCEz7L1EXD8vn~VQy1tfGCRmLp6FvXgH3_lD85~FcOn0xi7Q5~K4imXgXIw__zbgvNujs7LsAoskcl_e8GgPSC92~zezdUG0T1~NCuQUA--.jpg
//media.inmobalia.com/imgV1/B8vEv5Xh_VThvnEqMx4G0ZxU_YC_pCgmETwWNQKyeMqLb9Afo_WSoi~kcK5mwaepLz96AHEmAzWJQblCNhundhnOIYTFLWoaYUonZeuYFKrdlP~xCZWe87PGox3UbBt9b5t~3ctRVNKQEMTXRL419ybe6HHxlzMyBsx5er0btDqBhNLRAHzwXTlHprZDw_zrjxEDGKiMag~te0NZKPpyS01s_jlQFVm12aFUWP7dIvZQx6eynOB8flWxsY8ddEPy4wcMpvb2MJiGqTQSik49XJNSUl~DIQbDcwrisLJlqv9_uLekNcizCZwVKLDIBrvYrS~4NQ--.jpg
Los Naranjos, Nueva Andalucia
Villa
3.500.000 €
Sensational modern style villa in Nueva Andalucia, Los Naranjos
Amazing modern design villa located in Nueva Andalucia, Marbella, next to the Los Naranjos golf course, in the Golf Valley and Puerto Banus just a few minutes away.
The villa is distributed on two floors and basement, in a residential area just minutes from all kinds of services.
The main floor has an entrance hall, large living room, dining room with double height, American kitchen fully furnished and equipped with appliances of leading brands, all with large windows that provide great brightness and access to the terrace and pool area.
The upper floor has three bedrooms, the main en-suite, with a large dressing room and private terrace with great views towards the golf and the other two also en-suite, with dressing room and terrace.
The basement has a garage with capacity for three cars, a bedroom with natural light and direct access to the garden and a large multipurpose room to be used as a gym, games room or cinema room, according to preferences.
The villa is equipped with elevator that connects the three floors, wooden floors in bedrooms, underfloor heating throughout the house, fireplace, air conditioning hot-cold, heated pool, electric shutters in bedrooms, security glasses, alarm, smoke detectors and domotic system.
REFERENCE

208-01227P

bedrooms

4

bathrooms

4
built

849m²

plot

1.500m²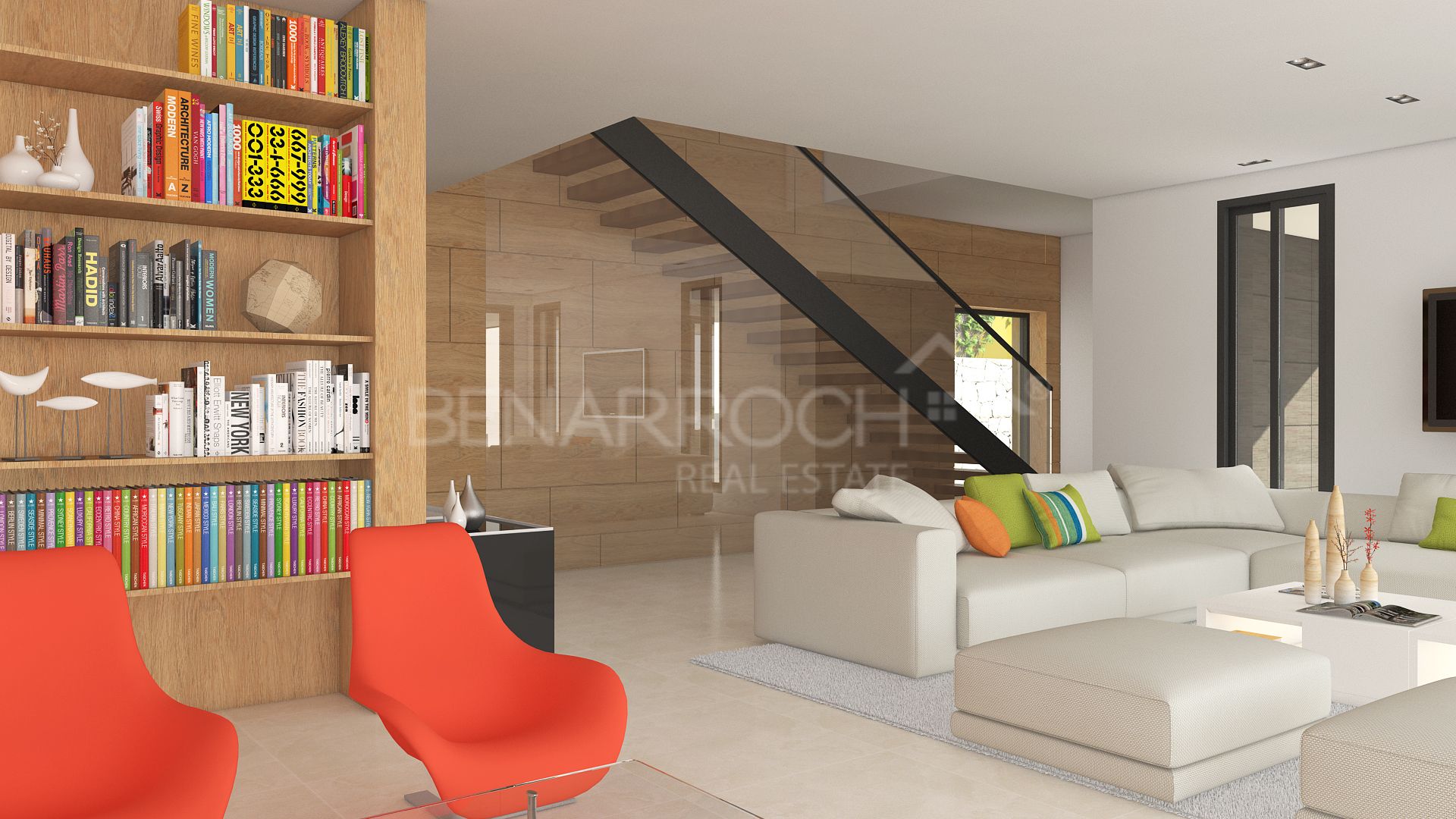 Video of Nueva Andalucia Area
similar properties
3.295.000 €
Sensational villa in La Cerquilla, in the middle of the Golf Valley, Nueva Andalucia.Located in an extraordinary and quiet area, ...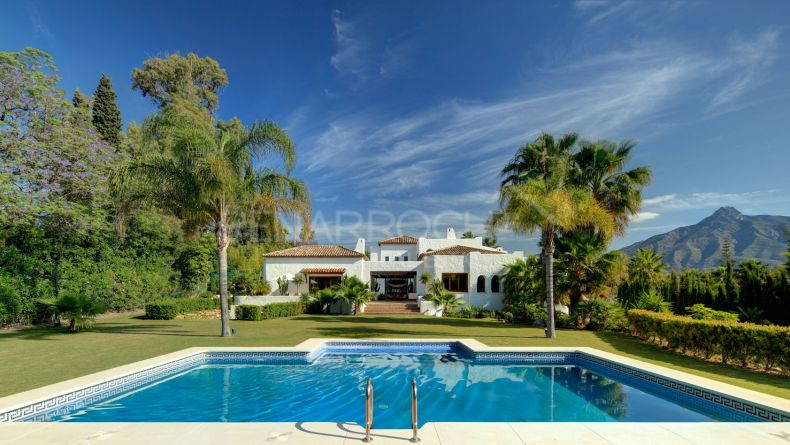 4.950.000 €
Villa in the urbanization Atalaya de Rio Verde in Nueva Andalucia, in an excellent location a short distance from Puerto Banus ...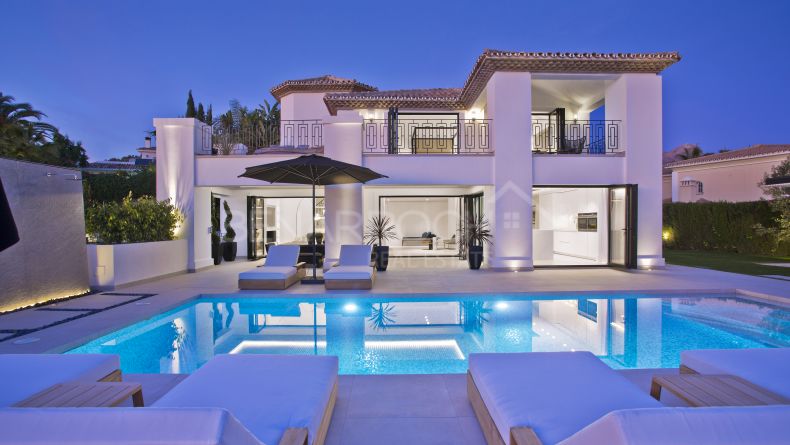 3.995.000 €
Classic Andalusian style villa with modern finishes located in Los Naranjos, Nueva Andalucia just minutes from Puerto Banus and ...