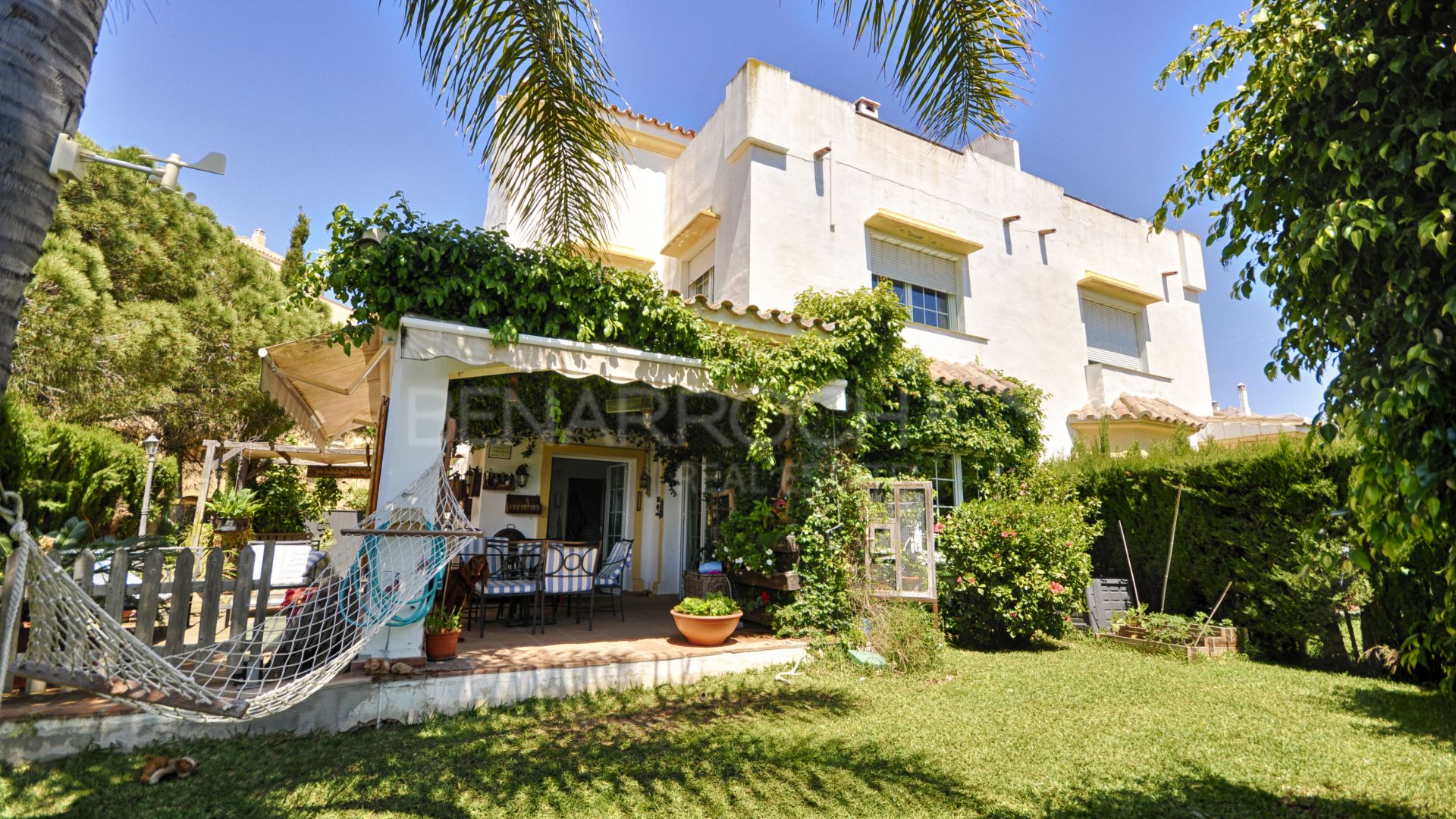 //media.inmobalia.com/imgV1/B8vEv5Xh_VThvnEqMx4G0ZxU_YC_pCgmETwWNQKyeMqLb9Afo_WSoi~kcK5mwaepLz96AHEmAzWJQblCNhundhnOIYTFLWoaYUoluwttxRUg2H6pC4RHrW1AOy1MVkv6GyBvXKjTv3ehHngUDx_5A6lfRROpqj74zGeAshmX4H6SEg1~FWCTRLJx215kq3xgQADMhJd332qi0OEfNV_mj01FBkDi5IF9B6dIRYH6KCMAEgjJE6ShJrAz0HDG8Scq9Tedg8~HfECg~TV9Pat2PnBY4h1Dn6EXL2kGC7ssy1_4~jq9a0lGWtimzp51nQ5fID5J0g--.jpg
//media.inmobalia.com/imgV1/B8vEv5Xh_VThvnEqMx4G0ZxU_YC_pCgmETwWNQKyeMqLb9Afo_WSoi~kcK5mwaepLz96AHEmAzWJQblCNhundhnOIYTFLWoaYUoluwttx5cF345ztiQZpM5kltDAhJ9Ea_HGMo~ooLOwZNIO~br~B9x17z_J098hpLlC3eUKw0AJDWDMNES4jhKX2z0rR847HbJnbLHE~anAqnZKuKMHCXi2lSJq5dR8nK5F1_Mjl_EAFVamdYL1YA2ugkjHlUCQx0SuhzYwA~8isUTk32pYGHhrd5ZIojCF9ioS4tSozZd7_KCNQRHXIegrQlc8cLAWzPOCGw--.jpg
//media.inmobalia.com/imgV1/B8vEv5Xh_VThvnEqMx4G0ZxU_YC_pCgmETwWNQKyeMqLb9Afo_WSoi~kcK5mwaepLz96AHEmAzWJQblCNhundhnOIYTFLWoaYUoluwttx5_onN9mXJQD3GDoAr0FguSLYR6sXuSdOnwl8D~t74corN2IFc8A1YOC0GPzA9JjgO8Y9xryYt1sa8cg_oadIltsq_6w7ANHuqnvXDFJg0yUwo4Vr~Ph83jYoYG5ZVdxGvp6tf7ZK5bry1HP~leYVajL2g9w2a3rGcGQQ3qAF5TFLmCK3ycCnQX0ruPi3W5C~jyYJC4uaSyKNuhUi7z9MbfWOsYQsA--.jpg
//media.inmobalia.com/imgV1/B8vEv5Xh_VThvnEqMx4G0ZxU_YC_pCgmETwWNQKyeMqLb9Afo_WSoi~kcK5mwaepLz96AHEmAzWJQblCNhundhnOIYTFLWoaYUoluwttyjxoXpaCSHR4oZnq3N3ZLAIcsOu0aUEa0e02~7RjRHf0MoN1lD8mikkElnWWgE3nErqXQnYpgmbjfVqTe2nONjN7j46OLCUdl6hW9mVz~PZwbtUd2WJm4Yd_fq_Ku~XXJriKFxwBxH_dXPxCAaECmKOPttoqQhBGxvivNuG79dEptgw~U7wX5btwEPoUChbO37xb9TEoTcMCLuWR9yF9ioT0HinLiQ--.jpg
//media.inmobalia.com/imgV1/B8vEv5Xh_VThvnEqMx4G0ZxU_YC_pCgmETwWNQKyeMqLb9Afo_WSoi~kcK5mwaepLz96AHEmAzWJQblCNhundhnOIYTFLWoaYUoluwttlcO0C9LcKS0LY8cQ6SnIlit4b_bQKh6hQI9vMz~aps~hgAizyNuvpGrJ4ci9s_488vWvP0IGK1k_hss_M5JCHl1jh0xyXQMgzjmCaJAt8EUyR0_zaUdrUIDwlIsj5C9loINaC~hJiNT7ZgbQxDx3rovOGrog~3gkh9pOFxiRtBVWsNnQ9V_KIegq7_AIsJWcBL8wDgr5VP9SpA3QRad5NufAF2N2lQ--.jpg
//media.inmobalia.com/imgV1/B8vEv5Xh_VThvnEqMx4G0ZxU_YC_pCgmETwWNQKyeMqLb9Afo_WSoi~kcK5mwaepLz96AHEmAzWJQblCNhundhnOIYTFLWoaYUoluwttx5GovDfbpY3D40AJE8T5ooElNTHr7pP6FVlsyld0uQ8DQAy_9tz~MVou8eXD~GPAR7Ueh4pOl_9md3FhNcAYGuoMbSrGnL41vPIxK1Eomvy7u0P5dt6HfBwUYUoWMBOorLI_Xm1WoXyIw~PzZ8NZkOoCfJI5ybKmp6vIzxmQ0ZsI52K_y5__aZSr7QYlKTLA0m422G5BStQ73~0NMq4o5iPubq1deQ--.jpg
//media.inmobalia.com/imgV1/B8vEv5Xh_VThvnEqMx4G0ZxU_YC_pCgmETwWNQKyeMqLb9Afo_WSoi~kcK5mwaepLz96AHEmAzWJQblCNhundhnOIYTFLWoaYUoluwttyjX6awosyCknXvhNehuKNQ0UVJ2flK4LY0BlgOj20eumLdQH3qzQ~rFMjwbaSn8IWmPWPSyYCMrrRFVieMqV8BL3wtA0ET9JRM9I84c0gflJJbQykIDB1_aFR4nh~j_5ZoormYACy3Li_JEIZoNg8MQGnomZlB5l~TCiGNuNCbzfAk2jDSnVU6_CzaNedqsK0rOscoS_oOnMdNVnQGwtOHYQ2XKYoQ--.jpg
//media.inmobalia.com/imgV1/B8vEv5Xh_VThvnEqMx4G0ZxU_YC_pCgmETwWNQKyeMqLb9Afo_WSoi~kcK5mwaepLz96AHEmAzWJQblCNhundhnOIYTFLWoaYUoluwttliWT1Qwpb45NRrXN0qD63YFU64~mI9JjPmJRNHVKd6rHgPU8CgAoXzqIgOeb~uNalE5hxH_PeBFuswb4VcrYkr8tQtZk9VWmlNk~sKS2jIaJ4ogwD7FBI1TYgoVpSJlyEz1hDG0dMrDZiDuIrQ5HM1Hju1aKS2Ch26u621YN7wXIDFZlaBpcggaGrx0yrDicIjAJhwXggKTN6rCTG43U4bZOR0~03w--.jpg
//media.inmobalia.com/imgV1/B8vEv5Xh_VThvnEqMx4G0ZxU_YC_pCgmETwWNQKyeMqLb9Afo_WSoi~kcK5mwaepLz96AHEmAzWJQblCNhundhnOIYTFLWoaYUoluwttxuHF5yLwoWs_fEqvDd1suD34GKYeXVC0KN81T7yxaZ6XCj3IOMmOPef3S89Xz2e~Kr67MGfd6R5vLS5r3YqJKZTPZydMg9rPzISYmuGy33B5~_WY2P5IwdQ56FOArZ2SD7ZvSdE0LvSRGBkWZgH3~agSgCcQXf9YP1C9LrrZ8d5R36krtWzwT7nZZhxCio0e4lvCGOqIRWf_pG~DW~~RK~goiieszw--.jpg
//media.inmobalia.com/imgV1/B8vEv5Xh_VThvnEqMx4G0ZxU_YC_pCgmETwWNQKyeMqLb9Afo_WSoi~kcK5mwaepLz96AHEmAzWJQblCNhundhnOIYTFLWoaYUoluwttw4OVVPKXzRrvgNVpZfSfX25cGaP6FRfNrXk_Rtc6n1uuom~BQHAUjutEUC4Fat0rrMiHALvx9G2Sdc1DKbfT2GNo2Ryb5qZWX~TseQqqSKNqvUC6SHiyU76tVhGC0PIIT14DJtPi1euM_Tg~iKt0nWdXaRgHH91UoMPB7WTp8ZVvt9FXnVPQpZoMU0cczGYBEHQZib8rxpFf8WaG8BwQqw3SN32uuQ--.jpg
//media.inmobalia.com/imgV1/B8vEv5Xh_VThvnEqMx4G0ZxU_YC_pCgmETwWNQKyeMqLb9Afo_WSoi~kcK5mwaepLz96AHEmAzWJQblCNhundhnOIYTFLWoaYUoluwttxCK2xUnrwq~uCggwPIqSaMKoXpQkUcXfvcFhjwMYj5xXvabPO7x1ez_h8MrS9jB8jrOTlgp4gPq4HAHOUum226nt9qyRUlRckYfNxIWYYjXiXofcfBJoOJqDDYSVS3OtIlxGUjC4aXyPEeFifDh9h2Hid09OJJyzROdF4_v2SN17MHx~f~gyIG~N3kRV35RWIA4cdQ6aJtfoyjqmc52TzabR5s6YlQ--.jpg
//media.inmobalia.com/imgV1/B8vEv5Xh_VThvnEqMx4G0ZxU_YC_pCgmETwWNQKyeMqLb9Afo_WSoi~kcK5mwaepLz96AHEmAzWJQblCNhundhnOIYTFLWoaYUoluwttl5KAeIk5~d9YAEd9XyxSoyXp~SFvhYoMx_xSAbcC1Gf3gtR2Tt2N76~WAmRd0hBYHehUqmkuWF5J2oQrbN~i33zAp8zIHD~h25UWcfPJqTJ3TM~1XNrSptGtsQCNKQReubTyBAx773663AtkOp9zYbhP9ThdRgck7MiC43Xn~~SvL4Vk_3ZM9YIdQqP_BKnYppoVuAuaLmJPlBCLagKTu2JrzzEzGA--.jpg
//media.inmobalia.com/imgV1/B8vEv5Xh_VThvnEqMx4G0ZxU_YC_pCgmETwWNQKyeMqLb9Afo_WSoi~kcK5mwaepLz96AHEmAzWJQblCNhundhnOIYTFLWoaYUoluwttl8QdLe_WjFcRwtDjK~NMBGUowl7DOOe1jFXxWtCwX7qpBf8dBX5TvEyDgKxfDVWIvWJJhhtMUCpQbsXg0DHgH43xTbxfvFKSGZJw5ZLc3k1lZ39t8sLWHeuUZYI6mzBzB33fZB8~7dIp9Hmjd5w8ujGottA3d6I3T_ddATXK28SoM5Ywu7SjwpLt5KZfjViqTg_dL8h24K7tPU6UJCrnGk8G8ugkew--.jpg
//media.inmobalia.com/imgV1/B8vEv5Xh_VThvnEqMx4G0ZxU_YC_pCgmETwWNQKyeMqLb9Afo_WSoi~kcK5mwaepLz96AHEmAzWJQblCNhundhnOIYTFLWoaYUoluwttkE2yBPwZysjeeWLPxQyeGj47C6PazvxRSzFe3482pDTGiOcfzwWzjqOecfB73asMvHgScL8OcJEGFzHbjNsPiKiAotX9vPnKwMqx7TNim0yUT10FxQJPuPG1QZSySCsKSP8nBmIZ8JFVaq080_hC9FbfzagLsEaP6rf6ehvlgV0bwmp8RHpCU0aBdgtLFu1MkfUuHEM3OJ~bX98dC0wI0zoWAc9P3g--.jpg
//media.inmobalia.com/imgV1/B8vEv5Xh_VThvnEqMx4G0ZxU_YC_pCgmETwWNQKyeMqLb9Afo_WSoi~kcK5mwaepLz96AHEmAzWJQblCNhundhnOIYTFLWoaYUoluwttwmE9V8gqN1vybMnCapWacu1GnYW5Mo8qmKJ7ApYGRHfA7W5fJv95g8pPCZ8F~zX~TA6tT_PcsVA4i2Bga_ytnRO3t51_XbhjdXCJVpNgFOkvXcvbUpLcWecBHnKrf9qJwLjTX_bZMJKdQdVfKgaPB7ABxlvflv0_yRjSfOISV65YEMUa88l2cyHy9w3KeDgdzemQ5l~BPyC9xODyedJLEhEF7EKW6w--.jpg
//media.inmobalia.com/imgV1/B8vEv5Xh_VThvnEqMx4G0ZxU_YC_pCgmETwWNQKyeMqLb9Afo_WSoi~kcK5mwaepLz96AHEmAzWJQblCNhundhnOIYTFLWoaYUoluwttkZaAUnMDRO4cMVb9Ch78GsqdJmmC0iDLlY5_2TGZ3Ac7yqQSDznbFCfm6KG14GAdSmdHB4MVb7W5tqTYihHpXTqByhOo035moR41V4HgWL_SxEd4A6_0tJ5AOGSxUrjqh5NjjOxCx5ZmWl0zP_s7xhk6nz2NUwG5e23vEcBsiV0Grgr0R1OsUJW15gwQFdqRzVea2yise0x3~v6q7rGXjKSqhPukNA--.jpg
//media.inmobalia.com/imgV1/B8vEv5Xh_VThvnEqMx4G0ZxU_YC_pCgmETwWNQKyeMqLb9Afo_WSoi~kcK5mwaepLz96AHEmAzWJQblCNhundhnOIYTFLWoaYUoluwttliTGG9Hi6c6BWXYj9ENxMGly0BFmeLZ7ttH0h6AaPhOs7DwrkaAk54rgX0ZQ4MgIHpIqlrY8G~YE4OBO_44sIweGg4bl~tSi~AwYquoIgi3REJ6UmynztbDMBNDLQAyMi61c~uUyx6fhCzySgWsckG7kHyuv27GV54o_Qwk35IVQUbisdhSWSEUMMOUnoVvKtXTEvndPvDxfXWNHECLSFbcGVMBydw--.jpg
//media.inmobalia.com/imgV1/B8vEv5Xh_VThvnEqMx4G0ZxU_YC_pCgmETwWNQKyeMqLb9Afo_WSoi~kcK5mwaepLz96AHEmAzWJQblCNhundhnOIYTFLWoaYUoluwttwYogtGWl1VlB00PkauULnNPfD7tzm8~evgYWEcKC_DLq86TmEi4IJ4WJVL16nOEQ2Z03mhn2acBz_Enk8ZgbdvJIDXV5CcY51XfQFy1OGmBpu0DAdznQUpI8La1DtdaKvXQNr56vPSQTwWq7PbRtR0JjY3W83eOoK~nO4x~hkjKsedl86Ww~ZaGJjwyokzNZmaMIFyf0IWjmSSLq634odxEc_quxNg--.jpg
Elviria, Marbella East
Semi Detached House
525.000 €
Semi-detached house in La Perla de Santa María Golf, Elviria
Semi-detached house in La Perla de Santa María, Elviria a few steps from the shopping center.
The house is divided into four levels. On the main floor, entrance hall, bathroom, kitchen and large living-dining room with fireplace from which we access a cozy terrace and the garden.
On the first floor two bedrooms sharing a bathroom and the master bedroom en-suite.
On the upper level of the house, an attic bedroom and a solarium with views of the urbanization and panoramic sea views.
On the lower level of the house, bedroom, laundry, storage room and games room.
Closed parking for two cars at the door of the house and a parking space in the building opposite.
A few steps from the commercial center of Elviria and the variety of services available. Santa Maria Golf is very close as well.
The ECOS and German schools are 10 minutes away by car.
REFERENCE

208-01204P

bedrooms

5

bathrooms

3
built

250m²

plot

282m²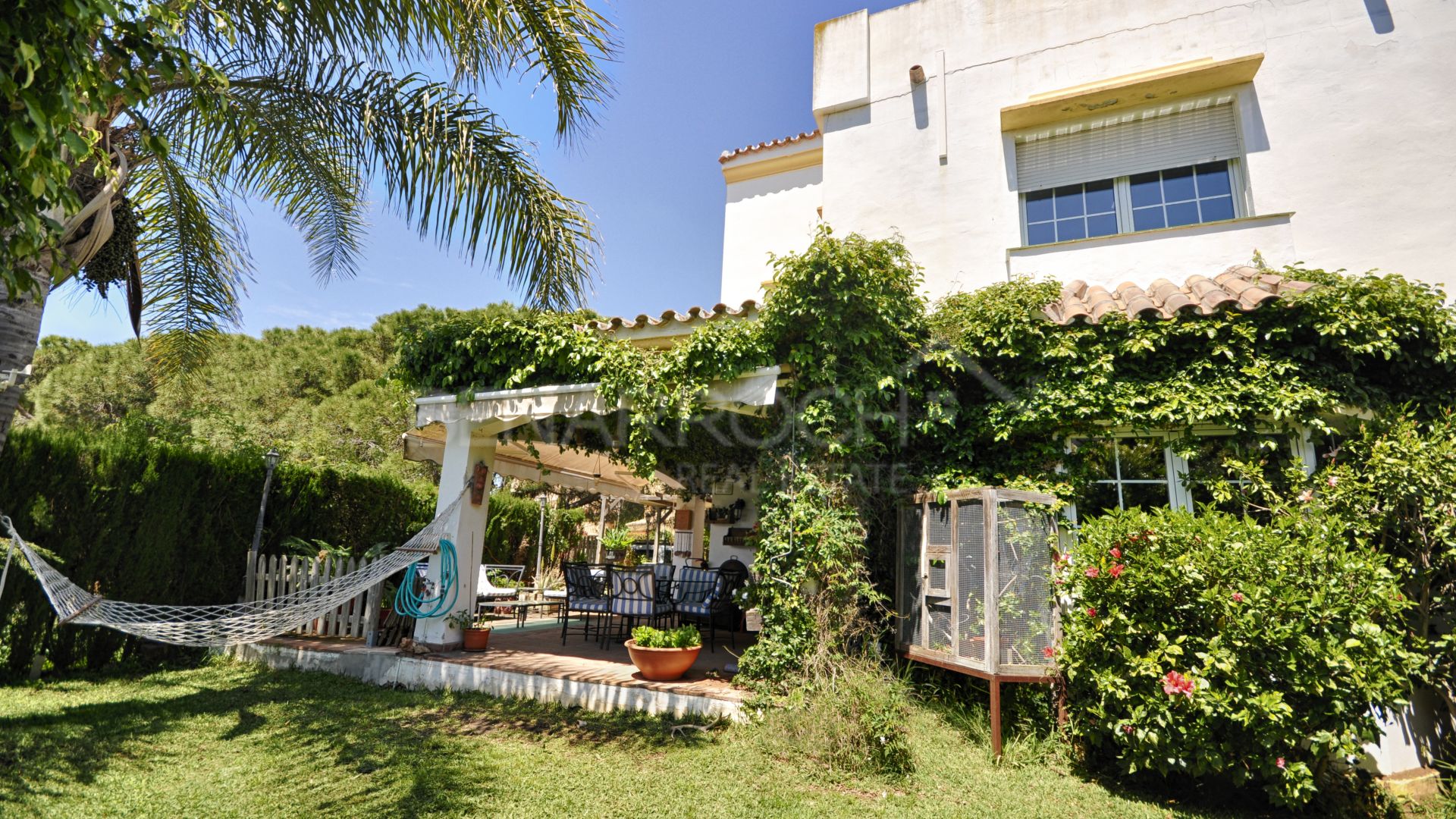 Video of Marbella East Area
similar properties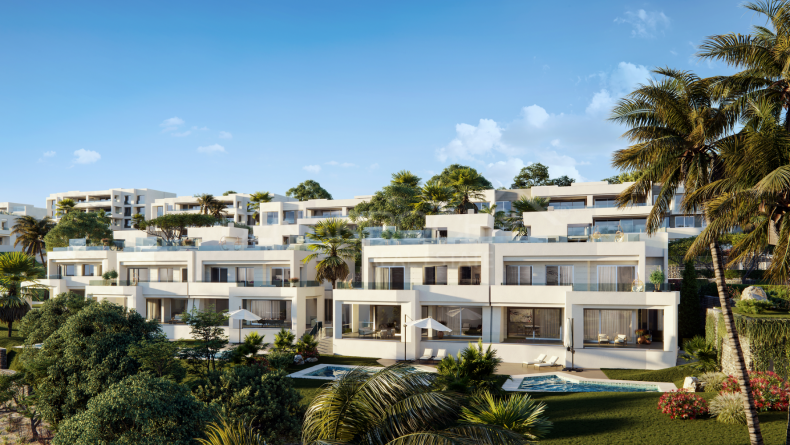 1.025.000 €
Semi-detached house situated in Santa Clara Golf, Marbella East, in the newly built residential Soul Marbella Sunset.Soul ...