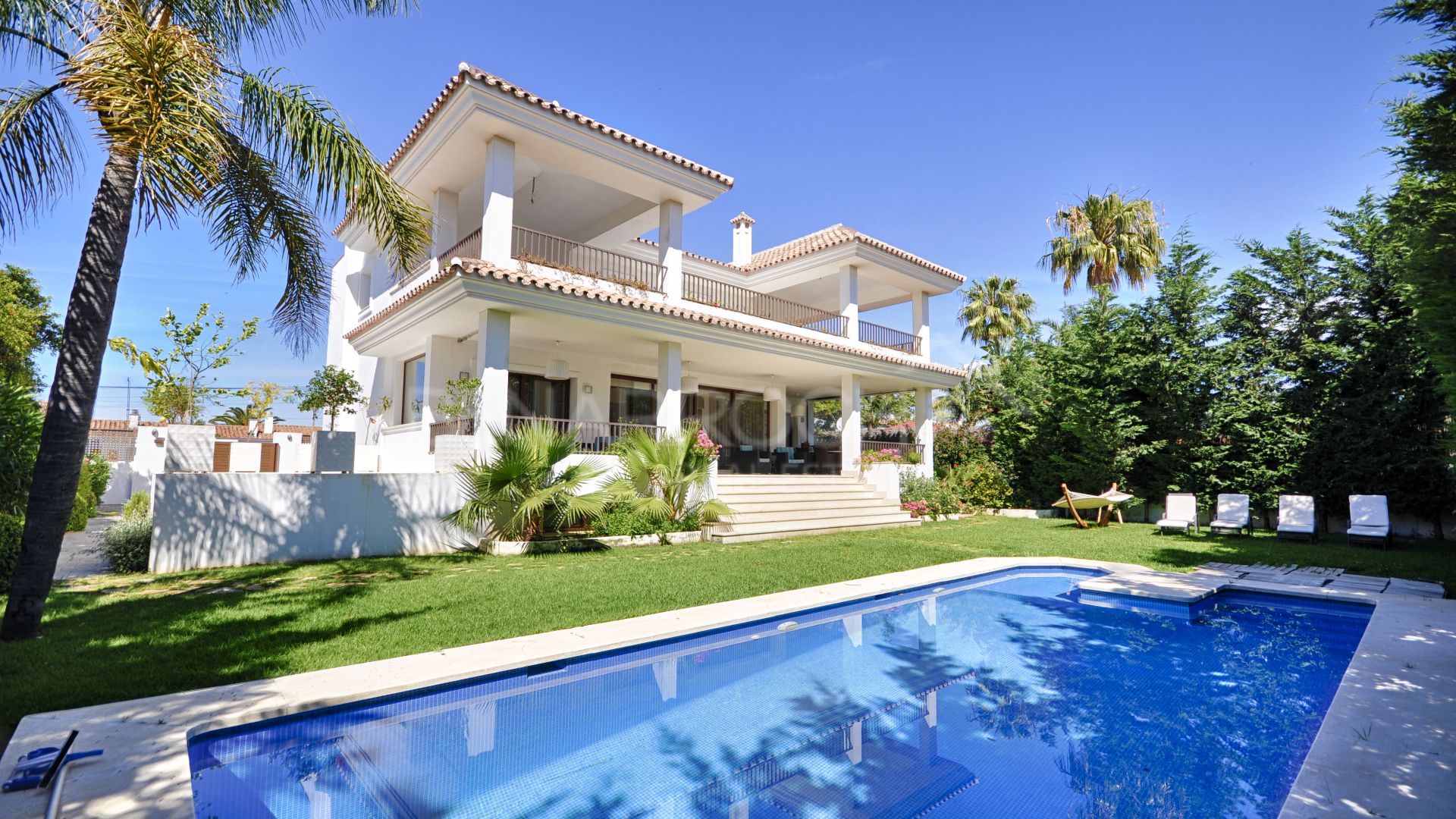 //media.inmobalia.com/imgV1/B8vEv5Xh_VThvnEqMx4G0ZxU_YC_pCgmETwWNQKyeMqLb9Afo_WSoi~kcK5mwaepLz96AHEmAzWJQblCNhundhnOIYTFLWoaYUolvOGOKY91NujbbUtlgG~4roMbfC3~G4Ep8gvXZCIYQyksmSbN7AUMyM6Ry9qUGOHQ07WJ0r_MISsaFJudaONVkZoziB1amDJEIL6xgZhevmmfl_e4Y3yC_BDeGdtR~DpQQtn_t_PqJ~Ik_d02vBUpmzs83Go5lAK9WRFGfzbK6ePjnT9FNMaiYNwgUAXgaH~nj42w6StOzotsOqXGiujww_wswQu9zHjkcw--.jpg
//media.inmobalia.com/imgV1/B8vEv5Xh_VThvnEqMx4G0ZxU_YC_pCgmETwWNQKyeMqLb9Afo_WSoi~kcK5mwaepLz96AHEmAzWJQblCNhundhnOIYTFLWoaYUolvOGOJq391~K08Py2HYx6OUTximnD7Z~h3Qridcxd9XJ~XlIoREXF7q4nvi7aNQoJyvln7uVaPuJqSptLuIAktXs0ekE0ZAdHgBrZ2BsgR_hLPuDbMmfSYpCRAXiXiouAiyov_JZZ2uox082kg1MLtTZqvD9f4Odo5aEuURerHvOnHor1Jxkf8ZgPwry6WnbfGEWOhiTeUYYI4mfoJIhPGt2a0vboFBS40Q--.jpg
//media.inmobalia.com/imgV1/B8vEv5Xh_VThvnEqMx4G0ZxU_YC_pCgmETwWNQKyeMqLb9Afo_WSoi~kcK5mwaepLz96AHEmAzWJQblCNhundhnOIYTFLWoaYUolvOGOd8r_mSvKXf_5q~OW966JkzKXqZ0Uk~psc1wIXFBWtXC81YVs7q08Df7bQNmn0XIAvNmqEUEQjPqN3eN8d3TllKcEwkE4Ni20y5usb5NO~FWxwn8lwGKsBw_ymmLpLE61GjYbmZ6hUriJyNF4LrqH3xveGCQWBDeScw92sWWy9KxuYi37gBmFW60X0iuGw33WiKRjROP8tUwnLyczrwXzxgji9nOuyg--.jpg
//media.inmobalia.com/imgV1/B8vEv5Xh_VThvnEqMx4G0ZxU_YC_pCgmETwWNQKyeMqLb9Afo_WSoi~kcK5mwaepLz96AHEmAzWJQblCNhundhnOIYTFLWoaYUolvOGOI4ue6PStoIZfdUc6cIm4PmCWMVUi3fmnCvJsk0rsr3RBnuBLPj74EZczksWiq8wmhEiaxzOCz47B7Bj1HL6fVcmNiTJ5_mTXFwUND~Dmz1jp2cQYniZ8kdYjF4z6ffSTpjCS3_6fHTqM8aPiFgmBwgyJejFbvM4qSPTJTSLjwFllGf1EGewjQEr_i4vToVisszbRMUr6DsKnY53PtLjnm6XxJK4lRA--.jpg
//media.inmobalia.com/imgV1/B8vEv5Xh_VThvnEqMx4G0ZxU_YC_pCgmETwWNQKyeMqLb9Afo_WSoi~kcK5mwaepLz96AHEmAzWJQblCNhundhnOIYTFLWoaYUolvOGOKY3Lw7j7i0gkiXmnDulnbQc2cUoU_dPpmUIkx4bhp_0KqS6qhRzgh9SK0tq7HIUPxzKw3rz3FGRtr3pDQ6_rg9ya_FIslLt6f_6PdNPA_ulSjtw_0LEZ0M4uKGRerHeMJyC~8bXPj_YK2pYXUKCwGlZMv7ExMLFkxHKh~KpsaU8gCLxdZ_YKTesa5G_9b4Y_eRsSZhcxBtA5bZljQC9~EmE~wu4o1g--.jpg
//media.inmobalia.com/imgV1/B8vEv5Xh_VThvnEqMx4G0ZxU_YC_pCgmETwWNQKyeMqLb9Afo_WSoi~kcK5mwaepLz96AHEmAzWJQblCNhundhnOIYTFLWoaYUolvOGOJqKH9kDTCq71Qsy_phb_0GV1t2qF33IilRa9dt~HEkLRvk0n3uddOosGO_q5BauUItFpD1MlfqFboz4WZZsRLLyg1GlIc99uc2xNq9Ha5ueADkovdqELH5oELUY2NmpN3MVlUa9o~oNPkxXdTrtXVnGAkpS961akwJEbzSuoTXUV_jqf6Mgy1mUct_b2nLh9uMFc5kZukO1OJFHapxoiAMQ4oDizkw--.jpg
//media.inmobalia.com/imgV1/B8vEv5Xh_VThvnEqMx4G0ZxU_YC_pCgmETwWNQKyeMqLb9Afo_WSoi~kcK5mwaepLz96AHEmAzWJQblCNhundhnOIYTFLWoaYUolvOGOJv86s65TQyGuQiwJgvgnpcX_h~2eAezbLRzzksRpYyo~Z7SV4J8qKxfCdQPlVpR4XvwQp10sYyKQSm1RHWbli6NZOLSLMjsj_M2YoB39zORmcLoX9DcAHdlzStIAAYtyTfXi9nvbnnePzWM8aZ6EW6GWDCTrwMhs8sutPH0ECpSPnRoFsSpE~NQl5DjjHiWVq6k~0RJMNdSqR7xHW8UFu3F6GqIojQ--.jpg
//media.inmobalia.com/imgV1/B8vEv5Xh_VThvnEqMx4G0ZxU_YC_pCgmETwWNQKyeMqLb9Afo_WSoi~kcK5mwaepLz96AHEmAzWJQblCNhundhnOIYTFLWoaYUolvOGOc7Agka7pytCyrz9bmgzTOg0nigtE4VRz2GqtBi98fFMUb0Z0L7WtDBsmzT4XYmPR53CwRyEmCgG2EvF_fzw3cq6DOtZSpnjMjJS7jhWHRV2kZMhNNwz0l4m3zJduEhdsu5GKNN8Nvmtv3lTNZhodIQUsNZXe4qN~Fq7NxMLSu4Sqjbz1Ha0mV0F_xpG__b6uEEUH3ss2imFB2Y96L66a8JcHrH00Ow--.jpg
//media.inmobalia.com/imgV1/B8vEv5Xh_VThvnEqMx4G0ZxU_YC_pCgmETwWNQKyeMqLb9Afo_WSoi~kcK5mwaepLz96AHEmAzWJQblCNhundhnOIYTFLWoaYUolvOGOdKUbcKxX6xz~3AOMIIGDq7TBbikOfFa8EnG1J8npC609eNvXZemsX18m3uvK38eIjAZYN4m~avaGOGzJbrbLPqFMNwuKDfrA7cRrbRa0hpCNsxXMtmVTdq~hQew6P9uriHIoKLBf_Cb1lvOoD6VBsNjWDh3i~z0K0qFsibKUyg02E95_M~u0DS3ZaTA0AxRruAa85~oLjW_qJB_D~6taoSTkN4gFmw--.jpg
//media.inmobalia.com/imgV1/B8vEv5Xh_VThvnEqMx4G0ZxU_YC_pCgmETwWNQKyeMqLb9Afo_WSoi~kcK5mwaepLz96AHEmAzWJQblCNhundhnOIYTFLWoaYUolvOGOI439H20USgTJJcILQXc5pLRm7g_UY9SKk5JE29ho0pDNAjETGDnHg72WHscnfA6d0aqwbLmYnAu85McM_W1AQs5GHotYHuW4y8LYhwK6GXFYKVmDE_lK2rjoOudJLVso8R4FTq3O8xqYiCC~bdqggpQ2zU~z0FjYdMrhjKSXJHCm~uk7y74pVp4NlqrYGTQAtnsZ36wOW1NlYpMdQFktdJ8nIuQsDA--.jpg
//media.inmobalia.com/imgV1/B8vEv5Xh_VThvnEqMx4G0ZxU_YC_pCgmETwWNQKyeMqLb9Afo_WSoi~kcK5mwaepLz96AHEmAzWJQblCNhundhnOIYTFLWoaYUolvOGOJv69MoQ100DmqX89rdv8Ddm~GUY7f4WVjMALL_22O18Cv2kBZIaqjpsnmdleyS3KuKRwa031yCvGI~2xvi_r~LS4EnRn1IBu4RxIuzky2B1JcStaxCTj5yRy23KjKlI_pmTpv~QCVgd0F8ABFDLx0b4vSTn89JsuzT7J4gQK1yIoSFye6UGsIQSBJiz~__bBW3ln1~cBzl3qqeyZ9kRrnUQNaLusxg--.jpg
//media.inmobalia.com/imgV1/B8vEv5Xh_VThvnEqMx4G0ZxU_YC_pCgmETwWNQKyeMqLb9Afo_WSoi~kcK5mwaepLz96AHEmAzWJQblCNhundhnOIYTFLWoaYUolvOGOc7XEo8GvW3oc4u2sDP_YKTDjssRpvxFRAaJGR~WLEhtJsNYTEWzJVZTNL8sezwktTwOqK6JWKyiLj9vwA5GeOrrXYRw_9Y6e9qRhjX4rXQP92WHujNWepUwRqHZTo04IoDiO1ZtvBf9I~4zX97XFKL36whJ4pD1CnRsYEtMKRXdur96C7zmvU2lw0wuUpPHmg_kt1hmHdoHpDszS1akVXHN27vuqpw--.jpg
//media.inmobalia.com/imgV1/B8vEv5Xh_VThvnEqMx4G0ZxU_YC_pCgmETwWNQKyeMqLb9Afo_WSoi~kcK5mwaepLz96AHEmAzWJQblCNhundhnOIYTFLWoaYUolvOGOJWTXKII48T4GFHaWdYRrTSFupIFnt_FZlzsh0Q_5NsDHujCGMNx5N76eX4q1jckgVMdFNkSsriPjq7wXKwHM1SQi2GVdfWRnFC6IrdAaPMNcoU0iuFdiYbL9HnomHFbnUdeJDGVTY_4W3ZmUMK26VjUezb4iNPfP0tK4X3KZXeUZFeo6hbyouff9fdsfU4nQIJIYWfpmME9m_JxZGuVRrkaG09oZew--.jpg
//media.inmobalia.com/imgV1/B8vEv5Xh_VThvnEqMx4G0ZxU_YC_pCgmETwWNQKyeMqLb9Afo_WSoi~kcK5mwaepLz96AHEmAzWJQblCNhundhnOIYTFLWoaYUolvOGOKd8hWXpGmR~mr2ziqML8crLVSN_JhtQR4WpnvRg8E9XZBrNht6oghI1b47A~thTi03YvpmmoLh6ae0dsuixhZY_1gL8o2J9aLFPpwZqubHarbwMGW7FLjW1UTiVrJLHOipb4mCBvYijUp~tu0NC8WPQY3cdoRyIo2C7j1Fzis5J3027Y293VK1TzCuc59aHcYfyKY4dvyvKhEAWUuRB~pSfrGV2hqw--.jpg
//media.inmobalia.com/imgV1/B8vEv5Xh_VThvnEqMx4G0ZxU_YC_pCgmETwWNQKyeMqLb9Afo_WSoi~kcK5mwaepLz96AHEmAzWJQblCNhundhnOIYTFLWoaYUolvOGOJTJXarAsboaY48W7vTHdaRhS8v8uJPzSXB6KJEaB~lBOi~57_xnANHx7r15SIQQdmjUdLyJXdm4yUUE1GCEI92eZUQbsi9xpzm2C_MkvifiUgV2JRVVNTBUTAhstE0rO~G39vWYOjapRcFMHdAn9zf3DKhMhu6PEwxkU5_kCdLsNYt7RFyTDaRSJVyUvL~ZmIgMq70scnd8Us3QDijBsO2aRIXPrHw--.jpg
//media.inmobalia.com/imgV1/B8vEv5Xh_VThvnEqMx4G0ZxU_YC_pCgmETwWNQKyeMqLb9Afo_WSoi~kcK5mwaepLz96AHEmAzWJQblCNhundhnOIYTFLWoaYUolvOGOKdLP_G3W5tsrKIy0GS68p~48U_yjvxsoEWA1Sdx~iI8LnqF2W1UszwPCUBShLlPXeM7ijsrRpHCe8Mx5rsXvDGrMrc5gOUyYJa8BUlicEcgvNDXNxbIA3Nta6KxIs304mR6IotLipdnm0gzWjcF41iBB34EnnB6V0WagTMihLGlNkyhryJpGwBGV2hitd0pn9qWCiA95go6rwglmnSz6xUVvnBTGrQ--.jpg
//media.inmobalia.com/imgV1/B8vEv5Xh_VThvnEqMx4G0ZxU_YC_pCgmETwWNQKyeMqLb9Afo_WSoi~kcK5mwaepLz96AHEmAzWJQblCNhundhnOIYTFLWoaYUolvOGOIWrpuHs7tQ3obaULlDY0jMTEDZXxNYNgEy3GRVQZrQ41HcaSjMmKLC_~5LaH~8urhp6tAkUuhvvmGPOZfkO4mDnlitx~w5~vE6GsO7Bak8UI4zsz8ny8odryCpm4Eg9P1vUHEKMLtRs~HBjcZjY4kifhyroW37hVJmh50Y0DK1X9_MriHCG9L5NZmrW6KlOKP9kfNPx5sp6k6NcqmO5TRxvq3PBo9Q--.jpg
//media.inmobalia.com/imgV1/B8vEv5Xh_VThvnEqMx4G0ZxU_YC_pCgmETwWNQKyeMqLb9Afo_WSoi~kcK5mwaepLz96AHEmAzWJQblCNhundhnOIYTFLWoaYUolvOGOJTawIWcp~mxea2K8DU~aUNHO8kiwGw7Si0IJpl6HcsLB3BCxKiIXEVD9eNRpDGrZd0e9xyx7bl0iO~NCDhOEcNPePTiyEBF8SzEUO03R_kjXahcqWWpdql_qnGUtvx95vBE83ncA3tQZY8~n2to7aiYl4tvwg1QDy6VzY8RUOlHYUDekz2ehQSRiRXHguN0D3iwWAShHckO0eHU1bA9OzXONIw_IRA--.jpg
//media.inmobalia.com/imgV1/B8vEv5Xh_VThvnEqMx4G0ZxU_YC_pCgmETwWNQKyeMqLb9Afo_WSoi~kcK5mwaepLz96AHEmAzWJQblCNhundhnOIYTFLWoaYUolvOGOdVAAoUuXtD5OggCvMrlcKFyJg3~OT~226SaZc_a~s0g0gdUkinlE9W_9xusmkkl1oJBKrmC19WEw84a0ConQVbibJ1NIdiw5rSIZDzJEUL6sd5Dgqs2tatyB4jZV1eOxW2pmKAFVNzWTrv7AFkDsWfcwAnD0e8NHiOFqDbyV8mtgbyBCILnFOJ07NgGBsXGkxUauzKcs2OrdOzvyMo9Lgr9s8RT0bA--.jpg
//media.inmobalia.com/imgV1/B8vEv5Xh_VThvnEqMx4G0ZxU_YC_pCgmETwWNQKyeMqLb9Afo_WSoi~kcK5mwaepLz96AHEmAzWJQblCNhundhnOIYTFLWoaYUolvOGOc7XFjH~eQQ9D2fhnSLAxRr1Mj2jJn8EhyKjcbz79aJyyole6268l9A9qe5lWuqwtE2YqEys9kB6qRVT0ktcdiB6Sd3I4BWFWRKSabbsxVnJtUu7PZ9olu4a40Wum9~lOgiugbDA0qACfOfEKCsfNW7TNbpCq1~9q2NwLnbsYKQkigqpSND441ocXoHaKNY9478CIr_Y1LpDTUb_c52p4DSmE3Evynw--.jpg
//media.inmobalia.com/imgV1/B8vEv5Xh_VThvnEqMx4G0ZxU_YC_pCgmETwWNQKyeMqLb9Afo_WSoi~kcK5mwaepLz96AHEmAzWJQblCNhundhnOIYTFLWoaYUolvOGOJTJWK0YqDOcbsPuqnYYGIz0nhCY367WSgNFlHLYYBHLvAdXGLu3_21nOJ9otTheb4~YwuChZliPiDV8mSwEZrK_MhX1a76mOMUV7EbuVfHCcoC8Im53GJ~2_C2WCo_Z9HjNYJFpeWx8HAkaux_edgjCkdjzu6awk~J5ObmYLvIzWy1xJKWkCxpVmdOnll1J~3vmuHlaN1B6modXjaDFRV3qMIW86GA--.jpg
//media.inmobalia.com/imgV1/B8vEv5Xh_VThvnEqMx4G0ZxU_YC_pCgmETwWNQKyeMqLb9Afo_WSoi~kcK5mwaepLz96AHEmAzWJQblCNhundhnOIYTFLWoaYUolvOGOc_V447gw8DNP0vikoIYOBYEfHf01wF6~N3l7m76Ob9dDq4ZSPpfOIdN_NTP5tj4EyNTMXwl3yDLYVQs1kEFHFO94He4FKoyuaoFyI5RcK_mVM7ZRcZMi8niBt4w9pZZlZ7nGlV03Kb_VWaFIpdLLZ4ojnbE5gSo78n4kb4ipVsYOHb5TIKKiKlG9xoE9HhRT1NAXDZU_phsirM6Tt9PyS~ysVgrXig--.jpg
//media.inmobalia.com/imgV1/B8vEv5Xh_VThvnEqMx4G0ZxU_YC_pCgmETwWNQKyeMqLb9Afo_WSoi~kcK5mwaepLz96AHEmAzWJQblCNhundhnOIYTFLWoaYUolvOGOIFfyspq9tiRUtanLkfmwG5dyMRiJebsnWF0G_VV8VDR_uqm6OECAziMySCOcEnbqCXE4ReakI_gwmcvx~3Ta2HY7mR24YD~H5inVX~Nv5BK5mwWy6jSEHq8ilvC1CxGMCAIVeom_r6_zxiEeoJABmyxceeVSQRjJqp4jRQHWuSj56N5BSoGNjehpt9gAw20kqMzpNnud_BmrLRuLbGxuL3pV71_SCA--.jpg
//media.inmobalia.com/imgV1/B8vEv5Xh_VThvnEqMx4G0ZxU_YC_pCgmETwWNQKyeMqLb9Afo_WSoi~kcK5mwaepLz96AHEmAzWJQblCNhundhnOIYTFLWoaYUolvOGOcvwbLP3rv9jPQ4WQ5tV6Q5CqHEFIHyd94xqVp9zgRsmyUcttBz9BqomaOrCxv~~LnJ~ySVJHfqsx7iC9kcXnNV_GNMTdmZYTePpS6TG~Y5vDZYDASpxFaWKXIaNRatjvJw5YT1Cyy2KhvCpkTPrsqCND0HGsGlAZygzrVYLs9T6C1TMK3dc5d9XH4rNIB8D3aOJhvWE8~fuTUkUoW7N9XfNhALlfvg--.jpg
Cortijo Blanco, San Pedro de Alcantara
Villa
1.800.000 €

reduced from 1.890.000 €
Villa in Cortijo Blanco, Puerto Banús
Newly renovated property in Cortijo Blanco, a few steps from the beach and halfway between Puerto Banús and San Pedro Alcántara.
The house is divided into three levels. On the main level guest toilet, bedroom en-suite, fully equipped kitchen and large living – dining room from which we access a large covered terrace, garden of the house and pool.
On the upper floor of the house, a bedroom en-suite with dressing room and the master suite with full bathroom and a large dressing room. Both bedrooms share a spacious terrace overlooking the garden of the property.
On the lower level of the house, in the basement, there is a toilet, laundry, bedroom en-suite service, multipurpose room, gym and garage for 4 cars.
Underfloor heating throughout the house.
The urbanization in which the property is located, Cortijo Blanco, is one of the best located areas of Marbella. Near the beach and a few minutes from San Pedro Alcántara and Puerto Banús. Crowd of services in the surroundings with easy and fast access from the road.
A very good property to live during the all year.
REFERENCE

208-01203P

bedrooms

4

bathrooms

4
built

548m²

plot

800m²
Video Casa - Video House
Video of San Pedro de Alcantara Area
similar properties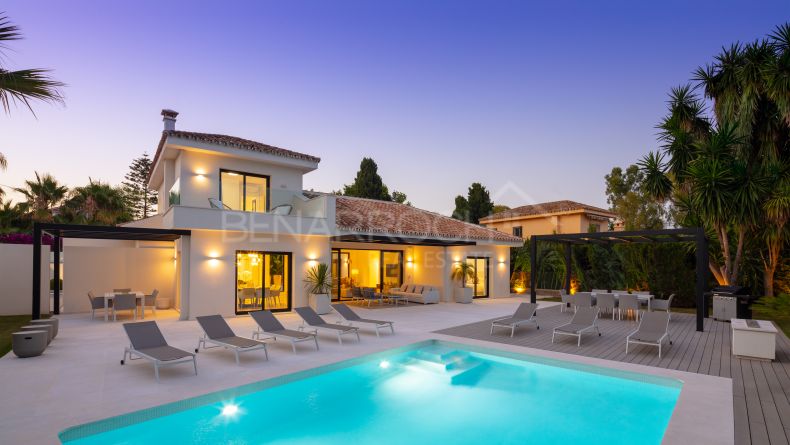 1.950.000 €
Recently fully renovated villa situated in the urbanisation Cortijo Blanco in San Pedro Alcantara and just a few steps from the ...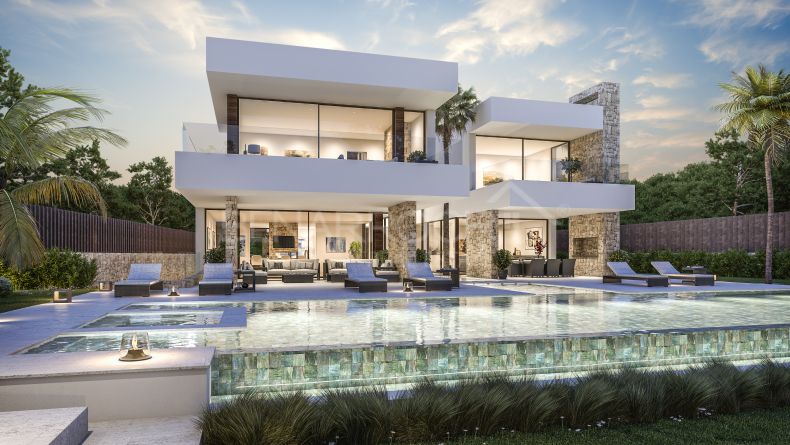 Price on application
Located in the famous Guadalmina Baja urbanization, an area known for its stately villas, this villa project is located in one of ...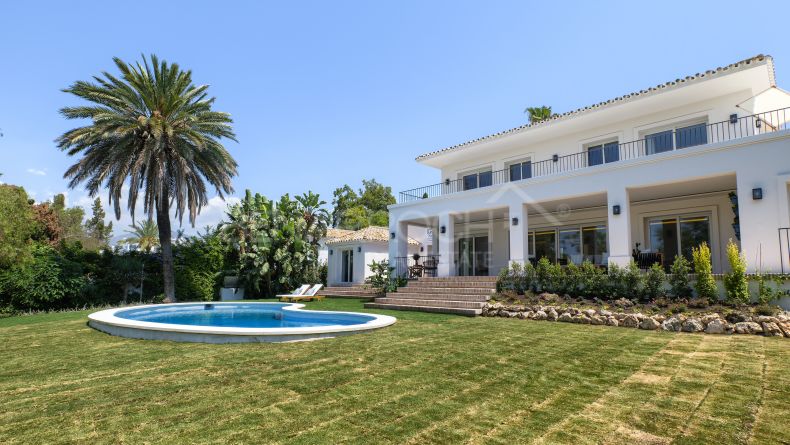 2.150.000 €
Nice villa in San pedro Alcantara, urbanization Guadalmina Alta, totally renovated and in a very quiet and private area, in a ...