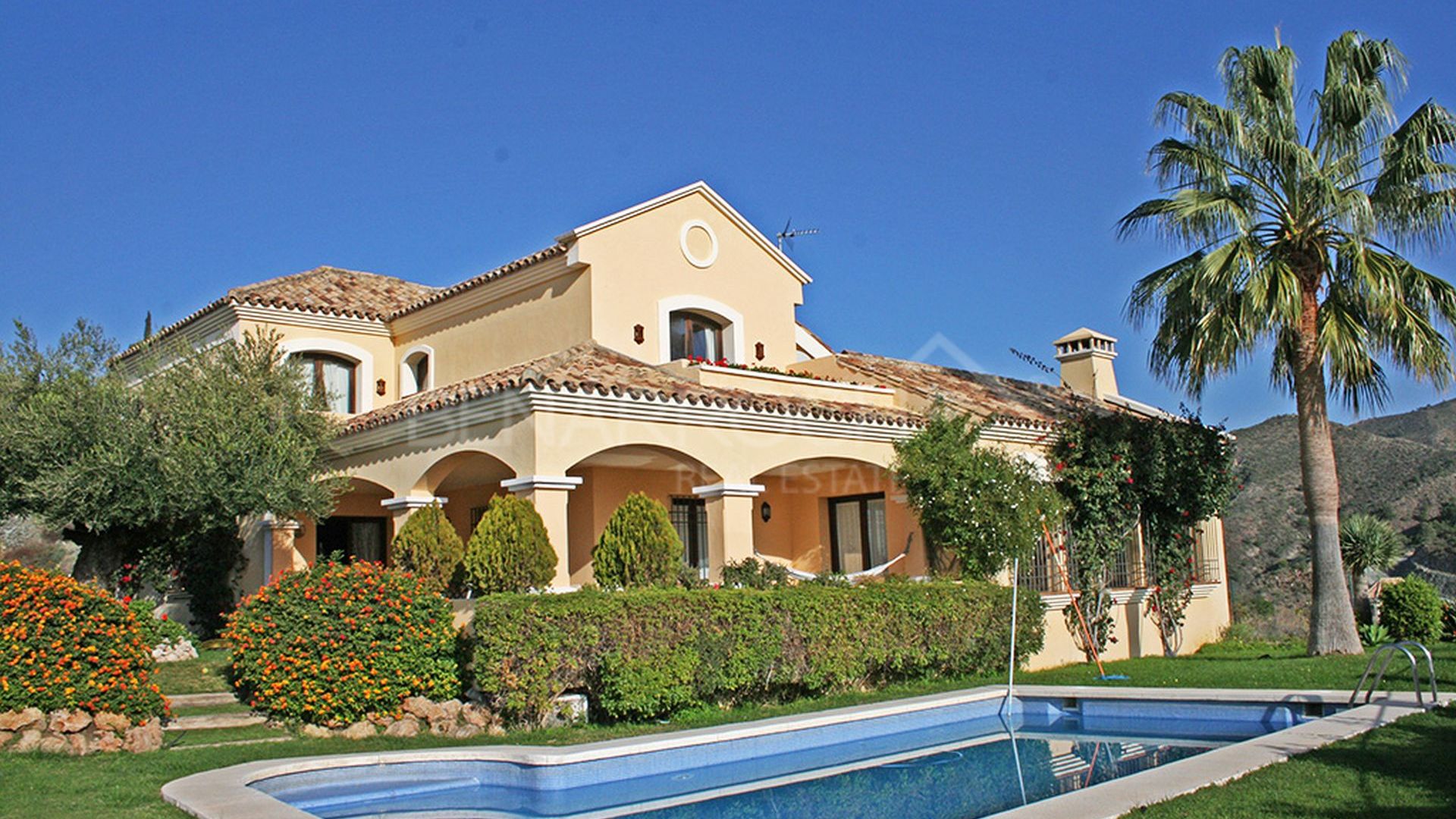 //media.inmobalia.com/imgV1/B8vEv5Xh_VThvnEqMx4G0ZxU_YC_pCgmETwWNQKyeMqLb9Afo_WSoi~kcK5mwaepLz96AHEmAzWJQblCNhundhnOIYTFLWoaYUmfQRtMHcLOoSbJn6Bkkvpi4cBruInANi~m1dyU2BTRTx2CkZkL6ApKEq0AK6HIt0R~TRWHfIQdfTbzCZ5y38mGWE2GH~hwVbOc9Vwy650i2m7v08ErKue6ejMBlXkqTscJMrLgKBt62~9X_IEtW5GvoqvIMXf_rYGuSUaOiBPuVOi~jC4j86f57MZo~s8iuvb5KS8WbHkuF0NXIhNqJtCznLQ~vl_betIe~A--.jpg
//media.inmobalia.com/imgV1/B8vEv5Xh_VThvnEqMx4G0ZxU_YC_pCgmETwWNQKyeMqLb9Afo_WSoi~kcK5mwaepLz96AHEmAzWJQblCNhundhnOIYTFLWoaYUmfQRtMGcJvkyHPg6LgryQpLhj6XaVXRj36ThfX7HTnIUjSsHN06XuT5NM394GT5p3~1DkY537L~NKLyLoZZ01bBTUIRG3TUpnhNnJ6ytaIBCsgC6QTVQHIzwOWVmcaV4q4zZSC8KzKPr_ZyCkhnkOny5NMOQapuDi2aENZ1E55AMcNBvTtwhXdceuMkhs31~SopGzonUVRkB~DwpqFsLdHvCDxRAH9uZT4tQ--.jpg
//media.inmobalia.com/imgV1/B8vEv5Xh_VThvnEqMx4G0ZxU_YC_pCgmETwWNQKyeMqLb9Afo_WSoi~kcK5mwaepLz96AHEmAzWJQblCNhundhnOIYTFLWoaYUmfQRtMGnn159rSG2aRqLtORX2siEKykLSLlPEGDp6bYw7UNTPdNMYdg7MsamQ1ONSWteexT7Bs4XBOvZ31hIQBvEo_w~d2bJk7EgonDENGc05l67E2CEwc7~eq_8ReOYBjQkuC7ZObzrwTulReL_~tHdKI0DCngaffyZIaz3lCocgqFMdwqD08t5nqd0MVWI2l~9kXCjWZJejRG0nYOimSjamybSZVhhhk_Q--.jpg
//media.inmobalia.com/imgV1/B8vEv5Xh_VThvnEqMx4G0ZxU_YC_pCgmETwWNQKyeMqLb9Afo_WSoi~kcK5mwaepLz96AHEmAzWJQblCNhundhnOIYTFLWoaYUmfQRtMGZdXkQISUSx__h8ilUlpRRT1LtE6pdehv2TDl1kT_OUSkYHZy8Y5UxMTb~h7a_MryeJjcDaG43sprlyFhYMG3CGEYdEbBblP65leziy6j3o34izFfqOzGQqCqT~3qfr4D2a9ZN9c97BR3zBc~RX_rksoUh3ZpgH_LKXwoMwI6H3UzE1JXzIVvp0QhtGuxVq255IeKzmwl0sryAhHWwSfU~rufP3dTg--.jpg
//media.inmobalia.com/imgV1/B8vEv5Xh_VThvnEqMx4G0ZxU_YC_pCgmETwWNQKyeMqLb9Afo_WSoi~kcK5mwaepLz96AHEmAzWJQblCNhundhnOIYTFLWoaYUmfQRtMQorsHeDuqxgs3nbod7jIJsY~oYPTTDEsXw4zhiZhAgMWsDZ6U92RTsCbZpHFb2ZQtHeVI25xd0JFAnoUQIlPDgljPdiqZiq6CER9Ub7kCShJyT~r3R7YJQ04FH~6xjfggVuFobyMR14j1pfMONulq_dlozv1RJbaIuFAbr31zh8NOHx_kP~cOQi6J9ekIUNOM07GYbiJ9j_Ixjbk47wZ1G~6pstgoQ--.jpg
//media.inmobalia.com/imgV1/B8vEv5Xh_VThvnEqMx4G0ZxU_YC_pCgmETwWNQKyeMqLb9Afo_WSoi~kcK5mwaepLz96AHEmAzWJQblCNhundhnOIYTFLWoaYUmfQRtMTJWlMMfT7qM6AUpvLa_rRDtXR2vH9iyM4Vm4Up127TNGkqPOku64jcOz8xNY14gzuTPsVkcdeTej1icNmtVVUrMI84U4q2R0IXH~jIdjvKxyHHmvCZwyIwV8QVdSD4pza72eZFe2Zwhbd4t1FqHDOJ7__E97JcEg~rU5~LJv6eghxUX1PXZqmI3ehEbJ3pSlZqRZJCzKkib0M6wJvNq44n4G1AFFEQ--.jpg
//media.inmobalia.com/imgV1/B8vEv5Xh_VThvnEqMx4G0ZxU_YC_pCgmETwWNQKyeMqLb9Afo_WSoi~kcK5mwaepLz96AHEmAzWJQblCNhundhnOIYTFLWoaYUmfQRtMSKUQdEMDBLCyxrMRfA3HvEZLTLl1eXUPLOXzggcttPlwEimQmXxZe03mi6O~2agNhhCX96NhWNid8fxDQDvCsDuCDMc_sa3Ft_Wz3tt8Xc7BGXR0mrCnEDEu~gpAeh6N9unLOgOhXz9YMXm1LW3BpAaWdPEjbAzOKxFC3WUSemSc8HlqQfJZc52tP6y8x5r8oK_xVBKTNTLl6Sup2RaMCXDDYKC60Q--.jpg
//media.inmobalia.com/imgV1/B8vEv5Xh_VThvnEqMx4G0ZxU_YC_pCgmETwWNQKyeMqLb9Afo_WSoi~kcK5mwaepLz96AHEmAzWJQblCNhundhnOIYTFLWoaYUmfQRtMH6VaDQKg_TcrRSjbT5gcrQ0Qj6YFXdThUm30TMWYpnBlXZLLNmxqth3Ri8SlOnazeIY0vKNR_nIxV_4EVtEI9rEOk4kOXArFfrJVn7VhHXJmLAHsS6ROzQpM7H85f6~0ABzC2PXIj3HFqHH~7IQTKwJHKkkcWaYDYH7Il87LiXcrilfnbX3P16AHNam1dYkHNhURtUnGfEzQKK_T0umstACHm51rtA--.jpg
//media.inmobalia.com/imgV1/B8vEv5Xh_VThvnEqMx4G0ZxU_YC_pCgmETwWNQKyeMqLb9Afo_WSoi~kcK5mwaepLz96AHEmAzWJQblCNhundhnOIYTFLWoaYUmfQRtMTfDsjzVvP~R9VKbjHAl9CIR_k4XS_BUA2xpOy3CI4V6lM8dv2LCq9cTSZoq~EoDcob9Ty6_B~RuHTH4iw_nV_svEKLn4Xx_1Pa0z3AGvRS5clWcPRvkuc_8ZHcEJMx4_4ayBEoccgQjtX7zfGNOIpoFOIhpO38CQPJY9hMMvsU3KTX8z0S7DjlsL9v8rME0LnPSXtH6oyQdpu5wELcSWYwZn7AShmA--.jpg
//media.inmobalia.com/imgV1/B8vEv5Xh_VThvnEqMx4G0ZxU_YC_pCgmETwWNQKyeMqLb9Afo_WSoi~kcK5mwaepLz96AHEmAzWJQblCNhundhnOIYTFLWoaYUmfQRtMSsfb3bqIZ3w29Eab5fLCdM6vkOQDBGqNWYZu3R4j8xvar9MlKaAQLLGP2OZP1Nz9G2N3u_9MSQADbOdC6AGnnQzdh2Jo9dpm9RSOtrNZXcPhaUrbqE4Q5MdXjiPZDeRpfl0WZ3Z3ZQDWK_iMg~f_OE6UeBOc4aiEXDDYtyQqL6MmreyaJOt7ZQfARlCWCIiaBcCC_TwejkWrfWZxkMV1UzczSPviTQ--.jpg
//media.inmobalia.com/imgV1/B8vEv5Xh_VThvnEqMx4G0ZxU_YC_pCgmETwWNQKyeMqLb9Afo_WSoi~kcK5mwaepLz96AHEmAzWJQblCNhundhnOIYTFLWoaYUmfQRtMSsEqB6jbNWg7WW7MH2KriDicBgnM3pjtX1ony3nSpkjUDCvNluaK5aYs~JQ5uxIfSSD4XmR_oIHyVt22vosmd3Z90M_8cMbQhwqf1BlL6uA_mtQYAoYwmwpliue1HGSghN~vd8wyQu_kMq279lla1PzzTs9t0AaW4wj0hgzTNQ8QYzpgCt7HbMJgixE9lgnNsTcX3hLVff5xurGnjoZ4wOgXQjCjOA--.jpg
//media.inmobalia.com/imgV1/B8vEv5Xh_VThvnEqMx4G0ZxU_YC_pCgmETwWNQKyeMqLb9Afo_WSoi~kcK5mwaepLz96AHEmAzWJQblCNhundhnOIYTFLWoaYUmfQRtMH6JC30H8gx98RM0hRdUY6CkWIzBkkQ89hlFw7UAkteDEkUU7pprGz3swayg37jcSyMvjZzlWUY1DSwt7jqqdISYY~RXx44sEtCIVLDyjqDX7Q5sr1SKaNCBvY8DADHM7vZZKtInA1Z3nLoNKQkU1RNkUGwlVYqQQasD8Ch5JNzfmAHlVnjR_jX~v3~rClvGQa0BvrGdCUNMMT_iNGEN5KHE7qXaXDA--.jpg
//media.inmobalia.com/imgV1/B8vEv5Xh_VThvnEqMx4G0ZxU_YC_pCgmETwWNQKyeMqLb9Afo_WSoi~kcK5mwaepLz96AHEmAzWJQblCNhundhnOIYTFLWoaYUmfQRtMTMWh3fX6fa2cCFJv35DEFIwexZFCEDMqnbHT9W0ktb3T~6YLfz0dI0VoBJomDYKeVjrwYelY7S839SpexjIuM8k_XDwkGhFcty6Dr5P3IhBinoX2WKz2y8MZlyLjvrMpe6e7b1pbrNUiXMlg_vH4BtTY06hX0BkQdMt5dl2QeJreQvTWFIE_3TZlVZqw~hTLEL34EUJTJmN4Gm6Xj9fE_qaFcl3Zvw--.jpg
//media.inmobalia.com/imgV1/B8vEv5Xh_VThvnEqMx4G0ZxU_YC_pCgmETwWNQKyeMqLb9Afo_WSoi~kcK5mwaepLz96AHEmAzWJQblCNhundhnOIYTFLWoaYUmfQRtMHhEj3kPrPWRGtfE7V5VDUc_U9HoaPgWoRxzFq6_WQnc2P~5N0rM3j6b6rXIW0UPbkkbuWJV1JudFhStnnCQtqBii0EUstNrNpRX0mLU0EkpRfD740MMG0Mt6cKzkin2XV99uS06ePkaDvuKp637pztS4X0bjxb_XDPqVBtcdAaMQq_IixeWbF~UXeWfhghzbD6L_~h4tQvirKjLPrY~HLMzaPfUYnQ--.jpg
//media.inmobalia.com/imgV1/B8vEv5Xh_VThvnEqMx4G0ZxU_YC_pCgmETwWNQKyeMqLb9Afo_WSoi~kcK5mwaepLz96AHEmAzWJQblCNhundhnOIYTFLWoaYUmfQRtMS8UFHg5h~E9zbgYNEYQrfBy~9kF7AlbyTk2yMc8GDXOfXWMI7z7Eict3gm1E4EWd6WzB9xq2d43S6bzqmukGTEMDeoAg3yh9J5RaJDAk6Q0xKHZA7cky_755J7UCiQmf7est4vqDoNiPNnJ0qgZzRwY7wJUGWoZ9GHpF~3ztLiAdujrJmYIxjZaMzjqtZsxfxAnDbuRu3eYzU5mayW19cjXAqnYrBg--.jpg
//media.inmobalia.com/imgV1/B8vEv5Xh_VThvnEqMx4G0ZxU_YC_pCgmETwWNQKyeMqLb9Afo_WSoi~kcK5mwaepLz96AHEmAzWJQblCNhundhnOIYTFLWoaYUmfQRtMH6lyhz6ZWcd_MiRuPzGTF4JPrkdrz9b7zmOrnTrrcMbOEJ4jHz500s9mOj8RuEkuBbSb_kjha27G8gqA2MDDuzFmSbCw7Ln4Ev5WIlj2723UpIRWoDqcfrqLq6E0QZMTm3POesMbIZpK3bZ4jHl85~_n2sLlyxc2zXNEGGQhPIFPHIGppDSlwgYWoqCMM1k9ySGUqWXAYhDUh3df0Ze9L2tnkzQjQg--.jpg
//media.inmobalia.com/imgV1/B8vEv5Xh_VThvnEqMx4G0ZxU_YC_pCgmETwWNQKyeMqLb9Afo_WSoi~kcK5mwaepLz96AHEmAzWJQblCNhundhnOIYTFLWoaYUmfQRtMSXdttlgFFhOzaaf3icClmL6FKzWP7bw_IkFUNxRtf~Eu5Ms~1jalOTYIPwnSywJu_1xWVVOZSerK4zqrwWQd7M31KieCaMMyPz9pE7MrEjrbzU5er2aMMV3_6R9HO3XdzhsX9Ah9NaWjooaMufWZzr3BRbUnYBme58cUf1zRKBKwCId8Ab7vdQS3DLEp58uedeYDdqJLZHqWmue6l7OJfyOTxt7w7g--.jpg
//media.inmobalia.com/imgV1/B8vEv5Xh_VThvnEqMx4G0ZxU_YC_pCgmETwWNQKyeMqLb9Afo_WSoi~kcK5mwaepLz96AHEmAzWJQblCNhundhnOIYTFLWoaYUmfQRtMSXOoOIyMHG5Fxs5xmSHbTu10BFjdeKj_X9UES~R~01b8JP1Uc9RLjPjBuT4TsLxwadM1HV_pGbAaIP~Qvu2Qh3otRWTu7HeHRK7SVGxlSR8uDekeWjM2DMe8v0zti7dLRWDlvJQ2hhrEHXIbkdRce_ziLIjjkPyNRfvg1nVeRnfakCYhi84ioy5jWXlfR8FVKDCJLONmrymdyrQyqK1chffhJr3oYA--.jpg
//media.inmobalia.com/imgV1/B8vEv5Xh_VThvnEqMx4G0ZxU_YC_pCgmETwWNQKyeMqLb9Afo_WSoi~kcK5mwaepLz96AHEmAzWJQblCNhundhnOIYTFLWoaYUmfQRtMSsC61yWUKhFAwegx9OblxqCulN8gRqjUMy8D5jn8UECqU3zc5pWdFJnoMciT~J0SVx1NLZGH1SMBF_2VNTe3YpuDnzHJIViITvdrWL66gGGwe39Z0T7m9LQ48GDq99F9dEDP5Qb7Y4L24Tri_41Jn2aabP6Eo1Luehes0KL1Cvns6_4L2LVGu2LamUkR6IEqZa6AzM36frx0G5oFAPd6nBZArQkL2w--.jpg
//media.inmobalia.com/imgV1/B8vEv5Xh_VThvnEqMx4G0ZxU_YC_pCgmETwWNQKyeMqLb9Afo_WSoi~kcK5mwaepLz96AHEmAzWJQblCNhundhnOIYTFLWoaYUmfQRtMGn7YRH_D5N32XtjaKuqBGS21kHdwNeprVe5C4ZCon1QTyk9BIYBYUCj38y_7ITQKt2GxZYRASQFZtvgfJj6Djs50su2ETIiZ9mD4Ausgq4cVuIOTPXrtlOm11NFWfB13qRDcEMPmftitwS788FbznPW~QA2PLhVmgT~WKpM37F5afJVLFGQeyPT_Y2R~1EeAwevp8xDAsH3QuQr7d5XUrHE6qINGSQ--.jpg
//media.inmobalia.com/imgV1/B8vEv5Xh_VThvnEqMx4G0ZxU_YC_pCgmETwWNQKyeMqLb9Afo_WSoi~kcK5mwaepLz96AHEmAzWJQblCNhundhnOIYTFLWoaYUmfQRtMTipyjtBV4qyhYKNme5eW2NP3o88rSV1jfiRwu9fzqu3eifdYvXZqAPOsSpEa8YUiFThd3I8ydaHWl~mr~fNsH63BETfQ0o4BY8cw3ddxOMH_jYMsJ6~4yeb7ETStNdV1aasCeQEhJn1zPsjI1eVdMevkKet7FyZedXdLc0kQtN_5ZFTKHkNaZX5gQZuLoK3r~_V8VFUMqW_7p7EpvRMS3~tCnXXr9g--.jpg
//media.inmobalia.com/imgV1/B8vEv5Xh_VThvnEqMx4G0ZxU_YC_pCgmETwWNQKyeMqLb9Afo_WSoi~kcK5mwaepLz96AHEmAzWJQblCNhundhnOIYTFLWoaYUmfQRtMSPc2Q71aObwt7Dzpjs0oZc9jiiZ_WXFDKLEnbIFtmGer8BnpLYvQjpnz72ZV8CmnVnyvQ5_O4lxSijbRW0tPzryd14cbuBNCIdB8QN3itfYd7x6py7DlCG48vdeqdEjaSX2mgtLMfeUW4aXkzsXFlubwYzlxlixSu3bH3S1tnmT1wFbbZ7axngpgpr8RqvX7G8EDNnuoiGEO97vXqD7zdB691drVCw--.jpg
//media.inmobalia.com/imgV1/B8vEv5Xh_VThvnEqMx4G0ZxU_YC_pCgmETwWNQKyeMqLb9Afo_WSoi~kcK5mwaepLz96AHEmAzWJQblCNhundhnOIYTFLWoaYUmfQRtMGEJ_jRP0woD2qDshKpDCtFZSQtAiVazYKSrzkmD6dKtotWvwY~YXZrydP86j8ATV3RAoSth73h3mJKnjSX~8u2TfkxIOe6YWxmCqKs3H4JYh58PphPYKthT~KwJ5YsdL14vEtPYH6Gy61_IoAaSsVKjGtD82HUHRBvb6V5vH_9PayiLBBU9vj9WM5djeTH0bcm9nNGYvoMLe9pIiIFbsr5o_Ia7qeg--.jpg
//media.inmobalia.com/imgV1/B8vEv5Xh_VThvnEqMx4G0ZxU_YC_pCgmETwWNQKyeMqLb9Afo_WSoi~kcK5mwaepLz96AHEmAzWJQblCNhundhnOIYTFLWoaYUmfQRtMTJNFB2u3F56dQh9lSBCk8mTo24MDha73~~XX3RUMZ48Vb2t~x4oMvFqAEuqXWO3xUWlanHf66D8_Ih1X9zCBfxNGcknN1qnk~QAy_5IS~gOpieGvLTQYeQf4sqFJeMTCo947F88e0KNlozp3AbpHAAcQbOXoJCNxJU2wT_wdKIS1oHjcz6cB5aih_oyd037Fe3jU7sjth6ENJ1G46cyBBWn~fGPivA--.jpg
//media.inmobalia.com/imgV1/B8vEv5Xh_VThvnEqMx4G0ZxU_YC_pCgmETwWNQKyeMqLb9Afo_WSoi~kcK5mwaepLz96AHEmAzWJQblCNhundhnOIYTFLWoaYUmfQRtMS8C8fVU4_PrGmm_tQRd3GsBVcryLuxskZkk4tDKxlsTaUkh6Nfaa_e9ZnJ2SzmGNR~_L_tmzqrN0L3sySjGZuLosJ7moQuMKqgHQ6SXnVjfcpg_q~f6~JM10gO67rfBBLdtYCl3eXKZ~PKVBZcpmVsK5Re307tyZJQtkyCPIC_Hi~ZLjrowceZc4DHEsiyL3HT0QCxdwt1r~l~S9TVlTIdkh7SIC4A--.jpg
//media.inmobalia.com/imgV1/B8vEv5Xh_VThvnEqMx4G0ZxU_YC_pCgmETwWNQKyeMqLb9Afo_WSoi~kcK5mwaepLz96AHEmAzWJQblCNhundhnOIYTFLWoaYUmfQRtMS5RUW3hPLBd777YgfsB8oMBhiYFDoyezrb92dWcm2eEBwlLs7KNFVu2LG4~QEKnrnE_P4nt9aU0zLjYY_R2rqB4mkrSn7gQgYAXQ5Q5BBVvlvxfCLemKEl3r9uEwQWVC5KMBNdmQmGEjxY5pi2rbttHdQI2RoRyn1~9Q_7nmjzB1EVSp4kDtd_Iai__DOQ3vmnU8t5ICSYGEnY3N7~TgcIYA1GNpYQ--.jpg
//media.inmobalia.com/imgV1/B8vEv5Xh_VThvnEqMx4G0ZxU_YC_pCgmETwWNQKyeMqLb9Afo_WSoi~kcK5mwaepLz96AHEmAzWJQblCNhundhnOIYTFLWoaYUmfQRtMS5CTT2_0BN5rqxI8Vl_Azdk12Nwah9ci4zMmUPWzmelzI1n6nLztcZXyw8qCuJpQUShDF63cLwojJelshoPOLspUDJDkwqRXvpDwz9HqlJYkcTpDRxwOOdoPR92iSJhDy20o7s1RJrUecFrI0QNxJPiPtXYgIS0S09G_0kDYGPYMddOVSp9D4QM1bpSKyfMIrwZWPZ4cwM721m3p9~0QUnffZ9uAJA--.jpg
//media.inmobalia.com/imgV1/B8vEv5Xh_VThvnEqMx4G0ZxU_YC_pCgmETwWNQKyeMqLb9Afo_WSoi~kcK5mwaepLz96AHEmAzWJQblCNhundhnOIYTFLWoaYUmfQRtMTf0OmcW9b55LAsd4NBpomE773r2omemmGtkJkZ26Axx0cbCg4XjWIBlw2uHzzmdWjyXEmNrgBCKhYzAq5_6eQReWNC7Tgge33XTl1Vck9Q~NgeQkpz~qshiaaQPaPWUA~b2MEcEzAgRN2x5MsN61SAmkiSy3p6YupFdcTSJp3sRE3LRqfygwUNFUAUdyParbKOWHsB9JPsXV~NQEgWGZLNNyPaY0GQ--.jpg
//media.inmobalia.com/imgV1/B8vEv5Xh_VThvnEqMx4G0ZxU_YC_pCgmETwWNQKyeMqLb9Afo_WSoi~kcK5mwaepLz96AHEmAzWJQblCNhundhnOIYTFLWoaYUmfQRtMHkPyDj98uEy1jqXG_ITq7TsACe1eUzm2CdZyT5BVzR4yPpKuWLVTCcgG6QlqwEXe6E68VO_MaOC6X4U~wEhK3YVT0UcLqJXMstlJf~oielBnkleygpSrDMs6V9kmCh3wbs~ldrPhrVYIPiLAFXCiFoN8W06W1s0xIRWxUpKA1mISusO0Ek_PbxShjEEPLWd2iqT1twNIfTVXlqyWWHu9J8NtRf_P2g--.jpg
Lomas de La Quinta, Benahavis
Villa
1.600.000 €
Villa in Los Altos de La Quinta, Benahavis
Villa located in Los Altos de La Quinta, in Benahavis, designed by Cesar de Leyva, built on a plot of 1,111 square meters with excellent qualities and spectacular sea views.
The villa has a large living room with fireplace, dining room, fully equipped and furnished kitchen, four en-suite bedrooms, the master with dressing room, two toilets and in the basement floor a large living and games room, office, wine cellar and garage with capacity for 3 cars.
The house has hot and cold air conditioning throughout the house, underfloor heating in bathrooms, porch in front of the pool and gardens and security room.
Only a few minutes from Puerto Banus and the Golf Valley.
REFERENCE

208-01179P

bedrooms

4

bathrooms

4
built

560m²

plot

1.111m²
Video of Benahavis Area
similar properties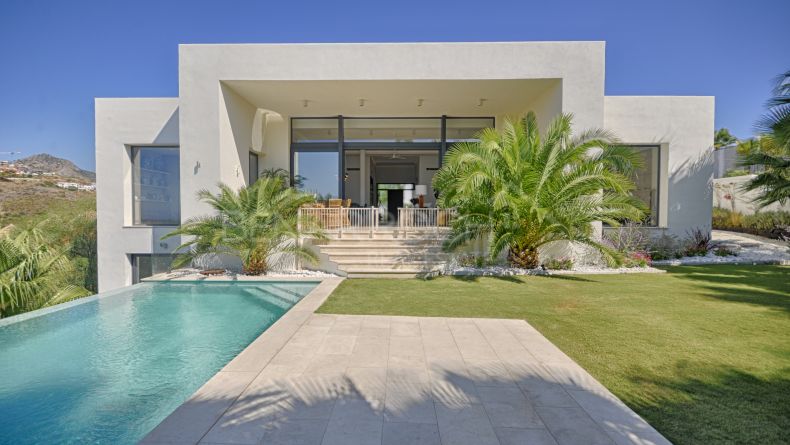 2.250.000 €
Contemporary style villa with amazing panoramic sea views in La Alqueria, Benahavis.The property is located in one of the best ...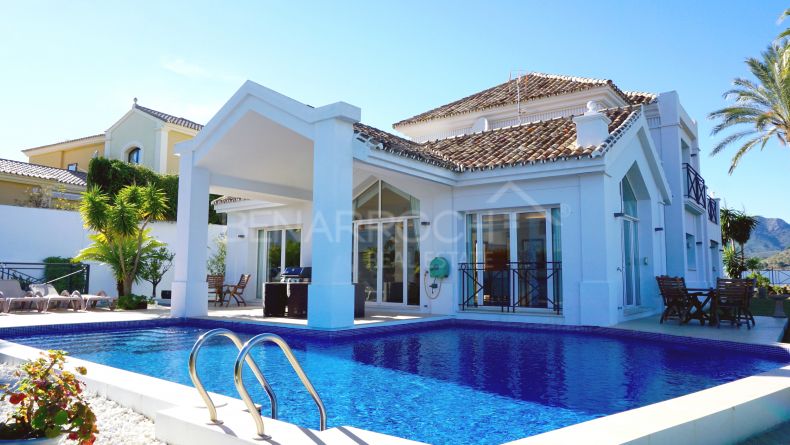 1.350.000 €
Contemporary style villa in the urbanization La Resina in Benahavis, with panoramic views towards the mountains, in a closed ...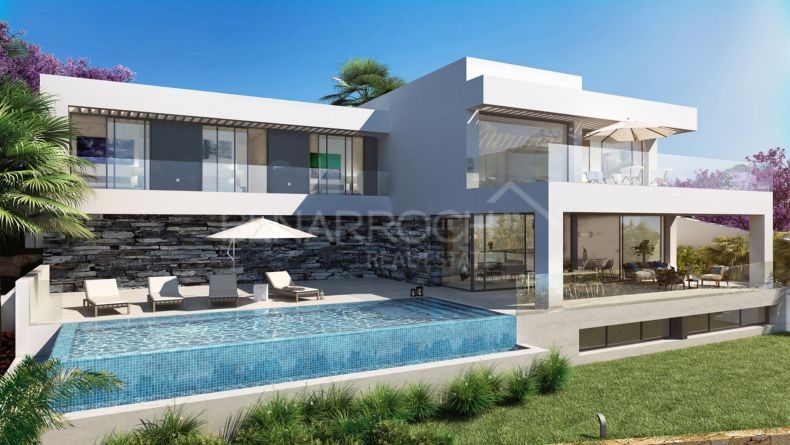 1.950.000 €

reduced from 2.200.000 €
Modern style villa in the newly built complex Los Flamingos Views, in Benahavis, next to the 5 star Villa Padierna hotel and the ...