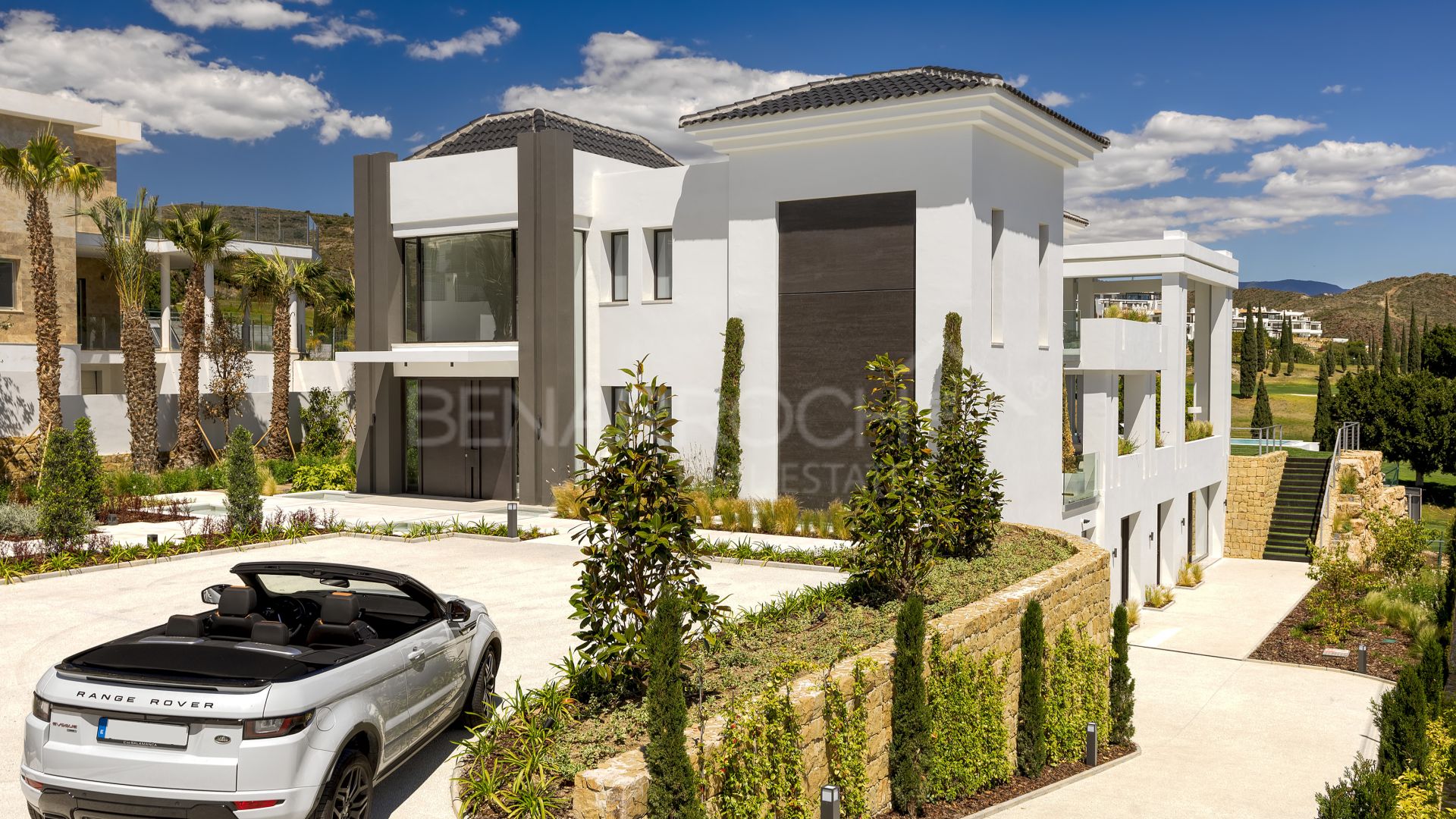 //media.inmobalia.com/imgV1/B8vEv5Xh_VThvnEqMx4G0ZxU_YC_pCgmETwWNQKyeMqLb9Afo_WSoi~kcK5mwaepLz96AHEmAzWJQblCNhundhnOIYTFLWoaYUmcR7slDIY76IFOFLjyN5RSQw_CasSa11T4obg1xEydbseWmG3wY8~9_sb34GX158abANddoZd2_jyqRsc6HsGs5xHb8b2cAFfVM7RfBuzlecH6bM9Iq7~68erdYQrw4kejFWUvNLrezfQYdoinCBRtvSgIrOTpk4wGJNHy5R3HTS1_wrKvureprpzhH1F8JS27TsSXhK18kLtZBLP4H3AJpWg1yk88MQoNIg--.jpg
//media.inmobalia.com/imgV1/B8vEv5Xh_VThvnEqMx4G0ZxU_YC_pCgmETwWNQKyeMqLb9Afo_WSoi~kcK5mwaepLz96AHEmAzWJQblCNhundhnOIYTFLWoaYUmcR7slWEfSA2TAx4e_Q6peiq2U5cySk7jQ5ItZ2S9S0SF9~4y2Qd5EBAvGC9tQHUBPbgLxRbVMj_vUCE9_1U9rJoWx78yCKlOmiPD8aAIOBfP0zkJrqiNo~YFIERGzTE0y9Fp~qt2Qxj1BZ_ToPAYAS~bSuDPdBeIc515T51hqacYlh4R50vvDzk4mnE_ot~V2VAbWlTIsqxEekoFhPrHYHIyWaINXcAbBnw--.jpg
//media.inmobalia.com/imgV1/B8vEv5Xh_VThvnEqMx4G0ZxU_YC_pCgmETwWNQKyeMqLb9Afo_WSoi~kcK5mwaepLz96AHEmAzWJQblCNhundhnOIYTFLWoaYUmcR7slXkEogIsrGWgkJngeDaaOSW6U~hLBO1YjmyCpj6hqqZLujuafDYtV99B1sgQGqBdoKEexPXYpb2PBBC3RhtYxJvIixX30Jzik~zSOCNsNkd5CIjaobdcfCoB_ml43DZXtNWBwZSG1g~QusSHt4MgAzvgK0xzy5zNW9L9vqC1Zz2FuOLSmwFFzaW1~iRCzw_DLgpZPcyBwIHGqQ_RbL1OEPSFBMJC7ng--.jpg
//media.inmobalia.com/imgV1/B8vEv5Xh_VThvnEqMx4G0ZxU_YC_pCgmETwWNQKyeMqLb9Afo_WSoi~kcK5mwaepLz96AHEmAzWJQblCNhundhnOIYTFLWoaYUmcR7slWaLK1Yq~R4hOiXKDTWKjD6Y7uF~8coRlDqizysSo67XXXY4f9BTmaMtRPKCDbQThzP0TnEVVq~ze9XcXSfFMJdn2VeNB_rfuZFnM3fDSAgkA7YAvPIlJJ0sUKqLPwNfASoBedxcaL4vM8M72h_UXzJTCopcFvrWL9kEi4pb1~QoF3xi8zL55chqoM8F6RsAeh0Nm6FtWwUnlUuVo~XWaimdyyGrewQ--.jpg
//media.inmobalia.com/imgV1/B8vEv5Xh_VThvnEqMx4G0ZxU_YC_pCgmETwWNQKyeMqLb9Afo_WSoi~kcK5mwaepLz96AHEmAzWJQblCNhundhnOIYTFLWoaYUmcR7slU~E51fyfiVlxtQPVue~iTv1OEqQ3745g~OyqME3HrfISYxFqay1bu~Xrkz4ogg7ymN~BFywhCUQUriZB4j684QTPztTXJBByNKJf_bhRi_OM2CXJX7whsZSeVcLgFXCtk7ueOEPXSsPBLnpctJCi33vxGTTgrocvdchopClNSpiLIEzax31KINrP0_gS8zdseJREqtRSPCzBfE1gIx3G3fxdxDFHyQ--.jpg
//media.inmobalia.com/imgV1/B8vEv5Xh_VThvnEqMx4G0ZxU_YC_pCgmETwWNQKyeMqLb9Afo_WSoi~kcK5mwaepLz96AHEmAzWJQblCNhundhnOIYTFLWoaYUmcR7slUg96BwwDiiCTWPPymiQgeKG5XCp8Q7tiKGreK16U~nvnbNFoIJTOsvPJIuSeWJNInTho2KYV69ODaLV0rUFGqC_vINdZ9Fi6f7WVtcRlZ01AbpnF7~I921fT9_k4xg9Zws5L~~vYKEQ6Ejcn5M80QlRPKmjs5jy5kbU9iCNTv~PH37w59hEvYm~lwzv5A2LzACErDiJc5zwW6g5HCDoIu9VLQ6iPAw--.jpg
//media.inmobalia.com/imgV1/B8vEv5Xh_VThvnEqMx4G0ZxU_YC_pCgmETwWNQKyeMqLb9Afo_WSoi~kcK5mwaepLz96AHEmAzWJQblCNhundhnOIYTFLWoaYUmcR7slDNRtDx~dsFgB~G54phnijo9Z31LQT6soACg5vqQIfY~C1ppwmZwqmGK8xF73KyytbEjh__mc8Ff3SP3OahCpHf~Y6_FLoEQJDyzoVK~WTHQKFG0i44qJ~WpJTMhVFircJGW1hWE7ZtgQSpU2gHi_FSQqB2HnF~MXbL21qHOmOvejWbyH4ab9N93BttqXrlAikZXi6WNoQquivlX6JO00LlszeEAlOg--.jpg
//media.inmobalia.com/imgV1/B8vEv5Xh_VThvnEqMx4G0ZxU_YC_pCgmETwWNQKyeMqLb9Afo_WSoi~kcK5mwaepLz96AHEmAzWJQblCNhundhnOIYTFLWoaYUmcR7slCcc1CTdgZdjQjtmny6~brMTcsg5cMWNlOc8hBUwswqXMdce5D4YBl9uMv2~7blZeutm~4QbpWl4WtxsOfI_8T64lgXb6QImxmR1qSYZYHuECt9FYpmD0wdVg28PowhF2ijCcB~_wLP~ouopPkovFVc9VIg4ERETbcmtT2DKMYNbNON0U5zpwvqHPZ_~JF_9l~w8dpZj_VT4Kb_ncNuMXBOzzLL3X6Q--.jpg
//media.inmobalia.com/imgV1/B8vEv5Xh_VThvnEqMx4G0ZxU_YC_pCgmETwWNQKyeMqLb9Afo_WSoi~kcK5mwaepLz96AHEmAzWJQblCNhundhnOIYTFLWoaYUmcR7slDI0BVjXIM_HzdIMw0lq6LyN2t9ebVr4O0O9nipbvHzCVGZmluRckqpbjR_Hlgv7Lj1IpkB3yks6OO9hXAQKhyY0VhS6yhvy8cwwYTlq1yU18Gpf30mxRviZq8dkcX7Jfrx1jizS9P1_YPHsqBIgEwsrBC6AsMnpcyEwkjFvKUkVomLeEY2Z4KV0wEHrC3Uup~qgW5wZYKY4Ytk1Ri4hviIFwIgvQFQ--.jpg
//media.inmobalia.com/imgV1/B8vEv5Xh_VThvnEqMx4G0ZxU_YC_pCgmETwWNQKyeMqLb9Afo_WSoi~kcK5mwaepLz96AHEmAzWJQblCNhundhnOIYTFLWoaYUmcR7slC9ywRQvidm8TvpbEu2XrUa06NFzcHH~GvCXRROPO0XR1V5MDAX7RCtD2xycji2YC70Q0F372qEs3ssxYgCdXS__9NB~sWDSiDQZINHn25itoRsPd_jBp5wpwlYydxJXA8FHmM~Vz8IzwCyhDnZYV7XGedUdVKoz7ii2xI8eq9uN0XwIfqXE6y~FtbTidURfLnhWjW1rNhnrgcoIZIsKmGJH5rCrNKQ--.jpg
//media.inmobalia.com/imgV1/B8vEv5Xh_VThvnEqMx4G0ZxU_YC_pCgmETwWNQKyeMqLb9Afo_WSoi~kcK5mwaepLz96AHEmAzWJQblCNhundhnOIYTFLWoaYUmcR7slCN0ldbD4EwUTz1527hgc1uA28dHW~EAzwKxX8DcxiTfueaOsDULeBjLzEgiKXa5hwkA~2rgecLRbXsC8OsbadmdVYqKeA5noZ8c3hWvODWBff6_3MyitVSrKEs8aisqRCHvGNtmT5kyiKXbN2SaCizIuQ55KD_G4JV26an4AC2ECCKXmCL1l0ZyDMfYyXMshnpbUQRw35rgtCpVm0MYLQtUOuDQxqQ--.jpg
//media.inmobalia.com/imgV1/B8vEv5Xh_VThvnEqMx4G0ZxU_YC_pCgmETwWNQKyeMqLb9Afo_WSoi~kcK5mwaepLz96AHEmAzWJQblCNhundhnOIYTFLWoaYUmcR7slUlqQjY_sErDWz7ImPmwgoVSoO19J1WY2NfzHk6GDqZhyMQtBoq2Jo8YSK0c8jySahm9VanDw~Fziy8KJThpdhao0uhRjWmzMeX4AlvCCJDan1IiQP0ugFsaxhrI2CPl_Z275Zc1a5MisifTMiUUgW6jtg02eW9ZytAgjrPDHnhEZwCapA2ZUOhugakIzAUnhUf43vohNzNEwbktsAJntUGmvLy98_w--.jpg
//media.inmobalia.com/imgV1/B8vEv5Xh_VThvnEqMx4G0ZxU_YC_pCgmETwWNQKyeMqLb9Afo_WSoi~kcK5mwaepLz96AHEmAzWJQblCNhundhnOIYTFLWoaYUmcR7slXfagJU9g2dj7fp5mVt~tuO5XbgkKLzAk3K3cp4SFVwUpG8l_gwXykF_LvT1oAursZJPbtL8j7tSrQWnqekiK9xD6HbZkfDIQnmd4YwX29X9OwahZb_oEsgC~y66mwQdYe5ztbg9OrPDzHMUD0r9R86OPl2Bo~kS6XkLzJAaVH9b22AUoutiD6IuL6PLTy3l~fhVFWmFo143vhWLfICVL2FAOmxBgRg--.jpg
//media.inmobalia.com/imgV1/B8vEv5Xh_VThvnEqMx4G0ZxU_YC_pCgmETwWNQKyeMqLb9Afo_WSoi~kcK5mwaepLz96AHEmAzWJQblCNhundhnOIYTFLWoaYUmcR7slWoPXAmxx5yUcmnObaAtb9VYB3yBUZPcoPwY5kkePcBV2U6S~WNRCrizQfneK9qG_lusoGd23UMFlnvlgGg4QGBKexXzF7jLxCBt8IvLAzGTfbrCOTNligw43DjNnGSZ5x9NNm0IHkKt_tfEwzmv8NEPB9niki9SHRRdFcRxFzzuzUYz0GHv8AvT60S8pPfX6xZUZLapG6OJw3alguLit3OAhX4Q4Uw--.jpg
//media.inmobalia.com/imgV1/B8vEv5Xh_VThvnEqMx4G0ZxU_YC_pCgmETwWNQKyeMqLb9Afo_WSoi~kcK5mwaepLz96AHEmAzWJQblCNhundhnOIYTFLWoaYUmcR7slWaAWG~Ih5L3fPWjVNnLIZye5QQ3fwTPu32ExgetTvTvc~a3DdnR3Gh4PH2l82g6csXEhiga80F1RVk4eiTdjMliyE3E28KrNaLqzTDghcmPY5GovDMU9_yC0V2pWxwvECVAuaHPf8qhyhHPfC_nMTAURxg9c113lQHtIlX7xASjhAcWfLqxqW04G1TRkZROJ4VsXyhu_DSOx_avYa1gYhWugKiH7BA--.jpg
//media.inmobalia.com/imgV1/B8vEv5Xh_VThvnEqMx4G0ZxU_YC_pCgmETwWNQKyeMqLb9Afo_WSoi~kcK5mwaepLz96AHEmAzWJQblCNhundhnOIYTFLWoaYUmcR7slWEWLlj~jzy6t6FBNONOi5eKNtLMO_SF57UiAALAYDs4AmhRC0Iue1BBVyvGkMoDIi7C15NpAuUXrs_9oWvBqLJ0nt_g~bbAdoZVbek4qmOfQGwU8EgwMil4cNMJhGaax6HIXm7SsQ0D6F9gtfgJ3H6P7bUnDGzXoFBYxoCWFVEsyHqvvoj385NPl8w13l0mxgJ~imZ6nDvOTkeN_KgrxdtTqtxye5w--.jpg
//media.inmobalia.com/imgV1/B8vEv5Xh_VThvnEqMx4G0ZxU_YC_pCgmETwWNQKyeMqLb9Afo_WSoi~kcK5mwaepLz96AHEmAzWJQblCNhundhnOIYTFLWoaYUmcR7slXLfU3lWIeCXM0Y1ANJ1KTs9TL4lkW9DdRPv1PbPMAKlmfbiok5MZ5C6PTXpuFzmJVAI0VSR2dKmZ~LXeyZvHrTMp5mZV1K9RsXJrokXAoIgx_LYxIkwwoFp1U60jRIvOGl7WGTmb5lKwLNwrfbH3uqbcTXWO4ahtfmtT6bSInJRsLgaQIFUu1IlEEXAB9jro3RFGJ9siQDvoJas_XAzLwyv7mQSUIg--.jpg
//media.inmobalia.com/imgV1/B8vEv5Xh_VThvnEqMx4G0ZxU_YC_pCgmETwWNQKyeMqLb9Afo_WSoi~kcK5mwaepLz96AHEmAzWJQblCNhundhnOIYTFLWoaYUmcR7slXaH7koj2HRtRVLdP7TnjrepKNqUIwq3G975DHFxdcQDQUJgjdDUcaLP6y2ZnEg6OuYLFGJou0Rrmc3yy73gQujA92OYyRv6AJgAwUW6kk5OWI3KpRo7Mv_8vk9KujhbfV0GVTgqM4A4EMEsRuoh4VjhkCtq4saY97Pa9jpp5LA9XCifrhMm0vYnlNerBNreZw8geQFZx39VwN7b3oIvY1qTe8d~6iA--.jpg
Los Flamingos, Benahavis
Villa
3.300.000 €

reduced from 3.500.000 €
Contemporary style villa in Los Flamingos, Benahavis
Villa located next to Los Flamingos golf course, overlooking the golf course and in front of Hotel Villa Padierna, an area in full development and only a few minutes from Puerto Banus, Marbella, Estepona and Benahavis.
The villa, currently under construction and scheduled to be completed by August 2018, has two floors and a basement.
On the main floor has parking area on the surface with room for three cars, large square, large glass hall, living room, kitchen, bedroom en-suite and dressing room, guest toilet, elevator and outside porches and terraces, garden, pool and chillout area.
On the upper floor there are three en-suite bedrooms, two of them with dressing room and all of them with access to terraces.
The basement has a garage with capacity for two cars, storage room, machine room, multipurpose room, bedroom en-suite, toilet, laundry and two English patios with access to the garden.
REFERENCE

208-01148P

bedrooms

5

bathrooms

5
built

755m²

plot

1.751m²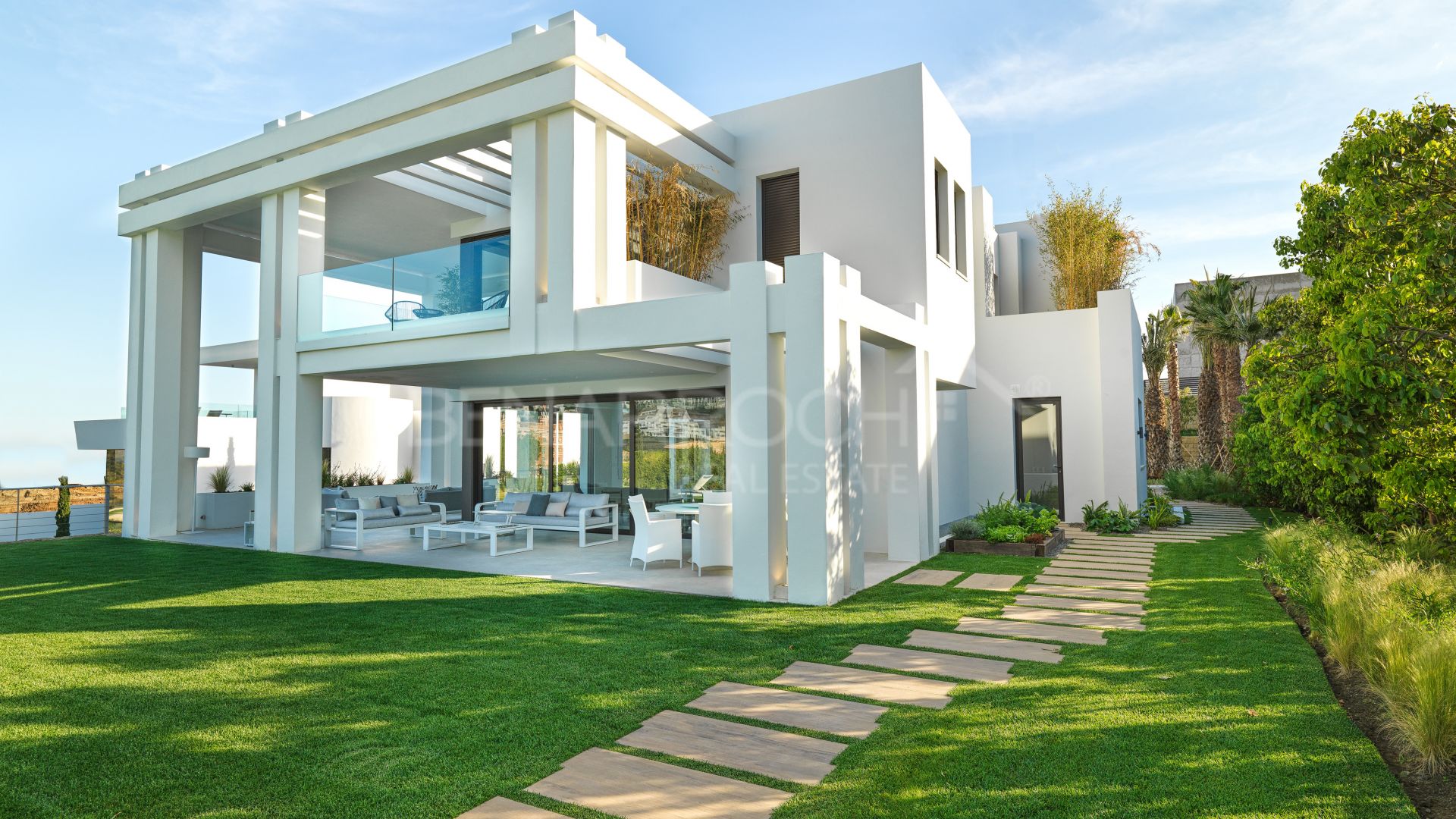 Video of Benahavis Area
similar properties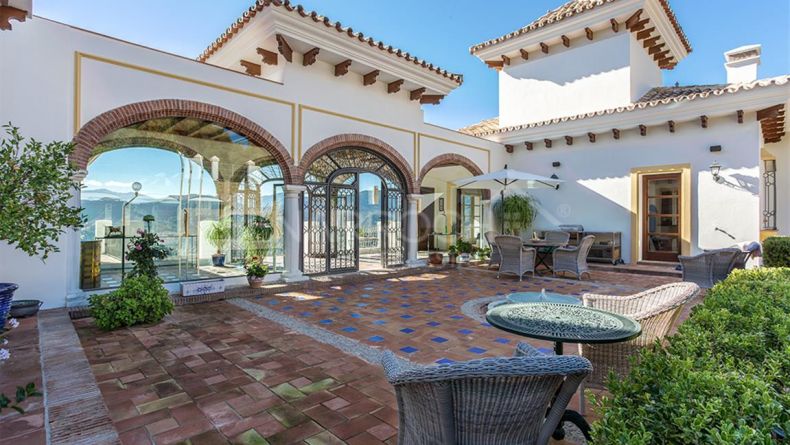 5.500.000 €

reduced from 6.500.000 €
Amazing andalucian style villa in La Zagaleta, the most luxurious and exclusive residential complex in Marbella.The Zagaleta ...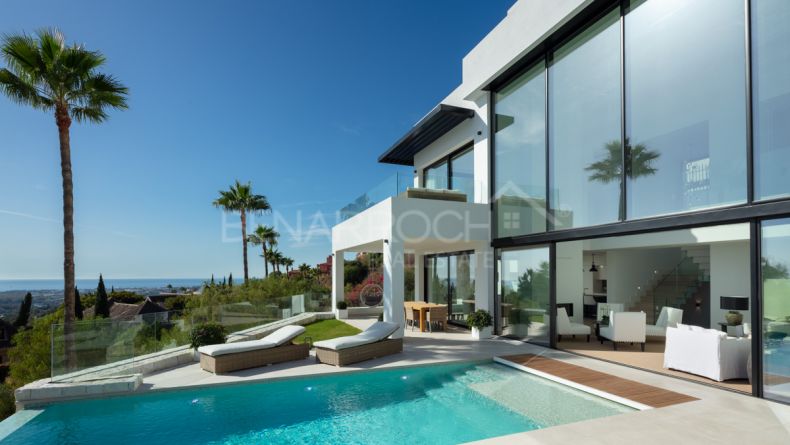 SOLD
Recently completed villa located in the urbanization El Herrojo, Benahavis, between the golf courses of La Quinta and Los ...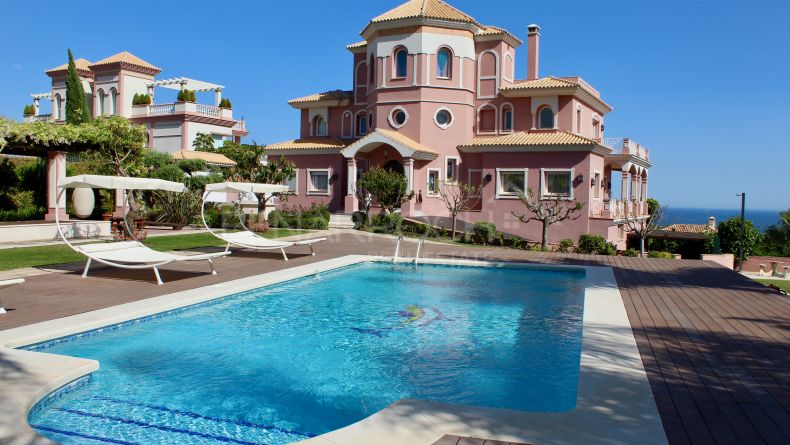 4.650.000 €
Spectacular luxury villa in the urbanization Los Flamingos Golf, in Benahavis, situated in height, with splendid views towards ...