//media.inmobalia.com/imgV1/B8vEv5Xh_VThvnEqMx4G0ZxU_YC_pCgmETwWNQKyeMqLb9Afo_WSoi~kcK5mwaepLz96AHEmAzWJQblCNhundhnOIYTFLWoaYUhdPp_ASMCoSCxBwdhMcYd1sHqMNzfG7NZjW5D0VHCwdKO9YLFbUZN8WWFfePVLTOae_qPtaAZfFlEtA59jq3zERk8BPz66ptOOiVSQSy0W2M4poNtqiAfS5bQfkCci48924svQhOEfpS9Id55Uo7_w5u49dWdIU2qhApnYbZFKa6UilkF6X9iLbz16_Fk_6bMMTGi95ngtI6Q3rO0g6hlHHf86ypo2UZJVhw--.jpg
//media.inmobalia.com/imgV1/B8vEv5Xh_VThvnEqMx4G0ZxU_YC_pCgmETwWNQKyeMqLb9Afo_WSoi~kcK5mwaepLz96AHEmAzWJQblCNhundhnOIYTFLWoaYUhdPp_AGIxcoxNavU7XBqL07RjBeYZjsWtNFHaXMDBtoBf~4EDNsztC00JKTSDtpHA6H7nLfD2VPjLJfaEWRSD1iHFs~XLDizke1xIE3nBjIwstlHBNFPNH7dOk1AsW6Urc2te9ga1HXrFlKZ3jbFGaA6wbI38dMZwOf9UgSLKoLrCazmPx4aJR1QrCn0fuDouOnAKGOnnqQV9uKRw7tjPPpjlDPv_ka2nW~Q--.jpg
//media.inmobalia.com/imgV1/B8vEv5Xh_VThvnEqMx4G0ZxU_YC_pCgmETwWNQKyeMqLb9Afo_WSoi~kcK5mwaepLz96AHEmAzWJQblCNhundhnOIYTFLWoaYUhdPp_ATpRgSeXb8Ju2PUc5JQGeUpKZmcTq73C44Ah~I~hYe6sYHLMb1LQFFEsFsLyH3HQt1ldaQ3N4Bo2yblNMJPQIcYTdqnueP0RTM_aemnQon0bdda1TT166MEBrTypanWj5zOv8k81DLaSPgyTVY9aWpdXOlbD4CQz0qNDfcQ~U2qHmhhJMU3Q8RhvZe~kZYxp8zTTsYGs0IxHH3KphkfEE8VdiPpYLHA--.jpg
//media.inmobalia.com/imgV1/B8vEv5Xh_VThvnEqMx4G0ZxU_YC_pCgmETwWNQKyeMqLb9Afo_WSoi~kcK5mwaepLz96AHEmAzWJQblCNhundhnOIYTFLWoaYUhdPp_AHQJIIFN9FZnTsqNcYGkdrdVkK0yb2z3YBxSLsgxkDq51Hrejqur9Oh0bSTX83~AFNOpQAq9zQbzmVoNCMQMkqWhk_hRfG~mpJzyt1CY1eP4K6ObR_2_kANOID_krPP_SemQ0kpz5hFphgD2m_bODeQ_rODrt432zOmH_FD~XCGaW_YzvW8Xs6YpA~eSrEhwjIVlvcCIak3zgJP6JREYZNnoMgea3hA--.jpg
//media.inmobalia.com/imgV1/B8vEv5Xh_VThvnEqMx4G0ZxU_YC_pCgmETwWNQKyeMqLb9Afo_WSoi~kcK5mwaepLz96AHEmAzWJQblCNhundhnOIYTFLWoaYUhdPp_ATeQ6pYfcxhhkT6BflH5lKlLy8XL16X9fzkjVd3L1C8zKzySkwAa1AJuO3qalMhtawhK9hf1VTQ3kA~pOeybkjsKL4TNL~TTApLLE0Gk2oQtzDUN4g8lECxPy_UNnpHYm75Q7P8l3GOJ4i42a4O9QE8CBYJNNn0oc3OyOAt8z~NH7TcC8sWwL8cVg2JbtbpvaOqXqw~DXQOCJD2USPq2fEWxyXD4Rrw--.jpg
//media.inmobalia.com/imgV1/B8vEv5Xh_VThvnEqMx4G0ZxU_YC_pCgmETwWNQKyeMqLb9Afo_WSoi~kcK5mwaepLz96AHEmAzWJQblCNhundhnOIYTFLWoaYUhdPp_AHM7n5wJoc0S~Y6CI1sOzh_KM9ZsrBhH_JV6QDhhF7cvH4boo_h6mdDvPt~_lxUTCUOYv8hEhsG~sEPiaYcA1Sr~p7JTddGIRCjz_9EHxlsdp6ge0BXiB7eiKzTg04l4VAw2lq_BIZcO5eT4J~v0MwTZu0nwCthuW3DJKNRBQ5PkfD3mp2Mrc75BMpZ7YYMNjcHX_7Tj2ILx_G9P7ejHwOu4PpVOuVg--.jpg
//media.inmobalia.com/imgV1/B8vEv5Xh_VThvnEqMx4G0ZxU_YC_pCgmETwWNQKyeMqLb9Afo_WSoi~kcK5mwaepLz96AHEmAzWJQblCNhundhnOIYTFLWoaYUhdPp_AHhQ__WRAAilx2jN2ICQyfohOcfDcCXevSKvwt9bwCDXyIS0ClpOCr~VoP3V7RtqChi0CU7xBQy2e91T9qaelLZU9AlOOsTHTPHYRT3rj9xxUfsFEVcPitKNPII9hdGPGt0Efo2ppNiG2Taih5alWjsaFgFWJnSCQeemVR1~G6ZAznjfjZvoDNqcVxoP7epwJy2G_jvQiKFX7D2kXORWwANivnq55NQ--.jpg
//media.inmobalia.com/imgV1/B8vEv5Xh_VThvnEqMx4G0ZxU_YC_pCgmETwWNQKyeMqLb9Afo_WSoi~kcK5mwaepLz96AHEmAzWJQblCNhundhnOIYTFLWoaYUhdPp_ASb9ZsFCYO5TBc5BYubAvD4qtEUSX~0YpRKehIxz2s6x2KH3Ab6Q4~OfW7aebx~S1iIPuG0cAU81oa7MMgKFtIgfPe_qg1rIAECG2NpmZOfmnq67Iv~SXYZ1_J8_XhYNGtnSYXbK7iMdyr9Lh63tW1PVjemdT_swVU4ub_QrQ3KnsYSZOiPQbgpKhpE36VqVcnqUDcmeGm51XqszVoWPcGgEBsavnpQ--.jpg
//media.inmobalia.com/imgV1/B8vEv5Xh_VThvnEqMx4G0ZxU_YC_pCgmETwWNQKyeMqLb9Afo_WSoi~kcK5mwaepLz96AHEmAzWJQblCNhundhnOIYTFLWoaYUhdPp_AE4iFEO_I1~aVm4uOEpVuYOtOvyhje8qqPG7FuUKpzNlTIZQtHvxu~ZLBWZB~daCG_Bn3ozF5E75KzqyE2ruqwawS1cowA36o1ye84k1KcjWugb_Vh3v6vp5Q1u_31ACrhrc0ennORU_ebE7pGwos04iXOkc05yo7MoR3hGwqUeoOfdsnToDdt7VNWj5Ch1Z0rfNQ2hvr~J9WyFgJo57wPpyTqnD3Ww--.jpg
//media.inmobalia.com/imgV1/B8vEv5Xh_VThvnEqMx4G0ZxU_YC_pCgmETwWNQKyeMqLb9Afo_WSoi~kcK5mwaepLz96AHEmAzWJQblCNhundhnOIYTFLWoaYUhdPp_AT8Zjly9ukeKIAq81b7yOjpstgACkf9UgBko5A903g_In~8yaz82Ocj4iI2FHGZI1YJcYUoWE0OfHWLwKX8l6asYoN4TlW7L7IfupPWTkKhI6BdfYEhDiI0QJdE57KzUNHfasKibKKFcztuuZBJwMDFXnw4Z9n5H3thfcocq7Q0yFl9ix9CQpjSQMkDLenpby~yZPH4jlnYa8qiNPCsOmQTbmJNc3cw--.jpg
//media.inmobalia.com/imgV1/B8vEv5Xh_VThvnEqMx4G0ZxU_YC_pCgmETwWNQKyeMqLb9Afo_WSoi~kcK5mwaepLz96AHEmAzWJQblCNhundhnOIYTFLWoaYUhdPp_ASetP0Deksh7Skut88edj3HahXCd4KQE8CkJDYFHoh~n5xvcsfhijcVEdani5H2Ul38yISZrR_tdR1OpFp2qF6H06mmzNeT_nxnOfL3sSip5FVED1H~dYjkDWALA57GuzeObSzW_FnM0uGUXE7cL2ux3j7Z283YrxOFSbXgpCIdm1Ip~aE1t5hPeIbI~l~etB4Nmt3~_2TK0wbbBwZnV0YGrq0zBehA--.jpg
//media.inmobalia.com/imgV1/B8vEv5Xh_VThvnEqMx4G0ZxU_YC_pCgmETwWNQKyeMqLb9Afo_WSoi~kcK5mwaepLz96AHEmAzWJQblCNhundhnOIYTFLWoaYUhdPp_AG68YmmeghD9OxKVpzMNiX8VAVhqbca31BJCeMZ3zlZmlw5Fl7smOHRZpJo0~yFsNKJkTYQ2LsB_rhM5TfCckoFzqGq930dCNugB7MnB50Mf_P_tiftnxUNpfEN6Z6RUf_bxW3o_8UBtbw9vauhEVlKSOI5Eu1OXCwxxaydQnJCGDQNOKP7Z5CJPy4h~hQ7cwirXUKUT2y3RTwicmushXI6i5pMW6vw--.jpg
//media.inmobalia.com/imgV1/B8vEv5Xh_VThvnEqMx4G0ZxU_YC_pCgmETwWNQKyeMqLb9Afo_WSoi~kcK5mwaepLz96AHEmAzWJQblCNhundhnOIYTFLWoaYUhdPp_AE95zW656~8Nv4n0vSxe3WjIvD7wfjVEtQTltFqwutkgAdAVYr8JYfnAauxQC~RHDhMNmurVn6Vy4_JG~eazzNARKemlBZxFWE4tyW9Fx~MmM8iWeCETpFpHv2ZAa8zrxQp3umWYjeO6ZFIB0dc6H6fiemdG_lf1S23L847bAh_t0URGArYjONPiK8yfQ0sD1LMwhbqVZEzjaWVnox_mgZkXC_8BfLA--.jpg
//media.inmobalia.com/imgV1/B8vEv5Xh_VThvnEqMx4G0ZxU_YC_pCgmETwWNQKyeMqLb9Afo_WSoi~kcK5mwaepLz96AHEmAzWJQblCNhundhnOIYTFLWoaYUhdPp_AE95w5l76djC8VKjDmb0gMgtJZWcj1teOvfaZ4MUxNPh9YCxiX_atLJHMkABlfmfRTYxKa7PfQcAliehIkludyNFwY7WHNMX1OojZ9dGXK4swv7YdHo9ShdkDZmlh8NSANpxWNrHZMCTW8v~r3Kw4gaZ1noZ_FBi41ny~D2vikfDzaWM43ccdDs4UNw~kpOjl9jerYdj30Rz7mrKGHD7nn4XknJS6cA--.jpg
//media.inmobalia.com/imgV1/B8vEv5Xh_VThvnEqMx4G0ZxU_YC_pCgmETwWNQKyeMqLb9Afo_WSoi~kcK5mwaepLz96AHEmAzWJQblCNhundhnOIYTFLWoaYUhdPp_ASl9Yo_ByLAoYQf8nrl2GEbkpvHneTiY3jI3bzII7kXuiRcTPXB_Uc7B4TJqkSyAEVVnCVSwO6h9GUDTDIAttZ45mWZYbQTT86fwjM2uGeD89A9CDLQkpBvkV31eDsTZKkclKEVdmW7iS_P~jfig0shVpm~0OWB4WfxWU5v2a1X547gr_TKHtet2x2al3ZKtdgtPHG7K41Gi3G10lNswgCWmmTxfyCQ--.jpg
//media.inmobalia.com/imgV1/B8vEv5Xh_VThvnEqMx4G0ZxU_YC_pCgmETwWNQKyeMqLb9Afo_WSoi~kcK5mwaepLz96AHEmAzWJQblCNhundhnOIYTFLWoaYUhdPp_ASlynj4pcehGMe7p02vnHHy0bXzdTbffAUGCTT8UsGmO4itAJZ7Td6f81nVnqgsb~cs5ov4ULDutKeuC8F4ZM~1OjyVyHPicfV~RZbbs5FRWGDmB1ivTbSdhUq3cmQ6Gp87VHC8P4887axdUinhhH2Sg4QNcL52bZDts75CGZWHXhAl_K52IqeXCkXa~_6u4hmVE4p~Y66WT0Qgv8O6jUcUtnjlgt3A--.jpg
//media.inmobalia.com/imgV1/B8vEv5Xh_VThvnEqMx4G0ZxU_YC_pCgmETwWNQKyeMqLb9Afo_WSoi~kcK5mwaepLz96AHEmAzWJQblCNhundhnOIYTFLWoaYUhdPp_AGu6uZaCdq5cY5knZzFYIP0sfCjlJ1jIQqllhw2oFGED4laj22LxC95BNzgsrousWJWz8EQOJIAxrztkBN5v5NuGQdvl5O6wSRtEk~k5wpAJx96Kb5xBcZQaD3Z_CQYCFgwWT1B_2SSlYdqeuJqxJMzf0pW~VqHY9fTEa27RitTBhFTuVrs~avTPBhB~iIPgLFUvXkcKHOSju282nVYfCHEN9aISeXA--.jpg
//media.inmobalia.com/imgV1/B8vEv5Xh_VThvnEqMx4G0ZxU_YC_pCgmETwWNQKyeMqLb9Afo_WSoi~kcK5mwaepLz96AHEmAzWJQblCNhundhnOIYTFLWoaYUhdPp_ASbxs8NktYb7XXF2jnI77Lx6xiDOaSiotaIwJJBBjEHgUTUvxwcSMDiUYUlh6Vi8FU4NIVC1jq6qaeQdLyvJQcT_hCrk3JNifa~AqB5CxPdfRVjHdKQBUMIAsDvJWEVVMIv~fvOu1nYRPd9O_~n6hnmi7RSnjECG6YY8ZJzp~U66Zqo2t9pWQy4b3w00eEqeuegNGNVjYIwGnZEYcooD_i2hJHvbOyg--.jpg
//media.inmobalia.com/imgV1/B8vEv5Xh_VThvnEqMx4G0ZxU_YC_pCgmETwWNQKyeMqLb9Afo_WSoi~kcK5mwaepLz96AHEmAzWJQblCNhundhnOIYTFLWoaYUhdPp_AGu6pjLyVs4nBtSGirr_ZHIfB3wwkCXlpQYmONvLeofoiDSjRotxGcjo~q46JTbnmEXqTiHnWq4JU8wRMWbMKfYYPp_dqbPDp1czGGeemEEwLD1YHn53h9~a_LNV8q2XNOFd80cVriEpYuz~RkSBmCZ~gxRnPCdwhVLHcDsuxvlGp5M2fSXY_ZZ~v2NNLYFHfBBAOhbCxoWcSw48LSDCP9N03rOkisA--.jpg
//media.inmobalia.com/imgV1/B8vEv5Xh_VThvnEqMx4G0ZxU_YC_pCgmETwWNQKyeMqLb9Afo_WSoi~kcK5mwaepLz96AHEmAzWJQblCNhundhnOIYTFLWoaYUhdPp_AG~ls1rwdLenmJCrNVZGAtroxqWkupbOHhpfXVyB5fEsrMeKUlwe1I9dQ06X0z_ZZKSmQwOmfE~pBQhkcB4c1WiOm4yuWj0i0lwpewg1TDYjrvc1nGa3qevlGCdR_aWCoxjPTDx~LUB7B3eMInBu5qIYRbOR7Sh7NrNCsyPFMxTWnImR1JGiKb0f1BGInkAZwc40xUneE0Udfc_5qB8vKO1s32FssIQ--.jpg
//media.inmobalia.com/imgV1/B8vEv5Xh_VThvnEqMx4G0ZxU_YC_pCgmETwWNQKyeMqLb9Afo_WSoi~kcK5mwaepLz96AHEmAzWJQblCNhundhnOIYTFLWoaYUhdPp_AGN2ri8QMUyQap4BiabdayxVngvKGlQIbnKQvhX3yO011WyjIK91RijUhJvzRvQCJ17~qEQuYV8UwLez4ph6kW8v1gmWplwrgq91F6JBvGvVcF9fhuE5xVxd0EhQpcJoEckUDStu2NAzgBU_ER38LEsB00kDRlCy1h0081vxuF7poofxWJ5qYMoWNgqEA71KiqtuhZDyun9sE8WQx5p3x8IZr1yYVdg--.jpg
Brisas del Golf, Nueva Andalucia
Villa
SOLD
Frontline villa, Las Brisas golf, Marbella
Elegant frontline villa located in Las Brisas golf course in Nueva Andalucia, Marbella, in the heart of the Golf Valley, residential area of ​​luxury villas with spectacular panoramic views of La Concha mountain and golf. Only a few minutes from Puerto Banus, Marbella and San Pedro de Alcantara.
The property is distributed over two floors. On the main floor there is an entrance hall, guest toilet, kitchen open to the dining room from which there is access to a large terrace with barbecue, reading room and living room with access to a covered terrace facing the pool. Five bedrooms, three of them en-suite and two sharing a bathroom. Completing this floor, a living room-television also with access to the terrace.
On the upper floor, large master bedroom en-suite with large dressing room, fireplace, terrace and balcony.
The villa has large floor to ceiling windows that provide an extraordinary brightness and spaciousness, wooden floors and high quality materials. The space around the pool has been designed as a large terrace including in one of its areas a multi-purpose game court.
A classic property for a modern family in las Brisas golf, Marbella.
REFERENCE

208-01074P

bedrooms

6

bathrooms

5
built

512m²

plot

2.326m²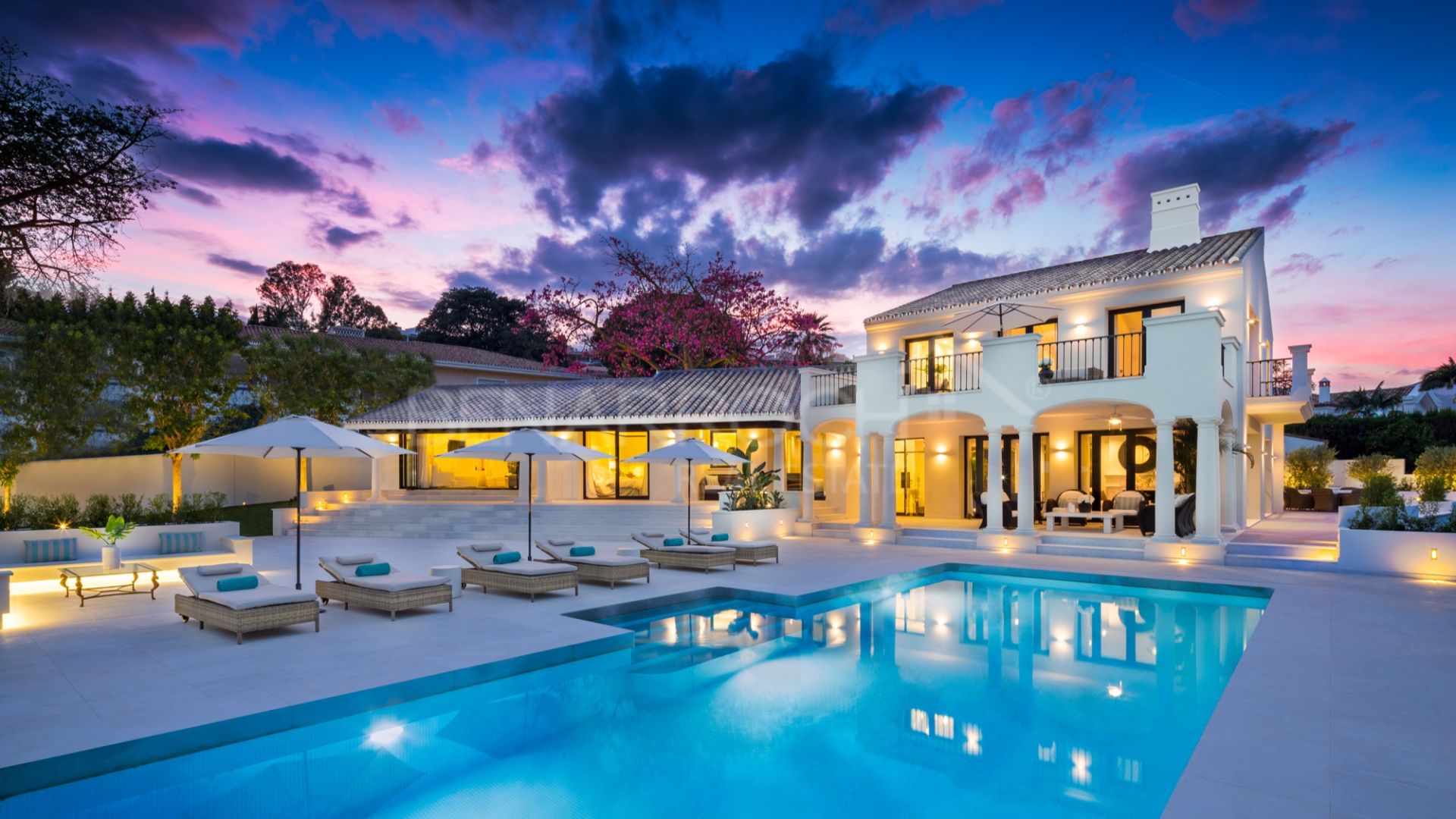 Video of Nueva Andalucia Area
similar properties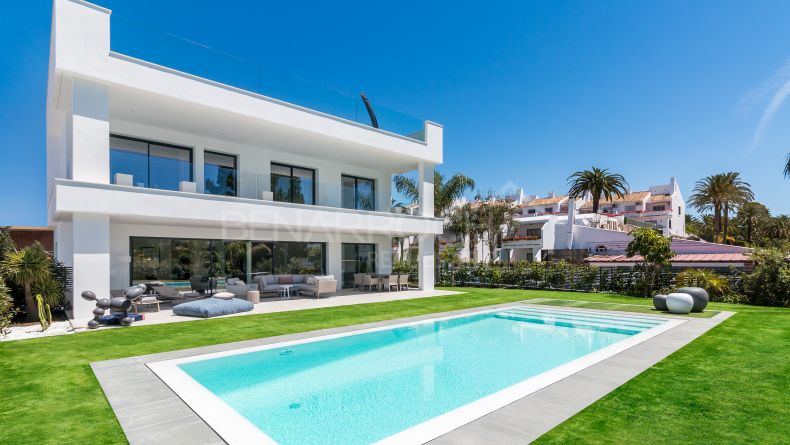 3.500.000 €
Newly built villa in Nueva Andalucia, in a new development of villas very close to Puerto Banus, Villas Gardenias.Located a few ...
3.295.000 €
Sensational villa in La Cerquilla, in the middle of the Golf Valley, Nueva Andalucia.Located in an extraordinary and quiet area, ...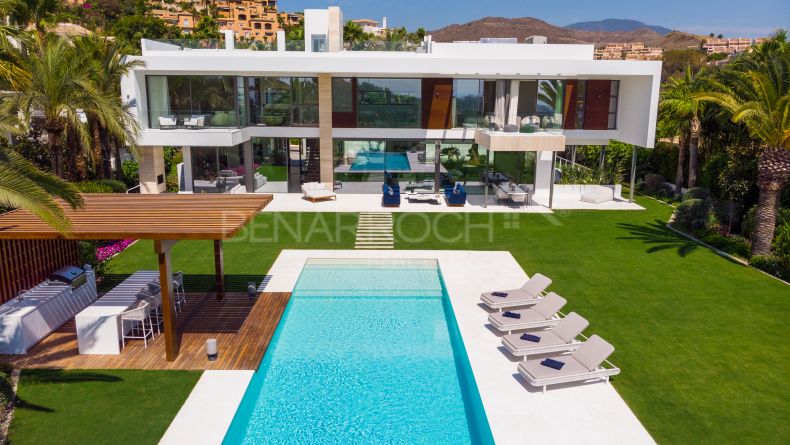 5.960.000 €
Newly built contemporary style villa located in Nueva Andalucia, urbanization La Cerquilla in Valle del Golf with clubs such as ...