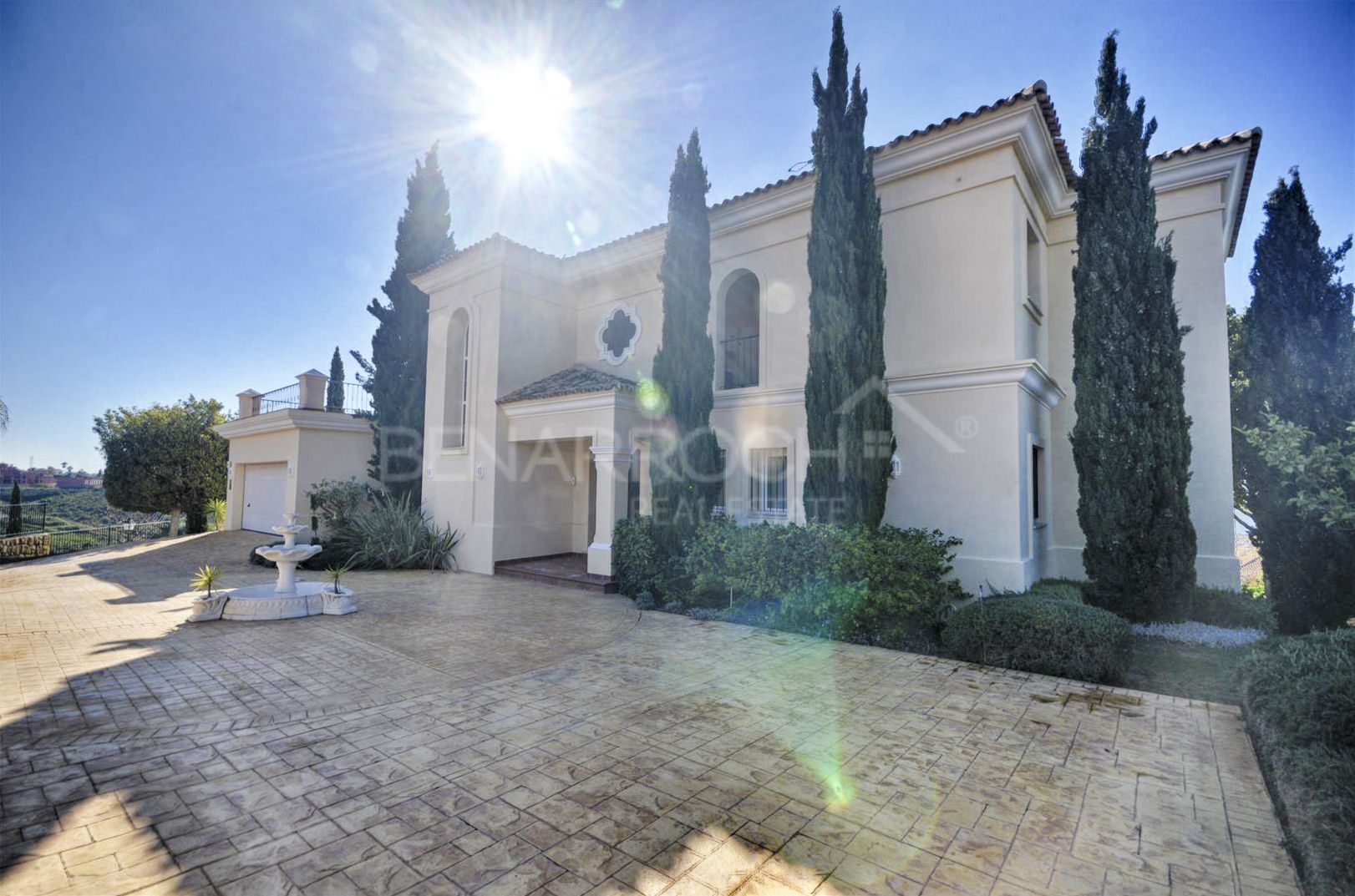 //media.inmobalia.com/imgV1/B8vEv5Xh_VThvnEqMx4G0ZxU_YC_pCgmETwWNQKyeMqLb9Afo_WSoi~kcK5mwaepLz96AHEmAzWJQblCNhundhnOIYTFLWoaYC0TmWNeuyiUQd7VASqTe87Sr0ZWHmosfPcWXvjNMmWYakCnly2AlmoC84z22Yh7gx5ztpgYi1E8W4jx2dtVF1A~tg3yEpBa6fuZ2sx7U2kl2SXOtE2Qv1sIKg7sw9YD3zigz7WPBzOMtmkd3xYxvr43kiTzPwCyxuhCA7uGRy2UsmSjNZ0KSuiSHOaGcl8MeBC5BhOhqqSRRwGppeJsFkziKFmifzH0eJlWVg--.jpg
//media.inmobalia.com/imgV1/B8vEv5Xh_VThvnEqMx4G0ZxU_YC_pCgmETwWNQKyeMqLb9Afo_WSoi~kcK5mwaepLz96AHEmAzWJQblCNhundhnOIYTFLWoaYC0TmWNeuyibuOFeFugIikgcoPd4Dv9J6i1nao_bKKKLU16vLAFVfRseCIctaHc8MJx3CrLQlvBg474GjFM_lA0BWe3kMAVHuoFlzkMblPmeETBv~1NQWBEbnwk2tusO1z4f_KKdOaD_UMcBFPLFIWWH1iVOXjRsWmJ8kKUeRXeyo35i7bx0JVdwP6LvcVvlY1q~YvxxwUXyPbpz0nQGNvGJ5oaV37lDwKrq5g--.jpg
//media.inmobalia.com/imgV1/B8vEv5Xh_VThvnEqMx4G0ZxU_YC_pCgmETwWNQKyeMqLb9Afo_WSoi~kcK5mwaepLz96AHEmAzWJQblCNhundhnOIYTFLWoaYC0TmWNe6YT~ccOGYMISWEtql3xOX_jd2rdTZVcnRwvMzCgEemMOoeinD9NUdF9jcsVsr9Xk7AwIJFhA4xuRvpfZxXLZq_GKCDoekcXikf8ATdRxKz~nqmdUgrSGq7gWP8NtZFCu0cyWTW68C1eGtXa47BpW~VcZR1c6kqlf77DW44KOJz4lIzGqrJS0vX~jzKao3n92UUPB4RiCrRxzOjYFiOnGtPMPWbG9Ww--.jpg
//media.inmobalia.com/imgV1/B8vEv5Xh_VThvnEqMx4G0ZxU_YC_pCgmETwWNQKyeMqLb9Afo_WSoi~kcK5mwaepLz96AHEmAzWJQblCNhundhnOIYTFLWoaYC0TmWNevDb8KhEtfXuB2qE0F6~caNPxT3_AKObXR4CUcSUzLC8vZXX2AsiZNT~Al5B5vvjn8FvN1mS~MKTnbCLrtSLCijsfDHnYMFETfubcAFQjJE0wUxrk~KZPPGWFadH1D17r4D8BF8ZTT7bBTNs_d9ljF1RYxWbA5pD80AKSZ_UAmPiV~EjGLWW8OkwtOsubUdTh2_OEuaaPAg__JyJNC6aY8rjlfDDrDg--.jpg
//media.inmobalia.com/imgV1/B8vEv5Xh_VThvnEqMx4G0ZxU_YC_pCgmETwWNQKyeMqLb9Afo_WSoi~kcK5mwaepLz96AHEmAzWJQblCNhundhnOIYTFLWoaYC0TmWNe7uHi0fTpIrnARdkCCCVs_BaE~hyrtQQYFFYINxwKgUu1oT0_AbKvntyNNqM_2BJWaXK1RO~deiAbJpVTU9Dkew_P2LvFGQ99Ftb~wU3BuGV1olULUwgqyNZd46RXPKLgpfjMdSD__A1l5huySt45ZHd87kGHM05qe_9Dk9pAYuZysxTOgK4ZchZykFBFEUjEFzNjIv~K7_BIRhD8C8v0GYa08ZkewQ--.jpg
//media.inmobalia.com/imgV1/B8vEv5Xh_VThvnEqMx4G0ZxU_YC_pCgmETwWNQKyeMqLb9Afo_WSoi~kcK5mwaepLz96AHEmAzWJQblCNhundhnOIYTFLWoaYC0TmWNe7uVxF4hc5lzetAwEVXZriDeA1Hzof7jJkgYmkO~Qua581w~fsT1Pts3ayV8TE~BITdBayCOT_jbHG6UVXq3PvSfniISHlA7KM_4Gfh8tHKpiDdRdpXlQMQkrPxBnmR8cZrzSg7qkivNJRfT7HXZS00vR1gvwNWZh2Fwb_QOHMjYfbG~hhsEGjyBll9VhgSybqHWeeS6wZj_pxSlwYwqcr_CwScd~cw--.jpg
//media.inmobalia.com/imgV1/B8vEv5Xh_VThvnEqMx4G0ZxU_YC_pCgmETwWNQKyeMqLb9Afo_WSoi~kcK5mwaepLz96AHEmAzWJQblCNhundhnOIYTFLWoaYC0TmWNe711L9vvi2w40MRnK5~ZJmnOGi~Evrz3d~X9ZUkxoYGqNWyF7DeI1pLp82pIlAtnAz9T_YXXpZYySnuhuM_b5AQKkbS9FJsZd9fDjd7JN3f6Y0rw7v4QNf9IE2jgEEdnZtPNdzv7oSwxlGCPB3ZqvgW_vOwFDRlCqhuHZnuPCEdeYkWF8TwKSStkZhz6M5radPxyy0b8OY4LyUr5wEzESaJcRtCKWlg--.jpg
//media.inmobalia.com/imgV1/B8vEv5Xh_VThvnEqMx4G0ZxU_YC_pCgmETwWNQKyeMqLb9Afo_WSoi~kcK5mwaepLz96AHEmAzWJQblCNhundhnOIYTFLWoaYC0TmWNe7cil0zdGgMC6u1zRn2pqrTa3J5bTUQwf2Dohp5a7IakR9WqlouIof46RnsSE0Bx1Pm2Gg3sQpsdJqfimW1CpN9kYM9ElflarBlE7B340~2IqJR4kHUDx~EA1_s7V5VmAClPiNX5K4dLH90b0JnNYZKDEZhCOsFVvyTdBpLWOmFlTdCFEgrfGIfkqwFecB5F3bxXVAurrXRjCExs5MFOJ5nL6vP1fRQ--.jpg
//media.inmobalia.com/imgV1/B8vEv5Xh_VThvnEqMx4G0ZxU_YC_pCgmETwWNQKyeMqLb9Afo_WSoi~kcK5mwaepLz96AHEmAzWJQblCNhundhnOIYTFLWoaYC0TmWNeusJ0vYe06qqXXwGkVUfn532_1vcH4yFRGpDVSVW8XrAHtxI8ndJePJ9f8~Z29JiTjPz2UdD_XX2FuGY6VJ_Xj7_sHPjWL8CCAPxv~FoS4SfPE2Gf0BocQX4HyEbHyZOSWsMSNPRNE~GtRXUaQKB_x_QYf1_HvvtB2BclirDKbBXa8vx2k0yAVpwU4OY032r3FrXsnkNMsir0_nSozY3Rl4clK_Y1kA--.jpg
//media.inmobalia.com/imgV1/B8vEv5Xh_VThvnEqMx4G0ZxU_YC_pCgmETwWNQKyeMqLb9Afo_WSoi~kcK5mwaepLz96AHEmAzWJQblCNhundhnOIYTFLWoaYC0TmWNeuZ9IpGv4YmU0bbObR82Z55ekUZuzin7zgVUKvI_iAYNIguFActrA~OWX1NinM1y16wA5XxrucVOKGG7BaKTNNCzEr1rN5OqZHijlI_YehmaQipw3~cNOWhkpJxSH2hmwZn6WFo3TXABh~t9f6PxXtRvdPNjr2~WxUwbRDJ5Yp5POUsCldN3AVjG7uI8GRNW5EkU0sUHrfiXsOlGhk6pMu4fXYdrVGA--.jpg
//media.inmobalia.com/imgV1/B8vEv5Xh_VThvnEqMx4G0ZxU_YC_pCgmETwWNQKyeMqLb9Afo_WSoi~kcK5mwaepLz96AHEmAzWJQblCNhundhnOIYTFLWoaYC0TmWNe6YW3c7mdbuillZDCbfdMZm1PMvhI~jiW9ta~4Es24oaETCI6Xm_C1OI7BZ4dcDF8ae2G7hPLJOBdqruKJ0JMCAGaS2yAh3YS_WpchXpV_qoAPgyMXwc5GJa50wDoNfQBETrrmvTZ1gOYwG1NDvISCqS2jDXHn7ow7gMyjhk4RVoV2YEDrAKLSt9nXUz8FpimVE8y7~SjaLiYuSAGbYDQsRkGufeSfA--.jpg
//media.inmobalia.com/imgV1/B8vEv5Xh_VThvnEqMx4G0ZxU_YC_pCgmETwWNQKyeMqLb9Afo_WSoi~kcK5mwaepLz96AHEmAzWJQblCNhundhnOIYTFLWoaYC0TmWNe7uY4fm5o4B9maUz~wtvkrLbzmGYbLvTa~DDQH0cJtRU846ZCUTITA~yG51caH6RmzZn8j34Y5VAiNPYwy6D0ishROSjM2L_PQCFNBskVcG3wsuOCNG2KHWXMYABiLyNNXzQpe69SIHlAUcWP~ptLSso650ivBaMRg3Wp4w2ICutl3zg1ZEjRcbBPIqXfcUmj9QRLh4CK2uJpv1dyEHHq~eMsNoy53Q--.jpg
//media.inmobalia.com/imgV1/B8vEv5Xh_VThvnEqMx4G0ZxU_YC_pCgmETwWNQKyeMqLb9Afo_WSoi~kcK5mwaepLz96AHEmAzWJQblCNhundhnOIYTFLWoaYC0TmWNe68bj0Pzgd6FYZ_eqbBsVPw6M_jWCD01xbpuNAekEK8OGeav9Oaex8UPzwDaQiVoL6rJUXwbfEb4ptx3NbaDKWfIyot0ac6reaI9xoYFOnr21Kgit0UIU4YwvR1qW_1JVraDwSqpkEaInWb_P3EOSmvxOzwZkYJYrvT5z0pffZWS_5GZQu23Jsnbxv4G7UlmClHJzokaqAH2JUOoI69P22DrhxxW9AQ--.jpg
Los Flamingos Golf, Benahavis
Villa
1.990.000 €

reduced from 2.450.000 €
Los Flamingos, villa with great panoramic views
Elegant south facing property in the upper part of Los Flamingos.
The house enjoys a lot of privacy and magnificent panoramic views of the sea, Africa and Gibraltar. Built in a carefully designed Andalusian style. The garden, swimming pool, BBQ area and large terraces provide a comfortable outdoor life. In the interior, the house is distributed in three levels.
On the main floor there is a kitchen with laundry room, dining room, living room with fireplace, TV room, guest toilet and a bedroom with bathroom en-suite. From these rooms we have access to the garden.
Upstairs there are three bedrooms en-suite, the master with shower, spa bath and a terrace with spectacular views.
On the ground floor two bedrooms en-suite, play area, gym area and separate kitchen area. Garage for two cars and parking area for four more vehicles.
Definitely a great property in an unbeatable setting.
REFERENCE

208-00980P

bedrooms

5

bathrooms

5
built

777m²

plot

1.860m²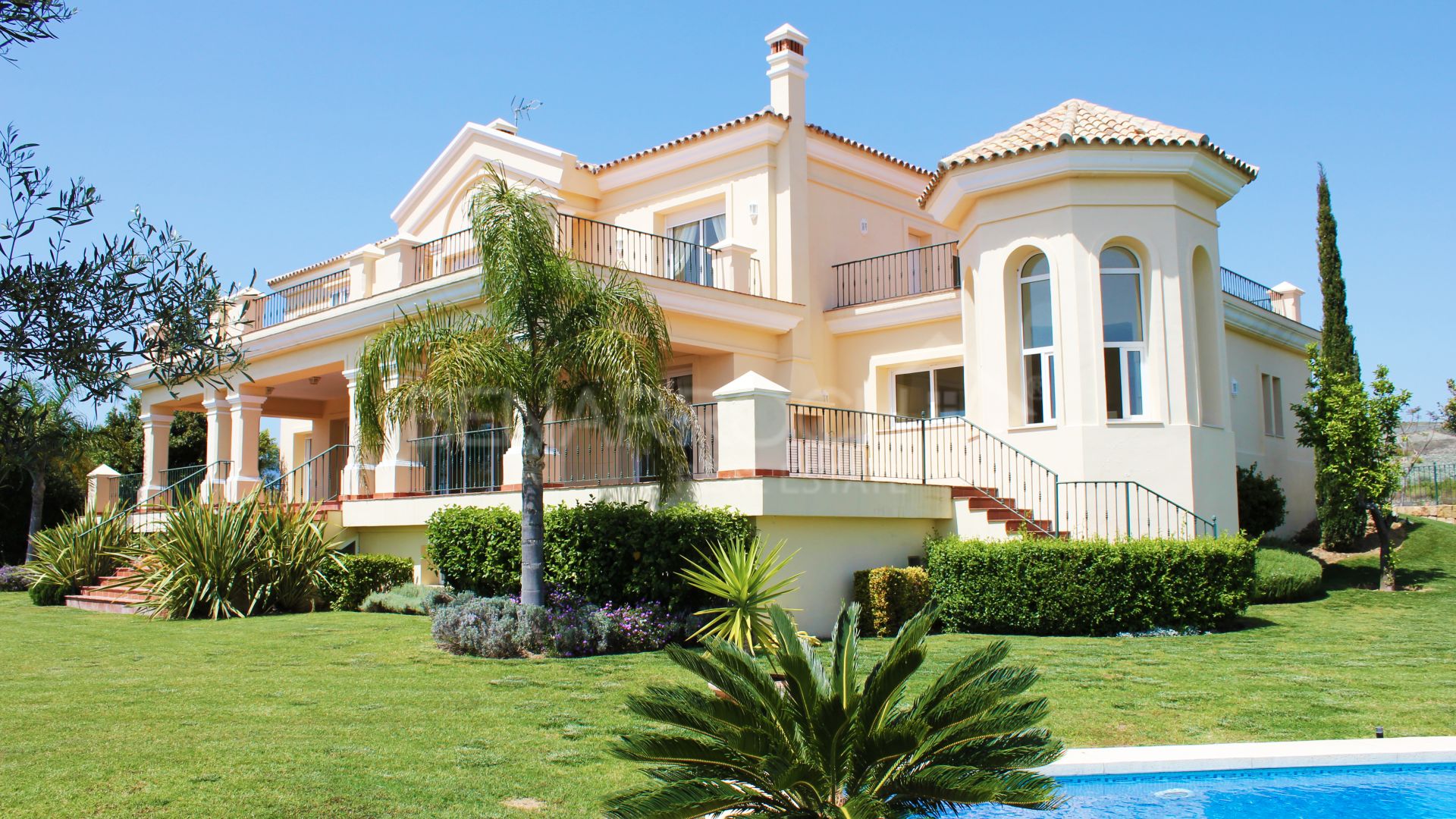 Video of Benahavis Area
similar properties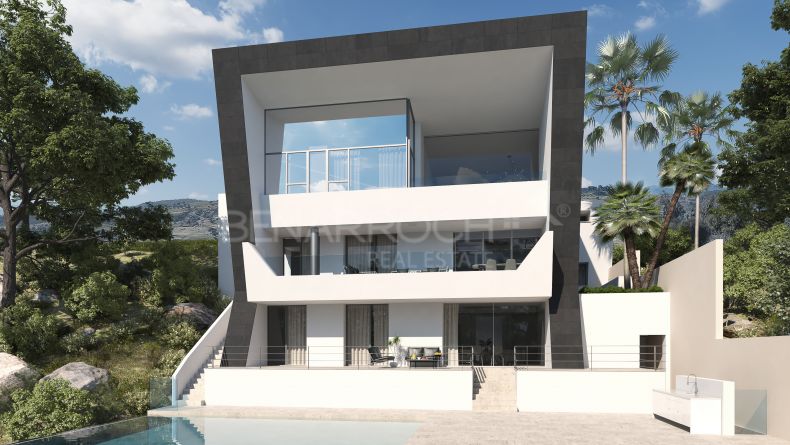 2.995.000 €

reduced from 3.500.000 €
Modern design villa under construction, located in the urbanization Los Arqueros, Benahavis, just a few minutes from San Pedro de ...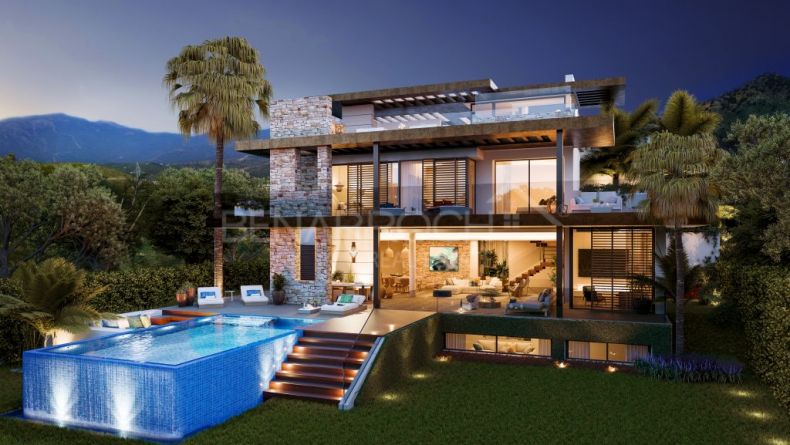 1.350.000 €
Design villa located in the newly built Be Lagom complex in Benahavis, a residential complex comprising thirteen villas, with an ...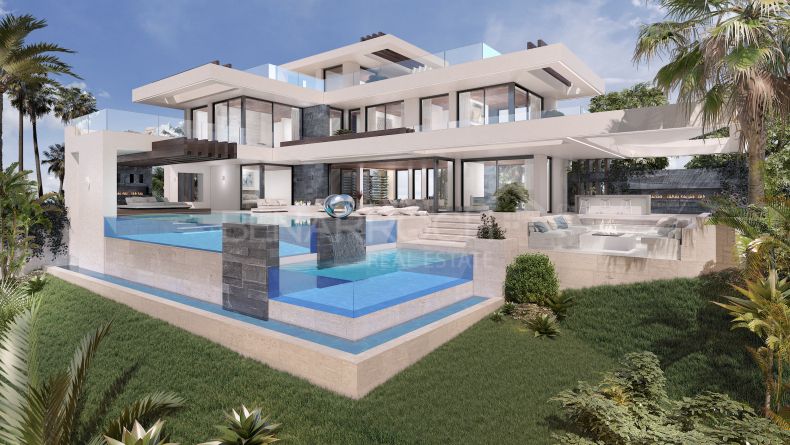 1.590.000 €
Villa of impressive architecture of contemporary style, located in La Alqueria, in the municipality of Benahavis, in the northern ...