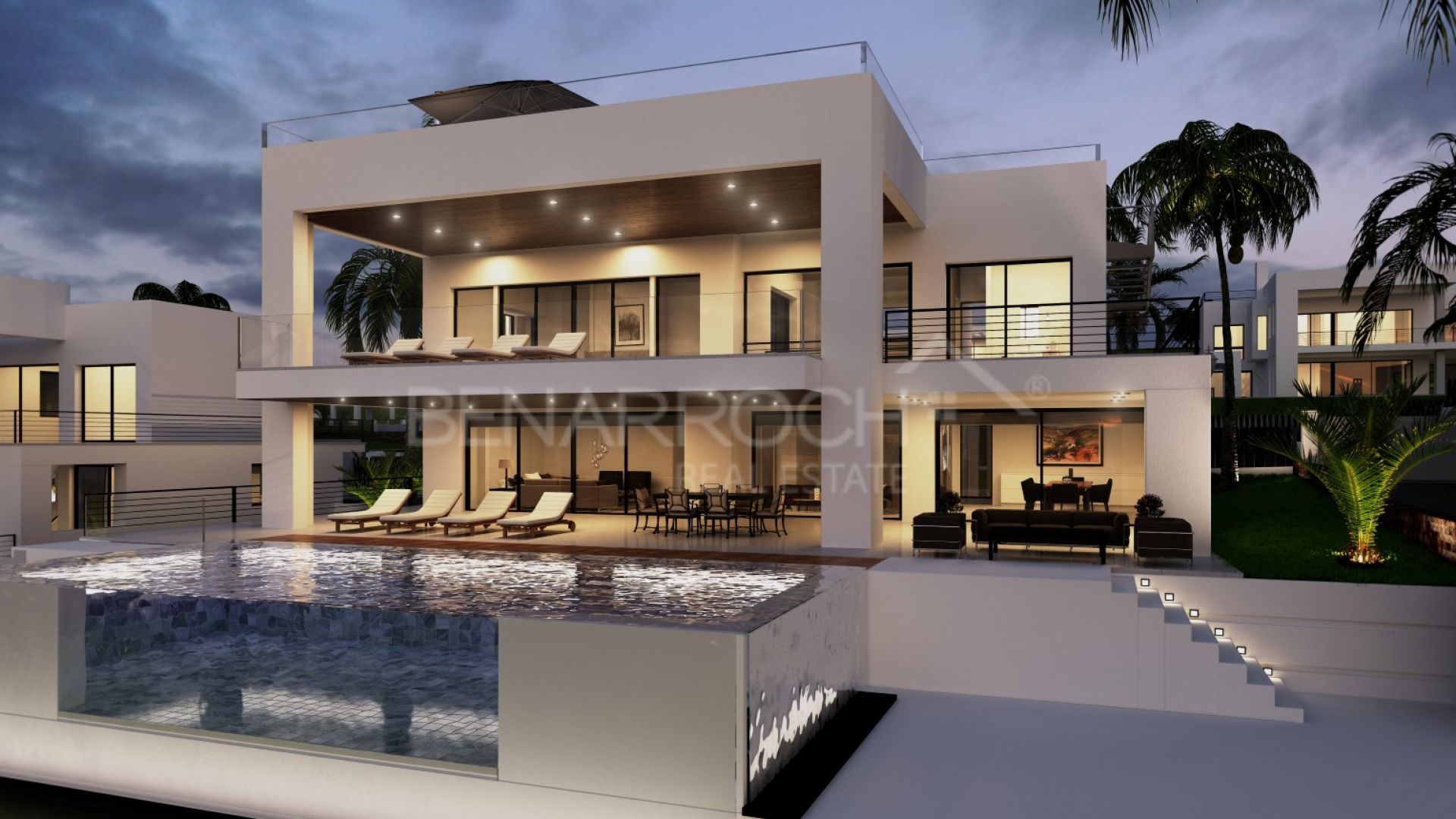 //media.inmobalia.com/imgV1/B8vEv5Xh_VThvnEqMx4G0ZxU_YC_pCgmETwWNQKyeMqLb9Afo_WSoi~kcK5mwaepLz96AHEmAzWJQblCNhundhnOIYTFLWoaYCwhHb039ZM0umuDaKpXoNOJEIX421GozRjVlBr_l0fLElCoroEn2B4433YSrHjj4RtjaOkdl2wMGtfA6qb5GGzE7uG5qgH0izXopbEyqbo_vBw5D5sDyU8gWC31raZ1fS3p5qh312SPzZL~p1IHavLuhW9lwNh6KgcWB2WghajdDndQIZ8XEsLKX4W6f4HNWuX51xApeHg-.jpg
//media.inmobalia.com/imgV1/B8vEv5Xh_VThvnEqMx4G0ZxU_YC_pCgmETwWNQKyeMqLb9Afo_WSoi~kcK5mwaepLz96AHEmAzWJQblCNhundhnOIYTFLWoaYCwhHb039ZM0umuDaKpXoNOJEIX439nja1sDuLrl6FDrWIlvc2azKyLW5A~D6vHgunYNIbufEFqvucaN2OOrh2LDsrDyvAXU~K5Yxz0rFKXFEhkwynL2D42830q_vUSepfW~lRavEjzUCdgtw7W72QT5H2Vl7eS_K1f1V1Y2n2VuvO2Ph8WrzyECMKrjLHb7DR1brfoviBQ-.jpg
//media.inmobalia.com/imgV1/B8vEv5Xh_VThvnEqMx4G0ZxU_YC_pCgmETwWNQKyeMqLb9Afo_WSoi~kcK5mwaepLz96AHEmAzWJQblCNhundhnOIYTFLWoaYCwhHb039ZM0umuDaKpXoNOJEIX43vKJpsBxqgqN11TW1_csOOtnWtPwiiTwW3eXIlVt~WWBlum9~ANpXH8qqdaJiAcLNUZsJL_KiRUflAOwHGUP55~X9CYtEFtlIV9qpdN814KopBbd~RIplewcsqLxUG5BaAlI6p9RpliQuko1YJ~_HILAI4lqj0hgpQK8jvc2BjWhOr4-.jpg
//media.inmobalia.com/imgV1/B8vEv5Xh_VThvnEqMx4G0ZxU_YC_pCgmETwWNQKyeMqLb9Afo_WSoi~kcK5mwaepLz96AHEmAzWJQblCNhundhnOIYTFLWoaYCwhHb039ZM0umuDaKpXoNOJEIX3uSKYaNYs~bjslUM3lbJbonXz0sfEG9APaTguuNvEDs5djYDcO3aF1yWJeRzJiCLVRTyYEULqXz~I6B5dLGNPvz~O232~eAlEaSz8V5mB06p5maWHxPADcP47fiD8sukPqqiwwSsZEc5OUaEtfoiwG1yCmz4LKGKrevYC_dtluSd18Ss-.jpg
//media.inmobalia.com/imgV1/B8vEv5Xh_VThvnEqMx4G0ZxU_YC_pCgmETwWNQKyeMqLb9Afo_WSoi~kcK5mwaepLz96AHEmAzWJQblCNhundhnOIYTFLWoaYCwhHb039ZM0umuDaKpXoNOJEIX41NCrIYKM7Rn7~HB2n4JGBhDhzdUvY6BozI_QlWJwT0cGVnzxykCSNUIJDnCxE1QtLMmap49~bQmKRlO4GF_A7~mi~nVBOUlw5nUYQhFY9tMHGNKgPD568FMMdPZyjpEeUqg19_NABYktfCI88h56qEqAUlkCj0nFdfVY9KxPxc6s8V0-.jpg
//media.inmobalia.com/imgV1/B8vEv5Xh_VThvnEqMx4G0ZxU_YC_pCgmETwWNQKyeMqLb9Afo_WSoi~kcK5mwaepLz96AHEmAzWJQblCNhundhnOIYTFLWoaYCwhHb039ZM0umuDaKpXoNOJEIX41dZ2TdsQ4a56GLo~Mx03GqswXkV~7rTHfUIkkzaVaQEsjphXtl8aRt0JmIWF85Oa4lEgrbDMDQ8Zo9S~q67ngEiWADAnS9wkPJZLfJPhxvku2JZxJXIeJL4bTJ6bDhYN361ZMq8j~ihgpAEawBsI68vf3J_Hk7ZZpCm1i66m64nlj94-.jpg
//media.inmobalia.com/imgV1/B8vEv5Xh_VThvnEqMx4G0ZxU_YC_pCgmETwWNQKyeMqLb9Afo_WSoi~kcK5mwaepLz96AHEmAzWJQblCNhundhnOIYTFLWoaYCwhHb039ZM0umuDaKpXoNOJEIX43PGJyAv3hvSlsfCR9u3J1ufmYs10J2YqpwzHu52gLv3yMeUwnEJi70q0aKkb3TW9QKxaSttDI4koLk3gpYDUPp8D62~O9bJHOi8A38khWO0MDbuMgzwDkIwzJyt73BSKRX9ZhztOXhGTfFr6CS9DaENr9FYj6vocMw47iMcHsFtOn6I-.jpg
//media.inmobalia.com/imgV1/B8vEv5Xh_VThvnEqMx4G0ZxU_YC_pCgmETwWNQKyeMqLb9Afo_WSoi~kcK5mwaepLz96AHEmAzWJQblCNhundhnOIYTFLWoaYCwhHb039ZM0umuDaKpXoNOJEIX42cJrX9aWgewe4lviCGo73duqR9BWmsBy1aHrh3tQRuqZUtVuCYfaEkSjoAhhcc8cBc0EQeGun8w2EO~PTcWm2uE~2fd~36ordbe7So6qEd0lvfN40g9fRz3VdpvdJs6Enm7bzYjm6qNY0W7uziW9yS0SBhjiKBfc7gmHTNkYppJqs9A-.jpg
//media.inmobalia.com/imgV1/B8vEv5Xh_VThvnEqMx4G0ZxU_YC_pCgmETwWNQKyeMqLb9Afo_WSoi~kcK5mwaepLz96AHEmAzWJQblCNhundhnOIYTFLWoaYCwhHb039ZM0umuDaKpXoNOJEIX42IR3XOAbhQUA0bshc7VB4VgmcUnAP1mogYqGmKVB6tYrnK5l~qaaaWaZAxxHyJlMoPDYBbpOCGazB_JLIvgPQOEIGmd4V6oN5wMoVsHakL9L41_FT~tGC3jL_yO5~mY9sxushCR_QkO2uw3Irgz~TSNC~uBZ7oOPI_TZr~2gL0Hs7nI-.jpg
//media.inmobalia.com/imgV1/B8vEv5Xh_VThvnEqMx4G0ZxU_YC_pCgmETwWNQKyeMqLb9Afo_WSoi~kcK5mwaepLz96AHEmAzWJQblCNhundhnOIYTFLWoaYCwhHb039ZM0umuDaKpXoNOJEIX42oWb3wXsQqd2rhmX5il~RJ4xM7qnETKawc1QBRoLoF8vVaYK3gi_ORGubu9ij3N5K0e9L2hisisg0n5_U7GQxHLFe_k8Ih2zCDrJU6IaG8zRs4T2Us11jF_Ihd1kCHZd54UniLChZuTu1BI1vXgSeqnnY0cGUyCtxfvNKixKJL4oAl4-.jpg
//media.inmobalia.com/imgV1/B8vEv5Xh_VThvnEqMx4G0ZxU_YC_pCgmETwWNQKyeMqLb9Afo_WSoi~kcK5mwaepLz96AHEmAzWJQblCNhundhnOIYTFLWoaYCwhHb039ZM0umuDaKpXoNOJEIX3ull6Nq8Nz_wF0DbisLOuDvjN7o1Sb9yOt69JZKxZFDWoV6vuvlRaPfiH1NtQGHIbz0ICIksElmSckDZ94yRVr6Od9sZQP_cUEp77oP5mpgsESrMsIl0~j4_Gs1trsSwdNBDO9Puuc4rRbTZQu8HusHbBRDaXD~cOmKyBgbtGK3eYveI-.jpg
//media.inmobalia.com/imgV1/B8vEv5Xh_VThvnEqMx4G0ZxU_YC_pCgmETwWNQKyeMqLb9Afo_WSoi~kcK5mwaepLz96AHEmAzWJQblCNhundhnOIYTFLWoaYCwhHb039ZM0umuDaKpXoNOJEIX3uPfFpLcf639Jwbmd4sg3n8WHjQ0Uft~7Zy8CCo6iq4HA_uu18JyNgoSVC_FkZ0LWsxtCIyFbIx182IPMGHRLvC1civ0Idjn5yZeAmZ6nXYF0pGkqlAjRNoZFbzKOmQozQi86uZk5ty0U4kUx12LHZae95htN7IWeOVX9Q5V72I4EFCg-.jpg
//media.inmobalia.com/imgV1/B8vEv5Xh_VThvnEqMx4G0ZxU_YC_pCgmETwWNQKyeMqLb9Afo_WSoi~kcK5mwaepLz96AHEmAzWJQblCNhundhnOIYTFLWoaYCwhHb039ZM0umuDaKpXoNOJEIX3vhiBSfZ3UU8~~WmCX8C0qhAYsCJJkkA108vk3RF0hAfLWdf~yU5~DO7R0QsDApjrmqJfcltS3galjrTU0wnym9tNNQ31Rg4tsDVHsO5Pruh3sCh9qfAxVZPkBTfEzaEg9xKtRLIXUxLlOdIOZ2OiKGM8_ZRz2umzgoGSHxXtPqh9UaA-.jpg
La Cerquilla, Nueva Andalucia
Villa
2.495.000 €
Nueva Andalucia, La Cerquilla, contemporary style villa
Villa with panoramic views situated in La Cerquilla, Nueva Andalucia, within walking distance of Aloha College, Marbella Golf Academy and close to numerous golf courses, pertaining to a modern promotion of nineteen houses of contemporary style.
Located in the gated community Los Olivos, with security, views to the golf and the Mediterranean coast and to only minutes of all the services, Puerto Banus and Marbella.
Built on two levels and using the best selection of materials, the villa is surrounded by a garden area with swimming pool and large terraces. Distributed on two floors, basement and solarium. The lower floor consists of hall, spacious and bright living-dining room, kitchen and guest bedroom en-suite. From the living room you can access a large pool facing the pool. In the first floor, we find the main bedroom and two more bedrooms, all en-suite and with access to covered terrace. The ground floor has a garage for three cars, a large storage-area for leisure, laundry and an additional bedroom. Large solarium with jacuzzi.
Do not hesitate to contact us for more information.
REFERENCE

208-00877P

bedrooms

5

bathrooms

5
built

540m²

plot

1.264m²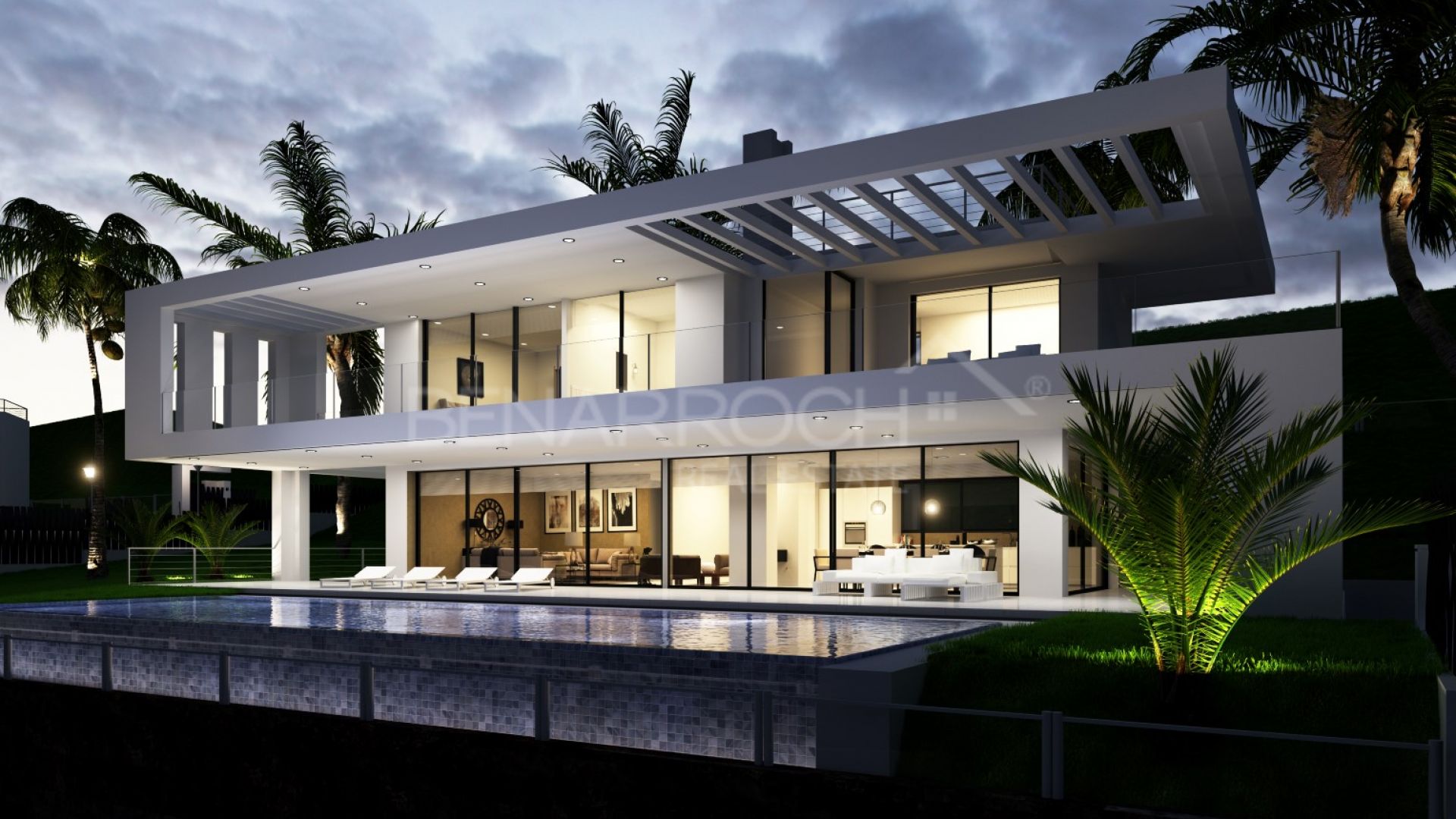 Video of Nueva Andalucia Area
similar properties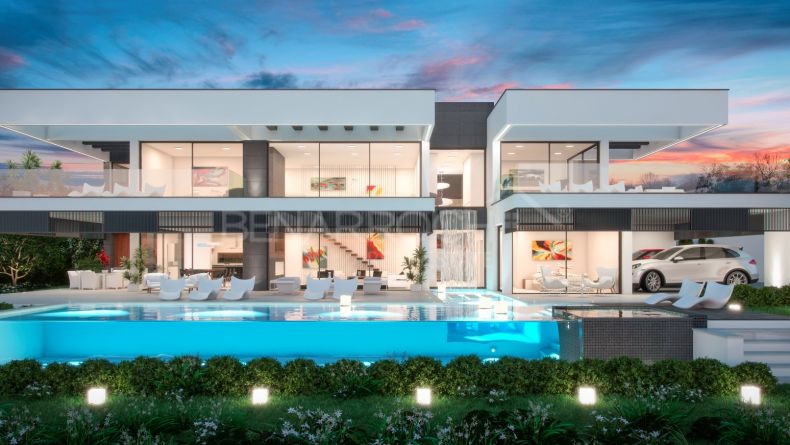 3.595.000 €

reduced from 3.795.000 €
Villa under construction located in La Cerquilla, Nueva Andalucia.Located in the famous area of ​​the Golf Valley, ...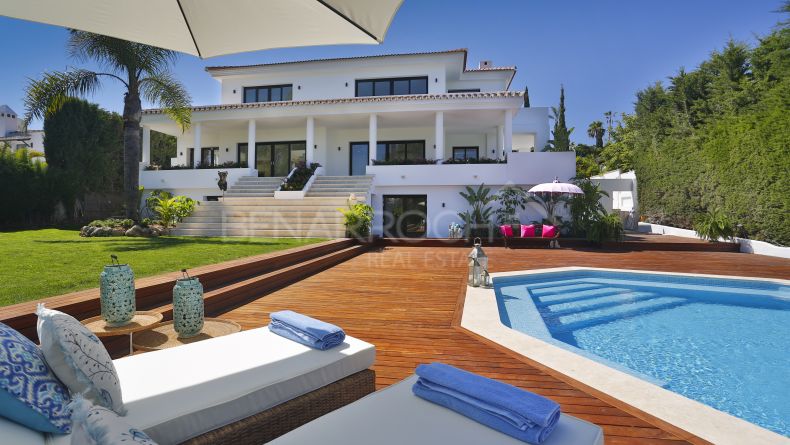 SOLD
Front line golf villa in modern contemporary style with exceptional golf views and La Concha, situated in one of the quietest ...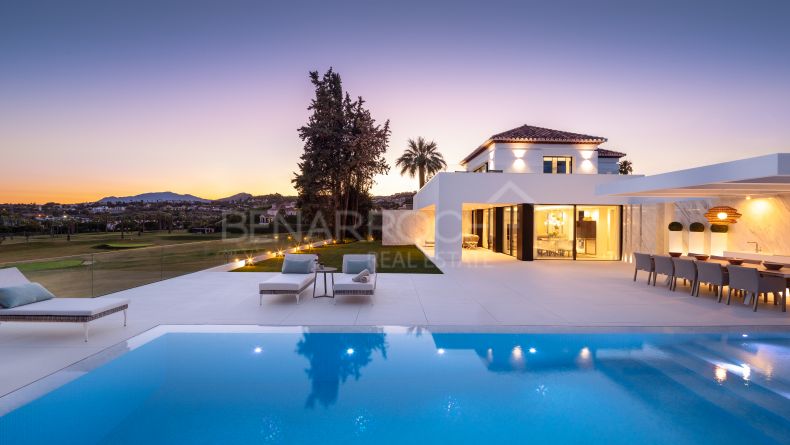 2.795.000 €
Recently renovated frontline golf villa in Los Naranjos, Nueva Andalucia, in the heart of the Valle del Golf.The frontline villa ...