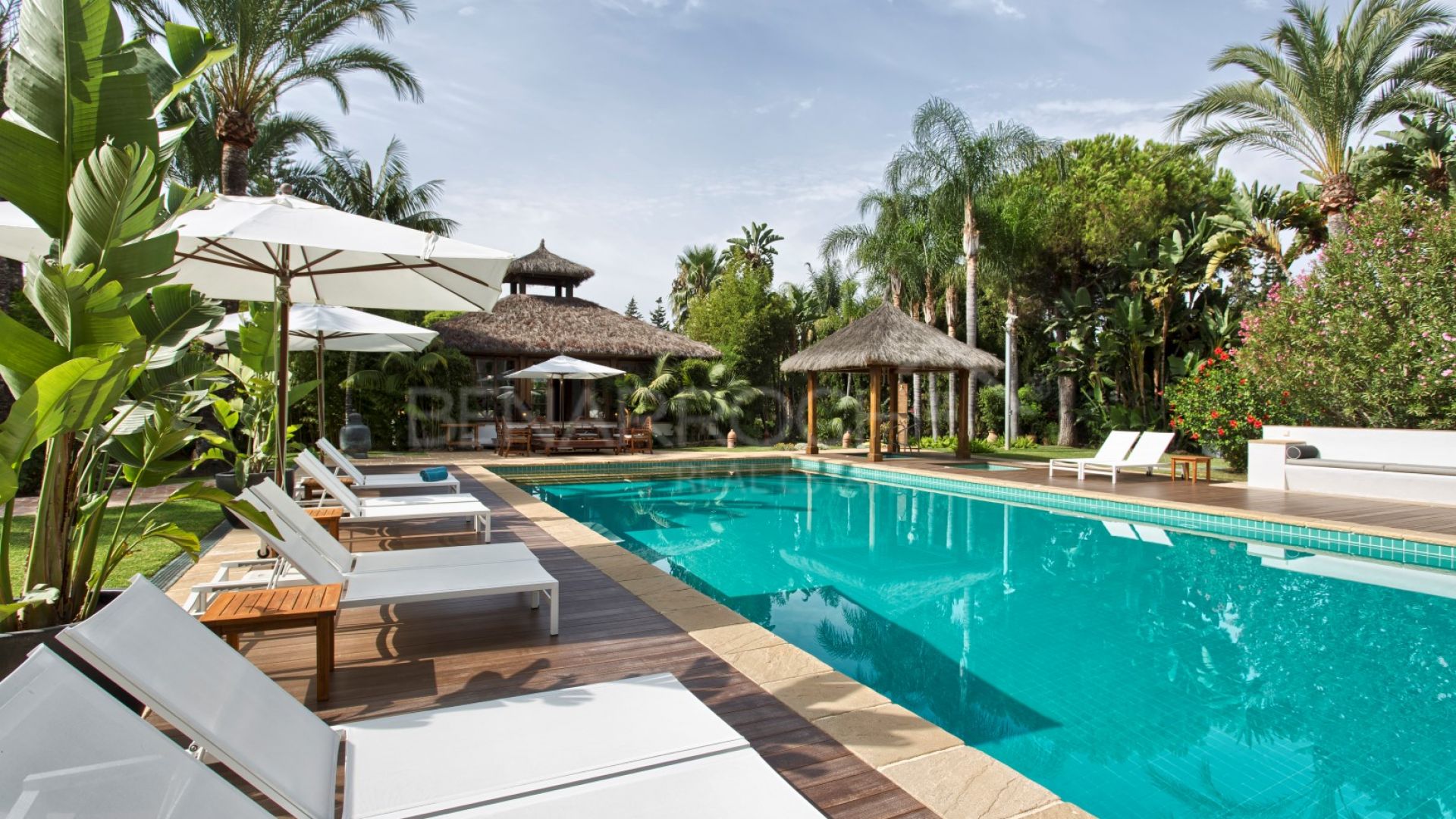 //media.inmobalia.com/imgV1/B8vEv5Xh_VThvnEqMx4G0ZxU_YC_pCgmETwWNQKyeMqLb9Afo_WSoi~kcK5mwaepLz96AHEmAzWJQblCNhundhnOIYTFLWoaYCwgmRTZ_Qak2Xp_O5fOeDYFQMVdCLHv8CVvWLpZKyA90gj6gF8W9PoBdqUGTY3Z6Px2Ye2QrHAyCz_stJIYgraUL7c_85gahOGN7SwTHh75Qu1Y_a2s1466O8NPTS5oprY~~cyQ3Zx1uKTFLXIapiB0fe~s93UA5n2Xu8EaL_QwukYsUGWnTjKyP1zKDeY8Ha16uuYZlxMYScsEqGeCj2GrGtqH_qEteH5rXA--.jpg
//media.inmobalia.com/imgV1/B8vEv5Xh_VThvnEqMx4G0ZxU_YC_pCgmETwWNQKyeMqLb9Afo_WSoi~kcK5mwaepLz96AHEmAzWJQblCNhundhnOIYTFLWoaYCwgmRTZqugYh0YZ5zE3oQgeH~WaOyCt~v1NQisaGnPqidsLC8_XucKGavoGh0dPyJZ1ZKyy7QSzsZF4vjbdrqDKfbqSc_rIHWeEcjlCHxftDhS3LB4_GY4eh25AlJLH3Dxf_Itrk78YYg5XMIBAetf_50IXsHAegI~twJtdY9lRXzMC9i9Dst5eqGoLYUUeQpuIACQsnv_7i73O18np9gE4COl4wvouH75ydw--.jpg
//media.inmobalia.com/imgV1/B8vEv5Xh_VThvnEqMx4G0ZxU_YC_pCgmETwWNQKyeMqLb9Afo_WSoi~kcK5mwaepLz96AHEmAzWJQblCNhundhnOIYTFLWoaYCwgmRTZ~h7Ae7yIvl5HVTYNb5uiRdNo6PfQgroT7RKe0kOqlJxZYFl0ZMpfjDTL1Yc4eXzNW1F06mvF3EE0L6ctzERik8q_EK2YuxhCoeHp8qH2~KuHlXwu_SOmSXGA5sspGYrURlIMxre9l5isMUvHLQO~O8iHGossUNatGyCltMxzFa7pFShd2No4bXPEasE~tdmCk0MD3ngYT9HjRUekkuGPMfSxFag3yA--.jpg
//media.inmobalia.com/imgV1/B8vEv5Xh_VThvnEqMx4G0ZxU_YC_pCgmETwWNQKyeMqLb9Afo_WSoi~kcK5mwaepLz96AHEmAzWJQblCNhundhnOIYTFLWoaYCwgmRTZrPCmq~8Pp0OhrH2WYoydQb_zrYnQ5JAAHGbkmDfN~JYAV956kD465gdLko~TxkrHRXRCw7Jc2SENiiXx0iims7c1e_D0takugarR9iCLRc~1o92iJhMpvbTcOvNi7cfYj_4GKdshpSSwII1sK~rzZ991BR7eV~QM3giRG_jcWja9ZUNkThzRpR357zV3uUGS1Ewomq7~y0lGTMj_pesf2wJIW0WFlA--.jpg
//media.inmobalia.com/imgV1/B8vEv5Xh_VThvnEqMx4G0ZxU_YC_pCgmETwWNQKyeMqLb9Afo_WSoi~kcK5mwaepLz96AHEmAzWJQblCNhundhnOIYTFLWoaYCwgmRTZ_hF~15Gn5f7vOUdT2N6TXMGC~dQBFoQrN_PVyDzIULgAN0y0qQDurd41bTKo5J~0h3C7SmmnSUkrMvtBPiqHJqmpYiQFgLnB9yv8vb4YxBYEKx8aXbd378mEz5qQG2QfZLgHCijOCNpdNEBHUMINmecYRk6hl0nHgXocFTlJ5jlBo7xvGBpnhGQNzVrl4F3lYIbzACneuG~BfeMkwcmG~Mvo0SSp2g--.jpg
//media.inmobalia.com/imgV1/B8vEv5Xh_VThvnEqMx4G0ZxU_YC_pCgmETwWNQKyeMqLb9Afo_WSoi~kcK5mwaepLz96AHEmAzWJQblCNhundhnOIYTFLWoaYCwgmRTZ_GWaKQXwzuUZ6MoMMIWwVgDw6YzIrp8TKWhu2z14Gg5DxMOtZNhNBlIsDSeVhbSdsjsU6ERfL~Rn4WzBlA6XiIvcOjHtjmRyAlAyt_xeD~KSZdcVDLejbILIZYzahBKGuwElJgUH4Xi4i6aO77hwfcKCMhS_rNbj3_e6p6bWI~_yd_l0IPHilzp9ALT1kaQaTtGHV6fKpwXHpVe6e54cb1adL2v0ww--.jpg
//media.inmobalia.com/imgV1/B8vEv5Xh_VThvnEqMx4G0ZxU_YC_pCgmETwWNQKyeMqLb9Afo_WSoi~kcK5mwaepLz96AHEmAzWJQblCNhundhnOIYTFLWoaYCwgmRTZ9_WM3sz7HTYShKnuUNIu2LEky9wdV4M0AWag1_BpRKhDUHamlHFyy6py_4~AK6lZyveNJFLT_mIisookd7OkaRTtSELqg~7QqAD95nRPZDRTU~kbCb6MHJahkQQaNvq5qwfSVCKoz42DBU7Xhv6fT3hiMIqi5pQ1FfiIG9HH9104LrzUboNmNzlUtLoBM6XKSAb7VqMu9d25SrsjawYc2YKTPwh3wQ--.jpg
//media.inmobalia.com/imgV1/B8vEv5Xh_VThvnEqMx4G0ZxU_YC_pCgmETwWNQKyeMqLb9Afo_WSoi~kcK5mwaepLz96AHEmAzWJQblCNhundhnOIYTFLWoaYCwgmRTZ~ImhjQ46XPsUy_vMu8QvUc1QsFOtsn6xTfSlaQdsxpBQMWSRp4yBKG_y_o4VhPdVKN2zDPACn0EG0a4rPk9ODBPe6hE7XOqQBys5B6Dcb~8gRVr~jA~d5oN1s5HrZvDaz5LYJgg9uj0pwMdby5VZ7npyMaNO5V5KBmfeQ3fkA6N712a_PQAHmCiAe74LiVgw6O7H2wm0sH4OyAS1G_qIuH7QGk7K~w--.jpg
//media.inmobalia.com/imgV1/B8vEv5Xh_VThvnEqMx4G0ZxU_YC_pCgmETwWNQKyeMqLb9Afo_WSoi~kcK5mwaepLz96AHEmAzWJQblCNhundhnOIYTFLWoaYCwgmRTZ_hbQI~uUFjdtbrsELsXltxJsx64xHy3WZ2y4lVC38OSF1v6IpMuopaa5bqOTcp9oM3hGW0VOC09SoximlyCgOVzzGnOt4WX0~6nF0yPFjNarBfVpaDanKGx_fc~zebNti4sa0W0arJZjcrIdtRWfcij9Z6c88X1rwbjVwLURZMxy01rOir4JPN7fGXegYa4_JFxCKnxRT5TMRS6VoHJuyI4lOCtOOw--.jpg
//media.inmobalia.com/imgV1/B8vEv5Xh_VThvnEqMx4G0ZxU_YC_pCgmETwWNQKyeMqLb9Afo_WSoi~kcK5mwaepLz96AHEmAzWJQblCNhundhnOIYTFLWoaYCwgmRTZrXiFTHuEyqM0nlvQDmaLvCRDYiLQg3DahhHLAiD2_37Q4LiO4yAfsWF8R6F1zTqfDElnZM_3tYHKm45pAqXCasu4Nd667zOtR1c73fOmoH7g86XSdGfFpxV7Vkqpq7HEuPOi1aNgBDLu5CErKLfZn0anFWEZ_Ru_cr~Wx_8XJ3chkhBWmSHc0uAc4SJsQGndzTvtBxScxq85NRNLR~jkfJN1N~jhKg--.jpg
//media.inmobalia.com/imgV1/B8vEv5Xh_VThvnEqMx4G0ZxU_YC_pCgmETwWNQKyeMqLb9Afo_WSoi~kcK5mwaepLz96AHEmAzWJQblCNhundhnOIYTFLWoaYCwgmRTZqMODckPHAR5y02UUbi7f0Szim11IE1viaP5S~A5nUG6JYOozXPkqX9m~89j~e66w6TrCHqkCfVNgqlaBQlMvrSiyuMEjU1bR6tIX4mbsmwstFt0Zg_ww3hFaLAlXztrrAldUvu4ijsQY09hAHGNbQ5~CQyM3SVchBq4joNDq6ONJIrtlu_srdV4jnTOX83MgCNztVNsbcFu~SA4Gf0haFqU0poNpQQ--.jpg
//media.inmobalia.com/imgV1/B8vEv5Xh_VThvnEqMx4G0ZxU_YC_pCgmETwWNQKyeMqLb9Afo_WSoi~kcK5mwaepLz96AHEmAzWJQblCNhundhnOIYTFLWoaYCwgmRTZ_yf14we0YYeNp2QJYWOj8ZDU_LxGtfN9sQe7jaZBpKr1bCxzOaTcr4tEGTtmsI_yjLNLCbXIgXjchrB5v9iuUMpRfXTimAU9PbMWsuTDay9_FnNyRQAzLcQBGumTljTtz0sRmsOEXW2Zs0v_qs3vyzk1fV0b92YXKpWuzFmGfvshwYcnLaqg5Sia3kPzcTC_lU6yFOWPP8tIMQmw66n2xOgyBF3f_A--.jpg
//media.inmobalia.com/imgV1/B8vEv5Xh_VThvnEqMx4G0ZxU_YC_pCgmETwWNQKyeMqLb9Afo_WSoi~kcK5mwaepLz96AHEmAzWJQblCNhundhnOIYTFLWoaYCwgmRTZ_y~dTfzhCmBxzEVuKrIooUVmuA1F_R7uTtKdtn1hyQK6yezGDTWW1bJ9HdHnubUPiymwFzrAu_D5mWBHXsGHIaayOgvK3AqJM8Ax4LP6pTKrsO777g3PJjJzmE3K9XfmxHNgGL0eUBN1Of_Y~Z3dGTHE55hzBXSGVU_Ls4YRlX19qj2XXMJd5CgX5aTSoXN7fugegnEpX2n8tBiceYhyV4Tr_O8iTQ--.jpg
//media.inmobalia.com/imgV1/B8vEv5Xh_VThvnEqMx4G0ZxU_YC_pCgmETwWNQKyeMqLb9Afo_WSoi~kcK5mwaepLz96AHEmAzWJQblCNhundhnOIYTFLWoaYCwgmRTZ_hdJV0qZIkuHujdTan9UTJvMBaK6Xq6wnlpfbskQp6BfgP2p~z1dEx6P9eapzS6~xX8lx7881BvB4Q2Vu0d1A8NhsvSzswWcZw~XtHQEKW9y6ev64ifjypkSIQM6k1QOEzFsKgPckQjLSYGWZK26fLbM8ivgh_6SxpB53AziXapaE5928ElKS9X3sDsIZmr0P~pJSrqjThLSf6~Y0ogdcC9pKrUH4A--.jpg
//media.inmobalia.com/imgV1/B8vEv5Xh_VThvnEqMx4G0ZxU_YC_pCgmETwWNQKyeMqLb9Afo_WSoi~kcK5mwaepLz96AHEmAzWJQblCNhundhnOIYTFLWoaYCwgmRTZrPRG6bL78zeaPfQ_TZRq1_TbuIV7x27quXFgkiypbT79rckUolHg~hLnfQ2Eg5_KH6FeTNW~HgVl8iOTWRHSkZMai8duNU2Ya6gBoAYk3m0nRiBloxEyjNRCdKGUg2O7_QAkcaZnzdIrJ6SfWSzjnDD2wW0fV08u7wM5ewUbT4aKapYbyygszG8kbK84AF~vJspB5M9~lF5aaEvudq5ztlicKIBBKg--.jpg
//media.inmobalia.com/imgV1/B8vEv5Xh_VThvnEqMx4G0ZxU_YC_pCgmETwWNQKyeMqLb9Afo_WSoi~kcK5mwaepLz96AHEmAzWJQblCNhundhnOIYTFLWoaYCwgmRTZ~N00jlUBuEKHsLOUJ2FmSPz0CVb9tMaPyqW1XDdo0HX3WZBXmYevJRSrdn6C0Fe8hBMxkmO07IiOt65fvRbBUtfrMBFvkFglCyeQNYPViJJEhyOf6nBpLCojjCouXztRGRZjim6Wz04mFImfWr_AwpHXzgn5rFXWtcMFw~t~~DCNpuPQXu5iSOMuvV0ktwG~5djLAMG4~uQ0pAIKzPIh_AIsJJJC0Q--.jpg
//media.inmobalia.com/imgV1/B8vEv5Xh_VThvnEqMx4G0ZxU_YC_pCgmETwWNQKyeMqLb9Afo_WSoi~kcK5mwaepLz96AHEmAzWJQblCNhundhnOIYTFLWoaYCwgmRTZ9_cUl5HBwInNDBLFLyUCRtWpJYDSa~JKbuU82bGEcTCSB8K3n~v1edK62MDm_HUAy06Ffd0LgYmJXTFtIvuSR4d0mG3gjHgOK9XWXHfd5I5bs~qOpuDXaekIVEn70K4YXeu4QJlRaccSt62rrHUXhO6mLVie64ft9~OWlvwvPgLUt1Ujl_VAr_RYtsP_fhUYvheFKUda28ANRl73guExzVTmI7ZWMA--.jpg
//media.inmobalia.com/imgV1/B8vEv5Xh_VThvnEqMx4G0ZxU_YC_pCgmETwWNQKyeMqLb9Afo_WSoi~kcK5mwaepLz96AHEmAzWJQblCNhundhnOIYTFLWoaYCwgmRTZ~RTZcAz2SCt4pHs_hhzBdm_PawqkyM4HuSkGViuVizUxZZT48mvt13PjquvKT8NwBF_v0UuT_y1uyYvFXsEtjeUsLtdzG7z7bDCFoieZ1cIHQqOBIild9GNgGYwUopkBY5QnwzBLl~rfp2KPGxg_KvpH6numVfE4sv67oUQkYo5T2cVAofiRrrsafXeQbsVt5qr3cxGJjWYNpqiOBB8PU_vjd0NWyQ--.jpg
//media.inmobalia.com/imgV1/B8vEv5Xh_VThvnEqMx4G0ZxU_YC_pCgmETwWNQKyeMqLb9Afo_WSoi~kcK5mwaepLz96AHEmAzWJQblCNhundhnOIYTFLWoaYCwgmRTZ~4h6yE7bsqObHanGD7DPbARLriPOCC~VCpTLeuZ6KHlkONNBpzfjzLqLAMMuE5Z6SnJpFjNm3gkcW9V7hMn9xHoBV2nLDxy5rzB_srkxhcQX3o5WyY50eEcK8OLUTYx5kibEtGXCPTHOLxqFmoX1fUhd66xr95C1wqgxxCDuKOBbTiBoWPYe550R9Mrh2aVSldM_~nRkJPeVvMWiJj0abcGPtplRvA--.jpg
//media.inmobalia.com/imgV1/B8vEv5Xh_VThvnEqMx4G0ZxU_YC_pCgmETwWNQKyeMqLb9Afo_WSoi~kcK5mwaepLz96AHEmAzWJQblCNhundhnOIYTFLWoaYCwgmRTZ97A6HIyOKYPZVOVGO3XhLVeV9RRHNMkTtvVQz1_ARrDNnhLcpdRh8dXoLA1wLn1vPN6uWLhSGA2sMudTyvI3IOY9IrSP62beWiIqWgSkSWc6C7dm938X2qS9y_Uy0Y0brDEVtazd_HNOoaO8W2aN006TfjJOOueukfi2aDDXZDXplsRIBvHhc4VskhBQwi~lEwXbJokcOFL7l8_SHdAcEpsnVS7V4Q--.jpg
//media.inmobalia.com/imgV1/B8vEv5Xh_VThvnEqMx4G0ZxU_YC_pCgmETwWNQKyeMqLb9Afo_WSoi~kcK5mwaepLz96AHEmAzWJQblCNhundhnOIYTFLWoaYCwgmRTZrXyP80Bn37R5OlX2k_0a34~VjqT~qUVY9zUpz8O0493aJgmmQ6dfof0DQGLfZAIacIG861ZdNhw4X6YyQmP2iBCaPR8lxyWX0EHgR6a4Gc0g80UIaU~V6ipb_drC6kcq_4Q6pgrzDtixKBvA0bRrB1Dw2TkWfBmLYQ8jyjrMI5bi2e52C1xfsYeQZvBNnlKf~TSCZcob_GPFI3nGf5mWOiPuwOP3Aw--.jpg
//media.inmobalia.com/imgV1/B8vEv5Xh_VThvnEqMx4G0ZxU_YC_pCgmETwWNQKyeMqLb9Afo_WSoi~kcK5mwaepLz96AHEmAzWJQblCNhundhnOIYTFLWoaYCwgmRTZ_y~YPRuCmcdPlh2zhybw5ShAKx~xXGE9jDk7MVdt_NWFcfWCNgfB0Rh~Jluy04~gpjAcDIG6mB07EwWW0AxXIgZ6Vd50aVMDeFjiM6C8sarKtaqHSqLf0DfCrPgahWBvKvloo5Y4bAOy2c~vNm0~gZIsqS_b0k1l1D7Ns~A~2Jqr6X_QAo9DZuaZlmTjO89OERU0ytVcIk8fTfRutby~NzAGStGnUQ--.jpg
//media.inmobalia.com/imgV1/B8vEv5Xh_VThvnEqMx4G0ZxU_YC_pCgmETwWNQKyeMqLb9Afo_WSoi~kcK5mwaepLz96AHEmAzWJQblCNhundhnOIYTFLWoaYCwgmRTZr~CBN50HjLUzaF~mHFevQYaE39endQXNRsQI2S5W_IicRI8aZBQrNuEMaZKD31oWidL55h6Irru1qIjLzD9a1vOsasFg3d0JEYBRk6o4strVc637ClnRi2IBIOiU5~bhZiWUWHcNS1vlsJ8SXcptIgOf~_AhceKdm6wIjsitHRCZwRNf4s24LKk9u_n5HAOUE8E7pNgMJRtdYIy1d3Yqvqq9kzSg1A--.jpg
//media.inmobalia.com/imgV1/B8vEv5Xh_VThvnEqMx4G0ZxU_YC_pCgmETwWNQKyeMqLb9Afo_WSoi~kcK5mwaepLz96AHEmAzWJQblCNhundhnOIYTFLWoaYCwgmRTZqrJUprrXeaWRUdFXCYGdEmYBB9o7TPwkv~BRwhrrzWEiPjXtImo05X17nNQ2yyOnOqAe__26bhd8aIuIFXaB0gR_c3IxCUFjvW2oRwj660bh12ojYhEOhKn4JZ0ygnU99LDPgzOIVyv2W~1uh_6eano_JFGZO_vfUXHfPBacSEubyRYXKWP23~jJCErf~VA09UsQgN0_Bw_jPQwDEiUMo1~o_W_qaw--.jpg
//media.inmobalia.com/imgV1/B8vEv5Xh_VThvnEqMx4G0ZxU_YC_pCgmETwWNQKyeMqLb9Afo_WSoi~kcK5mwaepLz96AHEmAzWJQblCNhundhnOIYTFLWoaYCwgmRTZ970erfdmJiADfFq8uG0j0l896nGUaINNwi7NyCzsBu3ld9ovnBDD0EY_JTS6Q0kGjZhWuHhwbj3XTXNwDUdiitOOBPDnISvzJ7exNIu56n6o87aS9m5y0bdr3pGYBOfalVvZrcwsBoJR~mMl5EPWfQXOBsBDUplclhKxISQQn8GxjITsfqbIJP8tsk0vJ4NN8HvS1CoHUvX3hePnQRphXdtHPduWvA--.jpg
//media.inmobalia.com/imgV1/B8vEv5Xh_VThvnEqMx4G0ZxU_YC_pCgmETwWNQKyeMqLb9Afo_WSoi~kcK5mwaepLz96AHEmAzWJQblCNhundhnOIYTFLWoaYCwgmRTZ_hBiKFKU9rd2zhh7t33lTne43V5f0ZXfjRSHkWj5WGxi2WEcqcpUMj4gr9sNbZfgrEQgyCtEUlaq3QM5AhGQVH489hj4GfqU780Y0cYGS5DT0IIgkVfpfwS0K4mx8OqM13jS_3vuvdhijsHyAL0SfL2LhwRJBSq0zGa5tssraIXymsjw1aE2Cs4PgH7rDhmt65Lcl0UAOl5W8c3oo79Tcnh5rhEXXg--.jpg
//media.inmobalia.com/imgV1/B8vEv5Xh_VThvnEqMx4G0ZxU_YC_pCgmETwWNQKyeMqLb9Afo_WSoi~kcK5mwaepLz96AHEmAzWJQblCNhundhnOIYTFLWoaYCwgmRTZ9_bcHZPmnaHN0VXgsMmCnTYL7~sS36KAvRmzCyr3z2V~cSYjdX_Rcm5bAATuiESolt68S5WaRppnc~~FBnUQALFSPrZEF21vzILwzLURqdwbvfbPMQX940M5J2yNmCZMvglOqiUfCxvJTq7pjVQ_oFPAAInrfq5fTVtKJLwpyWSkjZGkuVk~klipV~yBjHOlPjg9ARZpepcR~bIAtKqWyOjbEFzXIg--.jpg
//media.inmobalia.com/imgV1/B8vEv5Xh_VThvnEqMx4G0ZxU_YC_pCgmETwWNQKyeMqLb9Afo_WSoi~kcK5mwaepLz96AHEmAzWJQblCNhundhnOIYTFLWoaYCwgmRTZrPWjrYON_5h_4LKusE9dv9cfTi3dWtM3Hj69ZHh2uFUqfhnJfi6oaJWjqirCEveNYxikECJxO9BMSKynC7CvBZqqDwmkPo~5s8PNO_bYnBtcCMY6Rz17n9~TEteHyzGEQzZpwVFUe4Eyp_~wHm7gaqV8Klz1CuLp3IQaD~7IH03x2fIZYBetOopVsdkpChre~7eBnx68qEJAB07DAz4N_kUJww0uJQ--.jpg
Guadalmina Baja, San Pedro de Alcantara
Villa
11.950.000 €
San Pedro de Alcantara, Guadalmina Baja, Andalusian style villa
Villa style Andalusian cortijo in Guadalmina Baja, a few meters from the beach.
The property has been designed with a unique style and great elegance. The interior of the house has great charm and has been looking for that it is cozy which allows to enjoy the property during the all year.
From a wonderful patio we access the main dwelling, which has been built almost in its entirety in a floor. Through a great hall with high ceilings we access to the living room with fireplace, dining room, kitchen, laundry, area for service, billiards room, two bedrooms en-suite, cinema room, library, wine cellar and guest toilet.
From the patio we have access also into an apartment for guests with independent access and consist in two bedrooms en-suite and kitchen.
On the top floor are the master bedroom with living room, fireplace and two closets; two bedrooms en-suite and two offices.
In the garden, in addition to the large swimming pool with beautiful palm trees, we enjoy of two areas: a BBQ with bar and a house Balinese style with jacuzzi, sauna and gym.
The property has two garages with space for five cars and parking for eight cars more. Certainly a property unique and exclusive.
REFERENCE

208-00863P

bedrooms

11

bathrooms

9
built

1.305m²

plot

5.790m²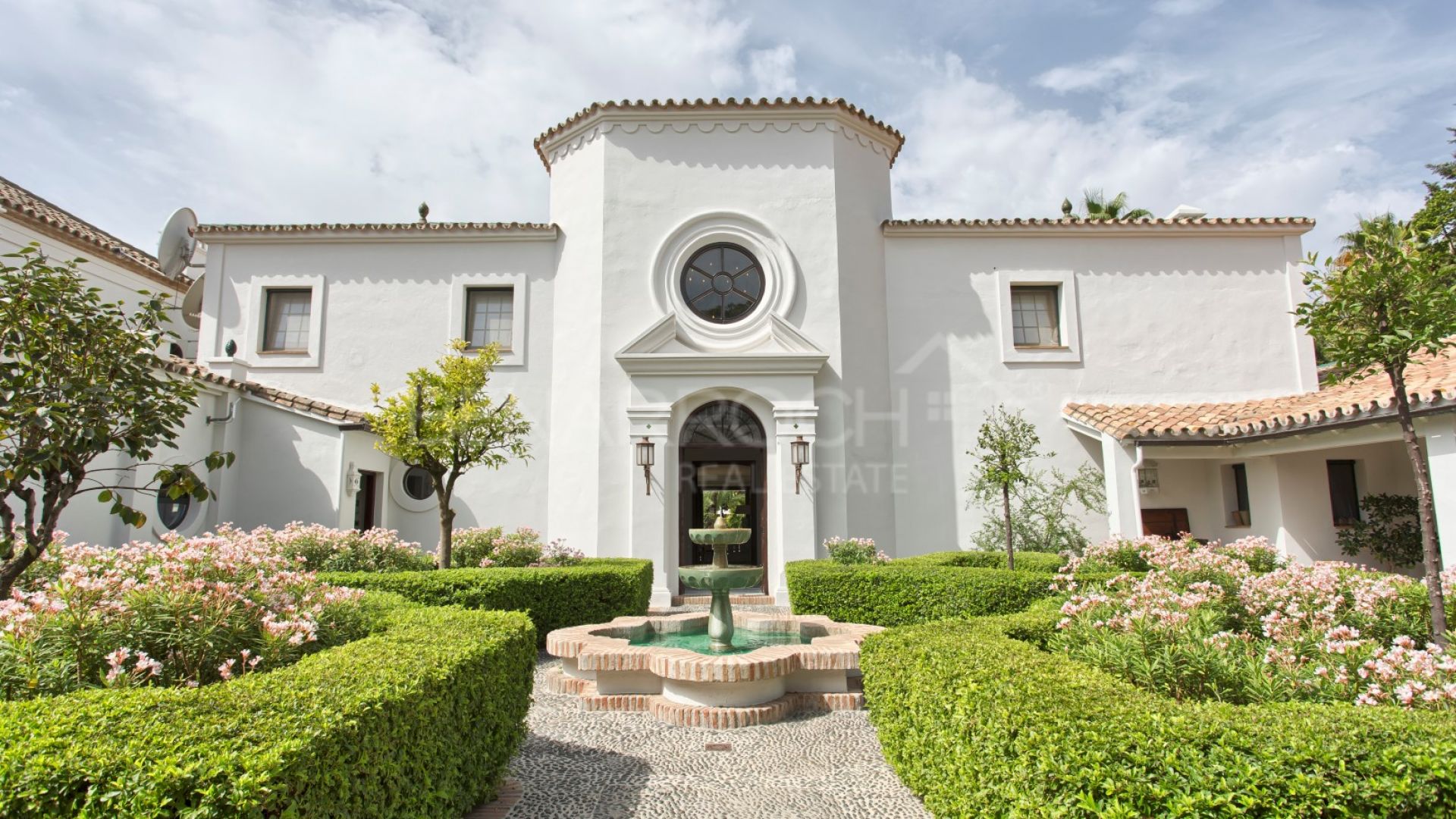 Video de zona, San Pedro de Alcantara
Video of San Pedro de Alcantara Area
similar properties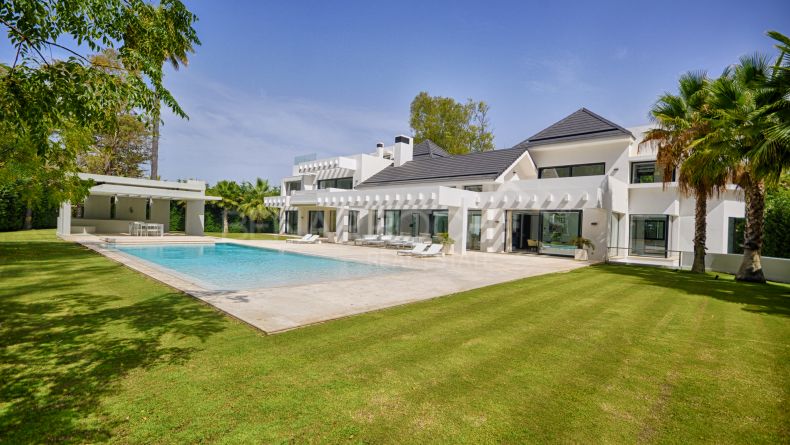 6.900.000 €
Amazing villa of new construction and contemporary style in one of the most traditional urbanizations of the Costa del Sol, in ...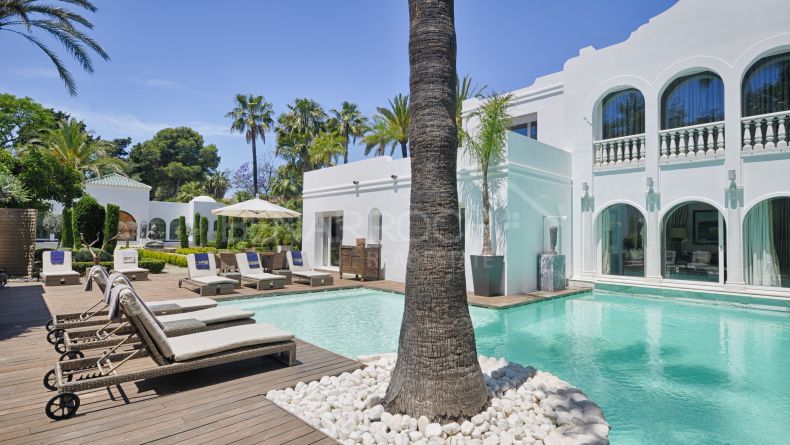 11.500.000 €
Arab-Andalusian style villa in Guadalmina Baja, San Pedro Alcántara.Exclusive Arabian style residence located in the prestigious ...